George, Robert P.
Most widely held works about Robert P George
Most widely held works by Robert P George
Making men moral : civil liberties and public morality
by
Robert P George
( Book )
26 editions published between
1993
and 2002 in
English
and held by 836 WorldCat member libraries worldwide
"In 'Making men moral' Robert P. George defends the traditional position on morals legislation against criticisms advanced by leading contemporary liberal theorists." -- Back cover
Embryo : a defense of human life
by
Robert P George
( Book )
9 editions published between
2008
and 2011 in
English
and held by 758 WorldCat member libraries worldwide
Draws on current scientific research and moral philosophy to shed new light on the debate over abortion and stem-cell research, and maintains that, from the moment of conception, embryos are entitled to the full protection of the law
In defense of natural law
by
Robert P George
( Book )
32 editions published between
1993
and 2010 in
English
and
Undetermined
and held by 692 WorldCat member libraries worldwide
In Making Men Moral, his 1993 book, George questioned the central doctrines of liberal jurisprudence and political theory. In his new work he extends his critique of liberalism, and also goes beyond it to show how contemporary natural law theory provides a superior way of thinking about basic problems of justice and political morality. Not content merely to defend natural law from its 'cultured despisers', he deftly turns the tables and deploys the idea to mount a stunning attack on regnant liberal beliefs about such issues as abortion, sexuality, and the place of religion in public life. Students as well as scholars in law, political science, and philosophy will find George's arguments stimulating, challenging, and compelling
The clash of orthodoxies : law, religion, and morality in crisis
by
Robert P George
( Book )
17 editions published between
2001
and 2014 in
English
and held by 690 WorldCat member libraries worldwide
It is a common supposition among many of our cultural elites that a constitutional & ldquo;wall of separation & rdquo; between church and state precludes religious believers from bringing their beliefs to bear on public matters. This is because secular liberals typically assume that their own positions on morally charged issues of public policy are the fruit of pure reason, while those of their morally conservative opponents reflect an irrational religious faith. In The Clash of Orthodoxies Robert George shows that this supposition is wrong on both counts. Challenging liberalism & rsquo;s claim to represent the triumph of reason, George argues that on controversial issues like abortion, stem-cell research, euthanasia, homosexuality, and same-sex marriage, traditional Judeo-Christian beliefs are actually rationally superior to secular liberal alternatives. Drawing on the natural law philosophical tradition, George demolishes various secularist pretenses, such as the notion that the very young and very old among us are somehow subpersonal and not worthy of full legal protection. He reveals the dubious person/body dualism implicit in secularist arguments, and he demonstrates the flawed reasoning behind the idea that the state ought to be neutral regarding competing understandings of the nature and value of marriage. George also revisits the controversy surrounding his participation in the First Things & ldquo;End of Democracy? & rdquo; symposium, in which he considered the relevance of Catholic teachings regarding the legitimacy of political regimes to the contemporary American situation. George argues that because natural law and natural rights doctrine lie at the foundation of the American republic, the judicial reading of the Constitution that has undermined democracy in order to enshrine the secularist agenda is deeply flawed. In advancing his thesis, George argues for a return to old-fashioned liberalism, a worldview that he claims is best exemplified by Pope John Paul II, whose teachings laud democracy, religious liberty, and economic freedom while also recognizing the demands of civil rights, social and economic justice, and the principle of subsidiarity. These demands restrain Catholics & mdash;and indeed all people of faith & mdash;from making personal freedom an absolute, and George takes to task those political leaders who, though believers, have denied or ignored the political responsibility this entails. The Clash of Orthodoxies is a profoundly important contribution to our contemporary national conversation about the proper role of religion in politics. The lucid and persuasive prose of Robert George, one of America & rsquo;s most prominent public intellectuals, will shock secular liberals out of an unwarranted complacency and provide powerful ammunition for embattled defenders of traditional morality
Natural law, liberalism, and morality : contemporary essays
( Book )
28 editions published between
1996
and 2013 in
English
and held by 557 WorldCat member libraries worldwide
Natural Law, Liberalism, and Morality brings together leading defenders of natural law and liberalism for a series of frank and lively exchanges touching upon critical issues of contemporary moral and political theory. The book is an outstanding example of the fruitful engagement of traditions of thought about fundamental matters of ethics and justice
The autonomy of law : essays on legal positivism
by
Robert P George
( Book )
30 editions published between
1966
and 2005 in
English
and held by 473 WorldCat member libraries worldwide
This collection of original essays from distinguished legal philosophers offers a challenging assessment of the nature and viability of legal positivism, an approach to legal theory that continues to dominate contemporary legal theoretical debates
What is marriage? : man and woman : a defense
by
Sherif Girgis
( Book )
7 editions published between
2012
and 2015 in
English
and
Italian
and held by 432 WorldCat member libraries worldwide
Until yesterday, no society had seen marriage as anything other than a conjugal partnership: a male-female union. What Is Marriage? identifies and defends the reasons for this historic consensus and shows why redefining civil marriage is unnecessary, unreasonable, and contrary to the common good
Conscience and its enemies : confronting the dogmas of liberal secularism
by
Robert P George
( Book )
16 editions published between
2013
and 2016 in
English
and
Undetermined
and held by 402 WorldCat member libraries worldwide
""Many in elite circles yield to the temptation to believe that anyone who disagrees with them is a bigot or a religious fundamentalist. Reason and science, they confidently believe, are on their side. With this book, I aim to expose the emptiness of that belief."--The introductionAssaults on religious liberty and traditional morality are growing fiercer. Here, at last, is the counterattack. Showcasing the talents that have made him one of America's most acclaimed and influential thinkers, Robert P. George explodes the myth that the secular elite represents the voice of reason. In fact, George shows, it is on the elite side of the cultural divide where the prevailing views frequently are nothing but articles of faith. Conscience and Its Enemies reveals the bankruptcy of these too often smugly held orthodoxies while presenting powerfully reasoned arguments for classical virtues. In defending what James Madison called the "sacred rights of conscience"--rights for which government shows frightening contempt--George grapples with today's most controversial issues: abortion and infanticide, same-sex marriage, genetic manipulation, euthanasia and assisted suicide, religion in politics, judicial activism, and more. His brilliantly argued essays rely not on theological claims or religious authority but on established scientific facts and a philosophical tradition that extends back to Plato and Aristotle. Conscience and Its Enemies elevates our national debates. It sets forth powerful arguments that secular liberals are unaccustomed to hearing--and that embattled defenders of traditional morality so often fail to marshal. It also lays out the principles and arguments for rebuilding a moral order"--
more
fewer
Audience Level
0

1
Kids
General
Special
Audience level: 0.42 (from 0.11 for What is ma ... to 0.84 for Entre el d ...)
Related Identities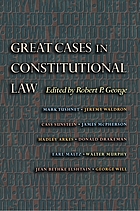 Alternative Names
George, Rob

George, Rob 1955-

George, Robert P.

Robert P. George Amerikaans filosoof

Robert P. George professeur américain de jurisprudence à l'Université de Princeton

Robert P. George Professeur de jurisprudence à l'Université de Princeton

Robert P. George US-amerikanischer Rechtswissenschaftler

Robert Peter George

رابرت پی. جورج فیلسوف آمریکایی

ロバート・ジョージ

Languages
Covers