International Monetary Fund Statistics Department
Most widely held works about International Monetary Fund
Most widely held works by International Monetary Fund
The IMF's statistical systems in context of revision of the United Nations' A system of national accounts
by
International Monetary Fund
( )
8 editions published in
1991
in
English
and held by 1,188 WorldCat member libraries worldwide
This volume contains a selection of papers presented at three expert group meetings sponsored by the Fund in 1987-88 for the revision of the SNA. These meetings dealt with issues in the balance of payments, government finance, and monetary statistics and were part of a sequence of expert group meetings organised by the interested international organizations to oversee the revision process. The papers place the Fund's statistical methodlogies in the context of revision of the SNA and explain the contribution that the Fund has made, and can make, to the process of hamonization
Government finance statistics manual 2001
by
International Monetary Fund
( )
9 editions published in
2001
in
English
and held by 1,150 WorldCat member libraries worldwide
This Manual, which updates the first edition published in 1986, is a major advance in the standards for compilation and presentation of fiscal statistics. It is intended as a reference volume for compilers of government finance statistics, fiscal analysts, and other users of fiscal data. The Manual introduces accrual accounting, balance sheets, and complete coverage of government economic and financial activities. It covers concepts, definitions, classifications, and accounting rules, and provides a comprehensive framework for analysis, planning, and policy determination. To the extent possible, the Manual has been harmonized with the System of National Accounts 1993
Statistical capacity building : case studies and lessons learned
by
Thomas K Morrison
( )
4 editions published in
2005
in
English
and held by 1,072 WorldCat member libraries worldwide
IMF technical assistance provided by the Statistics Department, toward assisting IMF member countries in developing the ability to provide reliable and comparable economic and financial data on a timely basis to policymakers and markets, has increased more than fourfold over the past decade. This assistance has proven critical in countries' building their statistical capacity so as to come into line with international data standards in an increasingly globalized and electronically interconnected world. Here are presented four case studies drawn from experience in three countries in transition to the market, two of which were also in postconflict situations, in the 1990s and early 2000s: Cambodia, Bosnia and Herzegovina, and Ukraine. Issues of setting, institutional and statistical arrangements, strategies, and implementation are examined, and lessons drawn.--Publisher's description
On the Extrapolation with the Denton Proportional Benchmarking Method
by
Tommaso Di Fonzo
( )
1 edition published in
2012
in
English
and held by 764 WorldCat member libraries worldwide
Statistical offices have often recourse to benchmarking methods for compiling quarterly national accounts (QNA). Benchmarking methods employ quarterly indicator series (i) to distribute annual, more reliable series of national accounts and (ii) to extrapolate the most recent quarters not yet covered by annual benchmarks. The Proportional First Differences (PFD) benchmarking method proposed by Denton (1971) is a widely used solution for distribution, but in extrapolation it may suffer when the movements in the indicator series do not match consistently the movements in the target annual benchma
Uruguay : Report on the Observance of Standards and Codes--Data Module
by
International Monetary Fund
( )
1 edition published in
2014
in
English
and held by 549 WorldCat member libraries worldwide
"This Report on the Observance of Standards and Codes (ROSC) - Data Module is a reassessment of the exercise conducted in 1999-mid-2000, which was based on information collected during a November 1999 mission and used the dimensional structure of the first July 2000 draft version of IMF's Data Quality Assessment Framework (DQAF). This reassessment covers national accounts, and consumer (CPI) and producer price indices (PPI). The Uruguayan agencies that compile and disseminate these datasets are: the Central Bank of Uruguay (CBU) for national accounts and the National Institute of Statistics (NIS) for the CPI and PPI. This Report is the first data ROSC based on the 2012 version of the DQAF, which assesses data quality against the relevant statistical standards current in 2012, including the System of National Accounts 2008 (2008 SNA), the Consumer Price Index Manual 2004 (CPI Manual), and the Producer Price Index Manual 2004 (PPI Manual). The Report contains the following main observations. Following the 1999 data ROSC mission,1 Uruguay made significant improvements in statistical compilation and dissemination of the statistics covered by this ROSC - Data Module. The progress achieved allowed Uruguay to subscribe to the Special Data Dissemination Standard (SDDS) on February 12, 2004. Since its SDDS subscription, Uruguay has been in observance of the SDDS, meeting the specifications for coverage, periodicity, timeliness, and the dissemination of advance release calendars. In the last (2011) SDDS annual report on observance, Uruguay met the SDDS requirements for timeliness with episodic exceptions for some data categories. Uruguay exceeds the SDDS timeliness requirements for labor market (employment, unemployment, and wages/earnings), price (consumer prices and producer prices), and international investment position data. Currently, Uruguay is using two regular timeliness flexibility options for general government operations and central government operations; additionally, it is using an "as relevant" timeliness provision for analytical accounts of the banking sector for countries with extensive branch banking systems. No flexibility options are being used regarding real sector statistics. Appendix I provides an overview of Uruguay's dissemination practices for real sector statistics compared to the SDDS"--Abstract
What do remittances do? : analyzing the private remittance transmission mechanism in El Salvador
by
Luis René Cáceres
( )
8 editions published in
2006
in
English
and held by 419 WorldCat member libraries worldwide
Family remittances are important for El Salvador's economy. This paper analyzes the impact of remittances on El Salvador's economy and the spillover effects on the other Central American countries. A vector autoregression (VAR) model is formulated, consisting of real and monetary variables. The results suggest that in, El Salvador, remittances lead to decreases in economic activity, international reserves, and money supply and increases in the interest rate, imports, and consumer prices. This underscores the need for reorienting economic policy in El Salvador to promote the use of remittances in capital formation activities to maximize the benefit of remittances
IMF data standards initiatives : a consultative approach to enhancing global data transparency
by
Anne Y Kester
( )
5 editions published in
2006
in
English
and held by 408 WorldCat member libraries worldwide
Since the IMF launched the data standards initiatives a decade ago, 145 of its 184 member countries have participated. This 80 percent participation rate reaffirms the importance countries place on data transparency in the globalized economy, which the initiatives promote. The wide participation can be attributed to the consultative process that has allowed for the development of a coherent program that takes account of countries' capabilities, delineates clear responsibilities between the IMF and participating countries, and establishes effective monitoring procedures to ensure the credibility of the standards for policymakers, capital markets, and the general public. The approach has also provided checks and balances and fostered accountability. The initiatives may provide insights for the promotion of similar international standards
Excessive lending, leverage, and risk-taking in the presence of bailout expectations
by
Andréas Georgiou
( )
6 editions published in
2009
in
English
and held by 407 WorldCat member libraries worldwide
The financial crisis that began in 2007 has brought to the fore the issues of excesses in lending, leverage, and risk-taking as some of the fundamental causes of this crisis. At the same time, in dealing with the financial crisis there have been large scale interventions by governments, often referred to as bailouts of the lenders. This paper presents a framework where rational economic agents engage in ex ante excessive lending, borrowing, and risk-taking if creditors assign a positive probability to being bailed out. The paper also offers some thoughts on policy implications. It argues that it would be most productive for the long run if lending institutions were not bailed out. If the continuing existence of an institution was deemed essential, assistance should take the form of capital injections that dilute the equity of existing owners
Some principles for development of statistics for a Gulf Cooperation Council currency union
by
Russell C Krueger
( )
5 editions published in
2006
in
English
and held by 406 WorldCat member libraries worldwide
Looking ahead to the creation of a Gulf Cooperation Council (GCC) Currency Union in 2010, the paper covers some implications for the statistical programs of the GCC countries. Despite uncertainty over the structure of the proposed union, the paper envisions several types of mutually reinforcing statistics-convergence criteria, statistics on the core policy variables and instruments, additional macroeconomic data, specialized statistics related to the economic and institutional conditions within the union, and public information. Major changes to national statistical programs are needed that should begin soon
Providing official statistics for the common market and monetary union in the Gulf Cooperation Council (GCC) countries : a case for "Gulfstat"
by
Abdulrahman K. L Al-Mansouri
( )
7 editions published in
2006
in
English
and held by 403 WorldCat member libraries worldwide
The six member states of the Gulf Cooperation Council (GCC)-Bahrain, Kuwait, Oman, Qatar, Saudi Arabia, and United Arab Emirates (UAE)-have laid out a path to a common market by 2007 and monetary union by 2010, based on economic convergence. To monitor convergence and support economic and monetary policy, comparable economic data for member countries and data for the region as a whole will be essential. What is the most efficient way to produce these data? The authors survey the statistical institutions in the GCC countries and present the case for creating "Gulfstat"--A regional statistical agency to operate within a "Gulf States System of Statistics." Valuable lessons can be learned from regional statistical organization in Africa and the European Union-Afristat and Eurostat
more
fewer
Audience Level
0

1
Kids
General
Special
Audience level: 0.13 (from 0.01 for Government ... to 0.78 for Balance of ...)
Related Identities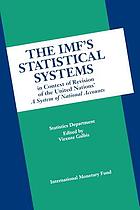 Covers
Alternative Names
International Monetary Fund
International Monetary Fund. Bureau of Statistics
IMF. Statistics Department.

IMF Statistics Dept

International Monetary Fund Statisticheskoe upravlenie

International Monetary Fund Statistics Department

International Monetary Fund Statistics Dept.

Statistics Department

Languages