National Defense Research Institute (U.S.)
Most widely held works about National Defense Research Institute (U.S.)
more
fewer
Most widely held works by National Defense Research Institute (U.S.)
The European Security and Defense Policy : NATO's companion - or competitor?
by
Robert Edwards Hunter
( Book )
8 editions published in
2002
in
English
and held by 253 WorldCat member libraries worldwide
The emergence of the European Security and Defense Policy (ESDP) in the last two-thirds of the 1990s and continuing into the new century, has been a complex process intertwining politics, economics, national cultures, and numerous institutions. This book provides an essential background for understanding how security issues as between NATO and the European Union are being posed for the early part of the 21st century, including the new circumstances following the terrorist attacks in New York and Washington on September 11, 2001. This study should be of interest to those interested in the evolution of U.S.-European relations, especially in, but not limited to, the security field; the development of institutional relationships; and key choices that lie ahead in regard to these critical arrangements
Arms trafficking and Colombia
by
Kim Cragin
( Book )
4 editions published in
2003
in
English
and held by 253 WorldCat member libraries worldwide
Colombia has experienced significant political instability and violence over the past century due to a number of factors, including the proliferation of small-arms trafficking. The authors identify the sources and routes used by arms traffickers to acquire, buy, sell, receive, transfer, and ship weapons. They also examine the various groups and individuals who purchase and use these munitions. The authors examine Colombia?s political conflict through the lens of small-arms trafficking and conclude with policy implications for the United States
On "other war" : lessons from five decades of RAND counterinsurgency research
by
Austin Long
( Book )
7 editions published in
2006
in
English
and held by 213 WorldCat member libraries worldwide
The challenges posed by insurgency and instability have proved difficult to surmount. This difficulty may embolden future opponents to embrace insurgency in combating the United States. Both the current and future conduct of the war on terror demand that the United States improve its ability to conduct counterinsurgency (COIN) operations. This study makes recommendations for improving COIN based on RAND's decades-long study of it
The rise of political Islam in Turkey
by
Angel Rabasa
( Book )
5 editions published in
2008
in
English
and held by 210 WorldCat member libraries worldwide
"As a Muslim-majority country that is also a secular democratic state, a member of NATO, a candidate for membership in the European Union, a long-standing U.S. ally, and the host of Incirlik Air Base (a key hub for logistical support missions in Afghanistan and Iraq), Turkey is pivotal to U.S. and Western security interests in a critical area of the world. It also provides an example of the coexistence of Islam with secular democracy, globalization, and modernity. However, having a ruling party with Islamic roots--the Justice and Development Party (AKP)--within a framework of strict secularism has generated controversy over the boundaries between secularity and religion in the public sphere, leading to parliamentary elections, along with a new mandate for the party, in July 2007. This monograph describes the politico-religious landscape in Turkey and the relationship between the state and religion, and it evaluates how the balance between secular and religious forces--and between the Kemalist elites and new emerging social groups--has changed over the past decade. The study also assesses the new challenges and opportunities for U.S. policy in the changed Turkish political environment and identifies specific actions the United States may take to advance the U.S. interest in a stable, democratic, and friendly Turkey and, more broadly, in the worldwide dissemination of liberal and pluralistic interpretations of Islam"--Provided by publisher
Married to the military : the employment and earnings of military wives compared with those of civilian wives
( Book )
4 editions published in
2002
in
English
and held by 196 WorldCat member libraries worldwide
Today's military is a military of families; many service members are married, and many of their spouses work and contribute to family income. But military wives earn less than civilian wives, and this study seeks to understand why. The authors find that military wives, knowing they are likely to move frequently, are willing to accept jobs that offer a lower wage rather than to use more of their remaining time at a location to find a higher-wage job. Compared with civilian wives, military wives tend to work somewhat less if they have young children but somewhat more if their children are older
Byting back : regaining information superiority against 21st-century insurgents
( Book )
8 editions published in
2007
in
English
and held by 172 WorldCat member libraries worldwide
Libicki et al. argue that information collection requirements and systems for counterinsurgency are important because the community that conducts counterinsurgency crosses national and institutional boundaries and because the indigenous population plays a large role in determining the outcome of an insurgency. They then demonstrate what this focus implies for counterinsurgency requirements, collection, networking, and systems design
The battle behind the wire : U.S. prisoner and detainee operations from World War II to Iraq
( Book )
7 editions published between
2010
and 2011 in
English
and held by 154 WorldCat member libraries worldwide
Although prisoner of war and detainee operations ultimately tend to become quite extensive, military planners and policymakers have repeatedly treated such operations as an afterthought. In reality, such operations can be a central part of the successful prosecution of a conflict. Determining how to gain knowledge from, hold, question, influence, and release captured adversaries can be an important component of military strategy and doctrine, both during the conflict and in reconstruction afterward. This monograph finds parallels in U.S. prisoner and detainee operations in World War II, Korea, Vietnam, and Iraq: underestimation of the number to be held, hasty scrambling for resources to meet operational needs, and inadequate doctrine and policy. During the later phases of military operations, an attempt is often made to educate prisoners and detainees and influence their social and political values. The results of a survey by RAND researchers of Iraq detainees contravene many assumptions that had been guiding decisions related to detainee operations. The survey found that local and personal motives, along with nationalism, were more prevalent than religious ones and that detainees were often economic opportunists rather than illiterates seeking economic subsistence through the insurgency. Recommendations include that detailed doctrine should be in place prior to detention and that detainees should be surveyed when first detained
Preparing and training for the full spectrum of military challenges : insights from the experiences of China, France, the United Kingdom, India, and Israel
( Book )
8 editions published in
2009
in
English
and held by 128 WorldCat member libraries worldwide
"The difficult and continually evolving operations in Iraq and Afghanistan show the complexities of what is now termed irregular warfare and highlight the need for new approaches to the security challenges with which the United States is now contending and will likely confront in the future. The research reported in this monograph focused on answering a rather straightforward, but thus far largely unanswered, question: What can the U.S. military learn from other militaries about how better to prepare for full-spectrum operations and deployments? To this end, RAND was asked by the OSD for Personnel and Readiness to examine the militaries of China, France, the UK, India, and Israel."--Page xiii
Victory has a thousand fathers : detailed counterinsurgency case studies
by
Christopher Paul
( Book )
4 editions published in
2010
in
English
and held by 125 WorldCat member libraries worldwide
"This monograph presents detailed case histories for each of the COIN [counterinsurgency] campaigns examined in the analysis. A companion volume, Victory Has a Thousand Fathers: Sources of Success in Counterinsurgency, describes the qualitative comparative approach, presents findings from the overall analyses, and explains the study's case selection and methodology in more detail. It also presents an overview and in-depth assessments of the key approaches, practices, and factors that feature prominently in successful COIN operations. The full case data can be downloaded at http://www.rand.org/pubs/monographs/MG964/."--Page iii
Security in Iraq : a framework for analyzing emerging threats as U.S. forces leave
by
David C Gompert
( Book )
7 editions published in
2010
in
English
and held by 111 WorldCat member libraries worldwide
A critical question surrounding the withdrawal of U.S. forces from Iraq is Iraq's internal security and stability. Although the U.S. withdrawal plan is designed with care to avoid weakening Iraq's security, the end of U.S. occupation may alter the strategies of the main Iraqi political actors, each of which has enough armed power to be able to shatter Iraq's domestic peace. In view of the potential for insecurity in Iraq, the United States cannot afford to take a passive or reactive stance. To anticipate dangers and act purposefully, U.S. policy-makers need a dynamic analytic framework with which to examine the shifting motivations and capabilities of the actors that affect Iraq's security. This monograph offers such a framework
Pyridostigmine bromide
by
Beatrice Alexandra Golomb
( Book )
9 editions published in
1999
in
English
and held by 47 WorldCat member libraries worldwide
This literature review, one of eight commissioned by the Special Assistant to the Deputy Secretary of Defense for Gulf War Illnesses, summarizes the existing scientific literature on the health effects of pyridostigmine bromide that may have affected service members who served in Operations Desert Shield and Desert Storm. The eight RAND reviews are intended to complement efforts by the Defense Department and other federal agencies in their attempt to understand the full range of health implications of service in that conflict. --p. v. of Preface
Understanding the Current International Order
by
Michael J Mazarr
( Book )
1 edition published in
2016
in
English
and held by 1 WorldCat member library worldwide
"Since 1945, the United States has pursued its global interests by building and maintaining various alliances, economic institutions, security organizations, political and liberal norms, and other tools--often collectively referred to as the international order. In this first report of a series on the emerging international order, RAND researchers offer several lenses to understand the character of the existing post- orld War II liberal order. In addition to outlining the broad scope of the issue and the tools through which the order affects state behavior, the report categorizes and outlines the causal mechanisms that lead states to strengthen and work within the order. The report then reviews how U.S. policymakers have consistently viewed the international order as a key means of achieving U.S. interests in the world. Finally, the report concludes with potential questions for a research agenda that explores what type of international order--and, thus, what type of world--the United States should seek over the coming decade"--Publisher's description
Afghanistan's local war : building local defense forces
by
Seth G Jones
( )
3 editions published in
2010
in
English
and held by 0 WorldCat member libraries worldwide
Security in Afghanistan has historically required a combination of top-down efforts from the central government and bottom-up efforts from local communities. Since 2001, U.S. and broader international efforts have focused on establishing security solely from the top down through Afghan national security forces and other central government institutions. But local security forces are a critical complement to these efforts, especially in rural areas of the country. The Afghan government and NATO forces need to move quickly to establish a more-effective bottom-up strategy to complement top-down efforts by better leveraging local communities. The Afghan government can work with existing community structures that oppose insurgents to establish village-level policing entities, such as arbakai and chalweshtai, with support from NATO. Effectively leveraging local communities should significantly improve counterinsurgency prospects and can facilitate mobilization of the population against insurgents. This analysis documents lessons about the viability of establishing local security in Afghanistan and addresses concerns about the wisdom of such policies
more
fewer
Audience Level
0

1
Kids
General
Special
Audience level: 0.06 (from 0.01 for Pyridostig ... to 1.00 for National D ...)
Related Identities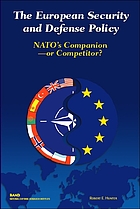 Alternative Names
Defense Research Institute

États-Unis National defense research institute

N.D.R.I.

NDRI

Rand Corporation Defense Research Institute

Rand Corporation National Defence Research Institute

Rand Corporation National Defense Research Institute

Rand Corporation National Research Defense Institute

Rand Corporation. National Security Research Division. National Defense Research Institute

Rand's National Defense Research Institute

Languages
Covers