National Defense Research Institute (U.S.)
Overview
| | |
| --- | --- |
| Works: | 1,363 works in 3,186 publications in 1 language and 292,795 library holdings |
| Genres: | Case studies History |
| Roles: | Researcher, Other, isb, her, Editor, Publisher, Sponsor, tra, ver |
| Classifications: | U241, 355.0218 |
Most widely held works about National Defense Research Institute (U.S.)
more
fewer
Most widely held works by National Defense Research Institute (U.S.)
The European Security and Defense Policy : NATO's companion - or competitor?
by
Robert Edwards Hunter
( )
11 editions published in
2002
in
English
and held by 2,227 WorldCat member libraries worldwide
The emergence of the European Security and Defense Policy (ESDP) in the last two-thirds of the 1990s and continuing into the new century, has been a complex process intertwining politics, economics, national cultures, and numerous institutions. This book provides an essential background for understanding how security issues as between NATO and the European Union are being posed for the early part of the 21st century, including the new circumstances following the terrorist attacks in New York and Washington on September 11, 2001. This study should be of interest to those interested in the evolution of U.S.-European relations, especially in, but not limited to, the security field; the development of institutional relationships; and key choices that lie ahead in regard to these critical arrangements
A Review of the Scientific Literature As It Pertains to Gulf War Illnesses
by
Beatrice Alexandra Golomb
( )
9 editions published in
1999
in
English
and held by 2,218 WorldCat member libraries worldwide
The confrontation that began when Iraq invaded Kuwait in August 1990 brought with it the threat that chemical and biological weapons might be used against the more than half a million military personnel the United States deployed to the region. To protect these troops from such threats, the Department of Defense wished to use drugs and vaccines that, not having been tested for use in these specific situations, were considered "investigational" by the federal Food and Drug Administration. This report examines the history of the Interim Rule, adopted in December 21, 1990, that authorized the Commissioner of Food and Drugs to waive informed consent for the use of investigational drugs and vaccines for certain military uses; how this authority was used for pyridostigmine bromide and botulinum toxoid during the Gulf War; and the subsequent controversy surrounding the rule, its application, and its implications
Afghanistan's local war : building local defense forces
by
Seth G Jones
( )
4 editions published in
2010
in
English
and held by 2,214 WorldCat member libraries worldwide
Security in Afghanistan has historically required a combination of top-down efforts from the central government and bottom-up efforts from local communities. Since 2001, U.S. and broader international efforts have focused on establishing security solely from the top down through Afghan national security forces and other central government institutions. But local security forces are a critical complement to these efforts, especially in rural areas of the country. The Afghan government and NATO forces need to move quickly to establish a more-effective bottom-up strategy to complement top-down efforts by better leveraging local communities. The Afghan government can work with existing community structures that oppose insurgents to establish village-level policing entities, such as arbakai and chalweshtai, with support from NATO. Effectively leveraging local communities should significantly improve counterinsurgency prospects and can facilitate mobilization of the population against insurgents. This analysis documents lessons about the viability of establishing local security in Afghanistan and addresses concerns about the wisdom of such policies
On "other war" : lessons from five decades of RAND counterinsurgency research
by
Austin Long
( )
10 editions published in
2006
in
English
and held by 2,208 WorldCat member libraries worldwide
The challenges posed by insurgency and instability have proved difficult to surmount. This difficulty may embolden future opponents to embrace insurgency in combating the United States. Both the current and future conduct of the war on terror demand that the United States improve its ability to conduct counterinsurgency (COIN) operations. This study makes recommendations for improving COIN based on RAND's decades-long study of it
The rise of political Islam in Turkey
by
Angel Rabasa
( )
6 editions published in
2008
in
English
and held by 2,186 WorldCat member libraries worldwide
Turkey, a Muslim-majority country, is pivotal to Western security interests in the Middle East. Its ruling party, the AKP, has Islamic roots but operates within a framework of strict secular democracy, which has generated controversy over the boundaries between secularism and religion. This monograph describes the politico-religious landscape in Turkey and evaluates how the balance between secular and religious forces has changed over the past decade
Married to the military : the employment and earnings of military wives compared with those of civilian wives
by
C. Christine Fair
( )
5 editions published in
2002
in
English
and held by 2,177 WorldCat member libraries worldwide
Today's military is a military of families; many service members are married, and many of their spouses work and contribute to family income. But military wives earn less than civilian wives, and this study seeks to understand why. The authors find that military wives, knowing they are likely to move frequently, are willing to accept jobs that offer a lower wage rather than to use more of their remaining time at a location to find a higher-wage job. Compared with civilian wives, military wives tend to work somewhat less if they have young children but somewhat more if their children are older. The probability that military wives work declines with age, although it changes little with age in the civilian world. This probability declines more rapidly for wives with a college education, most of whom are officers' wives. Although it is often assumed that military families live in rural areas where the job opportunities for wives are poor, the authors found fairly small differences in the location of civilian versus military families. Finally, whereas in the civilian world an increase in the unemployment rate leads to a slight increase in the probability that wives worked during the year and the probability that they worked full-time (responding as "added workers" to the loss or threat of loss of their husbands' work), military wives appear to respond as workers with a more permanent attachment to the labor force
The emergence of noopolitik : toward an American information strategy
by
John Arquilla
( )
6 editions published in
1999
in
English
and held by 2,132 WorldCat member libraries worldwide
Weapons, concepts of proportional response, and the need to maintain the immunity of noncombatants. Ultimately, the authors call for an innovative turn of mind as policymakers and strategists rethink how best to adapt to the epochal transformations being wrought by the information revolution
Byting back : regaining information superiority against 21st-century insurgents
by
Martin C Libicki
( )
9 editions published in
2007
in
English
and held by 2,127 WorldCat member libraries worldwide
Libicki et al. argue that information collection requirements and systems for counterinsurgency are important because the community that conducts counterinsurgency crosses national and institutional boundaries and because the indigenous population plays a large role in determining the outcome of an insurgency. They then demonstrate what this focus implies for counterinsurgency requirements, collection, networking, and systems design
The battle behind the wire : U.S. prisoner and detainee operations from World War II to Iraq
( )
9 editions published between
2010
and 2011 in
English
and held by 2,121 WorldCat member libraries worldwide
Although prisoner of war and detainee operations ultimately tend to become quite extensive, military planners and policymakers have repeatedly treated such operations as an afterthought. In reality, such operations can be a central part of the successful prosecution of a conflict. Determining how to gain knowledge from, hold, question, influence, and release captured adversaries can be an important component of military strategy and doctrine, both during the conflict and in reconstruction afterward. This monograph finds parallels in U.S. prisoner and detainee operations in World War II, Korea, Vietnam, and Iraq: underestimation of the number to be held, hasty scrambling for resources to meet operational needs, and inadequate doctrine and policy. During the later phases of military operations, an attempt is often made to educate prisoners and detainees and influence their social and political values. The results of a survey by RAND researchers of Iraq detainees contravene many assumptions that had been guiding decisions related to detainee operations. The survey found that local and personal motives, along with nationalism, were more prevalent than religious ones and that detainees were often economic opportunists rather than illiterates seeking economic subsistence through the insurgency. Recommendations include that detailed doctrine should be in place prior to detention and that detainees should be surveyed when first detained
Is military advertising effective? : an estimation methodology and applications to recruiting in the 1980s and 1990s
by
James N Dertouzos
( )
7 editions published in
2003
in
English
and held by 2,117 WorldCat member libraries worldwide
The Department of Defense has been spending over $100 million annually on advertising to support recruiting. Previous econometric studies of military advertising's effectiveness have relied on data from time periods unlike today's and have used models possibly inappropriate for supporting decisionmakers addressing today's policy issues. This report details improved methods developed to assess military advertising's effectiveness and illustrates them using early 1980s and mid-1990s data. Several policy issues are addressed: How effective has advertising been in increasing enlistments? What media appear to be the most cost-effective? Will budget reallocation improve outcomes? Will an increased budget improve outcomes? An overview of trends in military advertising from 1986 to 1997 is included, as are the results of a search of literature on military advertising as well as in the areas of psychology, marketing, and economics pertaining to persuasion and consumer-product advertising. Application of the newly developed methods shows that the four services appear to have gained considerably from advertising and that in comparison to other alternatives, advertising appears to be an effective recruiting tool
more
fewer
Audience Level
0

1
Kids
General
Special
Audience level: 0.05 (from 0.03 for National D ... to 1.00 for National D ...)
Related Identities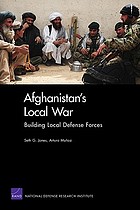 Covers
Alternative Names
Defense Research Institute

États-Unis National defense research institute

N.D.R.I.

National Defense Research Institute (U.S.)

NDRI

Rand Corporation Defense Research Institute

Rand Corporation National Defence Research Institute

Rand Corporation National Defense Research Institute

Rand Corporation National Research Defense Institute

Rand Corporation. National Security Research Division. National Defense Research Institute

Rand's National Defense Research Institute

Languages