Drezner, Jeffrey A.
Most widely held works by Jeffrey A Drezner
The arsenal ship acquisition process experience : contrasting and common impressions from the contractor teams and joint program office
by
Robert S Leonard
( )
9 editions published between
1998
and 1999 in
English
and held by 1,790 WorldCat member libraries worldwide
The Arsenal Ship acquisition program was unique in two respects: it represented a new operational concept for Navy weapon systems, and its management structure and process represented a significant departure from traditional military ship-building programs. The Arsenal Ship program was, in effect, an experiment; while the Navy envisioned an array of mission capabilities for the ship, it set the project budget as the single immovable requirement. In the end, political and financial constraints caused the program's cancellation. Nevertheless, its acquisition approach and technical innovations have already had--and will continue to have--significant influence on other Navy ship-building programs. The lessons learned from the Arsenal Ship program, applied to existing and planned systems, should more than recover the money spent on it
Innovative management in the DARPA high altitude endurance unmanned aerial vehicle program : phase II experience
by
Jeffrey A Drezner
( )
8 editions published in
1999
in
English
and held by 1,764 WorldCat member libraries worldwide
The U.S. military's development of Unmanned Aerial Vehicles (UAVs) has been hampered by cost overruns, schedule slippage, and disappointing operational results. The High Altitude Endurance UAV (HAE UAV) joint program, initiated under the direction of the Defense Advanced Research Projects Agency (DARPA), incorporates several innovative elements in its acquisition strategy that depart radically from traditional acquisition approaches. The program's development phase for the Global Hawk and DarkStar air vehicles is analyzed in this research. The HAE UAV program has experienced problems that are typical of newly implemented methods, but it has produced significant benefits, and provides lessons that could improve a wide variety of future acquisition processes
Environmental management in design : lessons from Volvo and Hewlett-Packard for the Department of Defense
by
Susan A Resetar
( )
8 editions published in
1998
in
English
and held by 1,645 WorldCat member libraries worldwide
The Defense Department, seeking methods to hold the line on environmental costs, can look to corporations in the private sector for novel approaches to environmental management. Corporations have learned that, if environmental issues are considered in the design stage, the payoffs over the life of the product or system can be large. The authors of this report concentrate on two corporations -- Volvo and Hewlett-Packard -- to identify the key factors that led to successful implementation of a design-for-environment program. The report shows, by drawing on the experience of Volvo, Hewlett-Packard, and other industry leaders, how DoD can incorporate pollution prevention into design activities of weapon systems without any loss of capability and with a potential for enormous savings
Using process redesign to improve DoD's environmental security program : remediation program management
by
Jeffrey A Drezner
( )
9 editions published between
1998
and 1999 in
English
and held by 1,612 WorldCat member libraries worldwide
In fiscal year 1994, approximately $2.4 billion was spent on cleanup (or remediation) activities through the Defense Environmental Restoration Account and the Base Realignment and Closure act; in fiscal year 1996, approximately $2.1 billion will be spent, slightly less than half of the total Department of Defense (DoD) environmental security budget. Efforts to increase the efficiency of remediation activities, either by reducing costs or accelerating the process through simplification and streamlining, could have a substantial effect on DoD's ability to meet its cleanup obligations within an increasingly constrained budget. By examining the remediation management programs of two large chemical companies, Olin Corporation and DuPont, the authors identified activities DoD could implement to improve its remediation of thousands of sites at active and closing installations and formerly used defense sites. The following were the core identified tasks: Distribute responsibilities between the central management group and decentralized execution teams, adopt a business process perspective, include more-focused use of performance measurement, proactively identify and manage potential liabilities, and improve stakeholder (regulator and community) interactions
Management perspectives pertaining to root cause analyses of Nunn-McCurdy breaches : contractor motivations and anticipating breaches
by
Mark V Arena
( )
3 editions published in
2014
in
English
and held by 526 WorldCat member libraries worldwide
With an eye to making defense acquisition more effective and efficient, the authors explore defense contractor motivations in pursuing defense contracts and identify mechanisms that might more closely align those incentives with Department of Defense goals. They enumerate several motivations that drive contractors, most of which center on the financial aspects of running an enterprise. Then, they turn to the other side of the negotiating table and identify areas of influence or levers that the government can use to align the contracting process more closely with contractor motivations. They also analyze major defense acquisition programs to determine if it is possible to identify programs that might incur a future Nunn-McCurdy breach by reviewing a number of acquisition programs that have incurred breaches in the past and analyzing them for common characteristics. Their analytic framework enables oversight officials to identify programs with a greater risk of incurring a critical cost breach, which enables officials to focus more intently on a smaller set of programs and which provides hypotheses about what to look for in these programs
Competition and innovation in the U.S. fixed-wing military aircraft industry
by
John Birkler
( )
7 editions published between
2003
and 2004 in
English
and held by 446 WorldCat member libraries worldwide
In the first couple of decades following World War II, over a dozen firms competed vigorously to develop and produce U.S. military aircraft. During the ensuing years, some firms left the business and others merged, so that by 1990 only eight firms survived. In the following few years, the pace of consolidation quickened. Today, only three firms are capable of developing and producing major military aircraft systems. Policymakers have expressed concern that further consolidation could erode the competitive environment, which has been a fundamental driver of innovation in the military aircraft industry
An Analysis of weapon system cost growth
by
J.A Drezner
( Book )
6 editions published in
1993
in
English
and held by 168 WorldCat member libraries worldwide
Cost growth in weapon system development, one result of the inherent risk of developing advanced systems, has been a prevalent problem for many years. A systematic bias in cost estimates can undermine the basis of resource allocation decisions, an important problem in a tight budget environment. Currently DoD is in this situation. This exploratory research attempts to gain new insight into this old acquisition issue. In particular, our objectives were to quantify the magnitude of cost growth in weapon systems, and identify factors affecting cost growth. A better understanding of the scope of the cost growth problem would provide decisionmakers with an improved basis for mitigating cost growth. Insight into the drivers of cost growth might suggest policy alternatives appropriate to the goal of mitigating cost growth. This research uses a database composed of 197 major weapon systems reporting through the Selected Acquisition Report (SAR) process as of December 1990 to address these issues. While we have quantified the magnitude of weapon system cost growth along a number of dimensions, we could not definitively account for the observed cost growth patterns. Thus, no silver bullet policy option is available for mitigating cost growth
The use of baselining in acquisition program management
by
Jeffrey A Drezner
( Book )
5 editions published in
1997
in
English
and held by 152 WorldCat member libraries worldwide
All major weapon system programs establish a program baseline early in the acquisition cycle which sets forth cost, schedule, and performance targets. If the thresholds are exceeded, a review and assessment procedure is initiated in an attempt to understand why the threshold was "breached" and how the program can be brought back on track. This research (1) develops an analytic tool to compare historical trends in the number, duration, and factors affecting breaches and (2) studies the relationship between program acquisition life-cycles and the factors affecting deviations from program baselines
Preliminary assessment of factors affecting DoD facility energy management capabilities
by
Jeffrey A Drezner
( Book )
4 editions published in
1994
in
English
and held by 151 WorldCat member libraries worldwide
DoD is the largest single energy using organization in the U.S. Achieving DoD's energy conservation goals has become increasingly important in a tight budget environment. This report documents Phase 1 of a larger study examining DoD's energy management capabilities and ways to enhance those capabilities. Energy management includes both technical (e.g., project design) and non-technical (e.g., education and awareness) activities. Based on extensive interviews of energy managers throughout DoD, we have identified several categories of factors affecting energy program success, including organizational factors, training and experience, communication and interactions, resources, and metrics and measuring. These areas suggest where energy policy emphasis should be placed
Reforming Mil-Specs : the Navy experience with military specifications and standards reform
by
Mark A Lorell
( Book )
6 editions published between
2001
and 2004 in
English
and held by 149 WorldCat member libraries worldwide
This study helps determine why Navy military specifications and standards reform (MSSR) was not completed within budget or in accordance with a self-imposed schedule. The report defines the status of Navy reforms, looks for reasons why the Navy missed its self-imposed reform completion date, describes primary options for completing the reforms, and identifies steps RAND could take to help the Navy choose among these options. To help them understand the perspectives, interests, and concerns of all who were involved in the reform effort, the authors collected data from and held discussions with various officials in the Department of Defense, Office of the Secretary of Defense, and Defense Logistics Agency. In addition, the authors examined the strategies adopted by the U.S. Air Force and Army, and evaluated why they were able to complete MSSR within their planned budgets and schedules. The authors tentatively conclude that the Navy's problems stemmed from the unique structure of its acquisition bureaucracy, as well as substantive concerns about MSSR. To help the Navy select among options for correcting the problem, four steps should be taken: Identify and collect data and information to explain the Navy's reform experience; explore options for reducing the cost and speeding the process; change the direction of the reforms as originally proposed; and examine how reforms have been accomplished in pilot programs elsewhere
more
fewer
Audience Level
0

1
Kids
General
Special
Audience level: 0.15 (from 0.01 for The arsena ... to 0.63 for Reforming ...)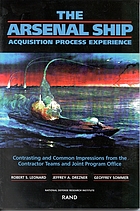 Covers
Alternative Names
Drezner, J. A.

Drezner, J. A. (Jeffrey A.)

Drezner, Jeff

Languages