Patchett, Ann
Most widely held works about Ann Patchett
more
fewer
Most widely held works by Ann Patchett
Bel canto : a novel
by
Ann Patchett
( Book )
154 editions published between
2001
and 2018 in 27 languages and held by 5,318 WorldCat member libraries worldwide
Somewhere in South America, at the home of the country's vice president, a lavish birthday party is being held in honor of Mr. Hosokawa, a powerful Japanese businessman. Roxanne Coss, opera's most revered soprano, has mesmerized the international guests with her singing. It is a perfect evening -- until a band of gun-wielding terrorists breaks in through the air-conditioning vents and takes the entire party hostage. But what begins as a panicked, life-threatening scenario slowly evolves into something quite different, as terrorists and hostages forge unexpected bonds and people from different countries and continents become compatriots. Friendship, compassion, and the chance for great love lead the characters to forget the real danger that has been set in motion and cannot be stopped
State of wonder
by
Ann Patchett
( Book )
95 editions published between
2006
and 2016 in 16 languages and held by 4,762 WorldCat member libraries worldwide
A researcher at a pharmaceutical company, Marina Singh journeys into the heart of the Amazonian delta to check on a field team that has been silent for two years--a dangerous assignment that forces Marina to confront the ghosts of her past
Run
by
Ann Patchett
( Book )
68 editions published between
2003
and 2017 in 9 languages and held by 4,003 WorldCat member libraries worldwide
When an argument in a blinding New England snowstorm inadvertently causes an accident that involves a stranger and her child, all Bernard Doyle cares about is his ability to keep his children--all his children--safe
Commonwealth : a novel
by
Ann Patchett
( Book )
53 editions published between
2016
and 2018 in 7 languages and held by 3,839 WorldCat member libraries worldwide
"Commonwealth is the story of two broken families and the paths their lives take over the course of 40 years, through love and marriage, death and divorce, and a dark secret from childhood that lies underneath it all"
The patron saint of liars
by
Ann Patchett
( Book )
34 editions published between
1992
and 2011 in
English
and held by 2,504 WorldCat member libraries worldwide
Rose, a beautiful and mysterious woman living at St. Elizabeth's home for unwed mother, has no intention of telling her mother or her husband about her pregnancy, until a healing spring near the home changes her mind
The magician's assistant
by
Ann Patchett
( Book )
39 editions published between
1997
and 2013 in
English
and
Polish
and held by 2,029 WorldCat member libraries worldwide
Just before dying, magician Parsifal of Los Angeles married his assistant, Sabine, who knew nothing of his private life, veiled in mystery. Not wanting to be an ignorant widow, Sabine sets out to learn who Parsifal was outside the world of illusion
State of wonder : [a novel]
by
Ann Patchett
( Recording )
51 editions published between
2011
and 2013 in
English
and
Undetermined
and held by 1,575 WorldCat member libraries worldwide
Researcher Marina Singh is sent by her boss at Vogel, a drug manufacturer, to the jungles of Brazil following the death of a co-worker. It is there that the company is looking into a miracle drug based on a tree bark used by a native tribe. Upon her arrival, Marina must find out the circumstances of her colleague's death, as well as find out why work has slowed to a crawl on the drug. That means dealing with Annick Swenson, a determined researcher who Marina has a complicated relationship with
The public library : a photographic essay
by
Ann Patchett
( Book )
9 editions published in
2014
in
English
and held by 1,409 WorldCat member libraries worldwide
"Many of us have vivid recollections of childhood visits to the public library: the unmistakable, slightly musty scent, the excitement of checking out a stack of newly-discovered books. Today's libraries also function as de facto community centers, and offer free access to the Internet, job-hunting assistance, or a warm place to take shelter along with the endless possibilities that spark your imagination the moment you open the cover of a book. There are more than 17,000 public libraries in America. Over the last eighteen years, photographer Robert Dawson has traveled the nation, documenting hundreds of these institutions--from Alaska to Florida, New England to the West Coast. The Public Library presents a wide selection of Dawson's photographs, revealing a vibrant, essential, yet seriously threatened system. Essays, letters, and poetry by a collection of America's most celebrated writers--including E.B. White, Isaac Asimov, Anne Lamott, Amy Tan, Charles Simic, Dr. Seuss, and Philip Levine, as well as the voices of dedicated librarians working today--are woven with photographs of the majestic reading room at the New York Public Library; the one-room Tulare County Free Library built by former slaves, in Allensworth, California; the architectural wonder of Seattle's glass and steel Central Library; and the Berkeley, California tool lending library; among many others. A foreword by Bill Moyers and an afterword by Ann Patchett bookend this important survey of a treasured American institution"--
Taft
by
Ann Patchett
( Book )
26 editions published between
1994
and 2013 in 3 languages and held by 1,311 WorldCat member libraries worldwide
The story of Fay Taft, a your white waitress, narrated by the black bar manager who gave her a job. The manager's feelings for her are paternal, but hers for him are sexual. What's more she has a brother who is a drug dealer and brings sleazy friends into the bar. By the author of The Patron Saint of Liars
Bel canto
by
Ann Patchett
( Recording )
53 editions published between
2000
and 2017 in 4 languages and held by 1,197 WorldCat member libraries worldwide
A birthday party is being held in South America in honor of a powerful Japanese businessman when terrorists break in and take everyone hostage. But what begins as a terrifying scenario turns into something different as terrorists and hostages forge an unexpected bond and love blooms in an unlikely place
more
fewer
Audience Level
0

1
Kids
General
Special
Audience level: 0.18 (from 0.10 for The best A ... to 0.92 for Ann Patche ...)
Related Identities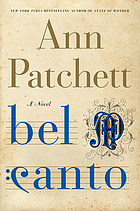 Covers
Alternative Names
Ann Patchett

Ann Patchett Amerikaans schrijfster

Ann Patchett amerykańska pisarka

Ann Patchett écrivaine américaine

Ann Patchett US-amerikanische Schriftstellerin

Pačeta, Anna

Paqite, An.

Paqite, An 1963-

Paqite, Ann, 1963-

Patset, Ann.

Patset, Ann 1963-

Енн Патчетт

Енн Патчетт ( Народився 2 грудня 1963) [ 1 ] є американський письменник. Вона отримала Orange премії з фантастики і премію ПЕН / Фолкнер в 2002 році за роман бельканто . Інші романи Patchett включають Виконати, покровителем Liars Тафт , стан подиву , і помічник чародія , який був номінований на Помаранчевої премії. Вона є лауреатом стипендію Гуггенхайма і отримав Нешвілл Банер Теннессі Writer року премії в 1994 році. Зміст [ прибрати ] 1 Біографія 2 Опубліковані роботи 3 Нагороди та почесні звання 4 Бібліографія 4.1 Романи 4.2 Наукова література 5 Довідки 6 Посилання Біографія [ ред] Патчетт народився в Лос -Анджелесі , Каліфорнія. Її мати романіст Жанна Рей . [ 2 ] Вона переїхала в Нешвіллі , штат Теннессі , коли їй було шість років , де вона продовжує жити. Патчетт сказала вона любить свій будинок в Нешвіллі зі своїм лікарем чоловіком і собакою. Якщо запитати , якщо вона могла піти в будь-яке місце , це місце завжди буде вдома. " Будинок там , ... стабільний вікно , яке відкривається в уяві : [3] . Патчетт навчався в середній школі в Сен- Бернар академії , приватній католицькій школі для дівчаток у веденні сестер милосердя. [ 4 ] [ 5 ] Після закінчення школи , вона відвідувала Коледж Сари Лоуренс і брав уроки писати фантастику з Алланом Gurganus , Рассел банків, і Грейс Палей . [ 6 ] вона пізніше відвідав семінар Айова письменників в Університеті штату Айова і Центр образотворчих мистецтв Робота в Провінстаун , Массачусетс , де вона зустрілася давній друг Елізабет Мак- Кракена . [ 4 ] Крім того , було там , що вона написала свою першу роман , покровителем Liars . У 2010 році , коли вона дізналася , що її рідне місто Нешвілл більше не був хороший книжковий магазин , вона стала співзасновником Парнаса Книги з Карен Hayes ; магазин відкрився в листопаді 2011 року. У 2012 році Патчетт був на час список 100 найвпливовіших людей у світі за версією журналу TIME . [ 7 ] [ 8 ] Вона є строгим вегетаріанцем для "моральної і станом здоров'я. " [ 9 ] Опубліковані роботи [ ред] Перша опублікована робота Patchett була в Paris Review , де вона опублікувала статтю , перш ніж вона закінчила Коледж Сари Лоуренс . Протягом дев'яти років , Патчетт працював у журналі Seventeen , [ 4 ] , де вона написала першу чергу науково -популярні та журнал опублікував один з кожних п'яти статей вона писала. Вона сказала , що журнал був жорстокий і зрештою вона припинила приймати критику особисто. [ 10 ] Вона закінчила свої відносини з журналом після потрапляння в суперечці з редактором і вигукуючи: "Я ніколи не буду затемнити ваші двері знову! " [ 4 ] Патчетт написав для численних публікацій , у тому числі The New York Times Magazine , The Washington Post , O , The Oprah Magazine , ELLE , GQ , Gourmet , і Vogue. [ 6 ] У 1992 році Патчетт опубліковані покровителем Liars . [ 5 ] Роман був екранізований під тією ж назвою в 1998 році. [ 11 ] Її другий роман Тафт виграв Джанет Heidinger Кафка премію в художній літературі в 1994 році. [ 5 ] Її третій роман , помічник чародія , був випущений в 1997 році. у 2001 році її четвертий роман Bel Canto був її прорив , ставши Національної книжкової Критики Круг премії Фіналіст і виграти PEN / Faulkner Award . [ 6 ] Друг письменника Люсі Grealy , Патчетт написав мемуари про свої стосунки , Істини і Краси : дружби. Роман Patchett , в Біжи , був випущений в жовтні 2007 року. Що тепер , опублікований в квітні 2008 року, є есе на основі Початок промові вона виступила на її альма- матер у 2006 році? . Патчетт є редактором обсягу 2006 серії антології Кращі американські розповіді. У 2011 році вона опублікувала стан подиву , роман набір в джунглях Амазонки

Пэтчетт, Энн

פאצ׳ט, אן

פצ'ט, אן

آن باتشيت، 1963-

آن پچت نویسنده آمریکایی

ആൻ പാറ്റ്ചെറ്റ്

패쳇, 앤 1963-

패칫, 앤 1963-

アン・パチェット

パチェット, アン

Languages
English
(653)
Italian
(17)
Polish
(17)
German
(17)
Spanish
(11)
French
(9)
Danish
(8)
Chinese
(7)
Dutch
(7)
Swedish
(6)
Portuguese
(5)
Hebrew
(4)
Russian
(4)
Thai
(3)
Japanese
(2)
Czech
(2)
Croatian
(2)
Turkish
(2)
Norwegian
(2)
Arabic
(1)
Indonesian
(1)
Lithuanian
(1)
Greek, Modern
(1)
Korean
(1)
Romanian
(1)
Norwegian
(1)
Slovenian
(1)
Serbian
(1)
more
fewer