Champy, James 1942-
Most widely held works about James Champy
Most widely held works by James Champy
Reengineering the corporation : a manifesto for business revolution
by
Michael Hammer
( Book )
106 editions published between
1983
and 2014 in
English
and
Undetermined
and held by 3,863 WorldCat member libraries worldwide
The key to reengineering is abandoning the most basic notions on which the modern organization is founded, and the authors introduce the notion of process orientation, of concentrating on and rethinking end-to-end activities that create value for customers
Reengineering management : the mandate for new leadership
by
James Champy
( Book )
36 editions published between
1993
and 2006 in 4 languages and held by 1,909 WorldCat member libraries worldwide
Today's management practices hearken back to the early 1900s, when corporations changed from owner leadership to professional managers who began to run companies like controllable, predictable machines. Now that corporations have taken pains to reengineer their operational processes, the management processes must change in accordance. In Reengineering Management, Champy reveals that these processes must focus on mobilizing, enabling, defining, measuring, and communicating in order to achieve a business culture that enables a continuous process of reengineering - in order, in short, to achieve success. For the hundreds of thousands of managers who have read Reengineering the Corporation and the millions who have been touched by the reengineering revolution, Reengineering Management is the book that can deliver the reality behind the promise
The arc of ambition : defining the leadership journey
by
James Champy
( Book )
19 editions published between
1999
and 2008 in 3 languages and held by 594 WorldCat member libraries worldwide
"In The Arc of Ambition, Champy and Nohria explore the fascinating dimensions of ambition through the stories of dozens of achievers, past and present, who exemplify both its positive and negative qualities. From Alfred Sloan's vision for General Motors that changed management practice forever, to Michael Dell's boyhood dream to have a building with a flag out front, to Giuseppe Garibaldi's quest for a unified Italy, ambition comes in many guises. By turning their lens to include both heroic figures of the past and today's most dynamic achievers in the worlds of business, politics, science, and the arts, Champy and Nohria outline the underlying principles of ambition and how it can be channeled toward creative and enriching endeavors at the personal, organizational, and even national levels. Book jacket."--BOOK JACKET
Outsmart! : how to do what your competitors can't
by
James Champy
( Book )
26 editions published between
2008
and 2015 in 5 languages and held by 462 WorldCat member libraries worldwide
"Jim Champy revolutionized business with Reengineering the Corporation. Now, in Outsmart! he's doing it again. This concise, fast-paced book shows how you can achieve breakthrough growth by consistently outsmarting your competition. Champy reveals the surprising, counterintuitive lessons learned by companies that have achieved super-high growth for at least three straight years. Drawing on the strategies of some of today's best "high velocity" companies, he identifies eight powerful ways to compete in even the roughest marketplace. You'll discover how to find distinctive market positions and sustainable advantages in products, services, delivery methods, and unexpected customers with unexpected needs."--Jacket
X-engineering the corporation : reinventing your business in the digital age
by
James Champy
( Book )
19 editions published between
2002
and 2003 in 3 languages and held by 427 WorldCat member libraries worldwide
Argues that a solid strategy is a critical part of managing breakneck changes in information technology, outlining four foundations of the e-engineering process, including propositions, processes, participation, and preparedness
Inspire! : why customers come back
by
James Champy
( Book )
9 editions published between
2009
and 2010 in
English
and
Spanish
and held by 374 WorldCat member libraries worldwide
Le Reengineering
by
Michael Hammer
( Book )
13 editions published between
1993
and 2003 in
French
and
Undetermined
and held by 187 WorldCat member libraries worldwide
Reengineering health care : a manifesto for radically rethinking health care delivery
by
James Champy
( Book )
6 editions published in
2010
in
English
and held by 136 WorldCat member libraries worldwide
In their legendary book, Reengineering the Corporation, Jim Champy and Michael Hammer introduced businesspeople to the enormous power of a revolutionary methodology called reengineering. Using reengineering, businesses around the world have systematically retooled their processes - achieving dramatic cost savings, greater customer satisfaction, and more value. Now, Jim Champy and Dr. Harry Greenspun show how to apply the proven reengineering methodology in health care: throughout physician practices, hospitals, and even entire health systems. You'll meet innovative and visionary leaders who've been successfully reengineering organizations across the entire delivery spectrum and learn powerful lessons for improving quality, reducing costs, and expanding access. This book doesn't just demonstrate the immense potential of health care reengineering to revolutionize health care delivery: it offers a clear roadmap for realizing that potential in your own organization
Reengineering im Management : die Radikalkur für die Unternehmensführung
by
James Champy
( Book )
11 editions published between
1995
and 2014 in 4 languages and held by 112 WorldCat member libraries worldwide
The co-author of the monumental bestseller Reengineering the Corporation continues the reengineering revolution with another national bestseller that has already sold more than 165,000 copies in hardcover Reengineering Management is a brilliant, practical and much needed book on the most powerful management idea of the decade. Reengineering'changing the traditional and outdated organization, processes and culture of a company'is corporate America's greatest challenge today. In Reengineering Management, Champy examines the far-reaching changes managers must make for themselves and their companies to succeed in an era of unprecedented competition. Through his extensive consulting and research work, he shows how reengineering succeeds only when managers reinvent their own jobs and managerial styles. Otherwise, the ultra-efficient and effective reengineered processes for acquiring and serving customers, filling orders, bringing new concepts to market and other key business activities eventually fall apart. Champy illustrates this new management agenda through first-hand experiences of managers of reengineered operations at Federal Express, Wisconsin Electric, CIGNA Health Care, Hewlett-Packard, AT & T Universal Card Services and other companies. Champy shows how they are mastering the managerial challenges of reengineering, and as a result are making their organizations exciting and competitive. As more and more organizations reengineer, the experiences of these managers will become an insiders' guide to managerial life in the company of the future. Reengineering Management picks up where Reengineering the Corporation left off'by exploring the managerial implications of the reengineered workplace. As reengineering becomes critical to all organizations, Reengineering Management will be the road map for managerial success in the future. It is, indeed, the manifesto for the next managerial revolution
Reengineering the corporation
by
Michael Hammer
( Recording )
7 editions published between
1993
and 2005 in
English
and held by 98 WorldCat member libraries worldwide
"Reengineering--the radical redesign of a company's processes, organization, and culture--is the most important topic in business circles today. Reengineering the Corporation offers nothing less than a brand-new vision of how companies should be organized and managed if they are to succeed--indeed, even survive--in the 1990s and beyond."
Reengineering du management
by
James Champy
( Book )
4 editions published between
1995
and 1996 in
French
and held by 69 WorldCat member libraries worldwide
Reengineering management
by
James Champy
( Recording )
2 editions published in
1995
in
English
and held by 69 WorldCat member libraries worldwide
This tape provides the guidelines managers need to lead, organize, inspire, deploy, measure, and reward the new work reengineering creates. For once a corporation's operational processes have been reengineered, the mamagement processes must change in accordance
Inspire : how to keep your customers when your competitors can't
by
James Champy
( Book )
4 editions published in
2009
in
English
and held by 44 WorldCat member libraries worldwide
In today's world of choice the customer is definitely king, but it is still possible to inspire your customers' loyalty and make sure they stick with you. How? In Inspire!, Jim Champy shows you how to increase your market share by: * Defining an authentic, consistent selling proposition that your customers will be passionate and stay passionate about * Engaging a new generation of customers who value transparency * Bringing authenticity to everything your company does real authenticity, not the 'fake authenticity' today's savvy customers will sniff out a mile away Drawing on case studies from both traditional and new, 'sexy' industries, Champy reveals how you can move your company forward with new products, services and business models that reflect the best of what you really are. In Inspire!, you'll learn how market-leading companies reinvigorate themselves in the face of brutally tough and creative competition; how to deliver value in new ways based on convenience; how to offer simplicity and honesty to your customers; and how to go beyond mere marketing campaigns to lead crusades that customers genuinely want to join. The common trait these companies have, and which you need to hold on to as well, is the ability to remain true to themselves. They consistently uphold their own values in their products, services and actions And they keep hold of their customers. Once again, Jim Champy has given businesses actionable solutions to one of the most challenging problems they face: making customers stick. -- Description from http://www.amazon.com (June 27, 2012.)
more
fewer
Audience Level
0

1
Kids
General
Special
Audience level: 0.35 (from 0.05 for The arc of ... to 0.89 for Business r ...)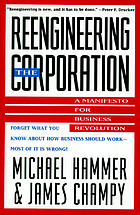 Alternative Names
Champy, Jim

Champy, Jim 1942-

James A. Champy American businessman

James A. Champy Amerikaans econoom

James A. Champy US-amerikanischer Wirtschaftswissenschaftler

جيمس شامبي، 1942-

챔피, 제임스

チャンピー, J.

チャンピー, ジェイムズ

チャンピー, ジム

Languages
Covers