Oliver, Kelly 1958-
Most widely held works by Kelly Oliver
The portable Kristeva
by
Julia Kristeva
( Book )
18 editions published between
1997
and 2002 in
English
and held by 766 WorldCat member libraries worldwide
The essays not only reflect Kristeva's most salient contributions to philosophy, literary and cultural theory, linguistics, psychoanalytic theory, and feminist theory but also testify to her erudition and prominence in those fields. Enriched by a lucid introduction that provides an overview of Kristeva's contributions to the intellectual life of our time, The Portable Kristeva will serve as an essential tool for those familiar with her oeuvre, and will provide a succinct and complete introduction for those new to her writings
Women as weapons of war : Iraq, sex, and the media
by
Kelly Oliver
( Book )
19 editions published between
2007
and 2010 in
English
and
Undetermined
and held by 628 WorldCat member libraries worldwide
"From the female soldiers involved in Abu Ghraib to Palestinian women suicide bombers, women and their bodies have become powerful weapons in the Afghanistan and Iraq wars. In Women as Weapons of War, Kelly Oliver reveals how the media arid the administration frequently use metaphors of weaponry to describe women and female sexuality and forge a deliberate link between notions of vulnerability and images of violence. Focusing specifically on the U.S. campaigns in Afghanistan and Iraq, Oliver analyzes contemporary discourse surrounding women, sex, and gender and the use of women to justify America's decision to go to war. For example, the administration's call to liberate "women of cover," suggesting a woman's right to bare arms is a sign of freedom and progress." "Oliver also considers what forms of cultural meaning, or lack of meaning, could cause both the guiltlessness demonstrated by female soldiers at Abu Ghraib and the profound commitment to death made by suicide bombers. She examines the pleasure taken in violence and the passion for death exhibited by these women and what kind of contexts created them. In conclusion, Oliver diagnoses our cultural fascination with sex, violence, and death and its relationship with live news coverage and embedded reporting, which naturalizes horrific events and stymies critical reflection. This process, she argues, further compromises the borders between fantasy and reality, fueling a kind of paranoid patriotism that results in extreme forms of violence."--Jacket
Reading Kristeva : unraveling the double-bind
by
Kelly Oliver
( Book )
10 editions published in
1993
in
English
and
Undetermined
and held by 507 WorldCat member libraries worldwide
This feminist interpretation of Kristeva's work situates her within the context of French feminism. Oliver positions Kristeva's intellectual work within formation in linguistics, Freud, Lacan, and poetics. This comprehensive introduction to Kristeva makes accessible her important contributions to philosophy, linguistics, and psychoanalytic feminism
Language and liberation : feminism, philosophy, and language
by
Christina Hendricks
( Book )
9 editions published in
1999
in
English
and held by 494 WorldCat member libraries worldwide
Presenting new scholarship in feminist language theory, this book addresses issues within diverse traditions, bringing together feminist positions, strategies, and styles in an original way. Gathering together authors with different backgrounds and methods, Language and Liberation puts this diverse scholarship into dialogue. The questions and concerns reflected in these essays are presented within the context of their historical background, provided by the editors' comprehensive introduction. These questions include: Is there a distinction between "female" and "male" language? What is the relationship of feminine/feminist identity to language? What is the value of metaphor for feminist theory and practice?
Hunting girls : sexual violence from The hunger games to campus rape
by
Kelly Oliver
( Book )
9 editions published between
2016
and 2017 in
English
and held by 492 WorldCat member libraries worldwide
"Katniss Everdeen (The Hunger Games), Bella Swan (Twilight), Tris Prior (Divergent), and other strong and resourceful characters have decimated the fairytale archetype of the helpless girl waiting to be rescued. Giving as good as they get, these young women access reserves of aggression to liberate themselves--but who truly benefits? By meeting violence with violence, are women turning victimization into entertainment? Are they playing out old fantasies, institutionalizing their abuse? In Hunting Girls, Kelly Oliver examines popular culture's fixation on representing young women as predators and prey and the implication that violence--especially sexual violence--is an inevitable, perhaps even celebrated, part of a woman's maturity. In such films as Kick-Ass (2010), The Girl with the Dragon Tattoo (2011), and Maleficent (2014), power, control, and danger drive the story, but traditional relationships of care bind the narrative, and even the protagonist's love interest adds to her suffering. To underscore the threat of these depictions, Oliver locates their manifestation of violent sex in the growing prevalence of campus rape, the valorization of woman's lack of consent, and the new urgency to implement affirmative consent apps and policies."--Jacket
Feminist interpretations of Friedrich Nietzsche
( Book )
11 editions published in
1998
in
English
and held by 430 WorldCat member libraries worldwide
Aandacht voor het gedachtengoed van Nietzsche over vrouwen en feminisme en voor de feministische ideeën over Nietzsche. Bevat de volgende bijdragen: Baubô: theological perversion and fetishism / Sarah Kofman, translated by Tracy B. Strong; The question of style / Jacques Derrida, translated by Ruben Berezdivin; Woman as truth in Nietzsche's writing / Kelly Oliver; Veiled lips / Luce Irigaray, translated by Sara Speidel; Nietzsche and feminism: transvaluing women in 'Thus spoke Zarathustra' / Tamsin Lorraine; Gender in 'The gay science' / Kathleen Marie Higgins; Ecce homo: abjection and "the feminine" / Jean Graybeal; Nietzschean mythologies: the inversion of value and the war against women / Linda Singer; Nietzsche's misogyny / Maudemarie Clark; Sexual dualism and women's self-creation: on the advantages and disadvantages of reading Nietzsche for feminists / Lynne Tirrell; Nietzsche was no feminist ... / Debra B. Bergoffen; Nietzsche's women and women's Nietzsche / Kathleen J. Wininger; The slave revolt in epistemology / Daniel W. Conway; Nietzsche's politics / Ofelia Schutte; Nietzsche's squandered seductions: feminism, the body, and the politics of genealogy / David Owen
French feminism reader
( Book )
8 editions published between
2000
and 2002 in
English
and held by 388 WorldCat member libraries worldwide
"French Feminism Reader is a collection of essays representing the authors and issues from French theory most influential in the American context. The book is designed for use in courses, and it includes illuminating introductions to the work of each author. These introductions include biographical information, influences and intellectual context, major themes in the author's work as a whole, and specific introductions to the selections in this volume."--Back cover
Ethics, politics, and difference in Julia Kristeva's writings
by
Kelly Oliver
( Book )
14 editions published between
1993
and 2013 in
English
and held by 376 WorldCat member libraries worldwide
"Ethics, Politics and Difference in Julia Kristeva's Writing" aims to be a valuable intervention in Kristevan scholarship, and a significant contribution in its own right to post-structuralist considerations of ethical and political agency and practice. The essays in this collection examine Kristeva's contributions to the project of creating an alternative ethical political agency. Post-structuralist critiques have transformed the ways in which we think about the subject, but they have failed to provide any satisfactory alternative when we think of ethical or political agency. Without such an alternative, theoretical accounts of emancipatory practices appear to be in jeopardy. Contributors to this collection explore Julia Kristeva's work and assess how helpful her theories can be in attempting to construct a post-structuralist ethics
The colonization of psychic space : a psychoanalytic social theory of oppression
by
Kelly Oliver
( Book )
14 editions published in
2004
in
English
and held by 363 WorldCat member libraries worldwide
Eloquently arguing that we cannot explain the development of individuality or subjectivity apart from its social context, Kelly Oliver makes a powerful case for recognizing the social aspects of alienation and the psychic aspects of oppression
Womanizing Nietzsche : philosophy's relation to the "feminine"
by
Kelly Oliver
( Book )
11 editions published between
1994
and 2016 in
English
and held by 357 WorldCat member libraries worldwide
In Womanizing Nietzsche, Kelly Oliver uses an analysis of the position of woman in Nietzsche's texts to open onto the larger question of philosophy's relation to the feminine and the maternal. Offering readings from Nietzsche, Derrida, Irigaray, Kristeva, Freud and Lacan, Oliver builds an innovative foundation for an ontology of intersubjective relationships that suggests a new approach to ethics. Oliver argues that while Freud, Nietzsche and Derrida, in particular, attempt to open up philosophy to its other--the unconscious, the body, difference, even the feminine--their attempts depend on closing off the possibility of a specifically feminine other. In this regard, Oliver maintains that none of these theorists have escaped the Hegelian model of intersubjectivity at the level of Lordship and Bondage. She suggests that the recent talk of the death of philosophy is a symptom of the exclusion of woman, the feminine and the maternal. By problematizing and reformulating the traditional philosophical association between the maternal and nature, Oliver presents an alternative model for intersubjectivity and ethics. -- Publisher description
more
fewer
Audience Level
0

1
Kids
General
Special
Audience level: 0.28 (from 0.03 for Psychoanal ... to 0.57 for Ethics, po ...)
Related Identities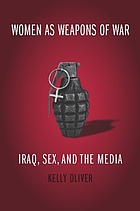 Alternative Names
Kelly Oliver Amerikaans filosofe

Kelly Oliver filósofa estadounidense

Kelly Oliver philosophe américaine

کلی الیور فیلسوف آمریکایی

Languages
Covers