Hamm, Mark S.
Most widely held works by Mark S Hamm
The spectacular few : prisoner radicalization and the evolving terrorist threat
by
Mark S Hamm
( )
11 editions published between
2013
and 2016 in
English
and held by 1,438 WorldCat member libraries worldwide
Drawing from a wide range of sources - including historical case studies of prisoner radicalization reaching from Gandhi, to Malcolm X, to Bobby Sands and the detainees of Guantanamo; contemporary archival research; and interviews with intelligence officers and prisoners - this book imagines the texture of prisoners' lives. Hamm covers prisoners' criminal thinking styles, the social networks that influence them, and the personal "turning points" that can set them on the path to violent extremism
Ethnography at the edge : crime, deviance, and field research
by
Jeff Ferrell
( Book )
12 editions published between
1998
and 2016 in
English
and held by 1,142 WorldCat member libraries worldwide
Pioneering criminologists and sociologists vividly recount the personal and professional tribulations of conducting field research with deviant and criminal subcultures
Terrorism as crime : from Oklahoma City to Al-Qaeda and beyond
by
Mark S Hamm
( Book )
16 editions published between
2006
and 2007 in
English
and held by 1,071 WorldCat member libraries worldwide
Car bombing, suicide bombing, abduction, smuggling, homicide, and hijacking are all profoundly criminal acts. In Terrorism as Crime, Mark S. Hamm presents an understanding of terrorism from a criminological point of view, arguing that the most successful way to understand, detect, prosecute and deter these acts is to use conventional criminal investigation methods. Whether in Oklahoma City or London, Terrorism as Crime demonstrates that criminal activity is the lifeblood of terrorist groups and that there are simple common denominators at work that can remove the mystery surrounding many of these terrorist groups. Once understood the vulnerabilities of these organizations can be exposed. This important volume focuses in on six case studies of crimes committed by jihad and domestic right wing groups, including biographies of more than two dozen terrorists along with descriptions of their organizations, strategies, and terrorist plots. Terrorism as Crime offers an original and significant framework for explaining international and domestic terrorism, as well as how future acts might be detected or exposed
In bad company : America's terrorist underground
by
Mark S Hamm
( Book )
12 editions published between
2001
and 2002 in
English
and held by 1,031 WorldCat member libraries worldwide
"The dramatic sieges at Randy Weaver's cabin in Ruby Ridge, Idaho, and the Branch Davidian compound in Waco, Texas, combined with the FBI's reluctance to admit wrongdoing in those tragic confrontations, fueled a virulent hatred of the federal government that unified previously isolated voices within the extreme radical right movement. As a result, the scores of clandestine paramilitary cells that flourished in the aftermath of Ruby Ridge and Waco formed a loosely knit underground network with a shared goal to violently overthrow the U.S. government."
American skinheads : the criminology and control of hate crime
by
Mark S Hamm
( Book )
16 editions published between
1993
and 1994 in
English
and held by 1,025 WorldCat member libraries worldwide
American Skinheads is the first criminological analysis of organized hate crime violence. Mark Hamm presents historical specificity for a modern theory of hate crime, then rigorously tests the theory with interview data derived from skinheads who have committed an array of violent acts against persons because of their race, religion, or sexual preference--people who are members of the classic outgroups of American society.||Part One traces the roots of the Skinhead Nation through the Beats, Mods, Hippies, and Punks in London, and then examines the rise of the Neo-Nazi Skinheads in the United S
Apocalypse in Oklahoma : Waco and Ruby Ridge revenged
by
Mark S Hamm
( Book )
5 editions published in
1997
in
English
and held by 899 WorldCat member libraries worldwide
Hamm skillfully untangles the complex web of catalysts that contributed to the conspiracy to bomb the Murrah Building, and uncovers startling revelations about the groups and individuals involved in terrorist activities against the government. He considers the importance of April 19 as a symbolic date for the radical right; discusses the role of Christian Identity, a theology that gives the blessing of God to the racist cause; and examines the significance of The Turner Diaries, a popular novel among militia groups that details a blueprint for anti-government violence. Hamm also discloses that a plan to bomb the Murrah Building was devised as early as 1983 by Christian Identity member Richard Wayne Snell. The author offers bold insights into the ways in which suspects Timothy McVeigh and Terry Nichols were motivated by these influences
The age of lone wolf terrorism
by
Mark S Hamm
( Book )
12 editions published in
2017
in
English
and held by 449 WorldCat member libraries worldwide
The lethality of lone-wolf terrorism has reached an all-time high in the United States. Isolated individuals using firearms with high-capacity magazines are committing brutally efficient killings with the aim of terrorizing others, yet there is little consensus on what connects these crimes and the motivations behind them. In The Age of Lone Wolf Terrorism, terrorism experts Mark S. Hamm and Ramon Spaaij combine criminological theory with empirical and ethnographic research to map the pathways of lone-wolf radicalization, helping with the identification of suspected behaviors and recognizing patterns of indoctrination. Reviewing comprehensive data on these actors, including more than two hundred terrorist incidents, Hamm and Spaaij find that a combination of personal and political grievances lead lone wolves to befriend online sympathizers-whether jihadists, white supremacists, or other antigovernment extremists-and then announce their intent to commit terror when triggered. Hamm and Spaaij carefully distinguish between lone wolves and individuals radicalized within a group dynamic. This important difference is what makes this book such a significant manual for professionals seeking richer insight into the transformation of alienated individuals into armed warriors. Hamm and Spaaij conclude with an analysis of recent FBI sting operations designed to prevent lone-wolf terrorism in the United States, describing who gets targeted, strategies for luring suspects, and the ethics of arresting and prosecuting citizens
more
fewer
Audience Level
0

1
Kids
General
Special
Audience level: 0.23 (from 0.02 for The specta ... to 0.97 for Antifemini ...)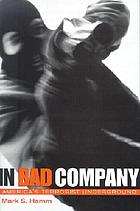 Covers
Alternative Names
Languages