Golden, Christopher
Overview
| | |
| --- | --- |
| Works: | 471 works in 1,287 publications in 9 languages and 41,089 library holdings |
| Genres: | Fiction Suspense fiction Young adult works Graphic novels Comic books, strips, etc Criticism, interpretation, etc Paranormal fiction Science fiction Stories, plots, etc Handbooks and manuals |
| Roles: | Author, Editor, Creator, Other, Scribe, Draftsman |
| Classifications: | PS3608.I4342, 813.54 |
Most widely held works about Christopher Golden
Most widely held works by Christopher Golden
20th century ghosts
by
Joe Hill
( Book )
3 editions published between
2007
and 2009 in
English
and
Polish
and held by 1,438 WorldCat member libraries worldwide
A compilation of short fiction includes the tales of Imogene, the legendary ghost of the Rosebud theater, and Francis, an unhappy, hopeless human turned giant locust seeking revenge on his Nevada hometown
Snowblind
by
Christopher Golden
( Book )
14 editions published between
2014
and 2015 in
English
and
French
and held by 1,290 WorldCat member libraries worldwide
"SNOWBLIND is a thrilling contemporary ghost story with both horror and heart. The small New England town of Coventry is haunted by its memories of a deadly winter ... in which loved ones were lost, families torn apart, and a town buried in a terrible blizzard. Now, twelve years later, the people plagued by their memories of that storm are haunted once again as a new storm approaches, promising to wreak new havoc. Old ghosts trickle back, and this storm will prove even more terrifying and deadly than the last. With richly textured characters, scarred and haunted by the ghosts of those they loved most, Snowblind reinvents the ghost story for today's world. Spellbinding in scope and rooted deeply in classic storytelling, Christopher Golden has written a chilling masterpiece that is the best work of his career and a standout supernatural thriller"--
Baltimore, or, The steadfast tin soldier and the vampire
by
Michael Mignola
( Book )
23 editions published between
2007
and 2015 in 4 languages and held by 876 WorldCat member libraries worldwide
Infected by a demonic vampire while fighting in the Ardennes forest during World War I, Lord Henry Baltimore summons three friends and prepares himself for a final showdown with the Red King
The Stephen King universe : a guide to the worlds of the king of horror
by
Stan Wiater
( Book )
10 editions published between
2001
and 2006 in
English
and held by 766 WorldCat member libraries worldwide
A survey of the complete King fictional corpus, grouping novels and tales by setting and theme, with the aim of showing that King's stories are interconnected by theme or character and that the "Dark Tower series is the core of the Stephen King universe."
Cemetery girl
by
Charlaine Harris
( Book )
24 editions published between
2013
and 2015 in
English
and held by 757 WorldCat member libraries worldwide
She calls herself Calexa Rose Dunhill--names taken from the grim surroundings where she awoke, bruised and bloody, with no memory of who she is, how she got there, or who left her for dead. She has made the cemetery her home, living in a crypt and avoiding human contact. But Calexa can't hide from the dead--and because she can see spirits, they can't hide from her. Then one night, Calexa spies a group of teenagers vandalizing a grave--and watches in horror as they commit murder. As the victim's spirit rises from her body, it flows into Calexa, overwhelming her mind with visions and memories not her own. Now Calexa must make a decision: continue to hide to protect herself--or come forward to bring justice to the sad spirit who has reached out to her for help
Prince of stories : the many worlds of Neil Gaiman
by
Hank Wagner
( Book )
10 editions published between
2008
and 2010 in
English
and held by 753 WorldCat member libraries worldwide
Chronicles the history and impact of the complete works of Gaiman in film, fiction, music, comic books, and beyond
Tin men : a novel
by
Christopher Golden
( Book )
1 edition published in
2015
in
English
and held by 684 WorldCat member libraries worldwide
"In the near future, the U.S. has deployed the Remote Infantry Corps: thousands of robots remote-piloted by soldiers whose bodies lie hidden in underground bases. But the worst occurs when anarchists set off a global pulse that shorts out electrical connections. In Damascus, Private Danny Kelso, Corporal Kate Wade, and their platoon realize they are trapped inside the Tin Men--something the government never warned them could happen. In Athens, the G20 Summit comes under fire, and a band of security soldiers and advisors risk everything in an effort to shepherd the President to safety. As chaos descends, and with anarchist Bot Killers on their trail, the Tin Men must survive a gauntlet of violence on the road from Damascus to the heart of Europe, half of them determined to stay true to their mission and save their president, half of them hellbent to save themselves.."--
Wildwood Road
by
Christopher Golden
( Book )
8 editions published between
2005
and 2008 in 3 languages and held by 597 WorldCat member libraries worldwide
Happily married for three years, Michael and Jillian Dansky find their lives and marriage transformed forever by an encounter with a lost little girl who leads them to a house haunted by a mysterious force that transforms Jillian into a cruel and vindictive woman and forces Michael into a dangerous quest to unravel the dark mystery surrounding him
Dead ringers
by
Christopher Golden
( Book )
6 editions published between
2015
and 2016 in
English
and held by 594 WorldCat member libraries worldwide
"When Tess Devlin runs into her ex-husband Nick on a Boston sidewalk, she's furious at him for pretending he doesn't know her. She calls his cell to have it out with him, only to discover that he's in New Hampshire with his current girlfriend. But if Nick's in New Hampshire ... who did she encounter on the street? Frank Lindbergh's dreams have fallen apart. He wanted to get out of the grim neighborhood where he'd grown up and out of the shadow of his alcoholic father. Now both his parents are dead and he's back in his childhood home, drinking too much himself. As he sets in motion his plans for the future, he's assaulted by an intruder in his living room ... an intruder who could be his twin. In an elegant hotel, Tess will find mystery and terror in her own reflection. Outside a famed mansion on Beacon Hill, people are infected with a diabolical malice ... while on the streets, an eyeless man, dressed in rags, searches for a woman who wears Tess's face"--
Spike & Dru : pretty maids all in a row
by
Christopher Golden
( Book )
17 editions published between
2000
and 2005 in 3 languages and held by 593 WorldCat member libraries worldwide
" ... You got Slayer problems. You know what I find works real good with Slayers? Killing them." "Oh yeah, I did a couple Slayers in my time. Don't like to brag. Oh, who am I kidding, I love to brag. There was one Slayer, during the Boxer Rebellion ..." "We like to talk big, vampires do. 'I'm gonna destroy the world, ' -- just tough-guy talk, strutting around with your friends over a pint of blood ... Truth is, I like this world. You got dog racing, Manchester United, Love Boat, and you got people. Billions of people walking around like Happy Meals with legs ..." In the second hardcover installment of the bestselling Buffy the Vampire Slayer₉ series, Christopher Golden, coauthor of The Watcher's Guide ("fans will suck this tome dry"--Entertainment Weekly) and Immortal ("Golden and Holder smartly expand upon the show's slangy lingo [and] display deep insight into the characters."--Entertainment Weekly), presents a unique supernatural tale that finds fan-favorite demon lovers Spike and Drusilla wreaking havoc throughout war-torn Europe as only they can. As long as there have been demons, there have been Slayers. But Slayers have short life expectancies and high mortality rates. Which is why there exists a list of Pretty Maids All in a Row It's 1940, and Europe is ravaged by World War II -- an ideal environment for two gleefully destructive monsters. Drusilla's birthday -- that is, the anniversary of her resurrection as a vampire -- impends and her devoted paramour Spike wants to celebrate in style. What more perfect a gift than the legendary necklace known as Freyja's Strand -- a chain of metal so potently magical that it instantly imbues its wearer with the ability to shape-shift at will? The problem is, no one's sure that the bauble even exists. Until Spike learns of a demon named Skrymir, who claims not only to possess the necklace, but is willing to trade. Skrymir's true desire is to be rid of the most persistent thorns in his side, the Watchers' Council and the Slayer, so that he can implement his vision of world domination. Spike's task is to infiltrate Council head-quarters and get his hands on the list of all young women currently in training to take over as Slayer should they be called. In exchange for the necklace, Spike must kill the current Slayer, a brazen young woman named Sophie, as well as all of the Slayers-in-Waiting that exist -- the "pretty maids all in a row." To Spike, this sounds like fun, and he sets off on a spree. Sophie and her Watcher, Yanna, are determined to stop whoever has been slaughtering all of the potential Slayers. If Spike and Drusilla succeed with their plans of bloodlust and power, it could mean the end of the Chosen One -- all of the Chosen Ones -- forever
more
fewer
Audience Level
0

1
Kids
General
Special
Audience level: 0.19 (from 0.15 for Wildwood R ... to 1.00 for Christophe ...)
Related Identities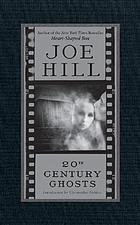 Alternative Names
Randall, Thomas, 1967-
Christopher Golden Amerikaans romanschrijver

Golden, Chris.

Golden, Chris 1967-

Randall Thomas 1967-....

Голден, Кристофер

골든, 크리스토퍼

ゴールデン, クリストファー

Languages
Covers