Abu-Rabiʻ, Ibrahim M.
Most widely held works by Ibrahim M Abu-Rabiʻ
Intellectual origins of Islamic resurgence in the modern Arab world
by
Ibrahim M Abu-Rabiʻ
( Book )
10 editions published between
1996
and 2001 in
English
and
Turkish
and held by 490 WorldCat member libraries worldwide
This is a systematic treatment of the religious, intellectual, cultural, and social foundations of Islamic resurgence in the modern Arab world. Because of the complex origin and controversial nature of this movement, Abu-Rabi has grounded its thought in the larger context of Arab and Islamic intellectual history. Islamic resurgence has offered a multitude of solutions to the perceived problems of modern Arab and Muslim societies through the pens of its most sophisticated thinkers and philosophers. This study documents in detail the ideas of such leading Islamist thinkers as Hasan Banna, Sayyid Qutb, Muhammad Husayn Fadlallah, and Yusuf al-Qaradawi. It also discusses contemporary Arab views on resurgence and the relationship between religion and society
The Blackwell companion to contemporary Islamic thought
by
Ibrahim M Abu-Rabiʻ
( Book )
21 editions published between
2006
and 2013 in
English
and held by 383 WorldCat member libraries worldwide
The Blackwell Companion to Contemporary Islamic Thought reflects the variety of trends, voices, and opinions in the contemporary Muslim intellectual scene. Challenges Western misconceptions about the modern Muslim world in general and the Arab world in particular. Consists of 36 important essays written by contemporary Muslim thinkers and scholars. Covers issues such as Islamic tradition, modernity, globalization, feminism, the West, the USA, reform, and secularism. Helps readers to situate Islamic intellectual history in the context of Western intellectual trends
Islam at the crossroads : on the life and thought of Bediuzzaman Said Nursi
( Book )
7 editions published in
2003
in
English
and held by 241 WorldCat member libraries worldwide
Note on Transliteration p. vii <br> Editor's Introduction p. ix <br> A Chronology of Said Nursi's Life Sukran Vahide p. xvii <br>1. Toward an Intellectual Biography of Said Nursi Sukran Vahide p. 1 <br>2. In the Footsteps of Said Nursi Fred A. Reed p. 33 <br>3. Reflections on Said Nursi's Life and Thought Serif Mardin p. 45 <br>4. Qur'anic Commentary, Public Space, and Religious Intellectuals in the Writings of Said Nursi Dale F. Eickelman p. 51 <br>5. How to Read Said Nursi's Risale-i Nur Ibrahim M. Abu-Rabi p. 61 <br>6. Said Nursi's Interpretation of Jihad Sukran Vahide p. 93 <br>7. Prison Is a Hell for the Unbeliever: Thoughts and Reflections on Two Imprisoned Muslims Ayize Jamat-Everett p. 115 <br>8. Revelation, the Disciplines of Reason, and Truth in the Works of Said Nursi and Paul Tillich Kelton Cobb p. 129 <br>9. The Concept of Man: Mevlana Jalal al-Din and Said Nursi Bilal Kuspinar p. 151 <br>10. Forgetting Gramsci and Remembering Said Nursi: Parallel Theories of Gramsci and Said Nursi in the Space of Eurocentrism Mucahit Bilici p. 167 <br>11. The Marrow of Worship and the Moral Vision: Said Nursi and Supplication Lucinda Allen Mosher p. 181 <br>12. The Separation of Human Philosophy from the Wisdom of the Qur'an in Said Nursi's Work Taha 'Abdel Rahman p. 199 <br>13. The Problem of Theodicy in the Risale-i Nur Mehmet S. Aydin p. 215 <br>14. The Apocalypse in the Teachings of Said Nursi Barbara Freyer Stowasser p. 229 <br>15. Ghurbah as Paradigm for Muslim Life: A Risale-i Nur Worldview Yvonne Yazbeck Haddad p. 237 <br>16. Islam, the Environment, and Said Nursi Oliver Leaman p. 255 <br>17. Text and Community: An Analysis of the Risale-i Nur Movement Metin Karabasoglu p. 263 <br>18. Nur Study Circles (Dershanes) and the Formation of New Religious Consciousness in Turkey M. Hakan Yavuz p. 297 <br>19. Said Nursi's Project of Revitalizing Contemporary Islamic Thought M. Sait Ozervarli p. 317 <br>20. Preface to the al-Mathnawi al-'Arabi al-Nuri p. 335 <br> Bibliography p. 351 <br> Contributors p. 363 <br> Index <br>
The contemporary Arab reader on political Islam
by
Ibrahim M Abu-Rabiʻ
( Book )
10 editions published between
2010
and 2014 in
English
and
Undetermined
and held by 240 WorldCat member libraries worldwide
'Finally, in one volume, we can engage with the thinking of a diverse movement ... Most of the essays have been translated into English for the first time and the masterful introductory essay by Professor Abu-Rabi' is worth the price of the volume on its own.'-David J. Goa, Director; Chester Ronning Centre for the Study of Religion 81 Public Life, University of Alberta
Islam in modern Turkey : an intellectual biography of Bediuzzaman Said Nursi
by
Şükran Vahide
( Book )
9 editions published in
2005
in
English
and held by 209 WorldCat member libraries worldwide
"Islam in Modern Turkey presents one of the most comprehensive studies in English of the seminal Turkish thinker and theologian, Bediuzzaman Said Nursi (1876-1960). A devout Muslim who strongly believed in peacefully coexisting with the West, Nursi inspired a faith movement that has played a vital role in the revival of Islam in Turkey and now numbers several million followers worldwide. While Nursi's ideas have been afforded considerable analysis, this book is the first to situate these ideas and his related activities in their historical contexts. Based on the available sources and Nursi's own works, here is a complete and balanced view of this important theologian's life and thought."--Jacket
Theodicy and justice in modern Islamic thought : the case of Said Nursi
by
Ibrahim M Abu-Rabiʻ
( Book )
18 editions published between
2010
and 2016 in
English
and held by 176 WorldCat member libraries worldwide
This book explores the theology and philosophy of the distinguished modern Muslim scholar and theologian Bediuzzaman Said Nursi [d.1960]. Nursi wrote in both Ottoman Turkish and Arabic and his life and thought reflected the transition of modern Turkey from an empire to a secular republic. The contributors to this volume shed new light on two major dimensions of Nursi's thought: theodicy and justice. Classical Muslim theologians debated these two important issues; however, we must consider the modern debate of these issues in the context of the radical political and social transformations of modern Turkey. Nursi explored these matters as they related to the development of state and society and the crisis of Islam in the modern secular nation-state. -- Publisher description
more
fewer
Audience Level
0

1
Kids
General
Special
Audience level: 0.37 (from 0.04 for The contem ... to 0.77 for Islamic re ...)
Associated Subjects
Ahmad, Khurshid
Arab countries
Arab nationalism
Bin Laden, Osama,
Culture and globalization
Democracy--Religious aspects--Islam
Diplomatic relations
Egypt
Globalization
Gülen, Fethullah
Intellectual life
Interfaith relations
Islam
Islam and civil society
Islam and politics
Islam and world politics
Islam--Doctrines
Islamic fundamentalism
Islamic renewal
Jihad
Middle East
Multiculturalism
Muslim scholars
Nurculuk
Nurculuk--Doctrines
Nursi, Said,
Political and social views
Politics and government
Qaida (Organization)
Quṭb, Sayyid,
Religion and culture
Religion and state
Religions--Relations
Religious awakening--Islam
Risale-i nur (Nursî, Said)
Secularism
September 11 Terrorist Attacks (2001)
Shādhilī, Abū al-Ḥasan ʻAlī ibn ʻAbd Allāh,
Shādhilīyah
Singapore
Social conditions
Sufis
Tanẓīm al-Jihād al-Islāmī (Organization)
Terrorism--Prevention
Terrorism--Religious aspects
Terrorists
Turkey
United States
World politics
Ẓawāhirī, Ayman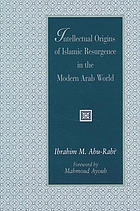 Alternative Names
Abu-Rabiʿ, I. M. 1956-2011

Abu-Rabi', Ibrahim

Abū-Rabīʿ, Ibrāhīm 1956-2011

Abū Rabīʿ Ibrāhīm M.

Abū-Rabīʿ, Ibrāhīm M. 1956-2011

Abū Rabīʿ, Ibrāhīm Muḥammad, 1956-2011

Ibrāhīm M. Abū Rabīʿ

Ibrahim M. Abu-Rabi' Islamic studies professor

Rabiʻ, Ibrahim M. Abu-

Languages
Covers