Rogers, Lesley J.
Most widely held works by Lesley J Rogers
Comparative vertebrate lateralization
( )
17 editions published between
2001
and 2002 in
English
and held by 1,909 WorldCat member libraries worldwide
This is the first book to take a comparative approach to brain lateralization. It examines lower vertebrates, birds, nonprimate mammals, and primates, including humans, highlighting model systems that elucidate the function, causes, development, and evolution of lateralization. Topics include the evolution, development, and cognitive dimensions of lateralization, and its role in memory
Divided brains : the biology and behaviour of brain asymmetries
by
Lesley J Rogers
( )
20 editions published between
2012
and 2013 in
English
and held by 1,311 WorldCat member libraries worldwide
"The Biology and Behaviour of Brain Asymmetries Asymmetry of the brain and behaviour (lateralization) has traditionally been considered unique to humans. However, research has shown that this phenomenon is widespread throughout the vertebrate kingdom and found even in some invertebrate species. A similar basic plan of organisation exists across vertebrates"--
Spirit of the Wild Dog : the World of Wolves, Coyotes, Foxes, Jackals & Dingoes
by
Lesley J Rogers
( )
3 editions published in
2003
in
English
and held by 1,016 WorldCat member libraries worldwide
A portrait of wild dogs around the world discusses the skills, personalities, and habits of wolves, foxes, coyotes, jackals, dingoes, and others; while examining the extraordinary group coherence of wild dogs; their faithfulness and intelligence; their ability to learn, remember, and solve problems; and what they have in common with domesticated dogs
Songs, roars, and rituals : communication in birds, mammals, and other animals
by
Lesley J Rogers
( Book )
9 editions published between
2000
and 2002 in
English
and held by 907 WorldCat member libraries worldwide
"Rogers and Kaplan take us on a journey through communication in the animal world, offering insights on how animals communicate by sight, sound, smell, touch, and even electrical signaling. They explore a wide variety of communication patterns in many species of mammals and birds and discuss in detail how communication signals evolved, how they are learned, and what song and mimicry may mean." "An up-to-date account of the science of animal communication, this book also considers modern concepts and modern controversies, primarily those surrounding the evolution of human language and the use of symbolic language by apes. It concludes with a look at the future of communication between humans and animals."--Jacket
Birds : their habits and skills
by
Gisela T Kaplan
( )
5 editions published between
2001
and 2002 in
English
and
Undetermined
and held by 691 WorldCat member libraries worldwide
An unusual collection of curious facts about all birds. Annotation. Account of the behaviour and physiology of birds. Covers special features of birds, evolution of birds, the life cycle, the senses, the minds of birds, and interaction between birds and humans. Discusses the destruction of the world's wild bird population by human expansion. Kaplan is an ethologist and social scientist who works in biological sciences and education at University of New England, where Rogers is Professor of Neuroscience and Animal Behaviour. Previous titles by the pair include 'Not Only Roars and Rituals' and 'Orang-utans'. Annotation. Drawing on their extensive experience in the study and rehabilitation of birds, two professors of animal behavior at the U. of New England in Armidale, New South Wales, Australia, have written an informative volume on bird behavior. Written for the non-specialist bird-watcher, and including many examples of particular birds, the volume describes the special features and evolution of birds, the stages of their life cycle, how their senses function, their capacity for learning and communication, and their interaction with humans. The volume is annotated and includes a selected bibliography. Distributed by Independent Publishers Group
Minds of their own : thinking and awareness in animals
by
Lesley J Rogers
( Book )
16 editions published between
1997
and 2019 in
English
and
Japanese
and held by 614 WorldCat member libraries worldwide
"Consciousness in animals is a controversial and very recent field of study. This book braves the subject from the point of view of the scientist ready to question traditions and beliefs about the meaning of animal behaviour." "Do animals have ideas and do they think about objects that they cannot see or about situations that have occurred in the past? Do they consciously make plans for the future or do they simply react unthinkingly to objects as they appear and to situations as they arise? Are animals aware of themselves and of others or is this an ability unique to humans? Minds of their Own addresses these questions by looking at the different behaviour characteristics of a variety of animals, the evolution of the brain and when consciousness might have evolved."--BOOK JACKET
The orangutans
by
Coren Caplan
( Book )
6 editions published between
1999
and 2000 in
English
and held by 539 WorldCat member libraries worldwide
"Kaplan, who also specializes in psychology, and Rogers, a biologist and neuroethologist, delve into the heart of orangutan behavior and society. They describe in amazing detail how orangutans learn from each other, mother their young, and communicate. Blending their own extensive research with the work of other scientists in the field, they offer fresh insight into orangutans' emotions and the evolution of their brains. Kaplan and Rogers wrestle with a number of intriguing questions, from how orangutans cope with grief to whether they are conscious or self-aware." "The Orangutans is also a moving treatise describing the perilous future of these magnificent forest dwellers. The authors bring an extremely grounded perspective to the politically charged issue of saving the rainforests, a battleground where biologists and environmentalists fight industry and agriculture to preserve a sensitive ecosystem. They reveal the devastating effects on the habitat of orangutans - who live only on the islands of Sumatra and Borneo - of recent fires, droughts, and widespread floods. Driving home the danger we face of losing these extraordinary animals, they evaluate the best ways to protect orangutans in the wild and preserve our evolutionary heritage."--Jacket
Gene worship : moving beyond the nature/nurture debate over genes, brain, and gender
by
Gisela T Kaplan
( Book )
7 editions published between
2002
and 2010 in
English
and held by 282 WorldCat member libraries worldwide
"This book is must for anyone who cares about social inequality, matters of mind, and the future. It, very comprehensively, juxtaposes scientific and social theories and practices with particular application to matters of gender, ethnicity, and sexual orientation. We learn of the different scientific theories and positions that scientists have taken in the past and present, and their translation into social practice. With a good deal of authority and erudition: the authors have managed to steer the readers easily through the minefields of ideology in a very readable and easy manner in order to clarify the argument that much of what we know about gender and sexual orientation has been in the service of prevailing ideologies."--Jacket
Comparative vertebrate cognition : are primates superior to non-primates?
by
Russell H Tuttle
( Book )
11 editions published between
2003
and 2004 in
English
and held by 249 WorldCat member libraries worldwide
This book explores the long-standing interest, and emphasis on, the `special' capacities of primates. Some of the recent discoveries of the higher cognitive abilities of other mammals and also birds challenge the concept that primates are special and even the view that the cognitive ability of apes is more advanced than that of nonprimate mammals and birds. It is therefore timely to ask whether primates are, in fact, special and to do so from a broad range of perspectives. Divided into five sections this book deals with topics about higher cognition and how it is manifested in different species, and also considers aspects of brain structure that might be associated with complex behaviour
more
fewer
Audience Level
0

1
Kids
General
Special
Audience level: 0.24 (from 0.04 for Comparativ ... to 0.88 for Left Versu ...)
Related Identities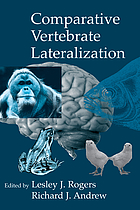 Covers
Alternative Names
Lesley Joy Rogers académica australiana

Lesley Joy Rogers academicus uit Australië

Lesley Joy Rogers Australian neurobiologist

Lesley Joy Rogers neuroscienziata australiana

Rogers, L. J.

Rogers, Lesley

Rogers, Lesley J. 1943-

ليزلي جوي روجرز

ロジャース, レスリー・J

Languages