Bakija, Jon M.
Most widely held works by Jon M Bakija
Taxing ourselves : a citizen's guide to the great debate over tax reform
by
Joel Slemrod
( )
63 editions published between
1996
and 2017 in
English
and held by 5,891 WorldCat member libraries worldwide
Who should pay taxes, how should they be collected, and how do they affect the economy? Should the income tax be tinkered with, replaced with a flat tax, or left alone? Cutting through the academic jargon and self-serving Washington-speak, Joel Slemrod and Jon Bakija bring together all of the data, analytical insight, and related material bearing on tax reform to explore the fundamental questions and choices inherent in tax policy making. Taxing Ourselves begins with a concise overview of the U.S. tax system as it exists today, offering historical and international perspectives on taxation. It examines the criteria that should serve as guides for tax policy - fairness, the promotion of economic prosperity, and simplicity - and explores the controversies and difficulties related to each one. Crucial questions about how the burden of our tax system is actually distributed and the economic effects of taxation are addressed. Slemrod and Bakija review the key elements of fundamental tax reform proposals, including a single rate, a clean base, and a consumption base. Finally they take a detailed look at the major alternatives for tax reform, providing concise guidelines that will make clear the choices involved in tax policy
How big should our government be?
by
Jon M Bakija
( Book )
8 editions published in
2016
in
English
and held by 442 WorldCat member libraries worldwide
"The size of government is arguably the most controversial discussion in United States politics, and this issue won't fade from prominence any time soon. There must surely be a tipping point beyond which more government taxing and spending harms the economy, but where is that point? In this accessible book, best-selling authors Jeff Madrick, Jon Bakija, Lane Kenworthy, and Peter Lindert try to answer whether our government can grow any larger and examine how we can optimize growth and fair distribution"--Provided by publisher
Does growing inequality reduce tax progressivity? Should it?
by
Joel Slemrod
( Book )
16 editions published between
1998
and 2000 in
English
and held by 107 WorldCat member libraries worldwide
This paper explores the links between two phenomena of the past two decades: striking increase in the inequality of pre-tax incomes, and the failure of tax-and-transfer progressivity to increase. We emphasize the causal links going from inequality to progressivity, noting that optimal taxation theory predicts that growing inequality should increase progressivity. We discuss public choice alternatives to the optimal progressivity framework. The paper also addresses the opposite causal direction: that it is changes in taxation that have caused an apparent increase in inequality. Finally, we discuss the non-event-study' offered by the large changes in the distribution of income--with no major tax changes-- since 1995, and discuss its implications for the link between progressivity and inequality
Charitable bequests and taxes on inheritances and estates : aggregate evidence from across states and time
by
Jon M Bakija
( Book )
12 editions published in
2003
in
English
and held by 91 WorldCat member libraries worldwide
One recurring issue in the debate over the estate tax is its impact on the non-profit sector. With the top marginal rate of federal estate tax currently at 49 percent, abolishing the tax would approximately double the price of a charitable bequest relative to an ordinary bequest for the wealthiest estates. It would also, however, raise the after-tax wealth of decedents, so the ultimate impact of any particular policy change depends in part on the relative sizes of the price and wealth elasticities. This paper estimates the impact of taxes on charitable bequests using an econometric framework that exploits the fact that federal and state tax rates on estates and inheritances have changed over time in different ways across states and real wealth levels. The effect of federal and state inheritance and estate taxes on charitable bequests is estimated using pooled cross-sectional data spanning several decades information from federal estate tax returns. Under several different specifications, we find evidence that the incentives for charitable giving present in state and federal estate and inheritance taxes have a strong positive effect on charitable bequests. Our estimates that rely on differences in the time path of state and federal tax rates across groups provide a more credible source of identification than the previous literature of a large and significant price elasticity of charitable bequests
Do the rich flee from high state taxes? evidence from federal estate tax returns
by
Jon M Bakija
( Book )
10 editions published in
2004
in
English
and held by 89 WorldCat member libraries worldwide
This paper examines how changes in state tax policy affect the number of federal estate tax returns filed in each state, utilizing data on federal estate tax return filings by state and wealth class for 18 years between 1965 and 1998. Controlling for state- and wealth-class specific fixed effects, we find that high state inheritance and estate taxes and sales taxes have statistically significant, but modest, negative impacts on the number of federal estate tax returns filed in a state. High personal income tax and property tax burdens are also found to have negative effects, but these results are somewhat sensitive to alternative specifications. This evidence is consistent with the notion that wealthy elderly people change their real (or reported) state of residence to avoid high state taxes, although it could partly reflect other modes of tax avoidance as well. We discuss the implications for the debate over whether individual states should decouple' their estate taxes from federal law, which would retain the state tax even as the federal credit for such taxes is eliminated. Our results suggest that migration and other observationally equivalent avoidance activities in response to such a tax would cause revenue losses and deadweight losses, but that these would not be large relative to the revenue raised by the tax
How does charitable giving respond to incentives and income? : dynamic panel estimates accounting for predictable changes in taxation
by
Jon M Bakija
( )
9 editions published in
2008
in
English
and held by 64 WorldCat member libraries worldwide
We estimate the elasticity of charitable giving with respect to its price and after-tax income using a panel of over 550,000 disproportionately high-income tax returns spanning the years 1979 through 2005. Improvements relative to the previous literature include: using state tax variation to help identify our model while controlling for both individual- and time-specific unobserved heterogeneity; carefully dealing with expectations; allowing people at different income levels to have different degrees responsiveness to taxation and different time paths of unobservable influences on giving; and using a measure of charitable giving that more closely approximates current donations. To address the omitted variable bias that would otherwise arise from failing to control for unobservable expectations of future prices and future incomes, we use predictable changes in future federal and state marginal tax rates and tax liabilities, arising from their pre-announced and phased-in nature, as instruments for future changes in prices and income. Our estimate of the elasticity of giving with respect to a persistent price change for the full sample is about -0.7; this elasticity is generally larger when the sample is limited to high-income people and we control for time-varying unobservable influences on charity in a flexible fashion. We find some evidence, particularly among very high-income people, of re-timing giving in response to expected future changes in price, but this finding is sensitive to the source of identification for the price effects. Our estimates are broadly consistent the permanent income hypothesis. Expenditures on charitable giving are estimated to respond more strongly to persistent changes in income than to transitory fluctuations in income. Moreover, we find evidence in some specifications that people will increase their charitable giving now in response to a predictable reduction in future tax liability arising from tax reform
A Taxing Ourselves : Citizen's Guide to the Debate over Taxes
( )
1 edition published in
2008
in
English
and held by 4 WorldCat member libraries worldwide
The fourth edition of a popular guide to the key issues in tax reform, discussing the current system and alternative proposals clearly and without a political agenda
more
fewer
Audience Level
0

1
Kids
General
Special
Audience level: 0.23 (from 0.17 for Taxing our ... to 0.97 for Evidence o ...)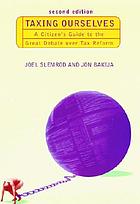 Alternative Names
Bakija, Jon.

Bakija, Jon 1968-

Bakija, Jon M.

Languages
Covers