Avise, John C.
Most widely held works about John C Avise
Most widely held works by John C Avise
Molecular markers, natural history and evolution
by
John C Avise
( Book )
41 editions published between
1993
and 2008 in 3 languages and held by 1,302 WorldCat member libraries worldwide
Molecular markers have opened exciting new windows through which to view the natural biological world. This treatment addresses the many applications for genetic markers (from polymorphic proteins and DNA) from the perspectives of population biology, behavioral ecology, organismal evolution, and phylogeny. Opening chapters review the history and purview of molecular approaches, and compare and contrast various laboratory techniques for revealing molecular markers. Subsequent chapters review the extensive scientific literature of molecular ecology and evolution, and describe a cornucopia of captivating discoveries about nature's workings, past and present
The hope, hype & reality of genetic engineering : remarkable stories from agriculture, industry, medicine, and the environment
by
John C Avise
( Book )
16 editions published between
2003
and 2004 in
English
and held by 827 WorldCat member libraries worldwide
"Intended for a general audience of professional biologists, an interested public, and university students of both the humanities and the sciences, this book uses simple but evocative language to explain the histories, techniques, goals, successes, and failures of more than fifty of the most compelling stories in genetic engineering. Having no vested interest in favor of (or against) the field, the author is in an unusual position to offer objective assessments of various GM projects and thereby stimulate critical thought and discussion among readers. If you want to know more about the transgenic items on your dinner table, how barnyard animals are being cloned for pharmaceuticals and foods, how wild creatures from mosquitoes to endangered species are being genetically modified, or what genetic engineering holds for the future of medicine and the human species, you need to read this book."--BOOK JACKET
Inside the human genome : a case for non-intelligent design
by
John C Avise
( Book )
11 editions published in
2010
in
English
and held by 756 WorldCat member libraries worldwide
How do you explain flaw in a world engineered by God? Avise extends this age-old question to the most basic aspect of humanity's physical evidence-- our genes-- and provides the evolutionary answers
Evolutionary pathways in nature : a phylogenetic approach
by
John C Avise
( Book )
21 editions published between
2006
and 2008 in
English
and held by 711 WorldCat member libraries worldwide
"Reconstructing phylogenetic trees from DNA sequences has become a popular exercise in many branches of biology, and here the award-winning geneticist John Avise explains why. Molecular phylogenies provide a genealogical backdrop for interpreting the evolutionary histories of many other types of biological traits (anatomical, behavioral, ecological, physiological, biochemical, and even geographical). Guiding readers on a natural history tour along dozens of evolutionary pathways, the author describes how creatures ranging from microbes to elephants came to possess their current phenotypes."--Jacket
The genetic gods : evolution and belief in human affairs
by
John C Avise
( Book )
22 editions published between
1998
and 2007 in 3 languages and held by 704 WorldCat member libraries worldwide
They mastermind our lives, shaping our features, our health, and our behavior, even in the sacrosanct realms of love and sex, religion, aging, and death. Yet we are the ones who house, perpetuate, and give the promise of immortality to these biological agents, our genetic gods. The link between genes and gods is hardly arbitrary, as the distinguished evolutionary geneticist John Avise reveals in this book. In clear, straight-forward terms, Avise reviews recent discoveries in molecular biology, evolutionary genetics, and human genetic engineering, and discusses the relevance of these findings to issues of ultimate concern traditionally reserved for mythology, theology, and religious faith
Phylogeography : the history and formation of species
by
John C Avise
( Book )
1 edition published in
2000
in
English
and held by 618 WorldCat member libraries worldwide
"Phylogeography is a discipline concerned with various relationships between gene genealogies - phylogenenics - and geography." "Phylogeography captures the conceptual and empirical richness of the field, and also the sense of genuine innovation that phylogeographic perspectives have brought to evolutionary studies." "This book will be essential reading for graduate students and professionals in evolutionary biology and ecology as well as for anyone interested in the emergence of this new and integrative discipline."--Jacket
Conservation genetics : case histories from nature
by
John C Avise
( Book )
17 editions published between
1995
and 2002 in
English
and held by 492 WorldCat member libraries worldwide
This volume explores the relevance of genetics for the conservation of species, communities, and ecosystems, emphasizing actual case histories
Genetics in the wild
by
John C Avise
( Book )
10 editions published between
2002
and 2014 in
English
and
Japanese
and held by 468 WorldCat member libraries worldwide
Award-winning geneticist John C. Avise guides this delightful voyage around the planet in search of answers to nature's mysteries. He demonstrates how scientists directly examine DNA to address long-standing questions about wild animals, plants, and microbes. Through dozens of stories that span the world, nature emerges as a realm where truth can be far stranger than fiction. From a 100-ton mushroom to egg-swapping birds, extinct ground sloths to microbes inside our bodies, Avise examines a cornucopia of natural-history topics and explains how today's modern genetic techniques offer novel insights. Do armadillo litters really contain clones? When is a fig tree not just a single tree? Where have migratory whales traveled? Who are the mothers of the embryos carried by pregnant male seahorses? What insect was the world's earliest farmer? How closely related are Neanderthals to modern humans? Answers to these and many more questions are presented here in a straightforwad manner that reveals Avise's enthusiasm for uncovering nature's hidden ways. Each entry is accompanied by a beautiful illustration from Trudy Nicholson, widely recognized as one of today's leading nature artists
Essential readings in evolutionary biology
( Book )
5 editions published in
2014
in
English
and held by 370 WorldCat member libraries worldwide
Traces scholarly thought from the nineteenth-century birth of evolutionary biology to the mapping of the human genome through forty-eight essays, arranged in chronological order, each preceded by a one-page essay that explains the significance of the chosen work
Evolutionary perspectives on pregnancy
by
John C Avise
( Book )
9 editions published in
2013
in
English
and
Undetermined
and held by 320 WorldCat member libraries worldwide
"Covering both the internal and external incubation of offspring, this book provides a biology-rich survey of the natural history, ecology, genetics, and evolution of pregnancy-like phenomena. From mammals and other live-bearing organisms to viviparous reptiles, male-pregnant fishes, larval-brooding worms, crabs, sea cucumbers, and corals, the world's various species display pregnancy and other forms of parental devotion in surprisingly multifaceted ways. An adult female (or male) can incubate its offspring in a womb, stomach, mouth, vocal sac, gill chamber, epithelial pouch, backpack, leg pocket, nest, or an encasing of embryos, and by studying these diverse examples from a comparative vantage point, the ecological and evolutionary-genetic outcomes of different reproductive models become fascinatingly clear. John C. Avise discusses each mode of pregnancy and the decipherable genetic signatures it has left on the reproductive structures, physiologies, and innate sexual behaviors of extant species. By considering the many biological aspects of gestation from different evolutionary angles, Avise offers captivating new insights into the significance of "heavy" parental investment in progeny."--Publisher's description
more
fewer
Audience Level
0

1
Kids
General
Special
Audience level: 0.30 (from 0.01 for Molecular ... to 0.99 for Avise, Joh ...)
Related Identities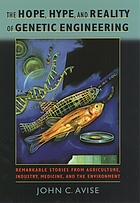 Alternative Names
Avise, J. C.

John Avise ahli biologi

John Avise American biologist

애비스, 존 C

エイバイズ, ジョン

エイビス, ジョン・C

Languages
Covers