Avise, John C.
Most widely held works about John C Avise
Most widely held works by John C Avise
In the light of evolution
by
John C Avise
( )
26 editions published between
2008
and 2013 in
English
and held by 3,495 WorldCat member libraries worldwide
"This is the second volume from the In the Light of Evolution series, based on a series of Arthur M. Sackler colloquia, and designed to promote the evolutionary sciences. Each installment explores evolutionary perspectives on a particular biological topic that is scientifically intriguing but also has special relevance to contemporary societal issues or challenges. Individually and collectively, the ILE series aims to interpret phenomena in various areas of biology through the lens of evolution, address some of the most intellectually engaging as well as pragmatically important societal issues of our times, and foster a greater appreciation of evolutionary biology as a consolidating foundation for the life sciences."--Pub. desc
The hope, hype & reality of genetic engineering : remarkable stories from agriculture, industry, medicine, and the environment
by
John C Avise
( )
16 editions published between
2003
and 2004 in
English
and held by 2,285 WorldCat member libraries worldwide
"Intended for a general audience of professional biologists, an interested public, and university students of both the humanities and the sciences, this book uses simple but evocative language to explain the histories, techniques, goals, successes, and failures of more than fifty of the most compelling stories in genetic engineering. Having no vested interest in favor of (or against) the field, the author is in an unusual position to offer objective assessments of various GM projects and thereby stimulate critical thought and discussion among readers
The genetic gods : evolution and belief in human affairs
by
John C Avise
( )
23 editions published between
1998
and 2007 in
English
and
Indonesian
and held by 1,975 WorldCat member libraries worldwide
They mastermind our lives, shaping our features, our health, and our behavior, even in the sacrosanct realms of love and sex, religion, aging, and death. Yet we are the ones who house, perpetuate, and give the promise of immortality to these biological agents, our genetic gods. The link between genes and gods is hardly arbitrary, as the distinguished evolutionary geneticist John Avise reveals in this book. In clear, straight-forward terms, Avise reviews recent discoveries in molecular biology, evolutionary genetics, and human genetic engineering, and discusses the relevance of these findings to issues of ultimate concern traditionally reserved for mythology, theology, and religious faith
On evolution
by
John C Avise
( )
14 editions published in
2007
in
English
and
Undetermined
and held by 1,393 WorldCat member libraries worldwide
Molecular markers, natural history and evolution
by
John C Avise
( Book )
41 editions published between
1993
and 2008 in 3 languages and held by 1,356 WorldCat member libraries worldwide
Molecular markers have opened exciting new windows through which to view the natural biological world. This treatment addresses the many applications for genetic markers (from polymorphic proteins and DNA) from the perspectives of population biology, behavioral ecology, organismal evolution, and phylogeny. Opening chapters review the history and purview of molecular approaches, and compare and contrast various laboratory techniques for revealing molecular markers. Subsequent chapters review the extensive scientific literature of molecular ecology and evolution, and describe a cornucopia of captivating discoveries about nature's workings, past and present
Hermaphroditism : a primer on the biology, ecology, and evolution of dual sexuality
by
John C Avise
( )
13 editions published in
2011
in
English
and held by 1,354 WorldCat member libraries worldwide
While members of most sexually reproducing species are either male or female, individuals belonging to the rest of the biological world are not so simply defined. Hermaphroditic creatures reproduce both as a male and as a female, providing a fascinating example of alternative sexual practice and its ecological and evolutionary successes. Eloquently written by an award-winning biologist and pioneer in molecular ecology, this primer traces the phenomenon of hermaphroditism throughout Earth's species and the adaptive significance of alternative sexual systems. Accessible and richly illustrated, the text maps the evolutionary origins of hermaphroditism, as well as its historical instances and fictional representations, underscoring the relevance of dual sexuality to our biological, intellectual, and cultural making
Molecular ecology and evolution : the organismal side : selected writings from the Avise laboratory
by
John C Avise
( )
9 editions published in
2010
in
English
and
Undetermined
and held by 1,216 WorldCat member libraries worldwide
This volume is a reprinted collection of 69 "classics" from the Avise laboratory, chosen to illustrate a trademark brand of research that harnesses molecular markers to scientific studies of natural history and evolution in the wild. Spanning the early 1970s through the late 2000s, these articles trace how the author and his colleagues have used molecular genetics techniques to address multifarious conceptual topics in genetics, ecology, and evolution, in a fascinating menagerie of creatures with oft-peculiar lifestyles. The organisms described in this volume range from blind cavefish to male-pregnant pipefishes and sea spiders, from clonal armadillos to natal-homing marine turtles, from hermaphroditic sea snails to hybridizing monkeys and tree frogs, from clonal marine sponges to pseudohermaphroditic mollusks to introgressing oysters, and from endangered pocket gophers, terrapins, and sparrows to unisexual (all-female) fish species to "living-fossil" horseshoe crabs, and even to a strange little fish that routinely mates with itself. The conceptual and molecular topics addressed in this volume are also universal, ranging from punctuated equilibrium to coalescent theory to the need for greater standardization in taxonomy, from cytonuclear disequilibrium statistics to the ideas of speciation duration and sympatric speciation, from historical population demography to phylogenetic reconstructions of males' sexual ornaments, from the population genetic consequences of inbreeding to Pleistocene effects on phylogeography, and from the molecular underpinnings of null alleles to the notion of clustered mutations that arise in groups to compelling empirical evidence for the unanticipated processes of gene conversion and concerted evolution in animal mitochondrial DNA. Overall, this collection includes many of the best, most influential, sometimes controversial, occasionally provocative, always intriguing, or otherwise entertaining publications to have emerged from the Avise laboratory over the last four decades. Thus, this book conveys, through the eyes of one of the field's longstanding pioneers, what "the organismal side" of molecular ecology and evolution really means
Evolutionary pathways in nature : a phylogenetic approach
by
John C Avise
( Book )
21 editions published between
2006
and 2008 in
English
and held by 1,203 WorldCat member libraries worldwide
"Reconstructing phylogenetic trees from DNA sequences has become a popular exercise in many branches of biology, and here the award-winning geneticist John Avise explains why. Molecular phylogenies provide a genealogical backdrop for interpreting the evolutionary histories of many other types of biological traits (anatomical, behavioral, ecological, physiological, biochemical, and even geographical). Guiding readers on a natural history tour along dozens of evolutionary pathways, the author describes how creatures ranging from microbes to elephants came to possess their current phenotypes."--Jacket
Evolutionary perspectives on pregnancy
by
John C Avise
( )
8 editions published in
2013
in
English
and
Undetermined
and held by 1,082 WorldCat member libraries worldwide
"Covering both the internal and external incubation of offspring, this book provides a biology-rich survey of the natural history, ecology, genetics, and evolution of pregnancy-like phenomena. From mammals and other live-bearing organisms to viviparous reptiles, male-pregnant fishes, larval-brooding worms, crabs, sea cucumbers, and corals, the world's various species display pregnancy and other forms of parental devotion in surprisingly multifaceted ways. An adult female (or male) can incubate its offspring in a womb, stomach, mouth, vocal sac, gill chamber, epithelial pouch, backpack, leg pocket, nest, or an encasing of embryos, and by studying these diverse examples from a comparative vantage point, the ecological and evolutionary-genetic outcomes of different reproductive models become fascinatingly clear. John C. Avise discusses each mode of pregnancy and the decipherable genetic signatures it has left on the reproductive structures, physiologies, and innate sexual behaviors of extant species. By considering the many biological aspects of gestation from different evolutionary angles, Avise offers captivating new insights into the significance of "heavy" parental investment in progeny."--Publisher's description
Inside the human genome : a case for non-intelligent design
by
John C Avise
( Book )
11 editions published in
2010
in
English
and held by 941 WorldCat member libraries worldwide
How do you explain flaw in a world engineered by God? Avise extends this age-old question to the most basic aspect of humanity's physical evidence-- our genes-- and provides the evolutionary answers
more
fewer
Audience Level
0

1
Kids
General
Special
Audience level: 0.18 (from 0.01 for Molecular ... to 0.99 for Avise, Joh ...)
Related Identities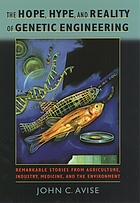 Covers
Alternative Names
Avise, J. C.

John Avise ahli biologi

John Avise American biologist

애비스, 존 C

エイバイズ, ジョン

エイビス, ジョン・C

Languages