Dalibard, J.
Overview
| | |
| --- | --- |
| Works: | 114 works in 436 publications in 4 languages and 11,765 library holdings |
| Genres: | Conference papers and proceedings Instructional and educational works Academic theses |
| Roles: | Author, htt, Contributor, Editor, Thesis advisor, Publishing director, Collector, Other, Opponent, Interviewee, Scientific advisor |
Most widely held works by J Dalibard
Particle physics and cosmology : the fabric of spacetime : École d'été de Physique des Houches, session LXXXVI, 31 July-25 August 2006 : École thématique du CNRS
by
Francis Bernardeau
( )
28 editions published in
2007
in 3 languages and held by 2,080 WorldCat member libraries worldwide
This book is a collection of lectures given in August 2006 at the Les Houches Summer School on Particle Physics and Cosmology: the Fabric of Spacetime. It provides a pedagogical introduction to the various aspects of both particle physics beyond the Standard Model and Cosmology of the Early Universe, covering each topic from the basics to the most recent developments. Provides a pedagogical introduction to topics at the interface of particle physics and cosmology Addresses each topic from the basis to the most recent developments Provides necessary tools to build new theoretical models addressing various issues both in cosmology and particle physics Covers the lectures by internationally-renowned and leading experts Faces the predictions of theoretical models against collider experimental data as well as from cosmological observations
Complex systems : École d'été de Physique des Houches, session LXXXV, 3-28 July 2006 ; École thématique du CNRS
by
Jean-Philippe Bouchaud
( )
20 editions published in
2007
in
English
and
French
and held by 2,041 WorldCat member libraries worldwide
There has been recently some interdisciplinary convergence on a number of precise topics which can be considered as prototypes of complex systems. This convergence is best appreciated at the level of the techniques needed to deal with these systems, which include: 1) A domain of research around a multiple point where statistical physics, information theory, algorithmic computer science, and more theoretical (probabilistic) computer science meet: this covers some aspects of error correcting codes, stochastic optimization algorithms, typical case complexity and phase transitions, constr
Quantum entanglement and information processing = Intrication quantique et traitement de l'information : École d'été de physique [théorique] des Houches, session LXXIX, 30 June-25 July 2003 : Euro Summer School, École thématique du CNRS
by
Daniel Estève
( )
20 editions published between
2004
and 2014 in
English
and held by 1,466 WorldCat member libraries worldwide
It has been recognised recently that the strange features of the quantum world could be used for new information transmission or processing functions such as quantum cryptography or, more ambitiously, quantum computing. These fascinating perspectives renewed the interest in fundamental quantum properties and lead to important theoretical advances, such as quantum algorithms and quantum error correction codes. On the experimental side, remarkable advances have been achieved in quantum optics, solid state physics or nuclear magnetic resonance. This book presents the lecture notes of the Les Houches Summer School on Quantum entanglement and information processing. Following the long tradition of the les Houches schools, it provides a comprehensive and pedagogical approach of the whole field, written by renowned specialists. One major goal of this book is to establish connections between the communities of quantum optics and of quantum electronic devices working in the area of quantum computing. When two communities share the same goals, the universality of physics unavoidably leads to similar developments. However, the communication barrier is often high, and few physicists are able to overcome it. This school has contributed to bridge the existing gap between communities, for the benefit of the future actors in the field of quantum computing. The book thus combines introductory chapters, providing the reader with a sufficiently wide theoretical framework in quantum information, quantum optics and quantum circuits physics, with more specialized presentations of recent theoretical and experimental advances in the field. This structure makes the book accessible to any graduate student having a good knowledge of basic quantum mechanics, and extremely useful to researchers. Covers quantum optics, solid state physics and NMR implementations Pedagogical approach combining introductory lectures and advanced chapters Written by leading experts in the field Accessible to all graduate students with a basic knowledge of quantum mechanics
Multiple aspects of DNA and RNA : from biophysics to bioinformatics : École d'été de physique des Houches, session LXXXII, 2-27 August 2004
by
Didier Chatenay
( )
4 editions published in
2005
in
English
and held by 482 WorldCat member libraries worldwide
Annotation This book is dedicated to the multiple aspects, that is, biological, physical and computational of DNA and RNA molecules. These molecules, central to vital processes, have been experimentally studied by molecular biologists for five decades since the discovery of the structure of DNA by Watson and Crick in 1953. Recent progresses (e.g. use of DNA chips, manipulations at the single molecule level, availability of huge genomic databases ...) have revealed an imperious need for theoretical modelling. Further progresses will clearly not be possible without an integrated understanding of all DNA and RNA aspects and studies. The book is intended to be a desktop reference for advanced graduate students or young researchers willing to acquire a broad interdisciplinary understanding of the multiple aspects of DNA and RNA. It is divided in three main sections:The first section comprises an introduction to biochemistry and biology of nucleic acids. The structure and function of DNA are reviewed in R. Lavery's chapter. The next contribution, by V. Fritsch and E. Westhof, concentrates on the folding properties of RNA molecules. The cellular processes involving these molecules are reviewed by J. Kadonaga, with special emphasis on the regulation of transcription. These chapters does not require any preliminary knowledge in the field (except that of elementary biology and chemistry). The second section covers the biophysics of DNA and RNA, starting with basics in polymer physics in the contribution by R. Khokhlov. A large space is then devoted to the presentation of recent experimental and theoretical progresses in the field of single molecule studies. T. Strick's contribution presents a detailed description of the various micro-manipulation techniques, and reviews recent experiments on the interactions between DNA and proteins (helicases, topoisomerases ...). The theoretical modeling of single molecules is presented by J. Marko, with a special attention paid to the elastic and topological properties of DNA. Finally, advances in the understanding of electrophoresis, a technique of crucial importance in everyday molecular biology, are exposed in T. Duke's contribution. The third section presents provides an overview of the main computational approaches to integrate, analyse and simulate molecular and genetic networks. First, J. van Helden introduces a series of statistical and computational methods allowing the identification of short nucleic fragments putatively involved in the regulation of gene expression from sets of promoter sequences controlling co-expressed genes. Next, the chapter by Samsonova et al. connects this issue of transcriptional regulation with that of the control of cell differentiation and pattern formation during embryonic development. Finally, H. de Jong and D. Thieffry review a series of mathematical approaches to model the dynamical behaviour of complex genetic regulatory networks. This contribution includes brief descriptions and references to successful applications of these approaches, including the work of B. Novak, on the dynamical modelling of cell cycle in different model organisms, from yeast to mammals.. Provides a comprehensive overview of the structure and function of DNA and RNA at the interface between physics, biology and information science
Mathematical Statistical Physics : Lecture Notes of the les Houches Summer School 2005
by
Anton Bovier
( )
2 editions published in
2006
in
English
and held by 470 WorldCat member libraries worldwide
Features the proceedings of the 2005 les Houches summer school on Mathematical Statistical Physics which give an overview on this fast developing area of interest to both physicists and mathematicians. This book also presents an introduction to the field of math with many interdisciplinary connections in physics, biology, and computer science
Quantum mechanics : including a CD-ROM by Manuel Joffre
by
J. L Basdevant
( Book )
15 editions published between
2002
and 2005 in
English
and held by 310 WorldCat member libraries worldwide
CD-ROM contains: Java-based simulations, which illustrate theory discussed in text -- Links to updated applications and further reading
Atomes et rayonnement
by
J Dalibard
( )
12 editions published in
2013
in
French
and
Undetermined
and held by 273 WorldCat member libraries worldwide
Matière et lumière sont intimement liées dans notre modélisation du monde physique. De l'élaboration de la théorie quantique à l'invention du laser, l'interaction entre atomes et rayonnement a joué un rôle central dans le développement de la science et de la technologie d'aujourd'hui. La maîtrise de cette interaction permet désormais d'atteindre les plus basses températures jamais mesurées. Le refroidissement de gaz d'atomes par la lumière d'un laser conduit à une « matière quantique » aux propriétés radicalement différentes des fluides ordinaires. Ces atomes froids sont à la base d'une nouvelle métrologie du temps et de l'espace, qui trouve des applications dans des domaines aussi divers que la navigation, les télécommunications ou encore la géophysique
Ondes matière et Univers : Relativité générale, physique quantique et applications
by
Académie européenne interdisciplinaire des sciences Nice-Côte d'Azur
( )
1 edition published in
2021
in
French
and held by 236 WorldCat member libraries worldwide
Cet ouvrage, dans la vision pluridisciplinaire de l'Académie, montre les progrès scientifiques réalisés depuis les premiers travaux d'Albert Einstein et de ses contemporains du début du XXe siècle sur les deux grands piliers de la Physique moderne que sont la Relativité générale et la Mécanique quantique. Il a la prétention de rassembler les résultats et les observations scientifiques les plus significatifs de la fin du XXe siècle et de ce début de troisième millénaire. Malgré les difficultés actuelles des tentatives de leur conciliation en vue de bâtir une théorie unifiée, ces deux théories montrent leur grande pertinence dans leurs domaines respectifs de validité. Elles nous offrent une vision du monde et de l'Univers d'une richesse insoupçonnée. Ce livre comporte quatre parties. 1) Relativité, ondes de l'univers. 2) Dualité ondes/corpuscules de la physique quantique. 3) Ondes, matière et quantification. 4) Une nouvelle révolution scientifique à l'horizon ? La même exigence traverse en filigrane tous les travaux ou réflexions présentés : l'exigence d'accroître et d'affiner constamment les techniques d'observations et d'expérimentations, et de construire parallèlement les outils mathématiques nécessaires à l'analyse de leurs résultats ; l'exigence de tester les implications des théories jusqu'aux dernières limites permises par ces possibilités observationnelles et expérimentales ; pour résumer l'exigence de mettre sans cesse à l'épreuve les théories dans leur conformité aux observations et expériences, et, à travers leur interprétation, dans le rapport que nous leur attribuons à la « réalité » de notre Univers
more
fewer
Audience Level
0

1
General
Special
Audience level: 0.20 (from 0.02 for Quantum me ... to 0.91 for The quantu ...)
Related Identities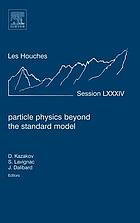 Covers
Alternative Names
Dalibard, J.

Dalibard, J. 1958-

Dalibard, Jean

Dalibard, Jean 1958-

Jean Dalibard físic francès

Jean Dalibard físico francês

Jean Dalibard fisico francese

Jean Dalibard físicu francés

Jean Dalibard fisiko franses

Jean Dalibard fizikan francez

Jean Dalibard Frans natuurkundige

Jean Dalibard fransk fysikar

Jean Dalibard fransk fysiker

Jean Dalibard französischer Physiker

Jean Dalibard French physicist

Jean Dalibard physicien français

Далибар, Жан

جین دالیبار فیزیک‌دان فرانسوی

چين داليبارد

장 달리바르 프랑스 물리학자

Languages