Raimond, J.-M
Overview
| | |
| --- | --- |
| Works: | 75 works in 236 publications in 2 languages and 4,652 library holdings |
| Genres: | Conference papers and proceedings Criticism, interpretation, etc History |
| Roles: | Editor, Thesis advisor, Other, Publishing director, Author, Opponent, htt |
| Classifications: | QC174.12, 530.12 |
Most widely held works by J.-M Raimond
Quantum entanglement and information processing = Intrication quantique et traitement de l'information : École d'été de physique [théorique] des Houches, session LXXIX, 30 June-25 July 2003 : Euro Summer School, École thématique du CNRS
by
Daniel Estève
( )
20 editions published between
2004
and 2014 in
English
and held by 1,602 WorldCat member libraries worldwide
Course 1. Principles of quantum computation (I. Chuang). -- Course 2. Mesoscopic state superpositions and decoherence in quantum optics (S. Haroche). -- Course 3. Cavity quantum electrodynamics (M. Brune). -- Course 4. Quantum optical implementation of quantum information processing (P. Zoller <IT>et al</IT>.). -- Course 5. Quantum information processing in ion traps I (R. Blatt <IT>et al</IT>.). -- Course 6. Quantum information processing in ion traps II (D.J. Wineland). -- Course 7. Quantum cryptography with and without entanglement (N. Gisin, N. Brunner). -- Course 8. Quantum cryptography: from one to many photons (P. Grangier). -- Course 9. Entangled photons and quantum communication (M. Aspelmeyer <IT>et al</IT>.). -- Course 10. Nuclear magnetic resonance quantum computation (J.A. Jones). -- Course 11. Introduction to quantum conductors (D.C. Glattli). -- Course 12. Superconducting qubits (M.H. Devoret, J.M. Martinis). -- Course 13. Superconducting qubits and the physics of Joseph
Exploring the quantum : atoms, cavities and photons
by
S Haroche
( )
37 editions published between
2006
and 2019 in
English
and held by 1,088 WorldCat member libraries worldwide
The quantum world obeys logic at odds with our common sense intuition. This weirdness is directly displayed in recent experiments juggling with isolated atoms and photons. They are reviewed in this illustrated book, combining theoretical insight and experimental description
Quantum decoherence : Poincaré Seminar 2005
by
Bertrand Duplantier
( )
26 editions published between
2006
and 2007 in
English
and
Undetermined
and held by 559 WorldCat member libraries worldwide
The Poincaré Seminar is held twice a year at the Institute Henri Poincaré in Paris. The goal of this seminar is to provide up-to-date information about general topics of great interest in physics. Both the theoretical and experimental results are covered, with some historical background. Particular care is devoted to the pedagogical nature of the presentation. This volume is devoted to Quantum Decoherence. A broad perspective on the subject is provided by the contributions of W. H. Zurek, H. D. Zeh and E. Joos, together with clean up-to-date presentations of the actual experiments on decoherence both in the mesoscopic systems of atomic physics, by J.M. Raimond and S. Haroche, and in the "quantronic" or condensed matter context, by D. Esteve et al. Further, the question of quantum codes and error corrections is discussed in the contribution of J. Kempe.
The spin : Poincaré Seminar 2007
by
Bertrand Duplantier
( )
16 editions published between
2008
and 2009 in
English
and held by 469 WorldCat member libraries worldwide
This book is the eighth in a series of Proceedings for the Sþ eminaire Poincarþ e, which is directed towards a large audience of physicists and of mathematicians. The goal of this seminar is to provide up to date information about general topics of great interest in physics. Both the theoretical and experimental aspects are covered, with some historical background. Inspired by the Bourbaki seminar in mathematics in its organization, hence nicknamed "Bourbaphy", this Poincarþ e SeminarisheldattheInstitutHenriPoincarþ einParis, withcontributionsprepared inadvance. Particularcareisdevotedtothepedagogicalnatureofthepresentation so as to ful?ll the goal of being readable by a large audience of scientists. This new volume of the Poincarþ e Seminar series "The Spin" corresponds to the eleventh such Seminar, held on December 8, 2007. It describes how this once mysterious quantum reality called spin has become ubiquitous in modern physics from the most theoretical aspects down to the most practical applications of miniaturizing electronic and computer devices or helping medical diagnosis
Niels Bohr, 1913-2013 : Poincare Seminar 2013
by
Olivier Darrigol
( )
15 editions published in
2016
in
English
and
Undetermined
and held by 312 WorldCat member libraries worldwide
This fourteenth volume in the Poincaré Seminar Series is devoted to Niels Bohr, his foundational contributions to understanding atomic structure and quantum theory and their continuing importance today. This book contains the following chapters: - Tomas Bohr, Keeping Things Open; - Olivier Darrigol, Bohr's Trilogy of 1913; -John Heilbron, The Mind that Created the Bohr Atom; - Serge Haroche & Jean-Michel Raimond, Bohr's Legacy in Cavity QED; - Alain Aspect, From Einstein, Bohr, Schrödinger to Bell and Feynman: a New Quantum Revolution?; - Antoine Browaeys, Interacting Cold Rydberg Atoms: A Toy Many-Body System; - Michel Bitbol & Stefano Osnaghi, Bohr´s Complementarity and Kant´s Epistemology. Dating from their origin in lectures to a broad scientific audience these seven chapters are of high educational value. This volume is of general interest to physicists, mathematicians and historians
Le monde moderne vu par les écrivains français (1900-1950)
by
Michel Raimond
( Book )
8 editions published in
2018
in
French
and held by 97 WorldCat member libraries worldwide
Summary: In this posthumous essay, Michel Raimond outlines how the writers of the first half of the twentieth century were divided between celebration and hatred of the modern world by putting the vision they had in the context of intellectual debates at the time.--Classiques Garnier
The Cambridge N-body lectures
by
W Beiglböck
( )
4 editions published in
2008
in
English
and
Undetermined
and held by 68 WorldCat member libraries worldwide
Published under the auspices of the Royal Astronomical Society, this volume contains a set of extensive school tested lectures, with the aim to give a coherent and thorough background knowledge of the subject and to introduce the latest developments in N-body computational astrophysics. The topics cover a wide range from the classical few-body problem with discussions of resonance, chaos and stability to realistic modelling of star clusters as well as descriptions of codes, algorithms and special hardware for N-body simulations. This collection of topics, related to the gravitational N-body problem, will prove useful to both students and researchers in years to come
Aspects of physical biology : biological water, protein solutions, transport and replication
by
W Beiglböck
( )
1 edition published in
2008
in
English
and held by 33 WorldCat member libraries worldwide
The application to Biology of the methodologies developed in Physics is attracting an increasing interest from the scientific community. It has led to the emergence of a new interdisciplinary field, called Physical Biology, with the aim of reaching a better understanding of the biological mechanisms at molecular and cellular levels. Statistical Mechanics in particular plays an important role in the development of this new field. For this reason, the XXth session of the famous Sitges Conference on Statistical Physics was dedicated to "Physical Biology: from Molecular Interactions to Cellular Behavior". As is by now tradition, a number of lectures were subsequently selected, expanded and updated for publication as lecture notes, so as to provide both a state-of-the-art introduction and overview to a number of subjects of broader interest and to favor the interchange and cross-fertilization of ideas between biologists and physicists. The present volume focuses on three main subtopics (biological water, protein solutions as well as transport and replication), presenting for each of the them the on-going debates on recent results. The role of water in biological processes, the mechanisms of protein folding, the phases and cooperative effects in biological solutions, the thermodynamic description of replication, transport and neural activity, all are subjects that are revised in this volume, based on new experiments and new theoretical interpretations
X-ray and neutron reflectivity : principles and applications
by
W Beiglböck
( )
2 editions published in
2009
in
English
and held by 29 WorldCat member libraries worldwide
The book is the first comprehensive introduction to x-ray and neutron reflectivity techniques and illustrates them with many examples. After a pedagogical introduction, the interplay between the statistics of rough surfaces and interfaces and the scattering of radiation is considered in detail. Specular reflectivity and diffuse scattering are discussed next. The approximations are rigorously introduced and many experimental effects are discussed. In the case of neutron reflectivity, particular attention is paid to the reflectivity of polarized neutrons from magnetic multilayers, which allows the determination of in-plane magnetization profiles. Many applications are reviewed in the second part: rough surfaces, interfaces and multilayers, liquid surfaces and soft-condensed matter, and thin polymer films. In each case the underlying physics is first introduced, then specific experimental methods are described. The book addresses researchers and graduate students
more
fewer
Audience Level
0

1
Kids
General
Special
Audience level: 0.34 (from 0.03 for Quantum en ... to 0.95 for X-ray and ...)
Related Identities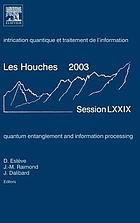 Covers
Alternative Names
Jean-Michel Raimond físic francès

Jean-Michel Raimond físico francês

Jean-Michel Raimond fisico francese

Jean-Michel Raimond físicu francés

Jean-Michel Raimond Frans natuurkundige

Jean-Michel Raimond fransk fysikar

Jean-Michel Raimond fransk fysiker

Jean-Michel Raimond französischer Physiker

Jean-Michel Raimond French physicist

Jean-Michel Raimond physicien français

Raimond, J. 1955-

Raimond, J.-M.

Raimond, J.-M. 1955-

Raimond, Jean 1955-

Raimond, Jean-M. 1955-

Raimond, Jean-Michel

Raimond, Jean Michel 1955-

جان ميشال ريمون فيزيائي فرنسي

Languages