Kappeler, Peter M.
Most widely held works by Peter M Kappeler
Sexual selection in primates : new and comparative perspectives
( )
22 editions published between
2003
and 2010 in
English
and held by 1,596 WorldCat member libraries worldwide
"Sexual Selection in Primates provides an up-to-date account of all aspects of sexual selection in primates, combining theoretical insights, comprehensive reviews of the primate literature and comparative perspectives from relevant work on other mammals, birds and humans. Topics include sex roles, sexual dimorphism in weapons, ornaments and armaments, sex ratios, sex differences in behaviour and development, mate choice, sexual conflict, sex-specific life-history strategies, sperm competition and infanticide. The outcome of the evolutionary struggle between the sexes, the flexibility of roles and the leverage of females are discussed and emphasised throughout
Verhaltensbiologie
by
Peter M Kappeler
( )
38 editions published between
2006
and 2022 in 3 languages and held by 899 WorldCat member libraries worldwide
"This textbook presents all basic principles of animal behaviour in a clear and concise manner and illustrates them with up-to-date examples. Emphasis is placed on behavioural biology as an integrative discipline of organismic biology, focusing on the adaptive value of behaviours that facilitate resource access, predator avoidance and reproductive success and underlie parental care, all within a comprehensive presentation of social complexity. This new textbook provides a rich resource for students (and teachers) from a wide range of life science disciplines."
Cooperation in primates and humans : mechanisms and evolution
by
Peter M Kappeler
( )
28 editions published between
2005
and 2006 in
English
and
Undetermined
and held by 880 WorldCat member libraries worldwide
Cooperative behaviour has been one of the enigmas of evolutionary theory. This book examines the many facets of cooperative behaviour in primates and humans. It bridges the gap between parallel research in primatology and studies of humans, and highlights both common principles and aspects of human uniqueness, with respect to cooperative behaviour
Animal behaviour : evolution and mechanisms
by
Nils Anthes
( )
13 editions published in
2010
in
English
and
German
and held by 583 WorldCat member libraries worldwide
"The Study of animal behaviour is one of the fastest growing sub-disciplines in biology. The resulting diversity of conceptual approaches and methodological innovations makes it increasingly difficult for professionals and students to keep abreast of important new developments. This edited volume provides up-to-date reviews that facilitate orientation in key areas of animal behaviour, including communication, cognition, conflict, cooperation, sexual selection and behavioural variation. The contributions address evolutionary and proximate aspets of behavior and also cover both invertebrates and vertebrates. Important concepts are dealt with in separate glossaries and key examples highlighted in separate text boxes. Richly illustrated with colour figures, this volume offers a well structured overview of all the main developments in current animal behaviour research. It is ideal for teaching upper-level courses, where it will be essential reading for advanced students familiar with basic concepts and ideas"--Page 4 of cover
Mind the gap : tracing the origins of human universals
by
Peter M Kappeler
( )
26 editions published between
2009
and 2010 in
English
and
German
and held by 580 WorldCat member libraries worldwide
What makes us human? What made us become the way we are? One way to answer these questions is to identify the traits that all humans share, traits that are universal features of all human societies. Another way to do so is to ask how humans differ from other species, particularly from our closest relatives, the nonhuman primates
Long-term field studies of primates
by
Peter M Kappeler
( )
18 editions published between
2011
and 2014 in
English
and
German
and held by 438 WorldCat member libraries worldwide
Some primate field studies have been on-going for decades, covering significant portions of individual life cycles or even multiple generations. In this volume, leading field workers report on the history and infrastructure of their projects in Madagascar, Africa, Asia and South America. More importantly, they provide summaries of their long-term research efforts on primate behaviour, ecology and life history, highlighting insights that were only possible because of the long-term nature of the study. The chapters of this volume collectively outline the many scientific reasons for studying primate behaviour, ecology and demography over multiple generations. This kind of research is typically necessitated by the relatively slow life histories of primates. Moreover, a complete understanding of social organization and behaviour, factors often influenced by rare but important events, requires long-term data collection. Finally, long-term field projects are also becoming increasingly important foci of local conservation activities
The evolution of primate societies
( Book )
3 editions published between
2012
and 2021 in
English
and held by 366 WorldCat member libraries worldwide
" ... Compiles 32 chapters that review the current state of knowledge regarding the behavior of nonhuman primates. Chapters are written by leading authorities in the field and organized around four major adaptive problems primates face as they strive to grow, maintain themselves, and reproduce in the wild. The inclusion of chapters on human behavior at the end of each major section ... will remind readers of what we can learn about ourselves through research on nonhuman primates. The final section highlights some of the innovative and cutting-edge research designed to reveal the similarities and differences between nonhuman and human primate cognition"--Page 4 of cover
Primate males : causes and consequences of variation in group composition
( Book )
8 editions published in
2000
in
English
and held by 357 WorldCat member libraries worldwide
The size and composition of primate groups varies tremendously across species, within species, and within groups over time. The most variable quantity is the number of adult males. In some groups, single males can monopolize access to several females, whereas reproduction is shared among several males in other groups. This variation lies at the heart of understanding adaptive variation among social systems. Whether groups contain single or multiple males has important consequences for reproductive strategies of both sexes, and also shapes these animals' morphology and behaviour. Written by leading authorities, this book provides an extensive overview of variation in group composition across all major primate taxa, using up-to-date reviews, case studies, evolutionary theory and theoretical models, setting primates into context with birds and other mammals. It will become a firm favorite with all those interested in the behavioural ecology of primates
The behavioral ecology of the Tibetan macaque
by
Peter M Kappeler
( )
8 editions published between
2019
and 2020 in
English
and
Undetermined
and held by 343 WorldCat member libraries worldwide
This open access book summarizes the multi-disciplinary results of one of China's main primatological research projects on the endemic Tibetan macaque (Macaca thibetana), which had continued for over 30 years, but which had never been reported on systematically. Dedicated to this exceptional Old World monkey, this book makes the work of Chinese primatologists on the social behavior, cooperation, culture, cognition, group dynamics, and emerging technologies in primate research accessible to the international scientific community. One of the most impressive Asian monkeys, and the largest member of its genus, the Tibetan macaque deserves to be better known. This volume goes a long way towards bringing this species into the spotlight with many excellent behavioral analyses from the field.- Frans de Waal, Professor of Psychology, Emory University, USA. Macaques matter. To understand primate patterns and trends, and to gain important insight into humanity, we need to augment and expand our engagement with the most successful and widespread primate genus aside from Homo. This volume focuses on the Tibetan macaque, a fascinating species with much to tell us about social behavior, physiology, complexity and the macaque knack for interfacing with humans. This book is doubly important for primatology in that beyond containing core information on this macaque species, it also reflects an effective integrated collaboration between Chinese scholars and a range of international colleagues--exactly the type of collaborative engagement primatology needs. This volume is a critical contribution to a global primatology. - Agustín Fuentes, Professor of Anthropology, University of Notre Dame, USA. I have many fond memories of my association with Mt. Huangshan research beginning in 1983, when together with Professor Qishan Wang we established this site. It is such a beautiful place and I miss it. It is gratifying to see how far research has progressed since we began work there, becoming more internationalized and very much a collaborative endeavor under the long-term direction of Professor Jin-Hua Li and colleagues. This book highlights the increased interest in this species, representing a variety of disciplines ranging from macro aspects of behavior, cognition and sociality, to micro aspects of microbes, parasites and disease, authored by a group of renowned Chinese and international primatologists. I applaud their efforts and expect more interesting work to come from this site in the years ahead.- Kazuo Wada, Professor Emeritus, Kyoto University, Japan
Primate life histories and socioecology
by
Peter M Kappeler
( Book )
12 editions published between
2002
and 2003 in
English
and held by 323 WorldCat member libraries worldwide
This text provides a systematic attempt to understand how primate life histories influence behavior. Topics covered include how primate life histories interact with diverse social structures and how the slow maturation of primates affects the behavior of both the young and their adult caregivers
more
fewer
Audience Level
0

1
General
Special
Audience level: 0.00 (from 0.00 for Sexual sel ... to 0.00 for Sexual sel ...)
Related Identities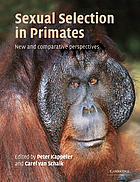 Covers
Alternative Names
Kappeler, P.

Kappeler, P. 1959-

Kappeler, P. M. 1959-

Kappeler, Peter.

Kappeler, Peter 1959-

Peter M. Kappeler deutscher Biologe, Anthropologe und Hochschullehrer

Peter M. Kappeler Duits hoogleraar

Peter M. Kappeler German university teacher

Peter M. Kappeler Germany karimba ŋun nyɛ doo

Peter M. Kappeler léachtóir ollscoile Gearmánach

Peter M. Kappeler profesor universitar german

Peter M. Kappeler profesor universitar gjerman

Peter M. Kappeler profesor universitario alemán

Peter M. Kappeler profesor universitariu alemán

Peter M. Kappeler professeur d'université allemand

Peter M. Kappeler professor d'universitat alemany

Peter M. Kappeler professor universitário alemão

Peter M. Kappeler professore universitario tedesco

Peter M. Kappeler Saksamaa ülikooli õppejõud

Peter M. Kappeler tysk professor

Peter M. Kappeler unibertsitateko irakasle alemaniarra

Languages