Shea, Daniel M.
Most widely held works about Daniel M Shea
Most widely held works by Daniel M Shea
Campaign craft : the strategies, tactics, and art of political campaign management
by
Daniel M Shea
( Book )
33 editions published between
1996
and 2015 in
English
and held by 1,175 WorldCat member libraries worldwide
"In 2008, Barack Obama's election team sent perhaps a billion emails to some 13 million addresses; the social networking site Facebook was deployed to get out the vote; and campaign operatives across the political spectrum were trying to figure out how they could "micro-target" persuadable voters in pursuit of victory. Political campaigning continues to reinvent itself at a furious pace and in fascinating ways, becoming more professional and more technologically driven with each election cycle." "Updated for the Obama age of political campaigning, Campaign Craft: The Strategies, Tactics, and Art of Political Campaign Management, Fourth Edition remains mandatory reading for anyone interested in the electoral process--campaign professionals; activists at the local, state, and national levels; and scholars of American politics and communication." "Campaign Craft, Fourth Edition begins with campaign planning and moves to resource and strategic considerations. This text covers contemporary campaign techniques from every angle, ranging from street-level voter contact to emerging trends in political technology. The Fourth Edition provides an in-depth illustration of campaign strategy, including the latest in netroots organizing and Web 2.0 outreach."--Jacket
The state of the parties : the changing role of contemporary American parties
by
John Clifford Green
( Book )
23 editions published between
1993
and 1999 in
English
and held by 746 WorldCat member libraries worldwide
""This is an excellent collection of analyses, the most recent in a unique series examining party politics since the early 1990s. The wide range of research findings, dealing with issues ranging from representation to campaign finance, will be essential to students of politics and demonstrates how central the study of party politics is to an understanding of democracy."--Marjorie R. Hershey, Indiana University." ""I couldn't be more pleased by how well the John C. Green and Daniel J. Coffey volume supplements current happenings in politics where textbooks are necessarily weak. This newest edition features the most remarkable group of contributors yet. Each Chapter provides critical insights in helping us make sense of today's rapidly evolving party system."--Marc Joseph Hetherington, Vanderbilt University." "Every four years, The State of the Parties brings readers up to date on party action in election years and in between. With the dual themes of continuity and change characterizing the new edition, this essential party primer includes three new chapters on party roles in the 2008 election, a section on the impact of party resources for the campaign, extensive coverage of party mobilization efforts via the Internet and local activity, and new chapters covering topics ranging from Republicans' fall from grace to party governance under Nancy Pelosi to President Obama's role in party politics, and as always, a distinguished roster of contributors."--Jacket
Fountain of youth : strategies and tactics for mobilizing America's young voters
( Book )
5 editions published in
2007
in
English
and held by 398 WorldCat member libraries worldwide
[This book] services as [a] discussion and analysis of the issues surrounding the participation of youth in American politics and the strategies and tactics that can be used to engage young votes. [in the book, the authors] provide us with an important discussion of why engaging this generation matters ... A consistent theme throughout the eleven diverse ... chapters is the importance of taking young people "seriously." This book should influence research and political strategy as the Millennial Generation takes its place in the American electorate.-Back cover
Campaign rules : a 50-state guide to campaigns and elections in America
by
Nina Kasniunas
( Book )
5 editions published in
2010
in
English
and held by 384 WorldCat member libraries worldwide
America may be the most election-crazed nation in the world, boasting roughly 500,000 elected positions nationwide. Not only do we rely heavily on elections to fill government positions, but the frequency of these events far outpaces what is found in other nations. Americans use elections not only to select candidates, but to directly change government policy as well. Referendums and ballot initiatives allow average citizens to vote on policy matters, essentially sidestepping the legislative process. Campaign Rules provides political activists, researchers, and all citizens an easy-to-use ref
Mass politics : the politics of popular culture
( Book )
4 editions published in
1999
in
English
and held by 355 WorldCat member libraries worldwide
"This collection of essays explores the interplay between popular culture and politics, using popular culture as a lens through which to view political life in the United States. Ranging from discussions including Murphy Brown, rap music, and censorship, the essays encourage critical thinking about the ways in which popular culture shapes, reflects, and responds to the political climate." "The core supposition is that the way we spend our free time can mold our expectations, world view, and attitudes toward others. Powerful ideas and themes can be found in sports, music, literature, and virtually every form of leisure activity. They build upon and reconfigure prior information and shape each person's identity and our political culture."--Jacket
Campaign mode : strategic vision in congressional elections
by
Michael John Burton
( Book )
6 editions published in
2003
in
English
and held by 278 WorldCat member libraries worldwide
The pressures of contemporary electioneering force political professionals into 'campaign mode'-a state of mind that merges a visceral drive to win elections with a deep-seated habit of strategic thinking. Wise political professionals know the basic rules of electoral strategy and how to read the political terrain. Campaign Mode examines the strategic histories of five successful congressional candidates-Ohio's Ted Strickland, Georgia's Bob Barr, California's Loretta Sanchez, Tennessee's Harold Ford, Jr., and Pennsylvania's Rick Santorum. The authors-both of whom have advised major political f
Can we talk? : the rise of rude, nasty, stubborn politics.
( Book )
3 editions published between
2012
and 2013 in
English
and held by 152 WorldCat member libraries worldwide
To many, the angry protestors at town hall meetings, the death threats toward politicians, the inflammatory language online and over the airwaves, and the language of politician themselves are making America politics an ugly, mean-spirited, and nasty affair. Can We Talk? presents a dream team of scholars and journalists who ask: Is politics really as nasty as many news commentators perceive? What are forces are changing the political discourse and who is to blame? How will this change transform the very nature of our democracy? Civility in politics is one of the great issues of our day, making Can We Talk? a must-read for all students of American government
The Best of Fourplay
by
Fourplay (Musical group)
( Recording )
1 edition published in
1997
in
English
and held by 90 WorldCat member libraries worldwide
more
fewer
Audience Level
0

1
Kids
General
Special
Audience level: 0.34 (from 0.04 for Transformi ... to 0.77 for Living dem ...)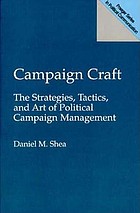 Alternative Names
Shea, Dan

Shea, Daniel M.

시, 다니엘 M

Languages
Covers