Rosenfeld, Louis
Most widely held works by Louis Rosenfeld
Information architecture for the World Wide Web
by
Louis Rosenfeld
( Book )
4 editions published between
1998
and 2007 in
English
and held by 735 WorldCat member libraries worldwide
This book shows how to build large-scale and maintainable web sites that are appealing and easy to navigate. With topics that range from aesthetics to mechanics, "Information Architecture for the World Wide Web" explains how to create interfaces that users can understand right away. With an overview of information architecture for both newcomers and experienced practitioners, and the fundamental components of an architecture, illustrating the interconnected nature of these systems. This edition discusses blueprints, wireframes and the role of diagrams in the design phase. Includes tools, techniques, and methods for tagging, folksonomies, social classification, and guided navigation. A series of short essays provide tips and philosophical advice for those who work on information architecture; the business context of practicing and promoting information architecture, including recent lessons on how to handle enterprise architecture; and case studies on the evolution of two large and very different information architectures, illustrating best practices along the way.--From publisher's description
The internet compendium : subject guides to social sciences, business, and law resources
by
Louis Rosenfeld
( Book )
29 editions published in
1995
in
English
and held by 675 WorldCat member libraries worldwide
This guide describes and evaluates the Internet's health and science resources by subject. It offers information on a multitude of listservs; Usenet newsgroups; forums; electronic journals; topical mailing lists; text archives; Freenets; bulletin boards; FAQs; newsletters; real-time chats; databases; and library catalogs. From alternative medicine to virtual reality technology and applications, nearly every branch of scientific study as well as numerous related topics of interest is covered. Internet users can draw upon this resource to find up-to-the-minute information about a wide range of subjects, including: aerospace; aids information; animal rights; biology; biomedical ethics; computer science; environmental studies; high energy astrophysics; science grant listings; mathematics; nursing; veterinary science; genetics; archaeology; and more. The volume is divided into easy-to-use, fully indexed subject guides that allow access to exact topics and provides a critical analysis of the content. Information is provided on everything the novice Internet user needs to know to get started: navigating traditionally with Telnet; ftp (File Transfer Protocol); ways of efficiently searching with Gopher, World Wide Web; and looking for information with Archie, Veronica, Jumpstation, and wais (Wide Area Information Servers). (Author/MAS)
Information architecture : for the web and beyond
by
Louis Rosenfeld
( Book )
5 editions published in
2015
in
English
and held by 458 WorldCat member libraries worldwide
The fourth edition of this bestselling guide focuses on information architecture as a set of tools and techniques for dealing with today's tough information organization problems. It's ideal for anyone involved in any aspect of design. The universal and timeless principles of information organization described in the book's first three editions still apply in our increasingly mobile world. In the fourth edition, the authors cast those principles in the context of current practice, using many updated examples and illustrations. They examine technology- and vendor-independent tools and techniques that have also stood the test of time, and have updated the book's appendix to include the most useful information architecture resources available today. Reserve your copy of Information Architecture for the World Wide Web, Fourth Edition and learn how well-planned information architecture is more essential than ever
The Internet compendium : subject guides to humanities resources
by
Louis Rosenfeld
( Book )
24 editions published in
1995
in
English
and held by 335 WorldCat member libraries worldwide
This guide describes and evaluates the Internet's humanities resources by subject. It offers information on a multitude of listservs; Usenet newsgroups; forums; electronic journals; topical mailing lists; text archives; Freenets; bulletin boards; FAQs; newsletters; real-time chats; databases; and library catalogs. Internet users can draw upon these resources to find up-to-the-minute information about literature and the arts, religion, philosophy, library science, and education. The book enables readers to explore thousands of finding guides in subject areas such as: book discussions and reviews; film and video resources; popular music; theater and performance studies; architecture and building/construction; environmental conservation; Christian, Buddhist, Tibetan, and other religious studies resources; the occult and mysticism; and journalism. It also contains numerous library and information science job listings, arranged by both region and profession. The volume is divided into easy-to-use, fully indexed subject guides that allow access to exact topics and provides a critical analysis of the content. Information is provided on everything the novice Internet user needs to know to get started: navigating traditionally with Telnet; ftp (File Transfer Protocol); ways of efficiently searching with Gopher, World Wide Web; and looking for information with Archie, Veronica, Jumpstation, and wais (Wide Area Information Servers). (Author/MAS)
Architektura informacji w serwisach internetowych i nie tylko
by
Jorge Arango
( )
5 editions published in
2017
in 3 languages and held by 131 WorldCat member libraries worldwide
W świecie, w którym potężne ilości informacji bombardują ludzi ze wszystkich stron, organizacje stają przed bardzo poważnym wyzwaniem: muszą znaleźć sposób, aby dotrzeć ze swoim przekazem do odbiorcy, zyskać jego uwagę i spowodować, aby zrozumiał i zapamiętał prezentowane treści. Dodatkowym problemem jest różnorodność kanałów interakcji oraz urządzeń -- utrzymanie zrozumiałości i spójności przekazu staje się jeszcze trudniejsze. W takim świecie znajomość zasad projektowania architektury informacji staje się nieodzowna. Niniejsza książka jest przeznaczona dla wszystkich osób zaangażowanych w proces projektowania najróżniejszych przekazów informacji, szczególnie serwisów internetowych. Architektura informacji jest tu traktowana jako zbiór narzędzi i technik do obsługi trudnych problemów. Można tu znaleźć uniwersalne i ponadczasowe zasady organizacji informacji, narzędzia i techniki, które zdały próbę czasu i nie zależą od konkretnych technologii czy producentów. Dzięki praktycznemu podejściu ta książka przyda się każdemu, kto odpowiada za zdefiniowanie sposobu działania produktów interaktywnych. W tej książce znajdziesz: przegląd zagadnień dotyczących architektury informacji opis komponentów architektury informacji i powiązań między nimi metodykę organizacji witryn, systemy nawigacji, wyszukiwania i etykietowania stron opis metod poprawy komfortu użytkownika serwisu wskazówki dotyczące metodologii definiowania kierunku i zakresu architektury informacyjnej Architektura informacji -- sztuka, która uczyni informację prawdziwie użyteczną!
Search analytics for your site : conversations with your customers
by
Louis Rosenfeld
( )
20 editions published between
2011
and 2014 in 3 languages and held by 126 WorldCat member libraries worldwide
"When users search your site, they're telling you in their own words what they want from your organization. In 'Search analytics for your site, ' Lou Rosenfeld shows you how to harvest and analyze search query data to improve your site's search performance, content, navigation, metadata, effectiveness, and overall user experience"--Page [4 de la p. de couv.]
more
fewer
Audience Level
0

1
Kids
General
Special
Audience level: 0.46 (from 0.37 for The Intern ... to 0.99 for Are the ki ...)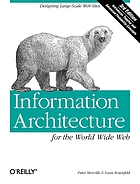 Covers
Alternative Names
Lou Rosenfeld

Lou Rosenfeld American writer

Lou Rosenfeld historiador de la ciencia estadounidense

Louis Rosenfeld

Louis Rosenfeld écrivain américain

Louis Rosenfeld escritor estadounidense

Louis Rosenfeld shkrimtar amerikan

Louis Rosenfeld US-amerikansk historiker, forfatter og forlegger

Rosenfeld, Lou

Rosenfeld, Lou ca. 1965-

Rosenfeld, Louis

Rosenfeld, Louis B.

Rosenfeld, Louis B. 1965-

Rosenfeld, Louis B. ca. 1965-

로젠펠드, 루이스 1965-

ローゼンフェルド, ルイス

Languages