Caulkins, Jonathan P. (Jonathan Paul) 1965-
Most widely held works about Jonathan P Caulkins
Most widely held works by Jonathan P Caulkins
An ounce of prevention, a pound of uncertainty : the cost-effectiveness of school-based drug prevention programs
by
Jonathan P Caulkins
( )
15 editions published in
1999
in
English
and held by 2,331 WorldCat member libraries worldwide
Focuses on school-based drug prevention programs that have proven effective in formal evaluations. Effectiveness at reducing cocaine consumption is inferred from effectiveness at reducing marijuana initiation, and spillover effects on those not participating in the program are accounted for. Given substantial uncertainties in all pertinent factors, the cost-effectiveness estimation framework is constructed to permit easy substitution of alternate values at reader preference or as more information becomes available. The authors conclude that prevention can reduce lifetime cocaine consumption by 2 to 11 percent. Although these effects are small, prevention programs are inexpensive, so that the associated cost-effectiveness values bracket those of a range of enforcement strategies. Treatment, however, appears more cost-effective than prevention. A nationwide drug prevention program would cost only a tiny fraction of what the United States now spends on drug control, but its effect on the cocaine-using population would be modest and slow to accumulate
School-based drug prevention : what kind of drug use does it prevent?
by
Jonathan P Caulkins
( )
18 editions published between
2002
and 2003 in
English
and held by 2,242 WorldCat member libraries worldwide
"School-based drug prevention programs target not only the use of illicit drugs such as marijuana but also licit substances such as alcohol and tobacco. These programs thus have the potential of benefiting society not only by reducing the violence and criminal justice costs associated with illicit drugs but also by reducing the health costs associated with abuse of alcohol and cigarettes. This opportunity for multiple benefits raises the interesting question, Which is most important? Is school-based drug prevention beneficial mainly as a weapon in the war against illegal drugs, or is it more valuable as a promoter of public health through reduction of licit-substance abuse? The authors analyze the costs and effectiveness of several scientifically evaluated drug prevention programs, along with the social costs of the use of various substances. They verify previous findings that the social benefits of drug prevention can exceed its costs, and they conclude that approximately two-thirds of the programs' value to the public stems from reduction in the use of alcohol and tobacco. Implications for program funding are drawn, and the limitations of prevention are discussed."--Jacket
Intelligent giving : insights and strategies for higher education donors
by
Jonathan P Caulkins
( )
16 editions published in
2002
in
English
and held by 2,197 WorldCat member libraries worldwide
Although most major gifts are profoundly motivated by charitable intentions, the noble impulse to give to higher education can quickly generate complicated choices. Which school? Which program? Under what terms or conditions? Even very talented people who have enjoyed exceptionally successful careers in business and other fields can become disoriented by academe's idiosyncrasies. This book provides an intellectual framework for guiding prospective major donors in giving more effectively to higher education. It supplies some insight into the higher education sector, donor opportunities, the development process, and how to think about and get the most from a "negotiation" with the institution of the donor's choice. The insights and strategies are culled by a RAND research team mainly from interviews with development officers, institutional leaders, and donors themselves. Ultimately the giving process that works best for any donor will depend on his or her individual interests and needs. The best advice is to be clear on what effect the donor wants his or her gift to have, to seek as much information on the school/situation as possible, and to consult with an attorney and a good financial advisor at all stages of the giving process
Reducing drug trafficking revenues and violence in Mexico : would legalizing marijuana in California help?
by
Beau Kilmer
( )
10 editions published in
2010
in
English
and held by 1,925 WorldCat member libraries worldwide
U.S. demand for illicit drugs creates markets for Mexican drug trafficking organizations (DTOs) and helps foster violence in Mexico. This paper examines how marijuana legalization in California might influence DTO revenues and the violence in Mexico. Key findings include: 1) Mexican DTOs' gross revenues from illegally exporting marijuana to wholesalers in the United States is likely less than $2 billion; 2) The claim that 60 percent of Mexican DTO gross drug export revenues come from marijuana should not be taken seriously; 3) If legalization only affects revenues from supplying marijuana to California, DTO drug export revenue losses would be very small, perhaps 2-4 percent; 4) The only way legalizing marijuana in California would significantly influence DTO revenues and the related violence is if California-produced marijuana is smuggled to other states at prices that outcompete current Mexican supplies. The extent of such smuggling will depend on a number of factors, including the response of the U.S. federal government. 5) If marijuana is smuggled from California to other states, it could undercut sales of Mexican marijuana in much of the U.S., cutting DTOs' marijuana export revenues by more than 65 percent and probably by 85 percent or more. In this scenario, the DTOs would lose approximately 20% of their total drug export revenues
A noble bet in early care and education : lessons from one community's experience
by
Brian P Gill
( )
13 editions published in
2002
in
English
and held by 1,876 WorldCat member libraries worldwide
The Early Childhood Initiative (ECI) was an ambitious effort launched in Pittsburgh in 1996 to provide high-quality early care and education services to at-risk children, on a countywide scale and under the direction of local neighborhood agencies. Its goal was to improve the preparation of these children for kindergarten, promote their long-term educational attainment, and give them the early tools to help them become productive, successful members of society. Initially funded by foundations and private donors, ECI planned to become financially sustainable over the long term by persuading the state of Pennsylvania to commit to funding the program at the end of a startup period. Four years after its launch, ECI was far short of its enrollment targets, the cost per child was significantly higher than expected, and the effort to secure a commitment of state funding had failed. ECI was therefore converted to a small-scale demonstration program, leaving a residue of disappointment in many communities around the county. Although findings from a parallel study suggest that participating children may have derived substantial benefits from ECI, it failed to achieve its goals in terms of scale and sustainability. In the aftermath of ECI's scale-down, RAND was commissioned by the Heinz Endowments (ECI's largest funder) to study why ECI fell short of its objectives and to learn from its mistakes. The findings of the study are presented in this report, which summarizes ECI's organizational history, analyzes and explains critical weaknesses that hindered ECI's ability to succeed, and articulates lessons to inform the design and implementation of future large-scale reform initiatives, whether in early care and education or in other areas of social services
Marijuana legalization : what everyone needs to know
by
Jonathan P Caulkins
( Book )
24 editions published between
2012
and 2016 in
English
and held by 1,698 WorldCat member libraries worldwide
Should marijuana be legalized? The latest Gallup poll reports that exactly half of Americans say "yes"; opinion could not be more evenly divided. Marijuana is forbidden by international treaties and by national and local laws across the globe. But those laws are under challenge in several countries. In the U.S., there is no short-term prospect for changes in federal law, but sixteen states allow medical use and recent initiatives to legalize production and non-medical use garnered more than 40% support in four states. California's Proposition 19 nearly passed in 2010, and multiple states are expected to consider similar measures in the years to come. The debate and media coverage surrounding Proposition 19 reflected profound confusion, both about the current state of the world and about the likely effects of changes in the law. In addition, not all supporters of "legalization" agree on what it is they want to legalize: Just using marijuana? Growing it? Selling it? Advertising it? If sales are to be legal, what regulations and taxes should apply? Different forms of legalization might have very different results. This book is a primer about the topic, covering everything from the risks and benefits of using marijuana, to describing the current laws around the drug in the U.S. and abroad. The authors discuss the likely costs and benefits of legalization at the state and national levels and walk readers through the "middle ground" of policy options between prohibition and commercialized production. The authors also consider how marijuana legalization could personally impact parents, heavy users, medical users, drug traffickers, and employers
Before the grand opening : measuring Washington state's marijuana market in the last year before legalized commercial sales
by
Beau Kilmer
( )
7 editions published in
2013
in
English
and held by 1,460 WorldCat member libraries worldwide
The 2012 passage of Initiative 502 in Washington state removed the prohibition on the production, distribution, and possession of marijuana for nonmedical purposes and required the state to regulate and tax a new marijuana industry. This report uses data from multiple sources to estimate the total weight of marijuana consumed in the state in 2013 to provide decisionmakers with baseline information about the size of the state's market
Drugs and drug policy : what everyone needs to know
by
Mark Kleiman
( )
19 editions published between
2011
and 2015 in
English
and held by 1,346 WorldCat member libraries worldwide
While there have always been norms and customs around the use of drugs, explicit public policies, regulations, taxes, and prohibitions, designed to control drug abuse are a more recent phenomenon. Those policies sometimes have terrible side effects: most prominently the development of criminal enterprises dealing in forbidden (or untaxed) drugs and the use of the profits of drug dealing to finance insurgency and terrorism. Neither a drug free world nor a world of free drugs seems to be on offer, leaving citizens and officials to face the age old problem: What are we going to do about drugs? In this work, three noted authorities survey the subject with clarity, in this addition to the series, What Everyone Needs to Know. They begin by defining "drugs," examining how they work in the brain, discussing the nature of addiction, and exploring the damage they do to users. The book moves on to policy, answering questions about legalization, the role of criminal prohibitions, and the relative legal tolerance for alcohol and tobacco. The authors then dissect the illicit trade, from street dealers to the flow of money to the effect of catching kingpins, and show the precise nature of the relationship between drugs and crime. They examine treatment, both its effectiveness and the role of public policy, and discuss the beneficial effects of some abusable substances. Finally they move outward to look at the role of drugs in our foreign policy, their relationship to terrorism, and the ugly politics that surround the issue
Considering Marijuana Legalization : Insights for Vermont and Other Jurisdictions
by
Jonathan P Caulkins
( )
8 editions published in
2015
in
English
and held by 1,186 WorldCat member libraries worldwide
Marijuana legalization is a controversial and multifaceted issue that is now the subject of serious debate. In May 2014, Vermont Governor Peter Shumlin signed a bill requiring the Secretary of Administration to produce a report about various consequences of legalizing marijuana. This resulting report provides a foundation for thinking about the various consequences of different policy options while being explicit about the uncertainties involved
What America's users spend on illegal drugs, 2000-2010 : technical report
by
Beau Kilmer
( )
8 editions published in
2014
in
English
and held by 1,083 WorldCat member libraries worldwide
Drug users in the United States spend on the order of $100 billion annually on these drugs (in 2010 dollars). While this total figure has been stable over the decade, there have been important compositional shifts. From 2006 to 2010, the amount of marijuana consumed in the United States likely increased more than 30 percent, while the amount of cocaine consumed in the United States decreased by approximately 50 percent. These figures are consistent with supply-side indicators, such as seizures and production estimates. Methamphetamine consumption rose sharply from 2000 through the middle of the decade, and this was followed by a large decline through 2008. Heroin consumption remained fairly stable throughout the decade, although there is some evidence of an increase in the later years. For all of the drugs, total consumption and expenditures are driven by the minority of users who consume on 21 or more days each month
more
fewer
Audience Level
0

1
Kids
General
Special
Audience level: 0.14 (from 0.03 for A noble be ... to 0.99 for Beckwith, ...)
Related Identities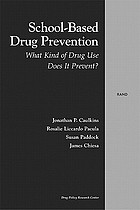 Covers
Alternative Names
Caulkins, J. P. 1965-

Caulkins, Jonathan 1965-

Caulkins Jonathan P.

Caulkins Jonathan P. 1965-

Caulkins, Jonathan Paul.

Caulkins, Jonathan Paul 1965-

Jonathan P. Caulkins 1965-

Jonathan Paul Caulkins 1965-

Languages