Shafir, Eldar
Most widely held works by Eldar Shafir
Scarcity : why having too little means so much
by
Sendhil Mullainathan
( Book )
19 editions published between
2013
and 2014 in
English
and held by 1,349 WorldCat member libraries worldwide
An examination of how scarcity--and our flawed responses to it--shapes our lives, our society, and our culture
The behavioral foundations of public policy
by
Eldar Shafir
( Book )
22 editions published between
2013
and 2019 in
English
and
Japanese
and held by 847 WorldCat member libraries worldwide
In recent years, remarkable progress has been made in behavioral research on a wide variety of topics, from behavioral finance, labor contracts, philanthropy, and the analysis of savings and poverty, to eyewitness identification and sentencing decisions, racism, sexism, health behaviors, and voting. Research findings have often been strikingly counterintuitive, with serious implications for public policymaking. In this book, leading experts in psychology, decision research, policy analysis, economics, political science, law, medicine, and philosophy explore major trends, principles, and general insights about human behavior in policy-relevant settings. Their work provides a deeper understanding of the many drivers--cognitive, social, perceptual, motivational, and emotional--that guide behaviors in everyday settings. They give depth and insight into the methods of behavioral research, and highlight how this knowledge might influence the implementation of public policy for the improvement of society. This collection examines the policy relevance of behavioral science to our social and political lives, to issues ranging from health, environment, and nutrition, to dispute resolution, implicit racism, and false convictions. The book illuminates the relationship between behavioral findings and economic analyses, and calls attention to what policymakers might learn from this vast body of groundbreaking work. Wide-ranging investigation into people's motivations, abilities, attitudes, and perceptions finds that they differ in profound ways from what is typically assumed. The result is that public policy acquires even greater significance, since rather than merely facilitating the conduct of human affairs, policy actually shapes their trajectory. The first interdisciplinary look at behaviorally informed policymaking. Leading behavioral experts across the social sciences consider important policy problems. A compendium of behavioral findings and their application to relevant policy domains
Reasoning and decision making
by
P. N Johnson-Laird
( Book )
10 editions published between
1993
and 1994 in
English
and held by 217 WorldCat member libraries worldwide
This volume brings together two separate aspects of the psychology of thinking: how people reason; and how they make judgements and decisions. It covers such topics as the nature of rationality, how individuals construct reasons for choices and how they reach decisions on juries
The essential Tversky
by
Amos Tversky
( Book )
3 editions published in
2018
in
English
and held by 116 WorldCat member libraries worldwide
Amos Tversky (1937-1996) was a towering figure in the cognitive and decision sciences. His work was ingenious, exciting, and influential, spanning topics from intuition to statistics to behavioral economics. His long and extraordinarily productive collaboration with his friend and colleague Daniel Kahneman was the subject of Michael Lewis's best-selling book, The Undoing Project : A Friendship that Changed Our Minds. The Essential Tversky offers a selection of Tversky's best, most influential and accessible papers, "classics" chosen to capture the essence of Tversky's thought. The impact of Tversky's work is far reaching and long-lasting. In 2002, Kahneman, who drew on their joint work in his much-praised 2013 book, Thinking, Fast and Slow (and who contributes an afterword to this collection), was awarded the Nobel Prize in Economics for work done with Tversky. In The Undoing Project, Lewis (who contributes a foreword to this collection) describes his discovery that Tversky and Kahneman's thinking laid the foundation for Moneyball, his own ode to number-crunching. The papers collected in The Essential Tversky cover topics that include cognitive and perceptual bias, misguided beliefs, inconsistent preferences, risky choice and loss aversion decisions, and psychological common sense. Together, they offer nonspecialist readers an introduction to one of the most brilliant social science thinkers of the twentieth century
Scarcity : why having too little means so much
by
Sendhil Mullainathan
( Recording )
6 editions published between
2013
and 2014 in
English
and held by 99 WorldCat member libraries worldwide
In the blockbuster tradition of Freakonomics, a Harvard economist and a Princeton psychology professor team up to offer a surprising and empowering new way to look at everyday life, presenting a paradigm-challenging examination of how scarcity, and our flawed responses to it, shapes our lives, our society, and our culture
Knappheit was es mit uns macht, wenn wir zu wenig haben
by
Sendhil Mullainathan
( Book )
3 editions published in
2013
in
German
and held by 81 WorldCat member libraries worldwide
Warum bleibt die Armut weltweit bestehen? Warum grassiert die Übergewichtigkeit? Warum haben es einsame Menschen schwerer, Freunde zu finden? All diese scheinbar unverbundenen Fragen beruhen auf dem Phänomen der Knappheit - ob an Zeit, Ressourcen oder sozialen Kontakten. Sendhil Mullainathan und Eldar Shafir begründen darauf eine neue Disziplin an der Schnittstelle von Ökonomie und Psychologie: die Wissenschaft von der Knappheit. Denn alle Formen der Knappheit erzeugen dieselben psychologischen Prozesse, dieselben Herausforderungen und Spannungen, dieselben Anstrengungen und gelegentlichen Fehler. Mit diesem Buch können wir unser Handeln besser begreifen und sogar modifizieren, damit wir künftig unsere selbst gesteckten Ziele leichter erreichen. (Quelle: www.buchhandel.de)
Schaarste : hoe gebrek aan tijd en geld ons gedrag bepalen
by
Sendhil Mullainathan
( Book )
8 editions published between
2013
and 2019 in
Dutch
and held by 80 WorldCat member libraries worldwide
Ons leven wordt bepaald door dingen waar we te weinig van hebben. Of het nu gebrek aan tijd, geld, voedsel, sociale contacten of iets anders is: schaarste stuurt onze aandacht. Dat levert een zeker voordeel op: het dwingt ons ons te concentreren, dat is bijvoorbeeld waarom we beter kunnen presteren als we een deadline (schaarste aan tijd) hebben. Maar er schuilt ook een gevaar in: schaarste veroorzaakt tunnelvisie en beperkt ons denkvermogen. In 'Schaarste' bieden Harvard-econoom Sendhil Mullainathan en Princeton-psycholoog Eldar Shafir een baanbrekend nieuw perspectief op menselijk gedrag. Aan de hand van eigen onderzoek en veel spraakmakende voorbeelden tonen de auteurs aan dat de gevolgen van schaarste veel verder gaan dan tot nu toe bekend was. Armoede (langdurige schaarste) zorgt er bijvoorbeeld voor dat men moeilijk nieuwe vaardigheden aan kan leren en gebrek aan tijd leidt ertoe dat we op de lange termijn steeds onverstandigere beslissingen nemen. De inzichten in 'Schaarste' hebben verregaande gevolgen voor zaken zoals armoedebestrijding, scholing, obesitas, verkeersveiligheid en werkloosheid. Maar ook je agenda en persoonlijke financiën zien er na het lezen van dit boek nooit meer hetzelfde uit. ***** 'Een fascinerend boek dat overstroomt van nieuwe ideeën, fantastische verhalen en simpele tips die zomaar je leven kunnen veranderen. Steven D. Levitt, coauteur FREAKONOMICS 'Mullainathan en Shafir zijn elk een ster op hun gebied en samen zijn ze meer dan de som der delen. Hun werk is de mooiste combinatie van gevoel en verstand die ik tot nu toe in ons vakgebied heb gezien.' Daniel Kahneman, auteur van ONS FEILBARE DENKEN Bron: Flaptekst, uitgeversinformatie
Escasez : ¿Por qué tener muy poco significa tanto?
by
Sendhil Mullainathan
( )
4 editions published in
2016
in
Spanish
and
Undetermined
and held by 65 WorldCat member libraries worldwide
Ensayo académico que toma como modelo explicativo la escasez para explicar la correlación entre la toma de decisiones y la administración de recursos tanto económicos como de tiempo al momento de resolver problemas de forma efectiva o acertada. Encuentran por ejemplo, una fuerte correlación entre la pobreza y el fracaso con la afirmación de que el fracaso causa la pobreza. El economista conductual Sendhil Mullainathan y el psicólogo cognitivo Eldar Shafir, brindan aquí ejemplos de la vida diaria para entender cómo la escasez puede ser buena, en tanto que permite enfocarse momentáneamente, pero perjudicial pues se desatienden otros ámbitos que pueden ser más importantes. La escasez grava la mente, provocando un efecto de túnel del que es difícil salir pero no imposible de evitar
more
fewer
Audience Level
0

1
Kids
General
Special
Audience level: 0.29 (from 0.03 for Scarcity : ... to 0.97 for Scarcity : ...)
Related Identities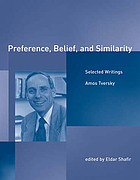 Covers Alternative Names
Eldar Shafir Amerikaans psycholoog

Eldar Shafir US-amerikanischer Psychologe und der William Stewart Tod Professor für Psychologie und Öffentliche Angelegenheiten an der Princeton University

Šapiyr, ʾEldar 1959-...

Shafir, E. 1977-

אלדר שפיר

אלדר שפיר פרופסור במחלקה לפסיכולוגיה באוניברסיטת פרינסטון. ישראלי

שפיר אלדר 1959-....

إلدار شافير

الدار شفیر

샤퍼, 엘다

엘다 샤퍼

エルダー・シャフィール

シャフィール, エルダー

Languages