Stauber, John C. (John Clyde) 1953-
Most widely held works about John C Stauber
Most widely held works by John C Stauber
Weapons of mass deception : the uses of propaganda in Bush's war on Iraq
by
Sheldon Rampton
( Book )
27 editions published between
1984
and 2014 in 3 languages and held by 1,405 WorldCat member libraries worldwide
This book reveals: how the Iraq war was sold to the American public through professional P.R. strategies; lies that were told related to the Iraq war; euphemisms and jargon related to the war, e.g. "shock and awe," "Operation Iraqi Freedom," "axis of evil," "coalition of the willing," etc.; how the war on terrorism and the war on Iraq have been used as marketing hooks to sell products and policies that have nothing to do with fighting terrorism; the efforts of Charlotte Beers and other U.S. propaganda campaigns designed to win hearts overseas; and how news coverage followed Washington's lead and language. The book includes a glossary, "Propaganda: a user's guide," and resources to help Americans sort through the deceptions to see the strings behind Washington's campaign to sell the Iraq war to the public.--From publisher description
Toxic sludge is good for you : lies, damn lies, and the public relations industry
by
John C Stauber
( Book )
14 editions published between
1995
and 2011 in
English
and
Chinese
and held by 1,026 WorldCat member libraries worldwide
Toxic sludge is good for you blows the lid off of today's multi-billion-dollar propaganda-for-hire PR industry, revealing how public relations wizards concoct and spin the news, organize phony "grassroots" front groups, spy on citizens, and conspire with lobbyists and politicians.--Publisher
Mad cow U.S.A. : could the nightmare happen here?
by
Sheldon Rampton
( Book )
8 editions published between
1997
and 2004 in
English
and
German
and held by 746 WorldCat member libraries worldwide
"Mad Cow U.S.A. shatters the false belief that the government and food industry would never let it happen here. Even as tens of thousands of cows died in Britain, the government denied the risk to human beings. Knowing the similar risk in the U.S., government and industry have managed a successful public relations offensive to keep Americans in the dark. Rampton and Stauber expose, for the first time, the deadly game of "dementia roulette" being played with our food supply."--Jacket
Banana Republicans : how the right wing is turning America into a one-party state
by
Sheldon Rampton
( Book )
9 editions published in
2004
in
English
and held by 368 WorldCat member libraries worldwide
"For the first time since 1932, the Republican Party controls every major institution of the federal government: the White House, the Supreme Court, the Senate and the House of Representatives - not to mention the "fourth branch of government," the mass media. How did this come to pass? Banana Republicans reveals how the GOP leadership maintains its hold on power through the systemic manipulation of the electoral system, the media, the lobbying establishment, and the political culture at large."--Jacket
The best war ever : lies, damned lies, and the mess in Iraq
by
Sheldon Rampton
( Book )
9 editions published between
2006
and 2014 in
English
and held by 313 WorldCat member libraries worldwide
The war in Iraq may be remembered as the point at which the propaganda model perfected in the twentieth century stopped working: the world is too complex, information is too plentiful, and - as events in Iraq reveal - propaganda makes bad policy. The Best War Ever is about a war that was devised in fantasy and lost in delusion. It highlights the futility of lying to oneself and others in matters of life and death. And it offers lessons to the current generation so that, at least in our time, this never happens again. As the team of Rampton and Stauber show in their first new book since President Bush's re-election, the White House seems to have fooled no one as much as itself in the march toward a needless (from a security perspective) war in Iraq. As the authors argue, one of the most tragic consequences of the Bush administration's reliance on propaganda is its disdain for realistic planning in matters of war. Repeatedly, when faced with predictions of problems, U.S. policymakers dismissed the warnings of Iraq experts, choosing instead to promulgate its version of the war through conservative media outlets and PR campaigns. The result has been too few troops on the ground to maintain security; failure to anticipate the insurgency; and oblivious disregard, even contempt, for critics in either party who attempted to assess the human and economic costs of the war. Even now that withdrawal seems imminent, however, the administration and its allies continue their cover-ups: downplaying civilian deaths and military injuries; employing marketing buzzwords like "victory" repeatedly to shore up public opinion; and botched attempts, through third-party PR firms, at creating phony news. The Bush administration entered Iraq believing that its moral, technological, and military superiority would ensure victory abroad, and that its mastery of the politics would win support at home. Instead, it found a morass of problems that do not lend themselves to moralistic, technological, or propaganda-based solutions
Breath of Life - Our Future, Our Planet
( Visual )
1 edition published in
2015
in
English
and held by 93 WorldCat member libraries worldwide
Explore the wisdom of the people who sustainably live off the land, as this poignant documentary goes on a global journey to get insightful commentaries from the world's greatest scientists. Ponder what we can do to preserve our planet
War is sell
( Visual )
1 edition published in
2004
in
English
and held by 33 WorldCat member libraries worldwide
Delves into the history and tactics of war propagandists--soldiers armed not with guns, but with words, pictures and commercial advertising techniques in their "battle to win hearts and minds."
more
fewer
Audience Level
0

1
Kids
General
Special
Audience level: 0.29 (from 0.21 for Weapons of ... to 0.97 for Vendere la ...)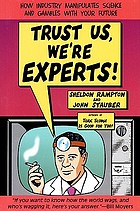 Covers
Alternative Names
John Stauber American writer

John Stauber Amerikaans journalist

John Stauber écrivain américain

John Stauber escritor estadounidense

John Stauber US-amerikanischer Autor und politischer Aktivist

Stauber, John.

Stauber, John C.

Stauber, John C. (John Clyde)

스타우버, 존

스토버, 존

ジョン・スタウバー

スタウバー, ジョン

ストーバー, ジョン

Languages