Goldhagen, Daniel Jonah
Most widely held works about Daniel Jonah Goldhagen
more
fewer
Most widely held works by Daniel Jonah Goldhagen
Hitler's willing executioners : ordinary Germans and the Holocaust
by
Daniel Jonah Goldhagen
( Book )
169 editions published between
1996
and 2018 in 13 languages and held by 4,830 WorldCat member libraries worldwide
Daniel Jonah Goldhagen has revisited a question that history has come to treat as settled, and his researchers have led him to the inescapable conclusion that none of the established answers holds true. That question is: "How could the Holocaust happen?" His own response is a new exploration of those who carried out the Holocaust and of German society and its ingrained anti-semitism - and it demands a fundamental revision of our thinking about the years 1933-1945. Drawing principally on materials either unexplored or neglected by previous scholars, Goldhagen marshals new, disquieting, primary evidence - including extensive testimony from the actual perpetrators themselves - to show that many beliefs about the killers are fallacies: They were not primarily SS men or Nazi Party members, but perfectly ordinary Germans from all walks of life, men (and women) who brutalized and murdered Jews both willingly and zealously. And they did so, moreover, not because they were coerced (for, as he shows irrefutably, so many were informed by their own commanders that they could refuse to kill without fear of retribution) ... not because they slavishly followed orders (a view seemingly supported by Stanley Milgram's famous Yale "obedience experiment") ... not because of any tremendous social, psychological, or peer pressure to conform to the behaviour of their comrades (for no such evidence exists) ... and not for any reasons associated with Hannah Arendt's disputed notion of the "banality of evil." They acted as they did because of a widespread, profound, unquestioned, and virulent antisemitism that led them to regard the Jews as a demonic enemy whose extermination was not only necessary but also just. Again and again, it is the killers' own words that give us a portrait, both shocking and immediate, of their world: the organization of their daily lives, how they did what they did, their reactions to it, even their recreations in the killings fields, which included everything from sports and entertainment to the hobby of taking snapshots of their deeds and victims - to be freely exchanged and collected among themselves - leaving a devastating record of self-indictment that the author reproduces here. All of Goldhagen's documentary evidence is set within a fresh analysis of the phenomenon of German antisemitism itself, which revises many conventional views. He shows that it was already deep-rooted and pervasive in German society before Hitler came to power, and that there was a widely shared view that the Jews ought to be eliminated in some way from German society. When Hitler, ultimately, chose mass extermination as the only "final solution," he was thus easily able to enlist vast numbers of Germans to carry it out
A moral reckoning : the role of the Catholic Church in the Holocaust and its unfulfilled duty of repair
by
Daniel Jonah Goldhagen
( Book )
76 editions published between
2002
and 2013 in 6 languages and held by 1,852 WorldCat member libraries worldwide
In this book Daniel Jonah Goldhagen cuts through the historical and moral fog to lay out the full extent of the Catholic Church's involvement in the Holocaust, transforming a narrow discussion fixated on Pope Pius XII into the long-overdue investigation of the Church throughout Europe. He shows that the Church's and the Pope's complicity in the persecution of the Jews was much deeper than has been understood. The Church's leaders were fully aware of the persecutions and they did not speak out and urge resistance. Instead, they supported many aspects of the persecution. Some clergy even took part in the mass murder. But Goldhagen goes further and develops a new, precise way for assessing the Church and its clergy's culpability. He then shows that the Church has, even according to its own doctrine, an unacknowledged duty of repair. He explores this duty, analyzes the Church's tactics of evasion, and delineates all that the Church must do to repair the harm it inflicted on Jews and to heal itself
Worse than war : genocide, eliminationism, and the ongoing assault on humanity
by
Daniel Jonah Goldhagen
( Book )
24 editions published between
2009
and 2012 in
English
and held by 1,391 WorldCat member libraries worldwide
A paradigm-changing investigation into the phenomenon of genocide and mass killing--explaining why genocides begin, are sustained, and end; why societies support them and why they happen so frequently; and how the international community should and can successfully stop them
The devil that never dies : the rise and threat of global antisemitism
by
Daniel Jonah Goldhagen
( Book )
9 editions published between
2013
and 2016 in
English
and held by 750 WorldCat member libraries worldwide
The author describes an unprecedented and global rise in anti-Semitism being fueled by technology and spread by politicians, religious leaders and intellectuals on every continent
Briefe an Goldhagen
by
Daniel Jonah Goldhagen
( Book )
10 editions published between
1997
and 1999 in
German
and held by 173 WorldCat member libraries worldwide
This book contains letters written to Daniel Jonah Goldhagen in reaction to his book, "Hitler's willing executioners", in German, "Hitlers willigen Vollstrecker: Ganz gewöhnliche Deutsche und der Holocaust"
Worse than war : [genocide, eliminationism, and the ongoing assault on humanity]
by
Daniel Jonah Goldhagen
( Recording )
12 editions published between
2009
and 2010 in
English
and held by 88 WorldCat member libraries worldwide
A paradigm-changing investigation into the phenomenon of genocide and mass killing--explaining why genocides begin, are sustained, and end; why societies support them and why they happen so frequently; and how the international community should and can successfully stop them
The devil that never dies : the rise and threat of global antisemitism
by
Daniel Jonah Goldhagen
( )
5 editions published in
2013
in
English
and held by 53 WorldCat member libraries worldwide
Anti-Semitism never went away, but since the turn of the century it has multiplied beyond what anyone would have predicted. It is openly spread by intellectuals, politicians, and religious leaders in Europe, Asia, the Middle East, the United States, and Africa and supported by hundreds of millions more. Indeed, today anti-Semitism is stronger than any time since the Holocaust. In The Devil That Never Dies, Daniel Jonah Goldhagen reveals the unprecedented, global form of this age-old hatred; its strategic use by states; its powerful appeal to individuals and groups; and how technology has fueled the flames that had been smoldering prior to the millennium
more
fewer
Audience Level
0

1
Kids
General
Special
Audience level: 0.33 (from 0.23 for Worse than ... to 0.97 for Hitlerovi ...)
Related Identities
Associated Subjects
Africa
Antisemitism
Bubis, Ignatz,
Catholic Church
Christianity
Christianity and antisemitism
Chronology
De Sélincourt, Aubrey,
Deviant behavior
Egypt
Ethnic relations
Genocide
Genocide--Prevention
Genocide--Psychological aspects
Germany
Globalization--Social aspects
Goldhagen, Daniel Jonah
Greece
Group identity
Hate
Hate crimes
Herodotus
Historiography
History, Ancient
History (Herodotus)
Hitler's willing executioners (Goldhagen, Daniel Jonah)
Holocaust, Jewish (1939-1945)
Interfaith relations
Iran
Judaism
Language and languages
MP3 (Audio coding standard)
National socialism and religion
National socialism--Historiography
National socialism--Moral and ethical aspects
Persian Wars (Greece : 500-449 B.C.)
Pius--XII,--Pope,
Political and social views
Prejudices--Psychological aspects
Press coverage
Racism--Psychological aspects
Relations with Jews
Religious aspects
Social norms
Travel
Turkey
Walser, Martin,
War--Causes
War criminals--Psychology
World War (1939-1945)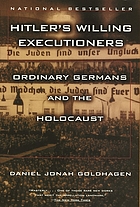 Covers
Alternative Names
Daniel Goldhagen Amerikaans auteur

Daniel Goldhagen Historiador de origen judío sobre el Holocausto Nazi.

Daniel Goldhagen historien américain

Daniel Goldhagen storico statunitense

Daniel Goldhagen US-amerikanischer Soziologe, Politikwissenschaftler und Autor

Daniel Jonah Goldhagen

Gkolntchanken, Ntaniel Tzona 1959-

Goldhagen, Daniel

Goldhagen, Daniel 1954-

Goldhagen, Daniel 1959-

Goldhagen, Daniel J. 1959-

Goldhagen, Daniyel Yonah 1959-

Goldhagen, Jonah

Голдхаген, Дэниэл

גולדהגן, דניאל יונה

דניאל גולדהגן

ゴールドハーゲン, ダニエル

ゴールドハーゲン, ダニエル・J.

ダニエル・ゴールドハーゲン

Languages