Keith, Don 1947-
Most widely held works by Don Keith
Final patrol : true stories of World War II submarines
by
Don Keith
( Book )
4 editions published between
2006
and 2014 in
English
and held by 422 WorldCat member libraries worldwide
"Sixteen U.S. submarines - and one German U-boat - that saw action during WWII are open to the public. Most have been lovingly restored and authentically equipped. Based on interviews with surviving submariners and declassified U.S. Navy war patrol reports, Final Patrol takes a fascinating look at these subs and tells the personal stories of the brave sailors who lived, fought, and - in many cases - died in them. Now the public can visit and climb into these cramped steel cylinders, peer through their torpedo tubes, and imagine pulling the hatch closed and diving under the sea - perhaps for the last time - to stalk a fanatical enemy who threatened our nation's freedom."--Jacket
War beneath the waves : a true story of courage and leadership aboard a World War II submarine
by
Don Keith
( Book )
4 editions published between
2010
and 2014 in
English
and held by 382 WorldCat member libraries worldwide
In November 1943, a young officer named Charlie Rush drew duty on the USS Billfish, a submarine in the Pacific. While the Billfish was on war patrol in the Makassar Strait off Borneo, a Japanese task force spotted the sub and launched such a vicious depth-charge attack that no vessel could possibly survive. Rush, as diving officer, ordered the ship to dive, despite the confusion and hesitation of his captain. As he oversaw damage control, thundering depth-charge explosions racked the submarine during fifteen hours of hell under the sea. When he was finally able to seek out the captain, Rush found no one at the helm. The skipper and two senior officers were all incapacitated -- either from fear or lack of breathable air. Billfish was dead in the water. Boldly assuming command of the submarine -- and summarily relieving his commanding officer -- Rush led key members of the crew in an impossible effort to keep their boat intact as they tried to escape. Through his extraordinary heroism and coolheaded judgment, the young officer saved the crew of the Billfish from certain death. - Jacket flap
Final bearing
by
George Wallace
( Book )
6 editions published between
2003
and 2004 in
English
and held by 308 WorldCat member libraries worldwide
Juan de Santiago is not only a billionaire coca grower. He is also a deranged revolutionary, the commander of the most powerful private army in South America, who devices a plan that will dishearten the American antidrug effort and make him El Jefe once and for all. Tom Kincaid is a successful soldier in Florida's antidrug war and an expert on Colombia, but when U.S. politicians demand a publicity-driven drug bust, they blow the cover of Kincaid's carefully crafted network, leaving most of his informants dead, and getting the DEA agent exiled to the relative backwater of Seattle. Commander Jonathan Ward and his crew on the old attack sub Spadefish are on one last mission. They are to launch a strike that will put de Santiago and his empire out of business for good. They are getting help from Bill Beaman and his SEAL team, but there is a leak in the Colombian government, and Beaman and his SEALs are being stalked. And at the same time, a futuristic minisub leaves Colombia. Destination: Seattle. And it is loaded with the most lethal, addictive substance known to man
Gallant lady : a biography of the USS Archerfish
by
Don Keith
( Book )
4 editions published between
2004
and 2013 in
English
and held by 189 WorldCat member libraries worldwide
"She looked like just about every other diesel-powered, Balao-class submarine crafted in the '40s. But there the similarity ends. Because the Archerfish - named for a fish that kills its victims with a lethal blast of water from below - won a unique, heroic place in military history and the memories of her crew members." "Here is her story: from her assembly in New England, her dedication in May 1943, her service in World War II, where she broke the back of the Japanese Navy and sank the largest ship ever destroyed by a submarine, to the details of her critical role in the cold war, where she crisscrossed the oceans for six years to foil Soviet naval intelligence."
Firing point
by
George Wallace
( Book )
3 editions published in
2012
in
English
and held by 148 WorldCat member libraries worldwide
When Russian and American submarines end up at the bottom of the ocean, igniting global tension and setting in motion the possible beginnings of World War III, the USS Toledo is sent to help and discovers that it was no accident
Undersea warrior : the World War II story of "Mush" Morton and the USS Wahoo
by
Don Keith
( Book )
5 editions published between
2011
and 2014 in
English
and held by 146 WorldCat member libraries worldwide
"No man above or below the waves was as admired-or feared-as this determined naval commander ... Among submariners in World War II, Dudley "Mush" Morton stood out as a warrior without peer. At the helm of the USS "Wahoo" he completely changed the way the sea war was fought in the Pacific. He would relentlessly attack the Japanese at every opportunity, going through his supply of torpedoes in record time on every patrol. In only nine months, he racked up an astounding list of achievements, including being the first American skipper to wipe out an entire enemy convoy single-handedly. Here, for the first time, is the life and legend of a heroic, dynamic, and ultimately divisive submarine commander who fought the war on his own terms, and refused to do so any other way."
The forever season
by
Don Keith
( Book )
4 editions published between
1995
and 2002 in
English
and held by 139 WorldCat member libraries worldwide
C.P. MacKay, a rising football star and a student at Sparta University, encounters hardships and moral and ethical issues while playing football and attending school during the 1960s
more
fewer
Audience Level
0

1
Kids
General
Special
Audience level: 0.23 (from 0.10 for Young guns ... to 0.32 for In the cou ...)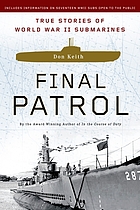 Languages
Covers