Mills, Greg 1962-
Most widely held works about Greg Mills
Most widely held works by Greg Mills
Why states recover : changing walking societies into winning nations -- from Afghanistan to Zimbabwe
by
Greg Mills
( )
14 editions published between
2014
and 2015 in
English
and
Undetermined
and held by 642 WorldCat member libraries worldwide
State failure takes many forms. Somalia offers one extreme. A collapse of central authority as the outcome of a prolonged civil war, where authority descends into competing factions -- headed by warlords -- around the spoils of local commerce, power and international aid. At the other end of the scale is Malawi. During President Bingu's second term in office, the country's economy collapsed as a result of poor policies and personalised politics. On the surface, save the petrol queues, it was stable; underneath, the polity was fractured, the economy broken. Between these two extremes of state failure are all manner of examples. Drawing on research in more than thirty countries, incorporating interviews with a dozen leaders Mills disaggregates state failure and identifies instances of recovery in Latin America, Asia and Africa. All the while he returns to his key questions: how do countries recover, and what roles ought insiders and outsiders play to aid that process?--Jacket
War and peace in Southern Africa : crime, drugs, armies, and trade
by
Greg Mills
( Book )
12 editions published between
1996
and 1998 in
English
and held by 560 WorldCat member libraries worldwide
This timely book analyzes the baleful wave of crime in which South Africa and its neighbors are now engulfed. It provides new perspectives and policy recommendations on issues including carjacking and the limited police response; the quality and quantity of the region's drug problem and where the drugs originate; the arms trade and how to stop it; the South African military mind; and southern African peacekeeping. The book also addresses South Africa's illegal immigration problem and how the flood of aliens can be turned back, and the relationship between low economic growth and regional economic instability, a lack of openness to trade, and poor managerial responses
The future of Africa : a new order in sight?
by
Jeffrey Ira Herbst
( Book )
15 editions published between
2003
and 2013 in
English
and held by 352 WorldCat member libraries worldwide
"This Adelphi Paper examines the countries that will lead and rules that will govern Africa over the next decade. It pays particular attention to the perilous condition of Africa's largest countries (especially Nigeria, Ethiopia, and the Democratic Republic of the Congo) that should be leading Africa but are instead falling. The paper also reviews the recently proposed New Partnership for Africa's Economic Development that African leaders hope will govern the continent over the next decade. Finally, the paper makes a series of suggestions, especially with concern to the nature of the states themselves, that will have to be pursued if Africa is to arrest collapse and realise its potential."--Jacket
Big African states
by
Christopher S Clapham
( Book )
11 editions published between
2001
and 2009 in
English
and held by 219 WorldCat member libraries worldwide
7 large countries are studied here. Angola, Sudan, Congo, Ethiopia, Nigeria and South Africa. The reason for doing so is as a response to another idea. That much of Africa's troubles are exacerbated by the many small countries within Africa. So, as the idea goes, a small nation is more suspectible to failed policies. While a large country, especially those considered by the text, has more chances and resources to get things right
Making Africa work : a handbook for economic success
by
Greg Mills
( Book )
18 editions published in
2017
in
English
and
Undetermined
and held by 211 WorldCat member libraries worldwide
Over the next generation, Sub-Saharan Africa faces three big, inter-related challenges. Its population will double to 2 billion by 2045. By then, more than half of Africans will be living in cities. And this group of mostly young people will be connected with each other and the world through mobile devices. Properly planned for and harnessed, this situation is a tremendously positive force for change. But without economic growth and jobs, it could prove a political and social catastrophe. With these population increases, old systems of patronage and of muddling through will no longer work. Instead, if leaders want to remain in power, they will have to find a more dynamic means of promoting growth. A first-hand account of a rapidly changing region, Making Africa Work is a handbook for ensuring growth beyond commodities and creating jobs across the continent. --
The security intersection : the paradox of power in an age of terror
by
Greg Mills
( Book )
7 editions published between
2004
and 2005 in
English
and held by 173 WorldCat member libraries worldwide
The rising influence of non-state actors in the management of international relations reflects both the increasing importance of economic affairs in a rapidly integrating and financially interdependent world, and the emergence of so-called new issues that have to be factored into any foreign policy: the promotion of human rights and democracy, humanitarian concerns, drug abuse and trafficking, the spread of contagious diseases including HIV/AIDS, transnational crime, the safeguarding of the environment, poverty, the combating of terrorism, the proliferation of weapons of mass destruction, illegal weapons trafficking, and issues surrounding gender equality. SECURITY INTERSECTION offers an analysis of the policy options we might employ in providing and managing local, regional and global security, and examines the security issues involved in nation-building (especially with regard to Iraq, but also concerning intervention elsewhere) and security issues with regard to terrorism and nation-building
Why Africa is poor : and what Africans can do about it
by
Greg Mills
( Book )
12 editions published between
2010
and 2011 in
English
and held by 165 WorldCat member libraries worldwide
"Economic growth does not demand a secret formula. Good development examples now abound in East Asia and farther afield in others parts of Asia, and in Central America. But why then has Africa failed to realise its potential in half a century of independence? This book shows that African poverty is not because the world has denied the continent the market and financial means to compete: far from it. It has not been because of aid per se. Nor is African poverty solely a consequence of poor infrastructure or trade access, or because the necessary development and technical expertise is unavailable internationally. Why then has the continent lagged behind other developing areas when its people work hard and the continent is blessed with abundant natural resources? Stomping across the continent and the developing world in search of the answer, Greg Mills controversially shows that the main reason why Africa's people are poor is because their leaders have made this choice"--Jacket
How South Africa works : and must do better
by
Jeffrey Ira Herbst
( Book )
9 editions published between
2015
and 2016 in
English
and held by 143 WorldCat member libraries worldwide
The overwhelming challenge that South Africa faces, and has to date failed to address, is unemployment, which falls especially on African youths who were promised a better future after 1994. If the unemployment challenge is not addressed, it will be impossible to sustainably lift many millions of people out of poverty. How South Africa Works reviews the country's major economic achievements over the past two decades. Through numerous interviews with politicians, business leaders and analysts, it examines the challenges and opportunities across key productive sectors - including agriculture, manufacturing, services and mining - illustrative of the policy challenges that leaders face. It scrutinises the social grant and education systems to understand if South Africa has established mechanisms for people not only to escape destitution but be ready to be employed, and identifies steps that some of South Africa's most notable entrepreneurs have taken to build world-class enterprises. Recognising the essential challenge to cultivate more employers to employ people, How South Africa Works concludes by offering an agenda and active steps for greater competitiveness for government, business and labour -- page 4 of cover
3-2-1 Penguins
( Visual )
4 editions published in
2002
in
English
and held by 134 WorldCat member libraries worldwide
Jason accompanies the four feathered space explorers to Planet-Wait-Your-Turn, where they must race to keep the planet and it's vacuum cleaner inhabitants from being hurled into a blazing sun. Can the aliens learn that patience is a virtue and having to go first all the time only leads to trouble before it's too late?
A great perhaps? : Colombia : conflict and convergence
by
Dickie Davis
( Book )
4 editions published in
2016
in
English
and held by 132 WorldCat member libraries worldwide
No country has managed as rapid and positive a turnaround in governance and security conditions this century as Colombia. In 1999, FARC and ELN rebels were literally at the gates of Bogotá, and Colombia was a country synonymous with the antics of Pablo Escobar, known primarily for rapacious corruption, weak government, drug smuggling and criminality. Fifteen years later the guerrillas, seriously weakened, have been persuaded to attend peace talks in Havana, and the Colombian economy had been a top performer in Latin America. ... Based on field-work in Colombia's regions, the study provides a history of the conflict, compares it to other historical and contemporary case-studies, examines the war from the perspectives of the government and the guerrillas, delves into the development of special Colombian capabilities (notably in intelligence and the use of airpower and special forces), and explains the economic dimension in terms both of historical exclusion and ongoing attempts at growth and inclusion. Finally, it concludes with an assessment of the country's prospects: can the combination of improved security, a flourishing economy and the peace process offer an opportunity to finally translate Colombia from, in Gabriel Garcia Marquez's words, 'a great perhaps' into something more permanent? -- Publisher description
more
fewer
Audience Level
0

1
Kids
General
Special
Audience level: 0.51 (from 0.11 for On the fau ... to 0.74 for South Afri ...)
Related Identities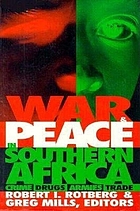 Covers
Alternative Names
Greg Mills écrivain sud-africain

Greg Mills escritor sudafricano

Gregory John Barrington Mills

Mills, Greg Dr

Mills, Gregory John Barrington.

Mills, Gregory John Barrington 1962-

غريغ ميلس كاتب جنوب أفريقي

Languages