Hochberg, Michael E.
Most widely held works by Michael E Hochberg
Parasitoid population biology
by
Michael E Hochberg
( )
16 editions published between
2000
and 2021 in
English
and held by 677 WorldCat member libraries worldwide
Extraordinary in the diversity of their lifestyles, insect parasitoids have become extremely important study organisms in the field of population biology, and they are the most frequently used agents in the biological control of insect pests. This book presents the ideas of seventeen international specialists, providing the reader not only with an overview but also with lively discussions of the most salient questions pertaining to the field today and prescriptions for avenues of future research. After a general introduction, the book divides into three main sections: population dynamics, population diversity, and population applications. The first section covers gaps in our knowledge in parasitoid behavior, parasitoid persistence, and how space and landscape affect dynamics. The contributions on population diversity consider how evolution has molded parasitoid populations and communities. The final section calls for novel approaches toward resolving the enigma of success in biological control and questions why parasitoids have been largely neglected in conservation biology. Parasitoid Population Biology will likely be an important influence on research well into the twenty-first century and will provoke discussion amongst parasitoid biologists and population biologists. In addition to the editors, the contributors are Carlos Bernstein, Jacques Brodeur, Jerome Casas, H.C.J. Godfray, Susan Harrison, Alan Hastings, Bradford A. Hawkins, George E. Heimpel, Marcel Holyoak, Nick Mills, Bernard D. Roitberg, Jens Roland, Michael R. Strand, Teja Tscharntke, and Minus van Baalen
Silicon photonics design
by
Lukas Chrostowski
( )
18 editions published between
2015
and 2019 in
English
and held by 341 WorldCat member libraries worldwide
La 4e de couverture indique : "From design and simulation through to testing and fabrication, this hands-on introduction to silicon photonics engineering equips students with everything they need to begin creating foundry-ready designs. In-depth discussion of real-world issues and fabrication challenges ensures that students are fully equipped for careers in industry. Step-by-step tutorials, straightforward examples, and illustrative source code fragments guide students through every aspect of the design process, providing a practical framework for developing and refining key skills. Offering industry-ready expertise, the text supports existing PDKs for CMOS UV-lithography foundry services (OpSIS, ePIXfab, imec, LETI, IME and CMC) and the development of new kits for proprietary processes and clean-room based research. Accompanied by additional online resources to support students, this is the perfect learning package for senior undergraduate and graduate students studying silicon photonics design, and academic and industrial researchers involved in the development and manufacture of new silicon photonics systems."
Aspects of the genesis and maintenance of biological diversity
( Book )
13 editions published between
1995
and 1996 in
English
and held by 285 WorldCat member libraries worldwide
This book is a unique collection of evolutionary and ecological perspectives in the study of biodiversity by some of the leading researchers in the field. The seventeen chapters are divided into three sections, each section beginning with an overview of its contents. The book traces past landmarks, current questions, and future trends in biodiversity research ranging from the evaluation of the fossil record and molecular phylogenies in untangling the genesis of diversity; to population, community, and ecosystem-level approaches in understanding patterns of species persistence; and finally to large-scale diversity patterns and species conservation. Subject reviews, case-studies, and discussions of techniques are combined to produce a state-of-the-art book
An editor's guide to writing and publishing science
by
Michael Hochberg
( Book )
1 edition published in
2019
in
English
and held by 116 WorldCat member libraries worldwide
A good research paper is more than just a clear, concise, scientific expose. It is a document that needs to go beyond the science to attract attention. There are both strict and less definable norms for doing this, but many authors are unaware as to what they are or their use. Publishing is rapidly changing, and needs to be explained with a fresh perspective. Simply writing good, clear, concise, science is no longer enough-there is a different mind-set now required that students need to adopt if they are to succeed. The purpose of this book is to provide the foundations of this new approach for both young scientists at the start of their careers, as well as for more experienced scientists to teach the younger generation. Most importantly, the book will make the reader think in a fresh, creative, and novel way about writing and publishing science. This is an introductory guide suitable for advanced undergraduates, graduate students, and professional researchers in both the life and physical sciences.-back cover
COEVOLUTION DES TRAITS D'HISTOIRE DE VIE DANS LES ASSOCIATIONS HOTE-PARASITE
by JEAN-YVES LEMEL
( Book )
2 editions published in
1998
in
French
and held by 4 WorldCat member libraries worldwide
ON ABORDE DANS CE TRAVAIL TROIS THEMES LIES A L'EVOLUTION DES TRAITS D'HISTOIRE DE VIE DANS LES INTERACTIONS HOTE-PARASITE, PAR UNE APPROCHE THEORIQUE. (1) L'EFFET DU PARASITISME SUR L'EVOLUTION DES TRAITS D'HISTOIRE DE VIE DES HOTES EST ETUDIE A L'AIDE D'UN MODELE INTEGRANT LA DYNAMIQUE ECOLOGIQUE DE L'INTERACTION ENTRE L'HOTE ET LE PARASITE ET LA DYNAMIQUE EVOLUTIVE DE L'HOTE. L'ANALYSE MONTRE QUE LES HOTES SELECTIONNENT LES STRATEGIES DEMOGRAPHIQUES QUI MAXIMISENT LA DENSITE EN PARASITES, INDEPENDAMMENT DE LA STRUCTURE D'AGE DE LA POPULATION HOTE ET DU MOMENT DU CYCLE DE VIE DE L'HOTE AUQUEL L'INFECTION SE PRODUIT. CE RESULTAT APPAREMMENT PARADOXAL S'EXPLIQUE PAR UN PRINCIPE DE PESSIMISME : LA SELECTION FAVORISE LES HOTES CAPABLES DE SE MAINTENIR DANS LE PIRE DES MONDES. (2) L'EVOLUTION DES PREMIERES LIGNES DE DEFENSES CONTRE LES PARASITES EST ETUDIEE DANS LE CAS OU L'INVESTISSEMENT DANS LA RESISTANCE SE REPERCUTE NEGATIVEMENT SUR LA REPRODUCTION. UNE CONCLUSION MAJEURE EST QUE L'EVOLUTION DE LA RESISTANCE A ESSENTIELLEMENT DEUX ISSUES : L'INVESTISSEMENT DANS LA RESISTANCE EST SOIT NUL, SOIT, AU CONTRAIRE, ELEVE. L'AUTRE CONCLUSION IMPORTANTE EST QU'UNE TRES FAIBLE VARIATION DE LA VIRULENCE PEUT ENTRAINER UNE BRUSQUE MODIFICATION DU NIVEAU DE RESISTANCE SELECTIONNE. (3) L'HYPOTHESE QU'UNE AUGMENTATION DE LA SURVIE DES STADES INFECTANTS LIBRES DES PARASITES ENTRAINE LA SELECTION D'UNE VIRULENCE ACCRUE EST TESTEE EN FONCTION DE LA NATURE DE L'INFECTION, SIMPLE OU MULTIPLE. CONTRAIREMENT AUX PREDICTIONS, ON MONTRE QU'IL PEUT EXISTER UNE CORRELATION NEGATIVE ENTRE LA SURVIE DES PROPAGULES ET LA VIRULENCE OPTIMALE LORSQUE L'INFECTION EST SIMPLE ET QU'IL N'Y A PAS NECESSAIREMENT UNE CORRELATION ENTRE LA SURVIE DES PROPAGULES ET LA VIRULENCE OPTIMALE LORSQU'IL Y A DES INFECTIONS MULTIPLES
ECOLOGIE DES COMMUNAUTES DE PARASITOIDES ASSOCIES AUX CYNIPIDAE GALLIGENES (HYMENOPTERA) : ROLE DES CARACTERISTIQUES DES GALLES, DE LA STRUCTURE DES POPULATIONS ET DE LA PHYLOGENIE DES HOTES SUR LEUR CORTEGE PARASITAIRE
by
Olivier Plantard
( Book )
2 editions published in
1997
in
French
and held by 4 WorldCat member libraries worldwide
CHAQUE ESPECE DE CYNIPIDAE GALLIGENE, EST PARASITEE PAR DE NOMBREUSES ESPECES DE PARASITOIDES, DONT L'ENSEMBLE FORME UN CORTEGE PARASITAIRE. L'EPAISSEUR DE LA PAROI DE LA GALLE JOUE UN ROLE CLE DANS LA STRUCTURATION ET LA COMPOSITION DE DEUX CORTEGES PARASITAIRES ETUDIES EN DETAIL (L'UN BASE SUR UN CYNIPIDAE SUR CHENE, L'AUTRE SUR ROSIER). LES PARASITOIDES POSSEDENT DES OVIPOSITEURS DE LONGUEURS DIFFERENTES, LEUR PERMETTANT D'ATTEINDRE LA LARVE DU GALLIGENE SEULEMENT PENDANT UNE PHASE PRECISE DE LA CROISSANCE DE LA GALLE. L'ABSENCE DE CHEVAUCHEMENT DES LONGUEURS D'OVIPOSITEURS DES DIFFERENTES ESPECES AINSI QUE L'EXCLUSION LOCALE D'UNE DES DEUX ESPECES PRESENTANT LES NICHES ECOLOGIQUES LES PLUS PROCHES SUGGERENT QUE CES CORTEGES PARASITAIRES SONT FORTEMENT INFLUENCES PAR LA COMPETITION INTERSPECIFIQUE. LA STRUCTURE GENETIQUE DES POPULATIONS DE DIPLOLEPIS SPINOSISSIMAE (ESPECE RARE A REPARTITION MORCELEE) ET L'INTENSITE DU PARASITISME SUBI PAR CE GALLIGENE, ONT ETE ETUDIEES EN PARALLELE. CETTE ESPECE PRESENTE UN REGIME DE REPRODUCTION VARIABLE SUIVANT LES POPULATIONS (THELYTOQUIE OU ARRHENOTOQUIE). DES BACTERIES ENDOSYMBIOTIQUES DU GENRE WOLBACHIA SONT RESPONSABLES DE LA THELYTOQUIE ET DE L'HOMOZYGOTIE DES FEMELLES DES POPULATIONS ASEXUEES. L'ANALYSE DES FREQUENCES ALLELIQUES A TROIS LOCUS MICROSATELLITES INDIQUE QUE LES FLUX GENIQUES ENTRE POPULATIONS SONT FAIBLES. BIEN QUE SON TAUX DE SURVIE AIT DIMINUE AU COURS DES 3 ANNEES D'ETUDES DANS LES 8 POPULATIONS SUIVIES (SAUF 1), LES EXTINCTIONS LOCALES SEMBLENT RARES CHEZ D. SPINOSISIMAE, CONTRAIREMENT A D'AUTRES DIPLOLEPIS PRESENTANT DES DISTRIBUTIONS TRES DIFFERENTES (HOMOGENES A L'ECHELLE REGIONALE ET TRES AGGREGATIVES A L'ECHELLE LOCALE). LE RICHE CORTEGE PARASITAIRE DE D. SPINOSISSIMAE MONTRE UNE COMPOSITION REMARQUABLEMENT CONSTANTE DANS CES DIFFERENTES POPULATIONS, MALGRE LEUR ISOLEMENT GEOGRAPHIQUE
more
fewer
Audience Level
0

1
General
Special
Audience level: 0.00 (from 0.00 for Parasitoid ... to 0.00 for Parasitoid ...)
Related Identities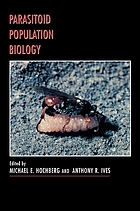 Covers
Alternative Names
Hochberg, M. E

Hochberg, M. E., 1960-

Hochberg, M. E. (Michael E.)

Hochberg, Michael.

Hochberg, Michael 1960-

Michael E. Hochberg American population biologist

Michael E. Hochberg biòleg estatunidenc

Michael E. Hochberg biólogo estadounidense

Michael E. Hochberg biólogo norte-americano

Michael E. Hochberg biologo statunitense

Michael E. Hochberg biólogu estauxunidense

Languages