Gould, David 1962 April 29-
Most widely held works by David Gould
Risks and returns : managing financial trade-offs for inclusive growth in Europe and Central Asia
by
David Gould
( )
6 editions published in
2017
in
English
and held by 146 WorldCat member libraries worldwide
During the 1990s, Emerging Europe and Central Asia (ECA) opted for a model of rapid financial development focused on bank credit expansion often funded by foreign capital. This model helped boost the financial inclusion of firms and households, but was also accompanied by lower financial efficiency and increased vulnerability to banking crises. The need for financial sector reforms has become more urgent as stagnating income growth, particularly of middle-to lower-income earners, is leading to increased dissatisfaction with the status quo of low productivity growth and limited access to opportunities. This demand for change can be the impetus for rebalancing financial policies to support higher and more inclusive growth. A healthy and balanced financial sector is needed to support structural adjustment in the oil dependent economies of the eastern side ECA and greater innovation in the countries of the western part of ECA. This report argues that financial development must reach beyond increasing access to credit. ECA countries should strive to build balanced financial systems integrating both bank and non-bank markets, enabling prudent financial inclusion. Most importantly, ECA falls significantly behind other world regions in the use of saving products. Striking the right balance across all dimensions of financial development (stability, efficiency, inclusion, and overall depth) is crucial for achieving and sustaining inclusive growth
Attracting foreign direct investment : what can South Asia's lack of success teach other developing countries?
by
David Gould
( )
1 edition published in
2013
in
English
and held by 32 WorldCat member libraries worldwide
Like many other developing countries, South Asian nations have been experiencing increased foreign direct investment inflows over the past decade as developing countries get a larger share of cross-border investments that were once sent to developed countries. Nonetheless, South Asia's inflows of foreign direct investment remain the lowest relative to gross domestic product among developing country regions. Why are South Asia's foreign direct investment inflows so low and what lessons can be drawn for developing countries as a whole? The analysis in this paper uses a novel empirical model that accounts for possible trends in convergence in the ratio of foreign direct investment to gross domestic product between countries and cross-sectional data for 78 countries from 2000 to 2011. The sample contains 52 developing countries. The analysis finds that two key factors are at work -- high overall regulatory restrictions on foreign direct investment and specific restrictions placed on doing business with other countries. These factors include overall trade restrictiveness, which reduces the benefits to cross-border investments, and weak institutions to protect foreign investors and facilitate investment. Nonetheless, the potential for faster growth in intra- and inter-regional foreign direct investment flows is significant. The main factors leading to this conclusion are South Asia's current low levels of foreign direct investment, the many unexploited opportunities for embodied knowledge transfer, and supply-chain linkages. The overall lessons for developing countries are that liberalizing policy constraints in both trade and foreign investment, keeping corporate tax rates modest, and improving governance and transparency could help to substantially improve foreign direct investment flows
The impact of monetary policy on exchange rates during financial crises
by
David Gould
( )
7 editions published in
2000
in
English
and held by 22 WorldCat member libraries worldwide
This paper addresses the impact of monetary policy on exchange rates during financial crises. Some observers have argued that a tightening of monetary policy is necessary to stabilize the exchange rate, restore confidence, and lay the groundwork for an eventual recovery of economic activity. Others have argued that by raising interest rates (which reduces the ability of borrowers to repay loans and thereby weakens the banking system), tightening may further reduce investor confidence and lead to further weakening--not strengthening--of domestic currencies. This debate, which became highly charged during the Asian financial crisis, remains unresolved. A key reason is that, because of the endogeneity of interest rates with respect to exchange rates and investor expectations, it is difficult to use statistical analysis to identify the impact of monetary policy on the exchange rate. In our research, we use measures of international credit spreads and of domestic stock prices as proxies for investor concerns about creditworthiness and country risk in order to better identify the impact of monetary policies on the exchange rate. Using weekly data from Indonesia, Korea, Malaysia, the Philippines, Thailand, and Mexico, we find that credit spreads and stock prices exert significant impacts on exchange rates during financial crises, but interest rates still are not estimated to have significant effects. We conclude that while monetary policy probably does exert an important influence over exchange rates, this most likely takes place slowly, as central banks attempt to establish credibility, and over longer periods of time than can be captured in our analysis
Does the choice of nominal anchor matter?
by
David Gould
( Book )
4 editions published between
1996
and 1999 in
English
and held by 14 WorldCat member libraries worldwide
"The conventional wisdom on nominal anchors is that exchange rate-based inflation stabilizations lead to economic booms while monetary-based stabilizations lead to recessions. This study finds strong evidence against this view. Rather than determining the path of economic growth, the choice of nominal anchor appears to be endogenously determined by the state of the economy. To peg or manage the exchange rate, a high level of international reserves is important, especially when a government's credibility is low after a period of high inflation. After controlling for the level of international reserves and the rate of inflation, growth after monetary-based stabilizations does not significantly differ from that following exchange rate-based stabilizations"--Federal Reserve Bank of Dallas web site
more
fewer
Audience Level
0

1
Kids
General
Special
Audience level: 0.62 (from 0.52 for Risks and ... to 0.99 for The role o ...)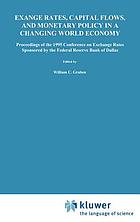 Covers
Alternative Names
Gould, D.

Gould, David 1962 Apr. 29-

Gould, David M. 1962-

Gould, David Michael, 1962 April 29-

Languages