Taleb, Nassim Nicholas 1960-
Most widely held works about Nassim Nicholas Taleb
Most widely held works by Nassim Nicholas Taleb
The black swan : the impact of the highly improbable
by
Nassim Nicholas Taleb
( Book )
92 editions published between
2007
and 2017 in 4 languages and held by 4,284 WorldCat member libraries worldwide
"A black swan is a highly improbable event with three principal characteristics: It is unpredictable; it carries a massive impact; and, after the fact, we concoct an explanation that makes it appear less random, and more predictable, than it was. The astonishing success of Google was a black swan; so was 9/11. For Nassim Nicholas Taleb, black swans underlie almost everything about our world, from the rise of religions to events in our own personal lives. Why do we not acknowledge the phenomenon of black swans until after they occur? Part of the answer, according to Taleb, is that humans are hardwired to learn specifics when they should be focused on generalities. We concentrate on things we already know and time and time again fail to take into consideration what we don't know. We are, therefore, unable to truly estimate opportunities, too vulnerable to the impulse to simplify, narrate, and categorize, and not open enough to rewarding those who can imagine the 'impossible.' For years, Taleb has studied how we fool ourselves into thinking we know more than we actually do. We restrict our thinking to the irrelevant and inconsequential, while large events continue to surprise us and shape our world. In this revelatory book, Taleb explains everything we know about what we don't know, and this second edition features a new philosophical and empirical essaym "On Robustness and Fragility," which offers tools to navigate and exploit a Black Swan world"--Jacket
Antifragile : things that gain from disorder
by
Nassim Nicholas Taleb
( Book )
70 editions published between
2012
and 2019 in 13 languages and held by 2,396 WorldCat member libraries worldwide
"The acclaimed author of the influential bestseller The Black Swan, Nicholas Nassim Taleb takes a next big step with a deceptively simple concept: the "antifragile." Like the Greek hydra that grows two heads for each one it loses, people, systems, and institutions that are antifragile not only withstand shocks, they benefit from them. In a modern world dominated by chaos and uncertainty, Antifragile is a revolutionary vision from one of the most subversive and important thinkers of our time. Praise for Nicholas Nassim Taleb "[This] is the lesson of Taleb. and also the lesson of our volatile times. There is more courage and heroism in defying the human impulse, in taking the purposeful and painful steps to prepare for the unimaginable."--Malcolm Gladwell, author of The Tipping Point "[Taleb writes] in a style that owes as much to Stephen Colbert as it does to Michel de Montaigne."--The Wall Street Journal "The most prophetic voice of all. [Taleb is] a genuinely significant philosopher. someone who is able to change the way we view the structure of the world through the strength, originality and veracity of his ideas alone."--GQ "Changed my view of how the world works."--Daniel Kahneman, Nobel laureate"--. "Examples of Antifragility: When you stress your body by lifting a big weight, your body gets stronger. New York has the best restaurants in the world because particular restaurants are always going bust, making the aggregate stronger and stronger, or antifragile. Evolution is antifragile. Certain business and investment strategies are antifragile. Older things tend to be more antifragile than newer ones - because they've been exposed to more Black Swans."
Skin in the game : hidden asymmetries in daily life
by
Nassim Nicholas Taleb
( Book )
29 editions published between
2018
and 2020 in
English
and
Dutch
and held by 1,335 WorldCat member libraries worldwide
The phrase "skin in the game" is one we have often heard but have rarely stopped to truly dissect. It is the backbone of risk management, but it's also an astonishingly complex worldview that applies to all aspects of our lives. Nassim Nicholas Taleb pulls on everything from Antaeus the Giant to Hammurabi to Donald Trump to Seneca to the ethics of disagreement to create a tapestry for understanding our world in a brand new way. Among his insights: For social justice, focus on symmetry and risk sharing; Ethical rules aren't universal; Minorities, not majorities, run the world; You can be an intellectual yet still be an idiot; Beware of complicated solutions (that someone was paid to find); True religion is commitment, not just faith
The black swan : the impact of the highly improbable
by
Nassim Nicholas Taleb
( )
26 editions published between
2007
and 2019 in
English
and held by 1,051 WorldCat member libraries worldwide
Not all swans are white, and not all events--no matter what the experts think--are predictable. Taleb shows that black swans, like 9/11, cannot be foreseen and have an immeasurable impact on the world
A new heuristic measure of fragility and tail risks : application to stress testing
by Christian Schmieder
( )
4 editions published in
2012
in
English
and held by 1,038 WorldCat member libraries worldwide
This paper presents a simple heuristic measure of tail risk, which is applied to individual bank stress tests and to public debt. Stress testing can be seen as a first order test of the level of potential negative outcomes in response to tail shocks. However, the results of stress testing can be misleading in the presence of model error and the uncertainty attending parameters and their estimation. The heuristic can be seen as a second order stress test to detect nonlinearities in the tails that can lead to fragility, i.e., provide additional information on the robustness of stress tests. It
The bed of Procrustes : philosophical and practical aphorisms
by
Nassim Nicholas Taleb
( Book )
48 editions published between
2010
and 2018 in 10 languages and held by 643 WorldCat member libraries worldwide
By the author of the modern classic The Black Swan, this collection of aphorisms and meditations expresses Taleb's view of modern civilization's hubristic side effects--modifying humans to satisfy technology, blaming reality for not fitting economic models, inventing diseases to sell drugs, defining intelligence as what can be tested in a classroom, and convincing people that employment is not slavery
Antifragile : things that gain from disorder
by
Nassim Nicholas Taleb
( Recording )
14 editions published in
2012
in
English
and held by 455 WorldCat member libraries worldwide
In 'The black swan' Taleb outlined a problem, and in 'antifragile' he offers a definitive solution: how to gain from disorder and chaos while being protected from fragilities and adverse events. For what Taleb calls the 'antifragile' is actually beyond the robust, because it benefits from shocks, uncertainty, and stressors, just as human bones get stronger when subjected to stress and tension. The antifragile needs disorder in order to survive and flourish
Dynamic hedging : managing vanilla and exotic options
by
Nassim Nicholas Taleb
( Book )
15 editions published between
1995
and 2010 in
English
and
Spanish
and held by 330 WorldCat member libraries worldwide
"Dynamic Hedging is the definitive source on derivatives risk. It provides a real-world methodology for managing portfolios containing any nonlinear security. It presents risks from the vantage point of the option market maker and arbitrage operator. The only book about derivatives risk written by an experienced trader with theoretical training, it remolds option theory to fit the practitioner's environment. As a larger share of market exposure cannot be properly captured by mathematical models, noted option arbitrageur Nassim Taleb uniquely covers both on-model and off-model derivatives risks."--Jacket
more
fewer
Audience Level
0

1
Kids
General
Special
Audience level: 0.33 (from 0.09 for A new heur ... to 0.89 for Der Schwar ...)
Related Identities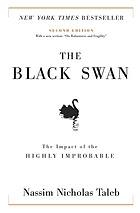 Covers
Alternative Names
Nassim Nicholas Taleb americký spisovateľ

Nassim Nicholas Taleb Amerikaans filosoof

Nassim Nicholas Taleb filosofo, saggista e matematico libanese

Nassim Nicholas Taleb French-Lebanese-American essayist, scholar, statistician, former trader and risk analyst

Nassim Nicholas Taleb US-amerikanischer Philosoph

Nassim Taleb

Taleb N.N.

Taleb N. N. 1960-

Taleb Nassim

Taleb, Nassim 1960-

Taleb, Nassim N.

Taleb, Nassim N. 1960-

Taleb, Nassim Nicholas

Taleb, Nassim Nicholas 1960-

Taleb, Nessim Nicholas 1960-

Taleb, Nissim Nicholas 1960-

Talebas Nasimas Nikolasas

Ṭalīb, Nasīm Nīqulla Naŷīb 1960-

Насим Талеб

Нассим Николас Талеб

Нассим Николас Талеб 1960-

Нассім Ніколас Талеб

Нассім Ніколас Талеб американський есеїст, математик, трейдер ліванського походження

Талеб Нассим

Талеб Нассим Николас

Талеб, Нассим Николас 1960-

Талеб, Нассим Николя

Նասիմ Նիկոլաս Թալեբ

טאלב, נסים

טאלב, נסים ניקולס

טלב, נסים

טלב, נסים ניקולס

נאסים טאלב

נאסים טאלב מסאי, סטטיסטיקאי, סוחר ומנתח סיכונים אמריקאי

نجيب, نسيم نيقولا 1960-

نسيم طالب، 1960-

نسيم نقولا طالب

نسیم طالب

نسیم نقولا طالب نویسنده لبنانی-آمریکایی

നസീം നിക്കോളാസ് താലിബ്

ნასიმ ნიკოლა ტალები

나심 니컬러스 탈레브 미국의 경영학자, 통계학자

탈레브, 나심 니콜라스 1960-

탈렙, 나심 니콜라스 1960-

タレブ, ナシーム・ニコラス

ナシム・ニコラス・タレブ

納西姆·尼可拉斯·塔雷伯

Languages