Martin, Chuck 1949-
Overview
| | |
| --- | --- |
| Works: | 47 works in 182 publications in 7 languages and 10,895 library holdings |
| Roles: | Author |
Most widely held works about Chuck Martin
Most widely held works by Chuck Martin
The digital estate : strategies for competing, surviving, and thriving in an internetworked world
by
Chuck Martin
( Book )
15 editions published between
1996
and 1998 in
English
and
Chinese
and held by 737 WorldCat member libraries worldwide
There are two kinds of people, says long-standing Internet seer and media guru Chuck Martin. Those who think the Internet might be a really big thing. And those who understand that the Net is totally revolutionizing the world. So thoroughly and so rapidly is the world becoming "wired" that the power is shifting to the Internet and the World Wide Web - the "Digital Estate"--At an ever faster rate. And that power is transforming the way the world communicates, is entertained, buys and sells - everything. In the Digital Estate, the old rules and the old understandings no longer apply and Fortune 500 status counts for nothing. Curiosity, anticipation, and imagination are the coin of the day. Anyone with a modem is a potential titan - of entertainment, of commerce, of industry, of influence. In the Digital Estate, virtual reality is every-day experience. In this remarkable eagle's-eye view, Martin takes readers from Silicon Valley to Silicon Alley (lower New York's Internet creative community). He puts readers aboard the Space-Shuttle paced, Net-instigated changes that are revolutionizing the world and the way the world does business
Mobile influence : the new power of the consumer
by
Chuck Martin
( Book )
12 editions published between
2013
and 2014 in
English
and held by 562 WorldCat member libraries worldwide
Mobile Influence identifies the six moments in the timeline of a sale which marketers must target effectively in order to reach the mobile buyer. From location-based marketing to mobile payment systems, the model gives marketers access to the tools necessary to build a new sales framework that addresses the future of the market
Tough management : the 7 ways to make tough decisions easier, deliver the numbers, and grow business in good times and bad
by
Chuck Martin
( Book )
8 editions published in
2005
in
English
and
Chinese
and held by 501 WorldCat member libraries worldwide
A bottom-line approach to what really matters--and what really works--in today's demanding workplace. Leaving abstract theorizing to the academics, bestselling author, weekly columnist, and sought-after speaker Chuck Martin delivers down-in-the-trenches solutions to the challenges you face every day. He describes a set of powerful principles and practices used by managers at top-performing companies to do more, deliver more, and grow more--while keeping stress levels to a minimum
The third screen : marketing to your customers in a world gone mobile
by
Chuck Martin
( Book )
21 editions published between
2011
and 2015 in
English
and
Chinese
and held by 494 WorldCat member libraries worldwide
"With the "first screen"--The television -- companies sent ads directly into consumers' living rooms, reaching millions with one campaign. The "second screen"--the personal computer -- increased interaction between companies and consumers and allowed for immediate customer feedback. The "third screen"--the mobile device -- changes the game in an even more revolutionary way. Now, in The Third Screen, bestselling author and digital pioneer Chuck Martin explains how the age of the smartphone is redefining the role of the consumer, clarifying how marketers must do more than send out a mass ad and hope for the best: they must interact on the customers' terms" --Dust jacket cover
Work your strengths : a scientific process to identify your skills and match them to the best career for you
by
Chuck Martin
( Book )
8 editions published in
2010
in
English
and held by 379 WorldCat member libraries worldwide
"Work Your Strengths taps into the powerful new concept of Executive Skills, which you can use to predict and maximize career success. With Work Your Strengths, the groundbreaking neuroscience behind the Executive Skills model has finally been brought into the career realm." "Executive Skills aren't simply your IQ or temperament or even education and training. Instead, they're a combination of brain functions that begin at birth and become hardwired in adulthood. Take the authors' free online test to discover your innate strengths and weaknesses in areas such as working memory, emotional control, sustained attention, organizational skills, goal-directed persistence, flexibility, stress tolerance, and more. By matching your own profile against the Executive Skills of high achievers in a multitude of professions and industries, you'll understand exactly which ones are crucial in which positions--and which weaknesses could spell serious trouble in specific jobs, departments, and industries." "The authors dig deeper than the vague "good with numbers" or "likes working with people" assessments. And the focus is far more practical than career books that ask you to explore your inner desires. Instead, Work Your Strengths draws on original research with more than two thousand people at hundreds of organizations of all types, from Fortune 500s to nonprofits, and at all levels, from CEOs to frontline employees." "This is solid, real-life data that you can use to match how your brain is wired with the wiring of people already successful in specific jobs. And the book makes its message plain, with an easy-to-read style devoid of scientific jargon and an abundance of examples of everyday behaviors that indicate high or low skills in each of the twelve areas."
Managing for the short term : the new rules for running a business in a day-to-day world
by
Chuck Martin
( Book )
7 editions published in
2002
in
English
and held by 328 WorldCat member libraries worldwide
The new world of the short term - The manager and the business blur - The disconnect and its impact on the organization - Managing for the short term vs. planning for the long term - It's all about the numbers - Incremental forward motion - Are we communicating? - Communicating down the line - Leading for the short term - Managing people for the short term - Using information to navigate through decisions - Getting to what matters - The more you do, the mare you do - Successful meetings for the short term - The law of expanding immediacy
Max-e-marketing in the net future : seven imperatives for outsmarting the competition in the net economy
by
Stan Rapp
( Book )
10 editions published between
2000
and 2001 in
English
and held by 262 WorldCat member libraries worldwide
"Max-e-Marketing in the Net Future is the first book to provide readers with a clearly articulated set of guidelines for taking advantage of the opportunities and avoiding the pitfalls in today's rapidly changing business environment. Each of the dynamic new Max-e-Marketing imperatives is illustrated by exclusive interviews with some of today's most innovative marketing pacesetters. Building on the farsighted marketing tenets first introduced and then chronicled in the MaxiMarketing trilogy co-authored by Stan Rapp and Tom Collins, and the pioneering insights of Chuck Martin in his best-selling book Net Future, the authors offer a roadmap for understanding - and profiting from - the twists and turns of the relationship-driven e-marketing future."
Smarts : are we hardwired for success?
by
Chuck Martin
( Book )
10 editions published between
2007
and 2008 in
English
and held by 209 WorldCat member libraries worldwide
"Smarts" contains the groundbreaking 'Executive Skills Profile': a powerful self-assessment tool that identify, once and for all, a person's innate strengths and weaknesses, twelve specific cognitive functions that begin developing in the brain at birth. These "skills" are built in to every individual and are fully developed - and unchangeable - by adulthood. Supported by proprietary primary research and grounded in widely accepted principles of clinical and neuro-psychology, "Smarts" is a truly eye-opening book that will change how we think about ourselves - and others
The third screen : the ultimate guide to mobile marketing
by
Chuck Martin
( Book )
8 editions published in
2015
in
English
and held by 75 WorldCat member libraries worldwide
""Anyone interested in the evolution of consumer behavior and the adoption of new technologies will appreciate the clarity of Martin's prose and the breadth of his vision."--Publishers Weekly"Marketing is ever-changing and The Third Screen mirrors the future of marketing. If you are new to mobile, this book makes sure you get it right!"--Jeffrey Hayzlett, best-selling author of The Mirror Test"Chuck Martin has more than all the facts. He has the soul of the idea. The Third Screen is thoughtful and valuable."--Chris Brogan, president, Human Business Works, co-author of Trust AgentsIn this fully updated new edition, Chuck Martin updates his essential marketing handbook for a rapidly evolving mobile marketplace. With more than one in every five people owning a smart phone or tablet worldwide, companies that fail to market to their ecommerce customers will be left behind. The book covers mobile video, SMS (text) messaging, location-based marketing, advertising and media, and inbound marketing and offers insightful case studies of top companies who are using these new platforms successfully.Chuck Martin is director of the Center for Media Research at MediaPost Communications, a research firm that analyzes the intentions of media buyers and planners. He is also CEO of Mobile Future Institute, a US-based think tank focused on marketing tactics for a world gone mobile. Martin is the author of eight business books, including the New York Times business bestseller The Digital Estate. He has appeared on CNN, CNBC, Fox, and ABC-TV News Now. "--
more
fewer
Audience Level
0

1
Kids
General
Special
Audience level: 0.19 (from 0.03 for Work your ... to 0.97 for L'era digi ...)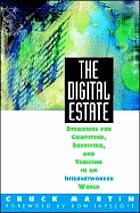 Alternative Names
Martin, Charles L.

Martin, Charles L. 1949- jr

Martin, Charles L., jr., 1949-

Martin, Charles Leo.

Martin Charles Leo 1949-....

Martin, Chuck

Martin, Chuck L.

Martin Jr., Charles L., 1949-

마틴, 척 1949-

マーチン, チャック

Languages
Covers