Madden, Thomas F.
Most widely held works by Thomas F Madden
Crusades : the illustrated history
( Book )
14 editions published between
2004
and 2008 in 4 languages and held by 1,475 WorldCat member libraries worldwide
"The Crusades were a centuries-long series of military campaigns in a violent struggle between the Christian and Islamic worlds. Such wars were fought not only against Islamic empires in Asia Minor, the Holy Land and throughout the Mediterranean region, but also within Europe against heretics, pagans, and opponents of the Church. Crusades traces these major expeditions and focuses on key episodes such as the titanic struggles over Jerusalem and Constantinople. War, however, is not the whole story: the encounter between East and West opened the eyes of Europeans to the world outside; it stimulated trade and the exchange of ideas; and it reintroduced important parts of Europe's classical literary heritage. The legacy of the Crusades is most evident today in castles, churches, and Moorish architecture, but more surprising is its contribution to developments in areas such as banking, science, engineering, medicine and philosophy." "With an authoritative and accessible text by a team of specialist historians, this book not only provides a narrative of the major crusades but also looks at the complex background to events, including the divisions within the major religions - Latin and Orthodox Christians, Shia and Sunni Muslims. Beautifully illustrated throughout, Crusades brings history vividly to life. Anyone who wishes to probe the historical roots of 21st-century tensions between Islam and the West, or simply to learn about one of the most fascinating phenomena of the Middle Ages, will find this book endlessly informative and enriching. Book jacket."--Jacket
A concise history of the Crusades
by
Thomas F Madden
( Book )
18 editions published between
1999
and 2014 in
English
and held by 1,237 WorldCat member libraries worldwide
"This book places the crusades within the medieval social, economic, religious, and intellectual environments that gave birth to the movement and nurtured it for centuries." (rear cover)
The new Concise history of the Crusades
by
Thomas F Madden
( Book )
23 editions published between
2005
and 2008 in 4 languages and held by 835 WorldCat member libraries worldwide
"How have the crusades contributed to Islamist rage and terrorism today? Were the crusades the Christian equivalent of modern jihad? In this sweeping yet crisp history, Thomas Madden offers a narrative of the crusades and their contemporary relevance." "Placing all the major crusades within their medieval social, economic, religious, and intellectual environments, Madden explores the uniquely medieval world that led untold thousands to leave their homes, family, and friends to march in Christ's name to distant lands. From Palestine and Europe's farthest reaches, each crusade is recounted in clear, concise narrative. The author gives special attention as well to the crusades' effects on the Islamic world and the Christian Byzantine East."--Jacket
Venice : a new history
by
Thomas F Madden
( Book )
13 editions published between
2012
and 2015 in
English
and held by 833 WorldCat member libraries worldwide
Overview: An extraordinary chronicle of Venice, its people, and its grandeur. Thomas Madden's majestic, sprawling history of Venice is the first full portrait of the city in English in almost thirty years. Using long-buried archival material and a wealth of newly translated documents, Madden weaves a spellbinding story of a place and its people, tracing an arc from the city's humble origins as a lagoon refuge to its apex as a vast maritime empire and Renaissance epicenter to its rebirth as a modern tourist hub. Madden explores all aspects of Venice's breathtaking achievements: the construction of its unparalleled navy, its role as an economic powerhouse and birthplace of capitalism, its popularization of opera, the stunning architecture of its watery environs, and more. He sets these in the context of the rise and fall of the Byzantine Empire, the endless waves of Crusades to the Holy Land, and the awesome power of Turkish sultans. And perhaps most critically, Madden corrects the stereotype of Shakespeare's money-lending Shylock that has distorted the Venetian character, uncovering instead a much more complex and fascinating story, peopled by men and women whose ingenuity and deep faith profoundly altered the course of civilization
Christianity at the crossroads : the Reformations of the sixteenth and seventeenth centuries
by
Thomas F Madden
( )
15 editions published between
2007
and 2014 in
English
and
Undetermined
and held by 738 WorldCat member libraries worldwide
Professor Madden explores the reformations that swept across Christendom in the sixteenth and seventeenth centuries. The impact of these reforms affected government, popes, and kings as well as commoners, for at this time the Church was an omnipresent part of European identity, and the import of Church reforms on every level of life at this time simply cannot be underestimated
The decline and fall of Rome
by
Thomas F Madden
( )
13 editions published between
2008
and 2014 in
English
and held by 727 WorldCat member libraries worldwide
Professor Madden correlates the principles of Roman conduct -- both governmental and military -- that would forever change the world. Rome was an empire unlike the world had ever seen and one that will likely never be duplicated. People with personages of great distinction and even greater ambition, at once notable for humanity's great promise and flawed nature, the Roman Empire contributed many of history's proudest advancements
One, holy, Catholic, and apostolic : a history of the church in the middle ages
by
Thomas F Madden
( )
13 editions published between
2006
and 2014 in
English
and
Undetermined
and held by 711 WorldCat member libraries worldwide
Series of lectures that covers the intrigue and politics swirling about the Medieval Church, exploring the compelling events that shaped culture and forever altered history, from the Monophysite Controversy to reform movements to the Inquisition, Black Death, and Great Schism
The Catholic Church in the modern age
by
Thomas F Madden
( )
3 editions published between
2007
and 2008 in
English
and held by 658 WorldCat member libraries worldwide
Professor Madden focuses on a Church both adapting to a world in flux and striving to secure its influence and power. Throughout modernity, the Church responded to and weathered a host of major events: the Enlightenment, the French Revolution, colonization of the New World, and of course the World Wars that in large part defined the twentieth century
Istanbul : city of majesty at the crossroads of the world
by
Thomas F Madden
( Book )
5 editions published between
2016
and 2017 in
English
and held by 634 WorldCat member libraries worldwide
Perched at the tip of Europe, gazing across to the shores of Asia, Istanbul remains as much a city of crossroads as it has been for the past two millennia. The history of this fabled metropolis--known at first as Byzantion, then Constantinople, and now Istanbul--is glorious, grandiose, and astounding. No other city has stood at the center of world events for so long, a home to great empires and diverse cultures from the Greeks to the Romans, the Italians to the Armenians, the Ottomans to the modern Turks. Prizewinning historian Thomas F. Madden's tremendous new biography of this mysterious city captures centuries of triumph and defeat, riches and poverty, seen through the lives of those who inhabited it: the emperors and empresses, craftsmen and architects, sailors and fishermen, street vendors and harem concubines. This book propels the reader on a journey of Mediterranean commerce, thought, religion, and power, running through ancient roads, wharfs, forums, and palaces. Excavating centuries of firsthand accounts, Madden sets this history against the background of men and women who forever changed their worlds, including Alexander the Great, Constantine, Empress Theodora, Mehmed the Conqueror, Suleiman the Magnificent, and Mustafa Kemal Atatürk. Witness the construction of the massive Theodosian Walls, the embellishment of rich Hagia Sophia, and the transformation and revitalization of the Golden Horn district. From 667 BC to President Erdoğan's tumultuous twenty-first century presidency, Madden's account not only questions how we think of Istanbul's past, but also examines what we can learn from a people who have withstood invasion and threat time and time again. Through the long gaze of Madden's stirring narrative, we experience the strength of a people who endure at the intersection of faith, geography, and ideology.--Adapted from dust jacket
Empires of trust how Rome built, and America is building, a new world
by
Thomas F Madden
( )
9 editions published between
2008
and 2014 in
English
and held by 606 WorldCat member libraries worldwide
"Explores surprising parallels between the Roman and American republics. By making friends of enemies and demonstrating a commitment to fairness, the two republics, both 'reluctant' yet unquestioned super-powers, built empires based on trust. Madden also includes vital lessons from the Roman Republic's 100-year struggle with 'terrorism'"--Publisher's web site
more
fewer
Audience Level
0

1
Kids
General
Special
Audience level: 0.19 (from 0.09 for Upon this ... to 0.46 for The crusad ...)
Related Identities
Associated Subjects
Architecture, Italian
Art, Renaissance
Byzantine Empire
Canals
Catholic Church
Christian heresies--Middle Ages
Christianity and other religions
Church and state
Church history
Church history--Middle Ages
Church history--Modern period
Church history--Primitive and early church
Civilization
Civilization, Medieval
Civilization, Western--Classical influences
Civilization, Western--Italian influences
Comparative civilization
Counter-Reformation
Crusades
Crusades (Fourth : 1202-1204)
Dandolo, Enrico,
Europe
Europe, Western
Heads of state
Heresy
History
Inquisition
Italy
Italy--Venice
Literature, Medieval
Middle Ages
Middle East
Military history
Military history, Medieval
Papacy
Politics and government
Popes
Public opinion
Reformation
Religion and civilization
Romans--Social life and customs
Rome (Empire)
Siege of Istanbul (Turkey : 1203-1204)
Spain
Speeches, addresses, etc
Thirteenth century
Turkey--Istanbul
United States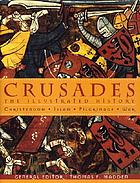 Alternative Names
Madden, Thomas F.

Madden, Thomas Francis.

Madden, Thomas Francis 1960-

Thomas F. Madden

Thomas Madden Amerikaans historicus

Thomas Madden amerikansk historikar

Thomas Madden amerikansk historiker

Thomas Madden historiador estadounidense

Thomas Madden historien américain

Thomas Madden istoric american

Thomas Madden storico, accademico e saggista statunitense

Мэдден, Томас

托馬斯·麥登

Languages
Covers