Christensen, Clayton M.
Most widely held works about Clayton M Christensen
more
fewer
Most widely held works by Clayton M Christensen
The innovator's dilemma : when new technologies cause great firms to fail
by
Clayton M Christensen
( Book )
74 editions published between
1997
and 2016 in
English
and
Italian
and held by 2,893 WorldCat member libraries worldwide
"This book takes the radical position that great companies can fail precisely because they do everything right." "It demonstrates why outstanding companies that had their competitive antennae up, listened astutely to customers, and invested aggressively in new technologies still lost their market leadership when confronted with disruptive changes in technology and market structure. And it tells how to avoid a similar fate." "Using the lessons of successes and failures of leading companies, The Innovator's Dilemma presents a set of rules for capitalizing on the phenomenon of disruptive innovation. These principles will help managers determine when it is right not to listen to customers, when to invest in developing lower-performance products that promise lower margins, and when to pursue small markets at the expense of seemingly larger and more lucrative ones."--Jacket
Disrupting class : how disruptive innovation will change the way the world learns
by
Clayton M Christensen
( Book )
38 editions published between
2008
and 2017 in
English
and held by 2,314 WorldCat member libraries worldwide
According to recent studies in neuroscience, the way we learn doesn't always match up with the way we are taught. If we hope to stay competitive-academically, economically, and technologically--we need to rethink our understanding of intelligence, reevaluate our educational system, and reinvigorate our commitment to learning. In other words, we need "disruptive innovation." Now, in his long-awaited new book, Clayton M. Christensen and coauthors Michael B. Horn and Curtis W. Johnson take one of the most important issues of our time--education--and apply Christensen's now-famous theories of "disruptive" change using a wide range of real-life examples. Whether you're a school administrator, government official, business leader, parent, teacher, or entrepreneur, you'll discover surprising new ideas, outside-the-box strategies, and straight-A success stories. You'll learn how customized learning will help many more students succeed in school; student-centric classrooms will increase the demand for new technology; computers must be disruptively deployed to every student; disruptive innovation can circumvent roadblocks that have prevented other attempts at school reform. We can compete in the global classroom--and get ahead in the global market.--From publisher description
The innovator's solution : creating and sustaining successful growth
by
Clayton M Christensen
( Book )
45 editions published between
2003
and 2013 in
English
and held by 1,756 WorldCat member libraries worldwide
"In his worldwide bestseller The Innovator's Dilemma, Christensen explained how industry leaders get blindsided by disruptive innovations precisely because they focus too closely on their most profitable customers and businesses. The Innovator's Solution shows how companies get to the side of this dilemma, creating disruptions rather than being destroyed by them." "Drawing on years of in-depth research and illustrated by company examples across many industries, Christensen and Raynor argue that innovation can be a predictable process that delivers sustainable, profitable growth. They identify the forces that cause managers to make bad decisions as they package and shape new ideas - and offer new frameworks to help managers create the right conditions, at the right time, for a disruption to succeed." "Revealing counterintuitive insights that will change your perspective on innovation forever, this landmark book shows how to create a disruptive growth engine that fuels ongoing success."--BOOK JACKET
How will you measure your life?
by
Clayton M Christensen
( Book )
25 editions published between
2012
and 2017 in 3 languages and held by 1,432 WorldCat member libraries worldwide
Akin to The Last Lecture in its revelatory perspective following life-altering events, "How Will You Measure Your Life?" presents a set of personal guidelines that have helped the author find meaning and happiness in his life
The innovator's prescription : a disruptive solution for health care
by
Clayton M Christensen
( )
25 editions published between
2008
and 2018 in
English
and
Danish
and held by 1,316 WorldCat member libraries worldwide
"Harvard Business School's Clayton M. Christensen - whose bestselling The Innovator's Dilemma revolutionized the business world - presents The Innovator's Prescription, a comprehensive analysis of the strategies that Christensen applies the principles of disruptive innovation to the broken health care system with two pioneers in the field - Dr. Jerome Grossman and Dr. Jason Hwang. Together, they examine a range of symptoms and offer proven solutions."--Jacket
Seeing what's next : using the theories of innovation to predict industry change
by
Clayton M Christensen
( Book )
25 editions published between
2004
and 2010 in
English
and held by 1,047 WorldCat member libraries worldwide
When an innovation is launched, it can change an entire industry and the firms operating therein in a potentially disruptive way. This book argues that it is possible to predict which companies will win and which will lose in a specific situation, and provides a practical framework for doing so
The innovative university : changing the DNA of higher education from the inside out
by
Clayton M Christensen
( Book )
18 editions published between
2011
and 2013 in
English
and held by 1,026 WorldCat member libraries worldwide
This work offers a hopeful vision to show universities how they can become more innovative, efficient, and true to their mission. It shows how higher education can respond to the forces of disruptive innovation that they are currently facing. The authors offer an analysis of where the traditional university and its traditions have come from and how it needs to change for the future. Through an examination of Harvard and Brigham Young University, Idaho as well as other stories of innovation in higher education, they decipher how universities can find innovative, less costly ways of performing their uniquely valuable functions. The book offers new ways forward to deal with curriculum, faculty issues, enrollment, retention, graduation rates, campus facility usage, and a host of other urgent issues in higher education. It discusses a strategic model to ensure economic vitality at the traditional university. It contains novel insights into the kind of change that is necessary to move institutions of higher education forward in innovative ways. To avoid the pitfalls of disruption and turn the scenario into a positive and productive one, universities must re-engineer their institutional DNA from the inside out. This book uncovers how the traditional university survives by breaking with tradition, but thrives by building on what it has done best. -- Provided by publisher
The innovator's DNA : mastering the five skills of disruptive innovators
by
Jeff Dyer
( Book )
15 editions published between
2011
and 2019 in
English
and
Spanish
and held by 872 WorldCat member libraries worldwide
"Some people are just natural innovators, right? With no apparent effort, they discover ideas for new products, services, and entire businesses. It may look like innovators are born, not made. But according to Jeffrey Dyer and Hal Gregersen, anyone can become more innovative. How? Master the discovery skills that distinguish innovative entrepreneurs and executives from ordinary managers. In The Innovator's DNA, the authors identify five capabilities demonstrated by the best innovators: ʺ Associating: drawing connections between questions, problems, or ideas from unrelated fields ʺ Questioning: posing queries that challenge common wisdom ʺ Observing: scrutinizing the behavior of customers, suppliers, and competitors to identify new ways of doing things ʺ Experimenting: constructing interactive experiences and provoking unorthodox responses to see what insights emerge ʺ Networking: meeting people with different ideas and perspectives The authors explain how to generate ideas with these skills, collaborate with "delivery-driven" colleagues to implement ideas, and build innovation skills throughout your organization to sharpen its competitive edge. They also provide a self-assessment for rating your own innovator's DNA. Practical and provocative, this book is an essential resource for all teams seeking to strengthen their innovative prowess"--Provided by publisher
Blended : using disruptive innovation to improve schools
by
Michael B Horn
( )
17 editions published between
2014
and 2017 in
English
and held by 669 WorldCat member libraries worldwide
Educators, parents, and students are approaching the tipping point in a digital transformation that will forever change the way the world learns. If online learning has not already rocked your local school, then it will soon. Michael Horn and his" Disrupting Class" collaborators made that prediction in 2008 when they calculated that by 2019, 50% of high school courses would be online in some form or fashion. Years later, that prediction continues to appear accurate, if not conservative. People may debate the timing, but the more important question is how to channel the indisputable emergence of online learning across elementary, middle, and high schools into a positive force that makes life better for students and their teachers. How can leaders unlock the benefits of online learning and mitigate the risks? Five years after the first publication of "Disrupting Class," the field is ready for a companion guide that provides the "how to" guidance for which educators are clamoring. This book will help leaders, teachers, and other stakeholders interested in a more student-centered system understand how to begin. It provides a step-by-step framework, responsive to the frequently asked questions from education leaders who are trying to implement blended learning. The goal is for every reader to have the necessary expertise to go forth with confidence and build the next generation of K-12 learning environments
more
fewer
Audience Level
0

1
Kids
General
Special
Audience level: 0.30 (from 0.05 for The transf ... to 0.96 for Clay Chris ...)
Related Identities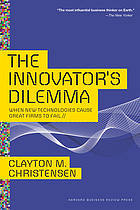 Covers
Alternative Names
Christensen, C. M.

Christensen, Clayton.

Christensen, Clayton 1952-

Christensen, Clayton M.

Clayton M. Christensen Amerikaans priester

Clayton M. Christensen US-amerikanischer Wirtschaftswissenschaftler

Kristensenas Kleitonas

Kristensens, Kleitons 1952-

Кристенсен Клейтон М.

Кристенсен, Клейтон М 1952-

크리스턴센, 크래이톤 M 1952-

크리스텐슨, 클레이턴 1952-

크리스텐슨, 클레이턴 M 1952-

크리스텐슨, 클레이튼 1952-

크리스텐슨, 클레이튼 M.

クリステンセン, クレイトン

クリステンセン, クレイトン 1952-

クリステンセン, クレイトン・M

クレイトン・クリステンセン

克雷頓‧克里斯汀生

Languages