Steger, Manfred B. 1961-
Most widely held works by Manfred B Steger
Globalization : a very short introduction
by
Manfred B Steger
( Book )
66 editions published between
2003
and 2017 in 3 languages and held by 2,102 WorldCat member libraries worldwide
"Manfred B. Steger presents globalization in accessible language as a multifaceted process encompassing global, regional, and local aspects of social life. He explores whether it is a new phenomenon, and if it should be considered a 'good' or 'bad' thing - a question that has been hotly debated in classrooms, boardrooms, and on the streets - especially since the 9/11 terrorist attacks."--Jacket
Globalism : the new market ideology
by
Manfred B Steger
( Book )
9 editions published between
2001
and 2002 in
English
and held by 703 WorldCat member libraries worldwide
Globalism: the new market ideology rejects the notion that we find ourselves at the end of ideology and that democracy has won. Instead, Steger argues that the opening decade of the 21st century will constitute a teeming battlefield of clashing ideologies. The chief protagonist is the dominant neoliberal market ideology Steger calls globalism. After identifying and evaluating the five central claims of globalism--including assertions that globalization is inevitable, nobody is in charge of globalization, and globalization benefits everyone--Steger offers an overview of the counterclaims made by anti-globalist forces
Neoliberalism : a very short introduction
by
Manfred B Steger
( Book )
18 editions published in
2010
in
English
and held by 531 WorldCat member libraries worldwide
In its heyday in the late 1990s, neoliberalism emerged as the world's dominant economic paradigm. But the global financial crisis of 2008-2009 fundamentally shocked a globalized economy built on neoliberal assumptions. This introduction examines the origins, core claims, & considerable variations of neoliberalism
Social capital : critical perspectives on community and "Bowling alone"
( Book )
6 editions published in
2002
in
English
and held by 506 WorldCat member libraries worldwide
This collection tackles the theme of isolation and the breakdown of mediating social institutions. It is, in part, a response to Robert Punnam's "Bowling Alone" as well as an attempt to create a broader idea of civil society. The essays contribute to the examination of democratic theory and practice, exploring one of the most popular causes of this decline in public trust - social capital. The essays utilize diverse methodologies - empirical and philosophical - and multiple perspectives to examine critically the social capital discourse and how it is related to political participation, civic engagement and American democracy
Gandhi's dilemma : nonviolent principles and nationalist power
by
Manfred B Steger
( Book )
8 editions published in
2000
in
English
and held by 460 WorldCat member libraries worldwide
"Conceived as a study in the history of political thought, Steger's book examines the origins, meaning, and unfolding of Gandhi's dilemma as it played itself out in both theory and political practice. This discussion is inextricably linked to significant and timely issues that are critical for the study of nationalism, for Gandhi's vision raises the important question of whether it is indeed possible to construct a benign type of nationalism that is rooted in neither physical nor conceptual forms of violence."--Jacket
Globalism : market ideology meets terrorism
by
Manfred B Steger
( Book )
8 editions published in
2005
in
English
and
Undetermined
and held by 407 WorldCat member libraries worldwide
As global challengers moved from peaceful protest to more violent confrontation, the market ideology of the dominant Western perspective transformed into what Steger terms an 'imperial globalism' led by the United States. This text explores this transformation and its impacts around the world
The quest for evolutionary socialism : Eduard Bernstein and social democracy
by
Manfred B Steger
( Book )
17 editions published between
1997
and 2006 in
English
and held by 394 WorldCat member libraries worldwide
The Quest for Evolutionary Socialism uses Eduard Bernstein's life and works as the basis for an examination of the interactions between European social democratic politics and socialist political ideas. It is thus a timely response to the need for a new, comprehensive biography of Bernstein, the German 'Father of Marxist Revisionism'. Professor Steger incorporates recent academic developments and addresses current debates on the 'End of Socialism' resulting from the collapse of Marxism-Leninism and the chronic ailments of European social democracy. This study is set within the historical context of the European labour movement and thus Steger interprets Bernstein's 'Evolutionary Socialism' as an ethically motivated quest for liberty, solidarity and distributive justice. Steger stresses that the future of social democracy depends on its ability to heed Bernstein's call for critical self-reflection and to reorientate towards more liberal ideals
Violence and its alternatives : an interdisciplinary reader
( Book )
17 editions published between
1999
and 2008 in
English
and held by 392 WorldCat member libraries worldwide
"Violence and Its Alternatives fills the existing gap in the literature on violence with a collection of essays from the most influential writers in the fields of politics, psychology, sociology, gender studies, and race studies. Methodologically diverse and intellectually wide-ranging, it appeals to specialists, students, and the interested general reader. This collection has two features not found in any other discussions of violence: first, a full spectrum of views ranging across disciplines, from now-classic treatments of the subject by philosophers such as Hannah Arendt and Frantz Fanon to postmodern considerations of violence embedded in social structures from the likes of Michel Foucault and Jacques Derrida; and second, the first interdisciplinary study of nonviolence, a thoughtful and serious look at the alternatives to violence from spiritual leaders such as Gandhi and Martin Luther King, Jr."--Jacket
The rise of the global imaginary : political ideologies from the French Revolution to the global war on terror
by
Manfred B Steger
( Book )
21 editions published between
2008
and 2009 in
English
and
Undetermined
and held by 342 WorldCat member libraries worldwide
"Neoliberalism. Neoconservatism. Postmarxism. Postmodernism. Is there really something genuinely new about today's "isms?" Have we truly moved past our traditional ideological landscape? Combining political history, philosophical interpretation, and good old-fashioned story-telling, The Rise of the Global Imaginary: Political Ideologies from the French Revolution to the Global War on Terror traces ideology's remarkable journey from Count Destutt de Tracy's Enlightenment-era "science of ideas" to President George W. Bush's "imperial globalism." Rejecting futile attempts to "update" modern political belief systems by adorning them with prefixes, author Manfred Steger offers a highly original explanation for their novelty--their increasing ability to articulate deep-seated understandings of community in global rather than national terms. This growing awareness of globality fuels the visions of social elites who reside in the privileged spaces of our global cities. It erupts in the hopes and demands of migrants who traverse national boundaries in search of their piece of the global promise. Stoked by cross-cultural encounters, technological change, and scientific innovation, the rising global imaginary has destabilized the grand political ideologies codified during the national age. The national is slowly losing its grip on people's minds, but the global has not yet ascended to the commanding heights once occupied by its predecessor. However, the first rays of the rising global imaginary have provided enough light to capture the contours of a profoundly altered ideological landscape. Pointing in this direction, The Rise of the Global Imaginary ends with a timely interpretation of the apparent convergence of ideology and religion in the dawning global age--a broad phenomenon that extends beyond the obvious cases of Christian fundamentalism and Islamic jihadism"--Jacket
Rethinking globalism
( Book )
8 editions published in
2004
in
English
and held by 320 WorldCat member libraries worldwide
What is the hottest American export since 9/11? The contributors to this provocative volume contend that it is Western style globalism-the dominant free market ideology that determines everything from most favored nation status to the declaration of war. In this much-needed post September 11th analysis, an interdisciplinary author team shows how central concepts like globalization, liberty, free markets, and free trade are increasingly being subordinated to and lumped together with the war on terrorism led by the U.S. and its allies
more
fewer
Audience Level
0

1
Kids
General
Special
Audience level: 0.32 (from 0.04 for Grassroots ... to 0.65 for Selected w ...)
Related Identities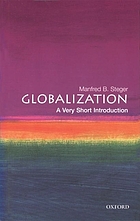 Alternative Names
Butsuden Steger, Manfred 1961-

Manfred Steger Austrian academic

Manfred Steger econoom uit Oostenrijk

Steger, Manfred 1961-

Steger, Manfred B.

Steger, Manfred Butsuden 1961-

Stegŭr, Manfred 1961-

Stīgers, Manfrēds 1961-

스테거, 맨프레드 B. 1961-

スティーガー, M・B

スティーガー, マンフレッド・B

スティーガー, マンフレッド B. 1961-

マンフレッド・スティーガー

曼弗雷德·史泰格

Languages
Covers