Ljungqvist, Alexander
Overview
| | |
| --- | --- |
| Works: | 58 works in 301 publications in 1 language and 1,956 library holdings |
| Roles: | Author, Other, Editor |
Most widely held works by Alexander Ljungqvist
Going public : the theory and evidence on how companies raise equity finance
by
Tim Jenkinson
( Book )
33 editions published between
1996
and 2007 in
English
and
Undetermined
and held by 740 WorldCat member libraries worldwide
In recent years there has been an enormous amount of research into the way companies raise finance from stock markets. Going Public is the first book to investigate the issues in a non-technical manner, drawing upon international evidence from private sector companies and privatizations
The cash flow, return and risk characterstics of private equity
by
Alexander Ljungqvist
( Book )
12 editions published in
2003
in
English
and held by 98 WorldCat member libraries worldwide
Using a unique dataset of private equity funds over the last two decades, this paper analyzes the cash flow, return, and risk characteristics of private equity. We document the draw down and capital return schedules for the typical private equity fund, and show that it takes several years for capital to be invested, and over ten years for capital to be returned to generate excess returns. We provide several determining factors for these schedules, including existing investment opportunities and competition amongst private equity funds. In terms of performance, we document that private equity generates excess returns on the order of five plus percent per annum relative to the aggregate public equity market. One interpretation of this magnitude is that it represents compensation for holding a 10-year illiquid investment
The investment behavior of buyout funds : theory and evidence
by
Alexander Ljungqvist
( )
9 editions published in
2008
in
English
and held by 65 WorldCat member libraries worldwide
This paper analyzes the determinants of buyout funds' investment decisions. In a model in which the supply of capital is "sticky" in the short run, we link the timing of funds' investment decisions, their risk-taking behavior, and the returns they subsequently earn on their buyouts to changes in the demand for private equity, conditions in the credit market, and funds' ability to influence their perceived talent in the market. Using a proprietary dataset of 207 buyout funds that invested in 2,274 buyout targets over the last two decades, we then investigate the implications of the model. Our dataset contains precisely dated cash inflows and outflows in every portfolio company, links every buyout target to an identifiable buyout fund, and is free from reporting and survivor biases. Thus, we are able to characterize every buyout fund's precise investment choices. Our empirical findings are consistent with the model. First, established funds accelerate their investment flows and earn higher returns when investment opportunities improve, competition for deal flow eases, and credit market conditions loosen. Second, the investment behavior of first-time funds is less sensitive to market conditions. Third, younger funds invest in riskier buyouts, in an effort to establish a track record. Fourth, following periods of good performance, funds become more conservative, and this effect is stronger for younger funds
Liquidity and governance
by
Kerry Back
( )
10 editions published in
2013
in
English
and held by 60 WorldCat member libraries worldwide
Is greater trading liquidity good or bad for corporate governance? We address this question both theoretically and empirically. We solve a model consisting of an optimal IPO followed by a dynamic Kyle market in which the large investor's private information concerns her own plans for taking an active role in governance. We show that an increase in the liquidity of the firm's stock increases the likelihood of the large investor 'taking the Wall Street walk.' Thus, higher liquidity is harmful for governance. Empirical tests using three distinct sources of exogenous variation in liquidity confirm the negative relation between liquidity and blockholder activism
Comparing the investment behavior of public and private firms
by
John Asker
( )
6 editions published in
2011
in
English
and held by 60 WorldCat member libraries worldwide
We evaluate differences in investment behavior between stock market listed and privately held firms in the U.S. using a rich new data source on private firms. Listed firms invest less and are less responsive to changes in investment opportunities compared to observably similar, matched private firms, especially in industries in which stock prices are particularly sensitive to current earnings. These differences do not appear to be due to unobserved differences between public and private firms, how we measure investment opportunities, lifecycle differences, or our matching criteria. We suggest that the patterns we document are most consistent with theoretical models emphasizing the role of managerial myopia
What is a patent worth? : evidence from the U.S. patent "lottery"
by
Joan Farre-Mensa
( )
5 editions published in
2017
in
English
and held by 59 WorldCat member libraries worldwide
We provide evidence on the value of patents to startups by leveraging the random assignment of applications to examiners with different propensities to grant patents. Using unique data on all first-time applications filed at the U.S. Patent Office since 2001, we find that startups that win the patent "lottery" by drawing lenient examiners have, on average, 55% higher employment growth and 80% higher sales growth five years later. Patent winners also pursue more, and higher quality, follow-on innovation. Winning a first patent boosts a startup's subsequent growth and innovation by facilitating access to funding from VCs, banks, and public investors
As certain as debt and taxes : estimating the tax sensitivity of leverage from exogenous state tax changes
by
Florian Heider
( )
7 editions published in
2012
in
English
and held by 57 WorldCat member libraries worldwide
Abstract: We use a natural experiment in the form of staggered changes in corporate income tax rates across U.S. states and time to show that tax considerations are a first-order determinant of firms' capital structure choices. Over the period 1990-2011, firms increase leverage by 114 basis points on average (equivalent to $62.1 million in extra debt) when their home state raises tax rates. Contrary to standard trade-off theory, the tax sensitivity of leverage is asymmetric: Firms do not reduce leverage in response to tax cuts. Using treatment reversals, we find this to be true even within-firm: Tax increases that are later reversed nonetheless lead to permanent increases in a firm's leverage an unexpected and novel form of hysteresis. Our findings are robust to various confounds due to unobserved variation in local business conditions or investment opportunities, union power, or states' political leanings. Treatment effects are heterogeneous, with greater tax sensitivity among profitable and investment-grade firms which have a greater marginal tax benefit and lower marginal cost of issuing debt, respectively
Do measures of financial constraints measure financial constraints?
by
Joan Farre-Mensa
( )
9 editions published between
2013
and 2015 in
English
and held by 57 WorldCat member libraries worldwide
Financial constraints are not directly observable, so empirical research relies on indirect measures. We evaluate how well five popular measures (paying dividends, having a credit rating, and the Kaplan-Zingales, Whited-Wu, and Hadlock-Pierce indices) identify firms that are financially constrained, using three novel tests: an exogenous increase in a firm's demand for credit; exogenous variation in the supply of bank loans; and the tendency for firms to pay out the proceeds of equity issues to their shareholders ("equity recycling"). We find that none of the five measures identifies firms that behave as if they were constrained: public firms classified as constrained have no trouble raising debt when their demand for debt increases, are unaffected by changes in the supply of bank loans, and engage in equity recycling. The point estimates are little different for supposedly constrained and unconstrained firms, even though we find important differences in their characteristics and sources of financing. On the other hand, privately held firms (particularly small ones) and public firms with below investment-grade ratings appear to be financially constrained
How constraining are limits to arbitrage? : evidence from a recent financial innovation
by
Alexander Ljungqvist
( )
6 editions published in
2014
in
English
and held by 48 WorldCat member libraries worldwide
Limits to arbitrage play a central role in behavioral finance. They are thought to interfere with arbitrage processes so that security prices can deviate from true values for extended periods of time. We describe a recent financial innovation that allows limits to arbitrage to be sidestepped, and overvaluation thereby to be corrected, even in settings characterized by extreme costs of information discovery and severe short-sale constraints. We report evidence of shallow-pocketed "arbitrageurs" expending considerable resources to identify overvalued companies and profitably correcting overpricing. The innovation that allows the arbitrageurs to sidestep limits to arbitrage involves credibly revealing their information to the market, in an effort to induce long investors to sell so that prices fall. This simple but apparently effective way around the limits suggests that limits to arbitrage may not always be as constraining as sometimes assumed
State capitalism vs. private enterprise
by
Donghua Chen
( )
8 editions published in
2015
in
English
and held by 47 WorldCat member libraries worldwide
We study the efficiency of internal capital markets at state-controlled and privately owned business groups in China. Using highly granular data on within-group capital flows, we document stark differences: while private groups allocate more capital to units with better investment opportunities, state groups do the opposite. Minority shareholders in state owned firms suffer as a result. Product market competition and external monitoring by outside investors help discipline state groups' tendency to ignore investment opportunities. We conjecture that capital allocations at state groups reflect the private career objectives of their chairmen. We show that promotion depends not on increasing profitability but on avoiding layoffs. Consistent with a career motive, we find that capital allocations are used to prop up large and struggling employers, but only if the chairman has a realistic chance of being promoted and if the cost of self-interested behavior is not too high
more
fewer
Audience Level
0

1
Kids
General
Special
Audience level: 0.64 (from 0.56 for Going publ ... to 0.91 for On the dec ...)
Related Identities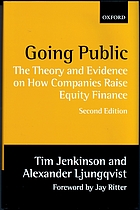 Covers
Alternative Names
Alexander Ljungqvist Swedish academic

Ljungqvist, A.

Ljungqvist, Alexander P.

Ljungqvist, Alexandr

Languages