Stapleton, Timothy J. (Timothy Joseph) 1967-
Most widely held works about Timothy J Stapleton
Most widely held works by Timothy J Stapleton
A military history of South Africa : from the Dutch-Khoi wars to the end of apartheid
by
Timothy J Stapleton
( )
9 editions published in
2010
in
English
and held by 1,383 WorldCat member libraries worldwide
This book presents a narrative of armed conflict and the development of military establishments in the making of South Africa. The text not only concentrates on events that took place within what is now South Africa but also follows South African military personnel to other parts of Africa and the world
Faku : rulership and colonialism in the Mpondo Kingdom (c. 1760-1867)
by
Timothy Joseph Stapleton
( )
17 editions published between
2000
and 2013 in
English
and held by 1,106 WorldCat member libraries worldwide
"From roughly 1818 to 1867, Faku was ruler of the Mpondo Kingdom located in what is now the north-east section of the Eastern Cape, South Africa. Because of Faku's legacy, the Mpondo Kingdom became the last African state in Southern Africa to fall under colonial rule." "Timothy J. Stapleton's narrative and use of oral history paint a clear and remarkable portrait of Faku and how he was able to manipulate missionaries, neighbours, colonists and circumstances to achieve his objectives. As a result, Faku: Rulership and Colonialism in the Mpondo Kingdom (c.1780-1867) helps illuminate the history of the entire Cape region."--Jacket
African police and soldiers in colonial Zimbabwe, 1923-80
by
Timothy Joseph Stapleton
( )
9 editions published between
2011
and 2012 in
English
and held by 399 WorldCat member libraries worldwide
Recruiting and motivations for enlistment -- Perceptions of African security force members -- Education and upward mobility -- Camp life -- African women and the security forces -- Objections and reforms -- Travel and danger -- Demobilization and veterans
A history of genocide in Africa
by
Timothy Joseph Stapleton
( Book )
6 editions published in
2017
in
English
and
Undetermined
and held by 351 WorldCat member libraries worldwide
"Why has Africa been the subject of so many accusations related to genocide? Indeed, the number of such allegations related to Africa has increased dramatically over the past 15 years. Popular racist mythology might suggest that Africans belong to "tribes" that are inherently antagonistic toward each other and therefore engaging in "tribal warfare" which cannot be rationally explained. This is concept is wrong, [sic] as Timothy J. Stapleton explains in A History of Genocide in Africa: the many conflicts that have plagued post-colonial Africa have had very logical explanations, and very few of these instances of African warring can be said to have resulted in genocide. Authored by an expert historian of Africa, this book examines the history of six African countries--Namibia, Rwanda, Burundi, Democratic Republic of Congo, Sudan, and Nigeria--in which the language of genocide has been mobilized to describe episodes of tragic mass violence. It seeks to place genocide within the context of African history, acknowledging the few instances where the international legal term genocide has been applied appropriately to episodes of mass violence in African history and identifying the many other cases where it has not and instead the term has been used in a cynical manipulation to gain some political advantage. Readers will come to understand how, to a large extent, genocide accusations related to post-colonial Africa have often served to prolong wars and cause greater loss of life. The book also clarifies how in areas of Africa where genocides have actually occurred, there appears to have been a common history of the imposition of racial ideologies and hierarchies during the colonial era--which when combined with other factors such as the local geography, demography, religion, and/or economics, resulted in tragic and appalling outcomes."--Inside jacket flaps
A military history of Africa
by
Timothy J Stapleton
( Book )
6 editions published between
2013
and 2014 in
English
and held by 285 WorldCat member libraries worldwide
"A Military History of Africa achieves a daunting task: it synthesizes decades of specialized academic research and literature--including the most recent material--to offer an accessible survey of Africa's military history, from the earliest times to the present day. The first volume examines the precolonial period beginning with warfare in ancient North Africa including ancient Egypt and Carthage and continues through the cavalry-based Muslim empires of the trans-Sahara trade and the wars of the slave trade in West and East Africa. The second volume focuses on the wars of European colonial conquest and African resistance during the late 19th century, African participation in both world wars, and the early violent struggles for independence from the 1950s and early 1960s. The third volume explores warfare in postcolonial Africa, including coverage of the impact of the global Cold War, conflicts in Southern Africa from the 1960s to 1980s, the development of postcolonial African armed forces, and civil wars sparked by the discovery of precious resources, such as diamonds in Sierra Leone. Readers of this three-volume work will understand how warfare and military structures have been consistently central to the development of African societies."--Publisher's description
Agency and action in colonial Africa : essays for John E. Flint
( Book )
5 editions published in
2001
in
English
and held by 224 WorldCat member libraries worldwide
The coming of colonialism to Subsaharan Africa generated many forces that historians often describe in abstract terms: peasantization, leadership, nationalism and even colonialism. Such terms often hide or overwhelm the individual experiences of those who, in some way, contributed to the development and demise of colonial Africa. These 'agents' of empire - intellectuals and peasants, chiefs and ex-slaves, nationalists and colonial officials - symbolise the ambiguities of and limitations on colonial power. Agency and Action in Colonial Africa attempts to capture their role
Encyclopedia of African colonial conflicts
( )
2 editions published in
2017
in
English
and held by 194 WorldCat member libraries worldwide
"This sweeping study examines the wars of colonial conquest fought in Africa during the 19th and early 20th centuries. From Britain's efforts to wrest control of the Sudan from military leader Muhammad Ahmad al-Mahdi, to Italy's decisive defeat at the Battle of Adowa in Ethiopia, to Leopold II's brutal reign over the Belgian Congo, the work surveys the devastation reaped upon the continent by colonization and illustrates how its combative influence continues to resonate in Africa today."
Africa : war and conflict in the twentieth century
by
Timothy Stapleton
( Book )
8 editions published in
2018
in
English
and
Undetermined
and held by 120 WorldCat member libraries worldwide
This book examines the causes, course and consequences of warfare in twentieth century Africa, a period which spanned colonial rebellions, both World Wars, and the decolonization process. Timothy Stapleton contextualizes the essential debates and controversies surrounding African conflict in the twentieth century while providing insightful introductions to such conflicts as: African rebellions against colonial regimes in the early twentieth century, including the rebellion and infamous genocide of the Herero and Nama people in present-day Namibia; The African fronts of World War I and World War II, and the involvement of colonized African peoples in these global conflicts; Conflict surrounding the widespread decolonization of Africa in the 1950s and 1960s; Rebellion and civil war in Africa during the Cold War, when American and Soviet elements often intervened in efforts to turn African battlegrounds into Cold War proxy conflicts; The Second Congo Civil War, which is arguably the bloodiest conflict in any region since World War II; Supported by a glossary, a who's who of key figures, a timeline of major events, a rich bibliography, and a set of documents which highlight the themes of the book, Africa: War and Conflict in the Twentieth Century is the best available resource for students and scholars seeking an introduction to violent conflict in recent African history
Warfare and tracking in Africa, 1952-1990
by
Timothy J Stapleton
( )
9 editions published between
2015
and 2016 in
English
and held by 111 WorldCat member libraries worldwide
During the decolonization wars in East and Southern Africa, tracking became increasingly valuable as a military tactic. Drawing on archival research and interviews, Stapleton presents a comparative study of the role of tracking in insurgency and counter-insurgency across Kenya, Zimbabwe and Namibia
more
fewer
Audience Level
0

1
Kids
General
Special
Audience level: 0.19 (from 0.01 for A military ... to 0.91 for A military ...)
Associated Subjects
Africa
Africa, Central
Africa, East
Africa, North
Africa, Southern
Africa, Sub-Saharan
Africa, West
Anthropology
Armed Forces
Blacks
British colonies
British South Africa Police
Civil war
Colonial administrators
Colonies
Colonization
Decolonization
Faku,
Flint, John E
French colonies
Frontier Wars (South Africa : 1811-1878)
Genocide
Genocide (International law)
Insurgency
Internal security
Kenya
Kings and rulers
Management
Maqoma,--Xhosa chief,
Military art and science
Military campaigns
Military history
Military participation--African
Namibia
Police, Black
Politics and government
Pondo (African people)
Regimental histories
Soldiers, Black
South Africa
South Africa--Pondoland
Study skills
Tactics
Tracking and trailing
United States
War
World history
World War (1914-1918)
Xhosa (African people)
Zimbabwe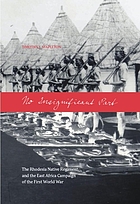 Covers
Alternative Names
Stapleton, T.

Stapleton, T. J. 1967-

Stapleton, Tim

Stapleton Tim 1967-....

Stapleton, Timothy

Stapleton, Timothy 1967-

Stapleton, Timothy J.

Stapleton Timothy J. 1967-....

Stapleton, Timothy Joseph 1967-

Languages