Benedict, Jeff
Most widely held works by Jeff Benedict
The system : the glory and scandal of big-time college football
by
Jeff Benedict
( Book )
6 editions published between
2013
and 2014 in
English
and held by 1,355 WorldCat member libraries worldwide
A revelatory account based on the authors' unprecedented access to the NCAA's highest-level programs throughout the 2012 season describes its high-powered system of billion-dollar television deals, high-priced coaches, football "hostessing," castoff athlete-students and paid test takers
Public heroes, private felons : athletes and crimes against women
by
Jeff Benedict
( Book )
6 editions published in
1997
in
English
and held by 1,108 WorldCat member libraries worldwide
Jeff Benedict thoroughly investigates for the first time athletes' abusive behavior, delving into the full spectrum of complex factors that give rise to and perpetuate the disturbing pattern of frequent sexual and domestic violence toward women. And, opposing the public stance of sports organizations, he offers compelling evidence that male athletes commit more crimes against women than do their peers. Benedict provides an in-depth examination of several incidents of rape, gang rape, and assault by successful sports figures, including the cases of Mike Tyson, Lawrence Phillips and other members of the University of Nebraska football team, former Boston Celtic Marcus Webb, and Warren Moon. Benedict's probe confronts such controversial issues as race, class, the groupie phenomenon, the sexually permissive lifestyle of many athletes, the consensual sex defense, and the sports industry's indifference to recruiting or drafting talented athletes with criminal records
No bone unturned : the adventures of a top Smithsonian forensic scientist and the legal battle for America's oldest skeletons
by
Jeff Benedict
( Book )
13 editions published between
2003
and 2007 in
English
and held by 1,105 WorldCat member libraries worldwide
When he's not at a notorious crime scene or a mass disaster, Doug Owsley is entering tombs and crypts, unwrapping mummies, or climbing into caves to unlock the secrets of bones. In No Bone Unturned, investigative journalist Jeff Benedict not only unveils a compelling portrait of the man behind America's most notorious cases but also gives us a fascinating look inside the world of forensic science as seen through the eyes of a leading specialist. Doug Owsley's extraordinary talent has put his phone number on speed dial for federal agencies, from the FBI to the CIA and the State Department. When the Branch Davidian compound in Waco caught fire, when a terrorist-flown plane crashed into the Pentagon, and when mass graves were uncovered in Croatia, the authorities called Owsley. Through cutting-edge science, instinctive artistry, and dogged tenacity, Owsley painstakingly rebuilds the skeleton, and helps identify it and determine the cause of death
Little pink house : a true story of defiance and courage
by
Jeff Benedict
( Book )
5 editions published between
2009
and 2014 in
English
and held by 1,008 WorldCat member libraries worldwide
Susette Kelo was just trying to rebuild her life when she purchased an old house perched on the waterfront in New London, Conn. It wasn't fancy, but with hard work she was able to turn it into a home that was important to her. Little did she know that the City of New London, desperate to revive its flailing economy, wanted to raze her house and others along the waterfront in order to win a lucrative Pfizer pharmaceutical contract that would bring new business into the city. Kelo and fourteen neighbors refused to sell, so the city decided to exercise its power of eminent domain to condemn their homes, launching a case that ultimately reached the Supreme Court. Investigative journalist Jeff Benedict takes us behind the scenes of this case, and Kelo speaks for the first time about how one woman took on corporate America to save her home.--
Tiger Woods
by
Jeff Benedict
( Book )
14 editions published between
2018
and 2019 in
English
and held by 982 WorldCat member libraries worldwide
In 2009, Tiger Woods was the most famous athlete on the planet, a transcendent star of almost unfathomable fame and fortune living what appeared to be the perfect life. Married to a Swedish beauty and the father of two young children, he was the winner of fourteen major golf championships and earning more than $100 million annually. But it was all a carefully crafted illusion. As it turned out, Woods had been living a double life for years -- one that unraveled in the aftermath of a Thanksgiving-night car crash that exposed his serial infidelity and sent his personal and professional lives over a cliff. Who is Tiger Woods, really? Jeff Benedict and Armen Keteyian conducted hundreds of interviews with people from every facet of Woods's life -- friends, family members, teachers, romantic partners, coaches, business associates, physicians, Tour pros, and members of Woods's inner circle. We read an inside account of Tiger's relationship with his first love, Dina Gravell, and their excruciating breakup at the hands of his parents. We learn that Tiger's longtime sports agency, International Management Group (IMG), made $50,000 annual payments to Tiger's father, Earl Woods, as a "talent scout" years before Tiger was their client. We discover startling new details about Earl, who died in 2006 and lies in an unmarked grave. We come along as Tiger plunges into the Las Vegas and New York nightclub worlds alongside fellow superstars Michael Jordan and Charles Barkley. We are whisked behind the scenes during the National Enquirer's globetrotting hunt to expose Tiger's infidelity, and we get a rare look inside his subsequent sex-addiction treatment at the Pine Grove facility in Hattiesburg, Mississippi. By tracing his life from its origins as the mixed-race son of an attention-seeking father and the original Tiger Mom -- who programmed him to be "the chosen one," tasked with changing not just the game of golf but the world as well -- the authors provide new insight into the human being trapped inside his parents' creation. We meet the lonely, introverted child prodigy who has trouble connecting with other kids because of his stutter and unusual lifestyle. We experience the thrill and confusion of his meteoric rise to stardom. And we come to understand the grown man's obsession with extreme training and deep sea diving as a rare source of the solitude he craves. Most of all, we are reminded, time and time again, of Woods's singular greatness and the exhilaration we felt watching an athletic genius dominate his sport for nearly twenty years
Without reservation : the making of America's most powerful Indian tribe and the world's largest casino
by
Jeff Benedict
( Book )
4 editions published between
2000
and 2002 in
English
and held by 797 WorldCat member libraries worldwide
"In 1973, an old American Indian woman dies with nothing left of her tribe but a trailer and a two-hundred-acre reservation in the sleepy backyard of Ledyard, Connecticut. It seems to signal the end of the Mashantucket Pequot tribe. But it is just the beginning. Over the course of the next three decades, the reservation grows to more than two thousand acres and becomes home to Foxwoods, the largest casino in the world, grossing more than $1 billion per year. The Pequots are reborn, immensely wealthy, and in possession of an enormous amount of political influence. How did it happen?" "Without Reservation tells the stunning story of the rise of the richest tribe in American history."
QB : my life behind the spiral
by
Steve Young
( Book )
5 editions published between
2016
and 2017 in
English
and held by 680 WorldCat member libraries worldwide
Steve Young produced some of the most memorable moments in NFL history. The Run--his electrifying 49-yard game-winning touchdown against Minnesota. The Catch II--his last-second touchdown strike against Green Bay. Then there were his record-setting six touchdown passes in Super Bowl XXIX. But Young's most impressive victories were personal ones that were won off the field when no one was watching. QB is a remarkably revealing memoir of an athletically gifted Mormon boy with a 4.0 GPZ, a photographic memory, and a severe case of childhood separation anxiety. This memoir gives readers the sense of being inside Young's helmet while he runs through opponents both on and off the field. --
Athletes and acquaintance rape
by
Jeff Benedict
( Book )
8 editions published in
1998
in
English
and held by 563 WorldCat member libraries worldwide
In an age of sports hero idolatry, it is essential to understand the relationship between male athletes and violence against women. Athletes and Acquaintance Rape unravels the controversy of this topic by focusing on three high-profile cases involving professional athletes who have been charged with sexual assault. Jeffrey R. Benedict provides a brief history on each athlete and traces the chronology of events leading up to the charges of sexual assault and the results of those charges. By examining specific aspects of the professional athlete's life, Benedict reveals a climate predisposed to committing violence against women, moreover, he exposes a system that provides star athletes with protection from punishment and conviction. This book will prove useful for academics, practitioners, and students in several fields, including sociology, psychology, gender studies, law, sport management, educational administration, violence against women, and family violence
more
fewer
Audience Level
0

1
Kids
General
Special
Audience level: 0.23 (from 0.15 for The system ... to 0.39 for Athletes a ...)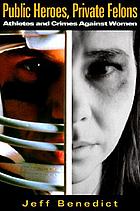 Covers
Alternative Names
Benedict, Jeff

Benedict, Jeffrey R.

Benedict, Jeffrey R. 1966-

Jeff Benedict Amerikaans journalist (1966-)

Jeff Benedict écrivain américain

Джефф Бенедикт

جف بندیکت

베네딕트, 제프

ベネディクト, ジェフ

Languages