Schechter, Danny
Most widely held works about Danny Schechter
Most widely held works by Danny Schechter
In debt we trust : America before the bubble bursts
by
Danny Schechter
( Visual )
13 editions published between
2005
and 2014 in
English
and held by 784 WorldCat member libraries worldwide
A documentary examining the increasing debt burden carried by millions of Americans argues that corrupt practices by financial and government institutions are fostering citizens' dependence on credit while creating a ballooning national debt that is leading the country towards fiscal disaster
The war in Iraq and why the media failed us
by
David Dadge
( Book )
7 editions published in
2006
in
English
and
Undetermined
and held by 682 WorldCat member libraries worldwide
Answers a key question on the lips of many Americans as violence in Iraq continues and report after report reveals that President Bush's reasons for leading Americans to war were not backed by solid evidence: "Why weren't the media more skeptical during the rush to war?"
Media wars : news at a time of terror
by
Danny Schechter
( Book )
10 editions published between
2002
and 2003 in
English
and
German
and held by 670 WorldCat member libraries worldwide
Provides a critique and assessment of the media after 9/11. Includes web log entries, columns, and articles by correspondents and alternative journalists analyzing the events of 9/11 and the media's coverage of the U. S. government's war on terrorism. Stresses the lack of international coverage of the American media, examines the media distortion, oversimplification, and government propaganda as major roadblocks in accurate coverage of terrorism and war, and provides a thorough analysis of the news media and how 9/11 affected the content of broadcast and print news sources. Concludes that there is a lack of a truly free and independent press in America owing to government and corporate control
Falun Gong's challenge to China : spiritual practice or "evil cult"?
by
Danny Schechter
( Book )
22 editions published between
2000
and 2014 in 3 languages and held by 492 WorldCat member libraries worldwide
"China is nervous because there are now more Falun Going practitioners than there are members of the Chinese Communist Party"--Li Hongzhi, founder of Falun Gong. In one of the most bizarre cases of political repression in modern history, the People's Republic of China has banned a spiritual practice built around traditional exercises and meditation. They say that Falun Gong has become a dangerous threat to the largest nation on Earth. In a return to the dark days of the Cultural Revolution, they have burned thousands of Falun Gong books and literature. They have beaten and detained thousands of practitioners. They have issued an arrest warrant for Falun Gong founder Li Hongzhi. They are sentencing some practitioners to long periods of incarceration at show trials. World leaders and human rights groups are speaking out. Why is this happening' Is it because Falun Gong has attracted an estimated l00 million practitioners' What is Falun Gong's appeal' What is it that China fears' This is their story. Largely Unheard. Until Now. This timely non-fiction book presents the inside story of China's crackdown on Falun Gong, taking a stand against the most blatant and pervasive political book burning since the days of Hitler's rise to power. By offering Falun Gong's story in the context of the current crisis in China, it provides an important look at a dramatic underreported and unfolding story. In China, their point of view has been banned. It deserves to be heard worldwide. An Excerpt "The picture doesn't add up. What I see here with these people and what they're doing, they seem very normal people. They're from all walks of life; and then on the other side you've got this picture that the Chinese government is painting, and the two just don't match." -Adam Montanaro, Falun Gong practitioner (USA)
WMD : weapons of mass deception
by
Danny Schechter
( Visual )
18 editions published between
2004
and 2006 in
English
and
Multiple languages
and held by 360 WorldCat member libraries worldwide
Features investigations into the complicity of the media in the Iraq War, having become the weapons of mass persuasion of the Bush administration. Danny Schechter's dissection of news from all possible sources suggests that the media have become partners in the war against Iraq. They are under government direction to film and record the conflict as it suits, being used as propaganda tools to mould American and world public opinion, in its favour. Presented also are cases of media muzzling of reporters, and intimidation by the government and its foot-soldiers from Fox News, creating a climate of fear and self-censorship on news broadcasting. The result is uncritical and subjective news reporting. Some research reports indicate that many stories are created or distorted; and, false stories make the link between Saddam and al-Qaeda, leading to widespread public misperceptions about Saddam and al-Qaeda, and his WMD. Whereas, little attention is paid to U.S. weapons which are causing the mass destruction of Iraqi civilians. Most Americans are unaware of the biased coverage of the conflict. Such findings raise concerns amongst some journalists about pervasive media irresponsibility and journalistic ethics. There are calls to fight back against deceptive news reporting, massive media concentration and jingoism posing as journalism
Madiba A to Z : the many faces of Nelson Mandela
by
Danny Schechter
( Book )
10 editions published between
2013
and 2014 in
English
and held by 247 WorldCat member libraries worldwide
Draws from conversations with family members, former presidents and cabinet ministers, adversaries, and Mandela's Robben Island cellmates and guards to offer new insights into the life of the freedom fighter
The death of media and the fight to save democracy
by
Danny Schechter
( Book )
4 editions published in
2005
in
English
and held by 214 WorldCat member libraries worldwide
"In The Death of Media, Emmy Award-winning journalist Danny Schechter offers a blistering polemic about why this unprecedented outpouring of interest in the media, and why other protests from Pope John Paul II to local radio DJs, signal the "death of old media."" "But Schechter doesn't tell the story you might expect - that of the oft-discussed biogosphere replacing daily newspapers, or of hopelessly ideological TV and radio broadcasts. Rather, he chronicles new players in the media - including Google, a wildly diverse world of independent media, and a growing media reform movement - while showing how these players have carefully organized around issues in the mainstream media." "Convinced that "we can't fix America without fixing the media," The Death of Media shows why the fight to change our media is bigger than any political fight yet."--Jacket
Barack Obama, people's president : the campaign that changed history
( Visual )
1 edition published in
2009
in
English
and held by 194 WorldCat member libraries worldwide
Reveals the untold story behind the unprecedented grassroots effort that elected an unknown candidate President of the United States. Features interviews with media analysts, activists, journalists, grassroots organizers, producers, campaign workers, and thoughtful experts
When news lies : media complicity and the Iraq War
by
Danny Schechter
( Book )
5 editions published between
2005
and 2006 in
English
and held by 172 WorldCat member libraries worldwide
"When News Lies is an inside story of the media war behind the Iraq War, the American government's efforts to manipulate war coverage by playing on the media's own timidity and reluctance to do its job- report the news to the public. Veteran author, video journalist, and media critic Danny Schechter ("the News Dissector") takes us on a sometimes frightening, sometimes humorous journey behind the scenes of the media machine that sold us an invasion and rallied the public to support it." "This innovative and timely book includes the script and full length DVD of Schechter's award-winning and controversial documentary, "WMD" (Weapons of Mass Deception). Book jacket."--Jacket
more
fewer
Audience Level
0

1
Kids
General
Special
Audience level: 0.31 (from 0.05 for The war in ... to 0.49 for News disse ...)
Related Identities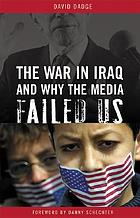 Alternative Names
Danny Schechter American journalist

Danny Schechter americký novinář

Danny Schechter Amerikaans journalist (1942-2015)

Danny Schechter cineasta e produttore televisivo

Danny Schechter journaliste américain

Schechter, Daniel Isaac

Дэнни Шехтер

丹尼·謝克特

Languages
Covers