Zakaria, Fareed
Most widely held works about Fareed Zakaria
Most widely held works by Fareed Zakaria
The post-American world
by
Fareed Zakaria
( Book )
68 editions published between
2008
and 2011 in 17 languages and held by 3,481 WorldCat member libraries worldwide
The author of the bestselling "The Future of Freedom" describes a world in which the U.S. will no longer dominate the global economy. He sees the "rise of the rest" as the great story of our time, and one that will reshape the world
The future of freedom : illiberal democracy at home and abroad
by
Fareed Zakaria
( Book )
43 editions published between
2003
and 2014 in 5 languages and held by 2,700 WorldCat member libraries worldwide
Examines the influence of democracy on politics, business and economics, law, culture, and religion in different regions of the world; explores the dark side of the democratic process; and reflects on the future of world democracy
In defense of a liberal education
by
Fareed Zakaria
( Book )
12 editions published between
2015
and 2016 in
English
and
Korean
and held by 1,467 WorldCat member libraries worldwide
The liberal arts are under attack. The governors of Florida, Texas, and North Carolina have all pledged that they will not spend taxpayer money subsidizing the liberal arts, and they seem to have an unlikely ally in President Obama. While at a General Electric plant in early 2014, Obama remarked, "I promise you, folks can make a lot more, potentially, with skilled manufacturing or the trades than they might with an art history degree." These messages are hitting home: majors like English and history, once very popular and highly respected, are in steep decline. "I get it," writes Fareed Zakaria, recalling the atmosphere in India where he grew up, which was even more obsessed with getting a skills-based education. However, the CNN host explains why this widely held view is mistaken and shortsighted. Zakaria expounds on the virtues of a liberal arts education -- how to write clearly, how to express yourself convincingly, and how to think analytically. He turns our leaders' vocational argument on its head. American routine manufacturing jobs continue to get automated or outsourced, and specific vocational knowledge is often outdated within a few years. Engineering is a great profession, but key value-added skills you will also need are creativity, lateral thinking, design, communication, storytelling, and, more than anything, the ability to continually learn and enjoy learning -- precisely the gifts of a liberal education. Zakaria argues that technology is transforming education, opening up access to the best courses and classes in a vast variety of subjects for millions around the world. We are at the dawn of the greatest expansion of the idea of a liberal education in human history
The post-American world : release 2.0
by
Fareed Zakaria
( Book )
21 editions published between
2011
and 2012 in
English
and held by 1,362 WorldCat member libraries worldwide
The New York Times bestseller, revised and expanded with a new afterword: the essential update of Fareed Zakaria's international bestseller about America and its shifting position in world affairs. Fareed Zakaria's international bestseller The Post-American World pointed to the "rise of the rest"--The growth of countries like China, India, Brazil, and others -- as the great story of our time, the story that will undoubtedly shape the future of global power. Since its publication, the trends he identified have proceeded faster than anyone could have anticipated. The 2008 financial crisis turned the world upside down, stalling the United States and other advanced economies. Meanwhile emerging markets have surged ahead, coupling their economic growth with pride, nationalism, and a determination to shape their own future. In this new edition, Zakaria makes sense of this rapidly changing landscape. With his customary lucidity, insight, and imagination, he draws on lessons from the two great power shifts of the past 500 years -- the rise of the Western world and the rise of the United States -- to tell us what we can expect from the third shift, the "rise of the rest." The great challenge for Britain was economic decline. The challenge for America now is political decline, for as others have grown in importance, the central role of the United States, especially in the ascendant emerging markets, has already begun to shrink. As Zakaria eloquently argues, Washington needs to begin a serious transformation of its global strategy, moving from its traditional role of dominating hegemon to that of a more pragmatic, honest broker. It must seek to share power, create coalitions, build legitimacy, and define the global agenda -- all formidable tasks. None of this will be easy for the greatest power the world has ever known -- the only power that for so long has really mattered. America stands at a crossroads: In a new global era where the United States no longer dominates the worldwide economy, orchestrates geopolitics, or overwhelms cultures, can the nation continue to thrive? - Publisher
From wealth to power : the unusual origins of America's world role
by
Fareed Zakaria
( Book )
23 editions published between
1998
and 2012 in
English
and
Spanish
and held by 785 WorldCat member libraries worldwide
If rich nations routinely become great powers, Zakaria asks, then how do we explain the strange inactivity of the United States in the late nineteenth century? By 1885, the U.S. was the richest country in the world. And yet, by all military, political, and diplomatic measures, it was a minor power. To explain this discrepancy, Zakaria considers a wide variety of cases between 1865 and 1908 in which the U.S. considered expanding its influence in such diverse places as Canada, the Dominican Republic, and Iceland. Taking a position consistent with the realist theory of international relations, he argues that the President and his administration tried to increase the country's political influence abroad when they saw an increase in the nation's relative economic power. But they frequently had to curtail their plans for expansion, he shows, because they lacked a strong central government that could harness that economic power for the purposes of foreign policy. America was an unusual power - a strong nation with a weak state. It was not until late in the century, when power shifted from states to the federal government and from the legislative to the executive branch, that leaders in Washington could mobilize the nation's resources for international influence
The post-American world
by
Fareed Zakaria
( Recording )
10 editions published between
2008
and 2010 in
English
and held by 503 WorldCat member libraries worldwide
The author, an international affairs columnist for Newsweek International, describes a world in which the United States will no longer dominate the global economy as other countries experience economic growth
Road to 9/11
( Visual )
6 editions published between
2006
and 2007 in
English
and held by 447 WorldCat member libraries worldwide
" ... this dramatic documentary chronicles the deep historical roots of Al-Qáida, examining the years of political oppression, economic stagnation, religious fanaticism, and violence that gave rise to the attacks of September 11. 2002. It features rare footage, and insightful commentary by leading scholars and journalists including Bernard Lewis, Fareed Zakaria, Thomas Friedman, Irshad Manji, Azar Nafisis, Kanan Makiya, Fawaz Gerges, and David Fromkin."
The future of freedom : illiberal democracy at home and abroad
by
Fareed Zakaria
( )
16 editions published between
2002
and 2012 in
English
and held by 232 WorldCat member libraries worldwide
"American democracy is, in many people's minds, the model for the rest of the world. Fareed Zakaria points out that the American form of democracy is one of the least democratic in use today. Members of the Supreme Court and the Federal Reserve, institutions that fundamentally shape our lives, are appointed, not elected. The Bill of Rights enumerates a set of privileges to which citizens are entitled, no matter what the majority says. By restricting our democracy, we enhance our freedom."
In defense of a liberal education
by
Fareed Zakaria
( Recording )
3 editions published in
2015
in
English
and held by 167 WorldCat member libraries worldwide
Argues for the virtues of a liberal arts education even as cultural trends are moving toward skill-based education, citing such benefits as the ability to write, express oneself, think critically, be creative, communicate, and learn as the indispensible gifts of liberal education
more
fewer
Audience Level
0

1
Kids
General
Special
Audience level: 0.24 (from 0.04 for Does the 2 ... to 0.92 for Das Ende d ...)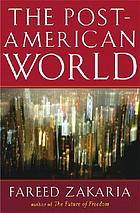 Alternative Names
Fareed Zakaria Amerikaans journalist

Fareed Zakaria giornalista indiano

Fareed Zakaria indiai születésű, amerikai újságíró

Fareed Zakaria indisch-US-amerikanischer Autor und Journalist

Zakaria, Fareed Rafiq 1964-

Zakarii︠a︡, Farid

Zakarija, Farid

Zakarija, Farid 1964-

Zakarīyā, Farīd

Zakarīyā, Farīd 1964-

Закария, Фарид

Фарид Закариё

Фарид Закарија

Фарід Закарія

פריד זקריה

زكريا، فريد

فريد زكريا

فريد زكريا، 1964-

فرید زکریا

फरीद ज़कारिया

ফরিদ জাকারিয়া

ਫ਼ਰੀਦ ਜ਼ਕਾਰੀਆ

ఫరీద్ జకారియ

ഫരീദ് സഖറിയ

자카리아, 파리드

파리드 자카리아

ザカリア, ファリード

ファリード・ザカリア

法理德.札卡瑞亞

法里德·扎卡利亞

Languages
Covers