Mills, Kyle 1966-
Most widely held works by Kyle Mills
Robert Ludlum's The utopia experiment
by
Kyle Mills
( Book )
16 editions published between
2013
and 2014 in
English
and
Dutch
and held by 2,164 WorldCat member libraries worldwide
While assessing the military potential of a new intelligence device, Covert-One's Colonel Jon Smith realizes the technology must never fall into the hands of America's enemies
The survivor : a Mitch Rapp novel
by
Kyle Mills
( Book )
21 editions published between
2015
and 2016 in
English
and held by 2,116 WorldCat member libraries worldwide
Joseph "Rick" Rickman, former boy wonder at the CIA, stole a massive amount of top secret and hugely compromising intel concerning classified operations all over the world, offering it (and himself) to the Pakistani secret forces. Only his plans went awry when CIA director Irene Kennedy sent Mitch Rapp to hunt him down. It turns out that killing Rickman didn't solve anything -- in fact, the nightmare is only intensifying. Rickman stored the potentially devastating data (CIA assets, operatives, agents) somewhere only he knew, and somehow, from beyond the grave, he still poses a mortal threat to America. Now it's a deadly race as both the Pakistanis and the Americans search for Rickman's accomplices and the information they are slowly leaking to the world. Will Rapp outrun and outthink his enemies, or will the Pakistanis find it first and hold America hostage to their dream of becoming the world's new nuclear superpower?
Robert Ludlum's The Ares decision
by
Kyle Mills
( Book )
30 editions published between
2008
and 2014 in 3 languages and held by 2,069 WorldCat member libraries worldwide
With U.S. intelligence agencies wracked by internal power struggles and paralyzed by bureaucracy, the President was forced to establish his own clandestine group, Covert-One. It is only activated as a last resort, when the threat is on a global scale and time is running out. In northern Uganda, an American special forces team is decimated by a group of normally peaceful farmers. Video of the attack shows even women and children possessing almost supernatural speed and strength, consumed with a rage that makes them immune to pain, fear, and all but the most devastating injuries. Covert-One's top operative, army microbiologist Colonel Jon Smith, is sent to investigate the attack and finds evidence of a parasitic infection that for centuries has been causing violent insanity and then going dormant. This time, though, it's different. The parasite had been purposely kept alive and crudely transmitted in acts of terrorism. Now the director of Iranian Intelligence is in Uganda trying to obtain this biological weapon to unleash it on the West. Smith and his team are ambushed and cut off from all outside support just as they begin to suspect that forces much more powerful than the Iranians are in play-forces that can be traced to Washington itself
Sphere of influence
by
Kyle Mills
( Book )
23 editions published between
2002
and 2014 in 4 languages and held by 2,009 WorldCat member libraries worldwide
Mark Beamon has always been an unconventional FBI agent. Years of putting the truth ahead of political expediency have resulted in a dead-end job in the Phoenix office. But a new terrorist threat brings him back from the wilderness. A videotape proves that a terrorist cell in the United States has access to modern missile technology. Suspecting there is a connection between the Mob and the fanatics, Beamon is sent undercover with a fellow FBI agent
Darkness falls
by
Kyle Mills
( Book )
13 editions published between
2007
and 2011 in 3 languages and held by 1,877 WorldCat member libraries worldwide
Erin Neal suddenly finds himself back on the international stage when a number of important Saudi oil resources are threatened by a mysterious new bacteria with a voracious appetite for oil
The second horseman
by
Kyle Mills
( Book )
29 editions published between
2006
and 2008 in
English
and
Dutch
and held by 1,839 WorldCat member libraries worldwide
Brandon Vale is a career thief, the best there is. Of course, he is serving out a prison term for a robbery gone bad?albeit one that he didn't commit. But then he is broken out of prison against his will by Richard Scanlon, the former FBI agent who framed him in the first place. Scanlon, who still has ties to the U.S. intelligence community, has discovered that a Ukrainian crime organization is auctioning twelve nuclear warheads to the highest bidder, but he can't convince the government that the sale isn't a hoax. The only way he can get his hands on the 250 million necessary to take the warheads off the market is to arrange for Brandon to steal it. Not that Brandon has much choice?it's either do it or go back to jail with the added years of a failed "escape" tacked on to his sentence?but he decides to get the cash by pulling off the heist he had been planning when he and Scanlon first met:hijacking the trucks that drive the casinos' cash out of Las Vegas once a week. As the day of the warhead sale approaches, though, their carefully constructed plan begins to break down, and Brandon starts to suspect that the deal has even higher stakes than he had imagined
Fade
by
Kyle Mills
( Book )
27 editions published between
2003
and 2010 in 4 languages and held by 1,826 WorldCat member libraries worldwide
Welcome to the new war on terror. A secret wing of Homeland Security is recruiting agents to work undercover in the Middle East, and the director wants his second-in-command, Matt Egan, to bring aboard an old friend, Salam Al Fayed--better known as Fade. He's perfect: An ex-Navy Seal and the son of immigrants, he speaks flawless Arabic. Trouble is, he's "retired"; he was wounded in the line of duty, and the government refused to pay for the risky surgery that could have helped him. Now he's walking around with a bullet lodged near his spine, and he's not too fond of anyone in the government--least of all, his ex-best friend Matt Egan, whom he blames for his present condition. Against Egan's wishes, the director tries to "persuade" Fade to join the team. But Fade is prepared to fight back at any cost. The chase is on--will Matt be able to find his friend-turned-fugitive before Fade can take the ultimate revenge?
Free fall
by
Kyle Mills
( Book )
27 editions published between
1999
and 2016 in 4 languages and held by 1,742 WorldCat member libraries worldwide
Government bureaucrat Tristan Newberry discovers a file code-named "Prodigy" buried in an obscure Department of Agriculture box. What the file reveals about presidential candidate David Hallorin could swing the election. Soon Tristan is dead, and the file lands in the hands of Darby Moore, his former lover. Renegade FBI agent Mark Beamon is hired by Hallorin's team to find the elusive young woman. He eventually switches sides, joining Darby in an effort to get the contents of Prodigy to the American people
Smoke screen
by
Kyle Mills
( Book )
19 editions published between
2003
and 2005 in 3 languages and held by 1,730 WorldCat member libraries worldwide
Through a series of unwanted promotions, Trevor Barnett has become the lead spokesman for the tobacco industry just as it's on the verge of extinction. Plaintiffs' attorneys have finally found the weakness they'd been searching for and have filed a $200 billion lawsuit that the industry will be unable to appeal. America's tobacco companies react by doing the unthinkable--they close their plants and recall their products from retailers' shelves. The message is clear: Not another cigarette will be manufactured or sold until the industry is given ironclad protection from the courts. As the economy falters and chaos takes hold, Trevor finds himself the target of enraged smokers, gun-toting cigarette smugglers, and a government that has been cut off from one of its largest sources of revenue. Soon it becomes clear that this had always been his function: to take the brunt of the backlash and shield the men in power from the maelstrom they've created. As he is slowly abandoned by an industry that his own ancestors helped to create, he begins to hatch a plan to fight back.--Publisher description (http://catdir.loc.gov/catdir/enhancements/fy0716/2003046746-d.html)
Burn factor
by
Kyle Mills
( Book )
25 editions published between
2000
and 2014 in 4 languages and held by 1,611 WorldCat member libraries worldwide
Bright, young, and ambitious, Quinn Barry desperately wants to be an FBI agent, even as she programs databases in the basement of the J. Edgar Hoover Building. But Quinn's career -- and her life -- are about to change wildly. Testing a new program, Quinn's computer savvy turns up a mysterious DNA link among five gruesome murders. A link that the old FBI system had been carefully programmed to miss. A link that nearly costs Quinn her job, and soon, her life ... Pitted against a conspiracy of unimaginable proportions, Quinn will match wits against powerful government forces that will use any means necessary to keep their dirty secrets hidden -- secrets that will land her in the clutches of a sadistic, brilliant madman who holds the key to it all.--Publisher description (http://catdir.loc.gov/catdir/description/hc043/00059734.html)
more
fewer
Audience Level
0

1
Kids
General
Special
Audience level: 0.14 (from 0.05 for Order to k ... to 0.23 for Order to k ...)
Related Identities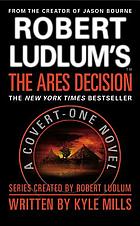 Alternative Names
Kyle Mills Amerikaans romanschrijver

Kyle Mills écrivain américain

Kyle Mills escritor estadounidense

Kyle Mills US-amerikanischer Thriller-Autor

Mills, .. 1966-

Mills, Kyle Wendell.

Mills, Kyle Wendell 1966-

Кайл Милс

Миллс, Кайл 1966-

کایل میلز نویسنده آمریکایی

カイル・ミルズ

ミルズ, カイル

Languages
Covers