Assange, Julian
Most widely held works about Julian Assange
more
fewer
Most widely held works by Julian Assange
The WikiLeaks Files : the World According to US Empire
by
Julian Assange
( Book )
11 editions published between
2015
and 2016 in
English
and held by 709 WorldCat member libraries worldwide
"When WikiLeaks first came to prominence in 2010 by releasing 2,325,961 top-secret State Department cables, the world saw for the first time what the US really thought about national leaders, friendly dictators and supposed allies. It also discovered the dark truths of national policies, human rights violations, covert operations and cover-ups. The WikiLeaks Files is the first volume that uses experts to collate the most important cables and shows their historic importance. The book explores in a series of chapters covering the major regions of the world how the US Empire has imposed its will. It reveals how the US imposes its agenda on the world: a new form of imperialism that uses a variety of tactics from torture and military action, to trade deals and "soft power," in order to expand its influence. It shows the details of the close relationship between government and big business in promoting US goods around the world. The WikiLeaks Files is the most comprehensive analysis of US State Department cables to date. The introduction by Julian Assange--for the first time--exposes the on-going debates on freedom of information, international surveillance and justice. Regional expert contributors include Dan Beeton, Phyllis Bennis, Michael Busch, Peter Certo, Conn Hallinan, Sarah Harrison, Richard Heydarian, Dahr Jamail, Jake Johnston, Alexander Main, Robert Naiman, Francis Njubi Nesbitt, Linda Pearson, Gareth Porter, Tim Shorrock, Russ Wellen, and Stephen Zunes"--
Frontline
( Visual )
4 editions published in
2011
in
English
and held by 556 WorldCat member libraries worldwide
It's the biggest intelligence breach in U.S. history - the leaking of more than half-a-million classified documents on the Wikileaks website in the spring of 2010. Behind it all stand two very different men: Julian Assange, the Internet activist and hacker who published the documents and an Army intelligence analyst named Bradley E. Manning, who's currently charged with handing them over. Private Manning allegedly leaked the secret cables - along with a controversial video - in the hope of inciting "worldwide discussion, debates, and reforms." Assange's stated mission has been to force the U.S. and other governments into maximum transparency through his whistle-blowing website. Through in-depth interviews with Manning's father, Assange, and others close to the case, veteran FRONTLINE correspondent Martin Smith tells the full story behind the leaks. He also reports on the U.S. government's struggle to protect national security information in a post-9/11 world
Shadows of liberty
( Visual )
14 editions published between
2012
and 2013 in
English
and held by 319 WorldCat member libraries worldwide
"Shadows of Liberty reveals the extraordinary truth behind the news media: censorship, cover-ups, and corporate control. Filmmaker Jean-Philippe Tremblay takes a journey through the darker corridors of the US media, where global conglomerates call the shots. For decades, their overwhelming influence has distorted news journalism and compromised its values.Tracing the story of media manipulation through the years, Shadows of Liberty poses a crucial question: why have we let a handful of powerful corporations write the news? We're left in no doubt--media reform is urgent and freedom of the press is fundamental."--Container
InRealLife
by
Beeban Kidron
( Visual )
9 editions published between
2013
and 2015 in
English
and held by 272 WorldCat member libraries worldwide
InRealLife takes us on a journey from the world of Silicon Valley to the bedrooms of British teenagers in order to ask an important question: What exactly is the internet doing to our children? This revealing documentary examines how children are adapting to the technological world we live in, and how free and open connectivity can have alienating and addictive side-effects, especially on the youngest minds using it
Cypherpunks : freedom and the future of the internet
by
Julian Assange
( Book )
18 editions published between
2012
and 2016 in
English
and
Spanish
and held by 248 WorldCat member libraries worldwide
Cypherpunks are activists who advocate the widespread use of strong cryptography (writing in code) as a route to progressive change. Julian Assange, the editor-in-chief of and visionary behind WikiLeaks, has been a leading voice in the cypherpunk movement since its inception in the 1980s. Now, in what is sure to be a wave-making new book, Assange brings together a small group of cutting-edge thinkers and activists from the front line of the battle for cyber-space to discuss whether electronic communications will emancipate or enslave us. Among the topics addressed are: Do Facebook and Google constitute the greatest surveillance machine that ever existed," perpetually tracking our location, our contacts and our lives? Far from being victims of that surveillance, are most of us willing collaborators? Are there legitimate forms of surveillance, for instance in relation to the Four Horsemen of the Infopocalypse" (money laundering, drugs, terrorism and pornography)? And do we have the ability, through conscious action and technological savvy, to resist this tide and secure a world where freedom is something which the Internet helps bring about?The harassment of WikiLeaks and other Internet activists, together with attempts to introduce anti-file sharing legislation such as SOPA and ACTA, indicate that the politics of the Internet have reached a crossroads. In one direction lies a future that guarantees, in the watchwords of the cypherpunks, privacy for the weak and transparency for the powerful"; in the other lies an Internet that allows government and large corporations to discover ever more about internet users while hiding their own activities. Assange and his co-discussants unpick the complex issues surrounding this crucial choice with clarity and engaging enthusiasm
Mediastan
( Visual )
1 edition published in
2013
in
English
and held by 161 WorldCat member libraries worldwide
"In May 2010 US army analyst Private Manning was arrested in Iraq on suspicion of having passed state secrets to the online publisher WikiLeaks. Manning was accused of leaking hundreds of thousands of diplomatic and military documents. Shortly thereafter a small group of journalists made their way through Central Asia interviewing editors. Their real goal: to find local media outlets to publish the secret US diplomatic cables. Mediastan is a journey from Afghanistan to Manhattan, through the boundaries of freedom of speech. Venturing into the minds of those who shape our understanding of the world."--Sixteen Films website
Underground
by
Suelette Dreyfus
( Book )
15 editions published between
2011
and 2012 in 3 languages and held by 127 WorldCat member libraries worldwide
Suelette Dreyfus, and co-author, WikiLeaks founder Julian Assange, tell the compelling true story of the computer underground and the bizarre lives and crimes of an elite group of young Australian hackers who, in the 1980s and 1990s, took on the forces of the establishment
Risk : how much of your own life are you willing to risk?
( Visual )
1 edition published in
2017
in
English
and held by 121 WorldCat member libraries worldwide
Laura Poitras returns with her most personal and intimate film to date. Filmed over six years, the film is a complex and volatile character study that collides with a high-stakes election year and its controversial aftermath
The war you don't see
by
John Pilger
( Visual )
6 editions published between
2010
and 2011 in
English
and held by 120 WorldCat member libraries worldwide
"The War You Don't See traces the history of 'embedded' and independent reporting from the carnage of World War I to the destruction of Hiroshima, and from the invasion of Vietnam to the current war in Afghanistan. As weapons and propaganda are ever more sophisticated, the very nature of war has developed into an 'electronic battlefield'"--Videodisc container label
Julian Assange : de ongeautoriseerde autobiografie
by
Julian Assange
( Book )
9 editions published between
2011
and 2012 in 5 languages and held by 117 WorldCat member libraries worldwide
Levensbeschrijving van de Australische hacker (1971), die uit idealisme illegaal verkregen en niet voor publicatie bestemde overheidsdocumenten op internet openbaar maakte
more
fewer
Audience Level
0

1
Kids
General
Special
Audience level: 0.32 (from 0.16 for Julian Ass ... to 0.90 for Menace sur ...)
Related Identities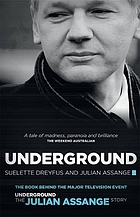 Alternative Names
Assange, Julian Paul.

Assange, Julian Paul 1971-

Culian Assanj

Džulians Asānžs

Iulianus Assange

Julian Assange ativista, editor e jornalista australiano

Julian Assange australialainen WikiLeaksin päätoimittaja

Julian Assange Australian editor, activist, publisher and journalist

Julian Assange Australian journalist, programmer and Internet activist

Julian Assange Australiensisk journalist och nätaktivist.

Julian Assange Australisch journalist

Julian Assange australischer politischer Aktivist

Julian Assange australsk aktivist

Julian Assange australski programer, urednik, aktivist, izdavač i novinar

Julian Assange ausztrál újságíró, aktivista, a Wikileaks főszerkesztője és szóvívője

Julian Assange giornalista, programmatore e attivista australiano

Julian Assange jornalista e ativista australiano

Julian Assange personnage médiatique

Julian Assange programador, activista y periodista australiano, fundador de Wikileaks

Julian Assange programador, periodista, activista y político australiano

Τζούλιαν Ασάντζ

Ассанж Джулиан

Джулиан Асанж

Джулиан Ассанж интернет-журналист, основатель WikiLeaks

Джуліан Ассанж інтернет-журналіст, інтернет-активіст, засновник Wikileaks

Джуліян Асанж

Дьулиан Ассандьж

Жулиан Ассанж

Џулијан Асанж

Ջուլիան Ասանժ

אסאנג', ג'וליאן 1971-

אסנג', ג'ולין 1971-

ג'וליאן אסאנג'

ג'וליאן אסנג'

جوليان آسانج

جولیان ئاسانگ

جولین اسانج

جولین اسانژ

جولین آسانژ ژورنالیست استرالیایی

ژولین آسانژ

जूलियन असांजे

जुलियन असान्ज अष्ट्रेलियन सम्पादक, कार्यकर्ता, प्रकाशक र पत्रकार

জুলিয়ান অ্যাস্যাঞ্জ

ਜੂਲੀਅਨ ਅਸਾਂਜੇ

જુલિયન અસાંજે

જુલિયન અસાંજે ઓસ્ટ્રેલીયન પત્રકાર, પ્રકાશક અને પત્રકાર

ஜூலியன் அசான்ச்

జూలియన్ అసాంజే

ಜೂಲಿಯನ್ ಅಸ್ಸಾಂಜೆ

ജൂലിയൻ അസാൻജ്

ජුලියන් අ'සාන්ජ්

จูเลียน อาสซานจ์

ဂျူလီယန် အက်စ်ဆန်း

ჯულიან ასანჟი

어산지, 줄리언

줄리언 어산지

アサンジ, ジュリアン

アサンジュ, ジュリアン

ジュリアン・アサンジ

阿桑奇

朱利安·阿桑奇

朱利安·阿桑奇 澳大利亚记者,维基解密创始人

Languages
Covers