Hess, Frederick M.
Overview
| | |
| --- | --- |
| Works: | 84 works in 189 publications in 1 language and 13,816 library holdings |
| Genres: | Case studies |
| Roles: | Author, Editor |
| Classifications: | LB1027.9, 379.111 |
Most widely held works by Frederick M Hess
Leaving no child behind? : options for kids in failing schools
by
Frederick M Hess
( Book )
9 editions published between
2004
and 2006 in
English
and held by 949 WorldCat member libraries worldwide
"This pioneering evaluation of the implementation and effects of the No Child Left Behind Act of 2001 (NCLB) during its first two years provides both a bird's-eye view of developments across the nation and a closer look at developments in selected states, communities, and schools."--Jacket
The same thing over and over : how school reformers get stuck in yesterday's ideas
by
Frederick M Hess
( Book )
5 editions published in
2010
in
English
and
Undetermined
and held by 536 WorldCat member libraries worldwide
"In This Genial And Challenging Overview of endless debates over school reform, Rick Hess shows that even bitter opponents in debates about how to improve schools agree on much more than they realizúeand that much of it must change radically. Cutting through the tangled thickets of right- and left-wing dogma, he clears the ground for transformation of the American school system." "Whatever they think of school vouchers or charter schools, teacher merit pay, or bilingual education, most educators and advocates take many other things for granted. The one-teacher£one-classroom model. The professional full-time teacher. Students grouped in age-defined grades. The nine-month calendar. Top-down local district control. All were innovative and excitinúgin the nineteenth century. As Hess shows, the system hasn't changed since most Americans lived on farms and in villages, since school taught you to read, write, and do arithmetic, and since only an elite went to high school, let alone college." "Arguing that a fundamentally nineteenth century system can't be right for a twenty-first century world, Hess suggests that uniformity gets in the way of quality, and urges us to create a much wider variety of schools, to meet a greater range of needs for different kinds of talents, needed by a vastly more complex and demanding society."--Jacket
Spinning wheels : the politics of urban school reform
by
Frederick M Hess
( Book )
4 editions published between
1998
and 1999 in
English
and held by 518 WorldCat member libraries worldwide
Almost everyone agrees that America's urban schools are a mess. But while this agreement has fostered widespread support for aggressive reform, Frederick Hess argues that much of what ails urban education is actually the result of continuous or fragmentary reform. Hess argues that policymakers have misallocated resources by pursuing the "right" structure or the "best" pedagogy while paying insufficient attention to the more mundane - and more important - questions of how to implement, refine, and sustain a particular approach in their particular district
Revolution at the margins : the impact of competition on urban school systems
by
Frederick M Hess
( Book )
11 editions published in
2002
in
English
and held by 505 WorldCat member libraries worldwide
"Urban school systems have a difficult mandate: to educate large numbers of disadvantaged children under the heavy hand of often dysfunctional managerial, accountability, and regulatory systems." "Over the past decade they have also been challenged - in some cases threatened - by competition from school vouchers and charter schools." "Revolution at the Margins examines how urban school systems are responding to education competition. Drawing on case studies conducted in three school districts at the center of the school choice debate, the book seeks to clarify how competition is likely to play out in urban education; shed light on the ways in which system structure and practice hamper efforts to improve urban schooling; and better understand what promise market-driven reform holds for the future of children's education."--Jacket
When research matters : how scholarship influences education policy
by Frederick M., Ed Hess
( Book )
8 editions published in
2008
in
English
and held by 447 WorldCat member libraries worldwide
"When Research Matters" considers the complex and crucially important relationship between education research and policy. In examining how and under what conditions research affects education policy, the book focuses on a number of critical issues: the history of the federal role in education policy; the evolving nature of educational policy research; the role of research in debates about reading, nclb, and "out-of-field" teaching; how research affects policy by shaping public opinion, judicial rulings, and the decisions of district and school leaders; and the incentives that help explain the behavior of researchers and policymakers. Chapters include: (1) Structure and Science in Federal Education Research (Andrew Rudalevige); (2) The Evolving Relationship between Researchers and Public Policy (Jeffrey R. Henig); (3) Double Standard? "Scientifically Based Research" and the No Child Left Behind Act (Paul Manna and Michael J. Petrilli); (4) Research and the Reading Wars (James S. Kim); (5) Researcher Meets the Policy Realm: a Personal Account (Richard M. Ingersoll); (6) Education Policy, Academic Research, and Public Opinion (William G. Howell); (7) Calculated Justice: Education Research and the Courts (Joshua Dunn and Martin West); (8) Flying (Partially) Blind: School Leaders' Use of Research in Decision-making (Lance D. Fusarelli); (9) What Gets Studied and Why: Examining the Incentives That Drive Education Research (Dan D. Goldhaber and Dominic J. Brewer); (10) Considering the Politics in the Research Policymaking Nexus (Kenneth K. Wong); and (11) Conclusion: Education Research and Public Policy (Frederick M. Hess). Notes and index are included. [Foreword by Lorraine M. McDonnell.]
Making civics count : citizenship education for a new generation
by
David E Campbell
( Book )
1 edition published in
2012
in
English
and held by 408 WorldCat member libraries worldwide
By nearly every measure, Americans are less engaged in their communities and political activity than generations past. So write the editors of this volume, who survey the current practices and history of citizenship education in the United States. They argue that the current period of "creative destruction", when schools are closing and opening in response to reform mandates, is an ideal time to take an in-depth look at how successful strategies and programs promote civic education and good citizenship. This work offers research-based insights into what diverse students and teachers know and do as civic actors, and proposes a blueprint for civic education for a new generation that is both practical and visionary
Private enterprise and public education
by
Frederick M Hess
( Book )
5 editions published between
2013
and 2015 in
English
and held by 322 WorldCat member libraries worldwide
"The growth of for-profit providers in the K-16 education sector has generated more than its fair share of controversy. From the emergence of charter schools to postsecondary options such as the University of Phoenix, for-profit providers have been lauded for their capacity to serve historically underserved populations but derided for their pursuit of profit?which, critics argue, happens at the expense of the public good."
more
fewer
Audience Level
0

1
Kids
General
Special
Audience level: 0.31 (from 0.03 for Education ... to 0.47 for The future ...)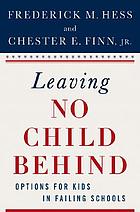 Alternative Names
Frederick M. Hess American political scientist

Frederick M. Hess Amerikaans politicoloog

ヘス,フレデリック・M

Languages
Covers