Giffels, David
Most widely held works about David Giffels
Most widely held works by David Giffels
The hard way on purpose : essays and dispatches from the rust belt
by
David Giffels
( Book )
3 editions published in
2014
in
English
and held by 267 WorldCat member libraries worldwide
"Award-winning author and journalist David Giffels explores the meaning of identity and place, hamburgers, hard work, and basketball in this collection of wry, irreverent essays reflecting on the many aspects of Midwestern culture and life from an insider's perspective. The Industrial Midwest built modern America, thrived for almost a century, then profoundly collapsed. But for cities like Detroit, Pittsburgh, and Akron, a devoted tract of the population remains in the Rust Belt, committed to celebrating its singular Midwest culture and carrying it forward. David Giffels was born in Akron in the 1960s, as the golden age was ending, and has lived there ever since. Now he plumbs the touchstones and idiosyncrasies of a region where industry has fallen, bowling is a legitimate profession, extreme weather is the norm, thrift store culture dominates, and sports is heartbreak in a rarely told story of a unique American generation whose deep regional pride was born of economic failure and hardship. The Hard Way on Purpose is the story from the inside, written by someone who never left, about the life that goes on there and what it means. Intelligent, humorous, and warm, Giffels's collection of linked essays is about coming of age in the Midwest, and the stubborn, optimistic, proud, and resourceful people who thrive there"--
All the way home : building a family in a falling-down house
by
David Giffels
( Book )
5 editions published between
2008
and 2009 in
English
and held by 64 WorldCat member libraries worldwide
Finding the perfect house is never easy. Rebuilding one from a crumbling pile-to say nothing of making it into a home-is even harder. With their infant son in tow, David Giffels and his wife comb the environs of Akron, Ohio, in search of just the right house for their burgeoning family. Running through David's head the whole time are the lyrics of a Replacements song, " ... Look me in the eye, then tell me that I'm satisfied," and it gives all the more purpose to their quest. But nothing seems right ... until they spot a beautiful, decaying Gilded Age mansion. A former rubber industry executive's domain, the once grand residence lacks functional plumbing and electricity, leaks rain like a cartoon shack, and is infested with all manner of wildlife. But for a young man at a coming-of-age crossroads-"suspended between a perpetual youth and an inevitable adulthood"--The challenge is exactly the allure. All the Way Home follows Giffels's funny, poignant, and confounding journey as he and his wife and a colorful collection of helpers turn a money pit into a house that will complete their family. Nothing could prepare them for a home restoration epic that includes evicting squatters (both four- and two-legged), battling an invading wisteria vine, hunting a ghost, and discovering thousands of dollars in hidden Depression-era cash. But the story's heart lies deeper, in an unexpected series of personal hardships that call into question what "home" really means, and what it means to grow up. Written with the humor and insight of Bill Bryson and John Grogan, All the Way Home is the engaging tale of a young father's struggle to restore a house and find his way ... without losing himself
Are we not men? We are Devo!
by
Jade Dellinger
( Book )
4 editions published between
2003
and 2008 in
English
and held by 35 WorldCat member libraries worldwide
We are Devo!
by
Jade Dellinger
( Book )
1 edition published in
2005
in
English
and held by 13 WorldCat member libraries worldwide
The Akron anthology
( Book )
2 editions published in
2016
in
English
and held by 7 WorldCat member libraries worldwide
"We are storytellers, by instinct and necessity. We know that we are descended from the best of times--a century ago Akron was the fastest growing city in America--and the worst of times. A generation ago Akron was the first notch in the Rust Belt. And these are stories to tell. We tell them because they have substance: the tales of a great rise and a great fall and a gritty fight back toward grace. And because they are not well known beyond our own borders. That's why the stories in this book are important, because when stories are shared, they give our lives meaning and they give our lives dignity: 'We are here, we are here'"--From the introduction
Wheels of fortune
( Visual )
1 edition published in
1998
in
English
and held by 6 WorldCat member libraries worldwide
Uses dramatic monologues, pre-recorded interviews, archival film and video clips and presentations by local historians, authors, political figures, executives and employees of Akron's rubber companies and their families, and the families of their founders, to demonstrate how the birth, growth, and decline of the great rubber companies contributed to the economic, social, and political history of the city of Akron, Ohio, and to tell how the book, Wheels of fortune, came to be
Inventive, industrious, inspired : a history of Akron
( Visual )
2 editions published in
2000
in
English
and held by 4 WorldCat member libraries worldwide
Akron, reaching it's 175th year as a city in 2000, has a rich history. From it's founding in 1825, the city grew as a transportation and industrial center with the building of the Ohio and Erie Canal. Through the years, various industries also grew, ranging from cereals (Quaker Oats) to sewer pipes (made from vitrified clay), mass-produced toys (marbles, molded toys, coloring books), rubber products (tires, toys, etc.), and polymers (plastics)
The lifespan of chickadees
by Marybeth E Cieplinski
( )
1 edition published in
2014
in
English
and held by 1 WorldCat member library worldwide
Nature and change are inextricably intertwined. As a native Ohioan of almost sixty years, I have seen a lot of both, and enjoyed their interactions with my life, as well as sharing them with my family. My Master of Fine Arts thesis project is a collection of personal essays that explore family, some of the changes I have experienced, and casts an observer's eye on the natural world of Northeast Ohio with the goal of enabling readers to relate to those experiences through similar occurrences in their own lives. The essays in this collection cover a range of life events large and small, but all linked together through the themes of family, change and nature in Ohio. Several of the pieces in this collection deal with family relationships. The title piece, "The Lifespan of Chickadees," talks about my early years with my future husband, but also covers our connection to Brecksville Reservation before it became a national park, being part of the last economic recession in 1980, and maturing as adults. On one hand, "Wishes Like Shooting Stars" is about watching a Geminid meteor shower with my younger son, but it is also about the challenges of raising a child with Asperger's and our relationship now that he's an adult. "Emptying the Nest" uses the aggressive way hummingbirds launch their young into the world to highlight and explore my own inability to give my older son "wings." Some of my experiences are unique to Northeast Ohio, such as attending concerts at the Richfield Coliseum, then seeing it torn down two decades later. For "20 Years Gone, 40 Years Ago" I returned to the site of the Coliseum and tried to make sense out of the things I remember as opposed to the empty fields there now. "Bells! The Ride Begins" is a meditation on the carousel at Chapel Hill Mall and the pains of growing up. Other pieces touch on changes I've seen in neighbors and neighborhoods, society's inability to slow down enough to relax these days, and the physical and emotional changes brought on in myself by aging. These are the types of subjects to which most people can relate in some way or another. They are stories about American life and families and the world at large
Misadventures in surreality
by Ian Michael Kundus
( )
1 edition published in
2014
in
English
and held by 1 WorldCat member library worldwide
The themes and focuses of each essay in this collection are all largely coming-of-age stories, loss of innocence stories, and some fish out of water stories, though the sub-genre of the collective work is not memoir, but rather personal essay. When I use the term stories I mean only in the capacity that I draw from my personal experiences to illustrate a larger, more abstract idea that I then explore, similar to the structure of an academic essay--though with more creative license--just using largely my own experience in place of supportive and illustrative research. The overarching theme of the work itself is an examination of the relationship between fantasy and reality. Not only do I explore this relationship in the content of my essays, but in the writing style as well, as I frequently experiment with blending fiction into my nonfiction, thus paralleling the relationship. As with most creative works, this focus is exploratory. I do not make any promises, gambles, or explicit hypotheses about the end results, in part because the writing I do is highly subjective, but also because good creative writing is often more about the journey than the destination, and planning the end result ruins the process of writing it. With that said though, I hope to show, using my own experiences as example, that the transition from child to adult is a struggle, largely because of the disillusionment that comes with it, the suspension if not expulsion of childhood fantasies sacrificed for grown-up reality. And yet, fantasy still plays an integral part in adult life, it's just often relegated to fantasy, whereas as for a child, fantasy is the majority fabric that defines reality--Mom and Dad are superheroes, mythical entities like Santa and the Easter Bunny are accepted without question, play is driven by imagination that pours from the minds of children filling in the massive gaps in reality they don't understand or aren't even aware of yet similarly to how adult societies have historically done through myths, legends, and superstitions. The point being, we trade those whimsical fantasies in for more serious ones, ones that help us to cope--like imagining that the guy who brought 20 items to the 10 Items or Less line gets crushed by a falling piano the minute he leaves the store; or that serve our ambition--like envisioning yourself getting that big promotion, landing the big account, finding your big break; or that aid in avoiding the harsh atrocities of adult reality, big or small. What makes my work a more unique struggle is that I'm actively aiming to keep those fantasies alive, and approaching this task with a high level of self-awareness, essentially documenting my changes, my breakthroughs, my successes, in essay form, to show how I'm trying to live a successful adult life and keep my whimsical, youthful fantasy. It's a new spin on Peter Pan Syndrome. The boy wants to grow up, he just wants to stay a boy and a be man. Will he succeed or fail?
Half a dream
by
Holly M Christensen
( )
1 edition published in
2010
in
English
and held by 1 WorldCat member library worldwide
My thesis, Half a Dream, a road trip memoir, is framed by a physical journey, driving in the summer of 2007 across the United States in a five-speed Toyota Matrix with my three young sons, then ages 13, 10 and 7. The road trip provides the framework for looping back in time and place to the key emotional experiences that are the real subject of my memoir. In the course of this dual narrative and emotional journey, endings ignite beginnings and even instigate the revisiting of decades-old endings (especially of familial relationships) that reach through time and demand re-evaluation. The results of these re-evaluations sometimes lead, figuratively speaking, to leaving behind people and, at other times, leaving behind old injuries in order to re-create long-held relationships
David Giffels
( Visual )
1 edition published in
2008
in
English
and held by 1 WorldCat member library worldwide
Author, columnist, and NPR commentator, David Giffels, visits the Hudson Library
more
fewer
Audience Level
0

1
Kids
General
Special
Audience level: 0.26 (from 0.16 for All the wa ... to 0.68 for David Giff ...)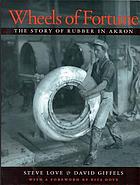 Languages
Covers