Conley, Dalton 1969-
Most widely held works about Dalton Conley
Most widely held works by Dalton Conley
The pecking order : which siblings succeed and why
by
Dalton Conley
( Book )
7 editions published in
2004
in
English
and held by 1,550 WorldCat member libraries worldwide
A study of how American families create and mirror economic inequality reveals how specific factors such as genetics, birth order, gender, and race contribute to the successes and failures of children within a family
Elsewhere, U.S.A.
by
Dalton Conley
( Book )
11 editions published between
2008
and 2010 in
English
and held by 1,393 WorldCat member libraries worldwide
Examining the dramatic changes that have occurred in American society over the past three decades, the author of The Pecking Order offers a thoughtful study of the new social realities of life, explaining how the social, economic, and technological transformation has reshaped individual lives
Honky
by
Dalton Conley
( Book )
14 editions published between
2000
and 2010 in
English
and held by 1,256 WorldCat member libraries worldwide
Publisher Fact Sheet
Wealth and poverty in America : a reader
( Book )
11 editions published between
2002
and 2006 in
English
and held by 275 WorldCat member libraries worldwide
The ideologies of equal opportunity and individual responsibility that dominate American culture tend to obscure the casual connections between poverty and wealth. Uncovering these connections is one of the purposes of this book
The genome factor : what the social genomics revolution reveals about ourselves, our history, and the future
by
Dalton Conley
( Book )
11 editions published in
2017
in
English
and held by 247 WorldCat member libraries worldwide
"For a century, social scientists have avoided genetics like the plague. But in the past decade, a small but intrepid group of economists, political scientists, and sociologists have harnessed the genomics revolution to paint a more complete picture of human social life than ever before. The Genome Factor describes the latest astonishing discoveries being made at the scientific frontier where genomics and the social sciences intersect. The Genome Factor reveals that there are real genetic differences by racial ancestry--but ones that don't conform to what we call black, white, or Latino. Genes explain a significant share of who gets ahead in society and who does not, but instead of giving rise to a genotocracy, genes often act as engines of mobility that counter social disadvantage. An increasing number of us are marrying partners with similar education levels as ourselves, but genetically speaking, humans are mixing it up more than ever before with respect to mating and reproduction. These are just a few of the many findings presented in this illuminating and entertaining book, which also tackles controversial topics such as genetically personalized education and the future of reproduction in a world where more and more of us are taking advantage of cheap genotyping services like 23andMe to find out what our genes may hold in store for ourselves and our children. The Genome Factor shows how genomics is transforming the social sciences--and how social scientists are integrating both nature and nurture into a unified, comprehensive understanding of human behavior at both the individual and society-wide levels."--
The starting gate : birth weight and life chances
by
Dalton Conley
( Book )
7 editions published in
2003
in
English
and held by 243 WorldCat member libraries worldwide
Seven percent of newborns in the United States weigh in at less than five and one half pounds. These "low birth weight" babies face challenges that others will never know--challenges that begin with a greater risk of infant mortality and extend well into adulthood in the form of health and developmental problems. Because low birth weight is often accompanied by social risk factors such as minority racial status, low education, young maternal age, and low income, the question of causes and consequences--of precisely how biological and social factors figure into this equation--becomes especially tricky to sort out. This is the question that The Starting Gate takes up, bringing a novel perspective to the nature-nurture debate by using the starting point of birth as a lens to examine biological and social inheritance. (Midwest)
After the bell : family background, public policy, and educational success
by
Dalton Conley
( Book )
12 editions published between
2004
and 2012 in
English
and held by 205 WorldCat member libraries worldwide
Since the publication of the Coleman report in the US many decades ago, it has been widely accepted that the evidence that schools are marginal in the grand scheme of academic achievement is conclusive. Despite this, educational policy across the world remains focused almost exclusively on schools. This volume focuses its searchlight on family background and its impact on educational success. That schools have an important role in education is beyond question, but this book demonstrates some of the crucial ways that non-school factors matter covering such themes as: the impact of fathers on educational success, socio-economic background and young children's education, and school-community relationships. With contributions from such figures as Jeanne Brooks-Gunn, Doris Entwistle and Richard Arum, this book is an important contribution to a debate that has implications across the board in social sciences and policy-making. It will be required reading for students and academics within sociology, economics and education and should also find a place on the bookshelves of education policy-makers
The pecking order : a bold new look at how family and society determine who we become
by
Dalton Conley
( Book )
3 editions published in
2005
in
English
and held by 147 WorldCat member libraries worldwide
We want to think of the family as a haven, a sheltered port from the maelstrom of social forces that rip through our lives. Within the family, we like to think, everyone starts out on equal footing. And yet we see around us evidence that siblings all too often diverge widely in social status, wealth, and education. We think these are aberrant cases - the president and the drug addict, the professor and the convict. Surely in most families, in our families, all children will succeed equally, and when they don't, we turn to one-dimensional answers to explain the discrepancy - birth order, for instance, or gender. In this groundbreaking book, Dalton Conley shows us that inequality in families is not the exception but the norm. More than half of all income inequality in this country occurs not between families but within families. Children who grow up in the same house can - and frequently do - wind up on opposite sides of the class divide. In fact, the family itself is where much inequality is fostered and developed. In each family, there exists a pecking order among siblings, a status hierarchy. This pecking order is not necessarily determined by the natural abilities of each individual, and not even by the intentions or will of the parents. It is determined by the larger social forces that envelop the family: gender expectations, the economic cost of education, divorce, early loss of a parent, geographic mobility, religious and sexual orientation, trauma, and even arbitrary factors such as luck and accidents. Conley explores each of these topics, giving us a richly nuanced understanding that transforms the way we should look at the family as an institution of care, support, and comfort. Drawing from the U.S. Census, from the General Social Survey conducted by the University of Chicago over the last thirty years, and from a landmark study that was launched in 1968 by the University of Michigan and that has been following five thousand families, Conley has irrefutable empirical evidence backing up his assertions. Enriched by countless anecdotes and stories garnered through years of interviews, this is a book that will forever alter our idea of family
more
fewer
Audience Level
0

1
Kids
General
Special
Audience level: 0.21 (from 0.07 for Honky / ... to 0.71 for A pound of ...)
Related Identities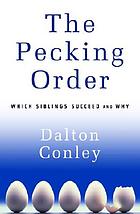 Alternative Names
Conley, Dalton Clark.

Conley, Dalton Clark 1969-

Dalton Conley American sociologist

Dalton Conley sociólogo estadounidense

Dalton Conley US-amerikanischer Soziologe und Genetiker

Languages
Covers