Boy, Guy A.
Most widely held works by Guy A Boy
The handbook of human-machine interaction : a human-centered design approach
by
Guy A Boy
( )
33 editions published between
2010
and 2017 in
English
and held by 1,935 WorldCat member libraries worldwide
The Handbook of Human-Machine Interaction features 20 original chapters and a conclusion focusing on human-machine interaction (HMI) from analysis, design and evaluation perspectives. It offers a comprehensive range of principles, methods, techniques and tools to provide a clear knowledge of the current academic and industry practice and debate that define the field. Physical, cognitive, social and emotional aspects are considered throughout and the text is illustrated by key application domains such as aviation, automotive, medicine and defence
Orchestrating human-centered design
by
Guy A Boy
( )
11 editions published between
2012
and 2013 in
English
and held by 465 WorldCat member libraries worldwide
4eme de couverture :"The time has come to move into a more humanistic approach of technology and to understand where our world is moving to in the early twenty-first century. The design and development of our future products needs to be orchestrated, whether they be conceptual, technical or organizational. Orchestrating Human-Centered Design presents an Orchestra model that attempts to articulate technology, organizations and people. Human-centered design (HCD) should not be limited to local/short-term/linear engineering, but actively focus on global/long-term/non-linear design, and constantly identify emergent properties from the use of artifacts."
Tangible Interactive Systems Grasping the Real World With Computers
by
Guy A Boy
( )
17 editions published between
2016
and 2018 in
English
and held by 309 WorldCat member libraries worldwide
Distinguishing between tangible user interfaces (TUI) and tangible interactive systems (TISs), this book takes into account not only the user interfaces but also looks at how interaction can be enabled by using digital information through the physical environment. TISs go far beyond the concept of tangible user interfaces, addressing large complex systems in the framework of human-centred design and putting the human at the center of the design process from the start. How can human-centered designers grasp the real world with computers? This question is explored by looking at concepts such as innovation, complexity, flexibility, maturity, stability, sustainability and art to see whether we can assess both physical and figurative tangibility during the design process before product delivery. Concepts like creativity, design thinking and team spirit are fundamental to TISs human-centered design, and are presented together with human-systems integration (HSI), agile development and formative evaluations to build a greater understanding of this new area of research. Tangible Interactive Systems would be an essential read to designers, academics and other professionals concerned with product design within HCI, industrial design, virtual engineering and other related areas
Intelligent assistant systems
by
Guy A Boy
( Book )
12 editions published in
1991
in
English
and held by 189 WorldCat member libraries worldwide
The goal of this book is to offer an introduction to artificial intelligence (AI) from a specific viewpoint. It is intended to facilitate acquisition of the tools necessary for the design and development of intelligent assistant systems (IAS). The book also examines the role of the human operator in human-machine systems. There should be an important place in the design of such systems for modeling the cognitive and operational processes of the human operator. Only if this condition obtains will it be possible to build systems which are really adapted--or adaptable--to the operator. Using the terminology of intelligent assistance, this book introduces concepts and methods useful in the realization of such models
Complex systems design & management : Proceedings of the Tenth International Conference on Complex Systems Design and Management, CSD & M Paris 2019
by
Guy A Boy
( )
4 editions published in
2020
in
English
and held by 178 WorldCat member libraries worldwide
This book contains all refereed papers accepted during the tenth edition of the conference that took place at the Cité Internationale Universitaire de Paris on December 12-13, 2019. Mastering complex systems requires an integrated understanding of industrial practices as well as sophisticated theoretical techniques and tools. This explains the creation of an annual go-between forum in Paris dedicated to academic researchers & industrial actors working on complex industrial systems architecture, modeling & engineering. These proceedings cover the most recent trends in the emerging field of Complex Systems, both from an academic and a professional perspective. A special focus is put on "Systems Engineering through the ages". The CSD & M Paris 2019 conference is organized under the guidance of CESAM Community. It has been developed since 2010 by the non-profit organization CESAMES Association to organize the sharing of good practices in Enterprise and Systems Architecture and to certify the level of knowledge and proficiency in this field through CESAM certification
Advances in cognitive ergonomics
( Book )
13 editions published between
2010
and 2017 in
English
and held by 169 WorldCat member libraries worldwide
The implications of all this work include design recommendations for complex systems and commercial products, new procedures for operator training and self-regulation as well as methods for accessibility to systems, and specification of ergonomic interventions at the user level. It is expected that this book will be of special value to practitioners involved in design process development, design and prototyping of systems, products and services, as well as training process design for a broad range of applications and markets throughout the world.--Book Jacket
DESIGN FOR FLEXIBILITY : a human systems integration approach
by
Guy A Boy
( )
5 editions published between
1901
and 2021 in
English
and held by 154 WorldCat member libraries worldwide
Design for flexibility requires anticipation, preparation, creativity and experience. Future highly digital sociotechnical systems should contrast with those stemming from technology-centered engineering that produces objects and machines with the immensely codified and rigid practices we know today. Most of the time, current technologies are designed and developed for normal situations, leaving users to manage abnormal and emergency situations themselves, sometimes under unforeseen, extreme and/or dangerous conditions. Putting humans at the center of the design of flexible sociotechnical systems means visualizing possible futures, modeling them, simulating them and leading them down the right paths. This book is for the engineering designers, who seek to better understand the roles of humans and organizations developing complex life-critical systems. It is also for those who train future designers who will have to take into account the well-being, safety, sustainability and efficiency of the actors of future sociotechnical systems. It is about an emergent discipline, human systems integration (HSI). The aim of the flexibility challenge is to put the artificial at the service of the natural, and not the other way around. The author, an aerospace engineering designer, has worked for 40 years in the field of human-centered design (HCD) of complex systems, discovering repeatedly that automation leads to rigidity, especially when things go wrong. It is urgent we had a new paradigm where flexibility is a major asset in human systems integration. HCD is seen here as the combination of practices and technologies to come
Human-systems integration : from virtual to tangible
by
Guy A Boy
( )
7 editions published in
2020
in
English
and held by 141 WorldCat member libraries worldwide
"This book is an attempt to better formalize a systemic approach to Human-Systems Integration (HSI). Good HSI is a matter of maturity... it takes time to mature. It takes time for a human being to become autonomous, and then mature! HSI is a matter of human-machine teaming, where human-machine cooperation and coordination are crucial. We cannot think engineering design without considering people and organizations that go with it. We also cannot think new technology, new organizations and new jobs without considering change management. More specifically, this book is a follow-up of previous contributions in Human-Centered Design and practice in the development of virtual prototypes that requires progressive operational tangibility toward HSI. The book discusses flexibility in design and operations, tangibility of software-intensive systems, virtual human-centered design, increasingly-autonomous complex systems, Human-Factors and Ergonomics of sociotechnical systems, systems integration, and changed management in digital organizations. The book will be of interest to industry, academia, those involved with systems engineering, human factors and the broader public"--
Cognitive function analysis
by
Guy A Boy
( Book )
1 edition published in
1998
in
English
and held by 129 WorldCat member libraries worldwide
more
fewer
Audience Level
0

1
General
Special
Audience level: 0.00 (from 0.00 for The handbo ... to 0.00 for The handbo ...)
Related Identities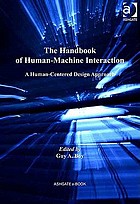 Covers
Alternative Names
Boy, G. A.

Boy, Guy

Boy, Guy 1952-

Boy, Guy A. 1952-

Boy, Guy André

Guy André Boy

Guy André Boy French aerospace engineer

Guy André Boy inxenieru aeroespacial francés

جاى اندريه بوى

غي أندريه بوي مهندس فضاء جوي فرنسي

Languages