Wilson, Peter H. (Peter Hamish)
Most widely held works by Peter H Wilson
The Thirty Years War : Europe's tragedy
by
Peter H Wilson
( Book )
10 editions published between
2009
and 2011 in
English
and held by 1,464 WorldCat member libraries worldwide
A deadly continental struggle, the Thirty Years War devastated seventeenth-century Europe, killing nearly a quarter of all Germans and laying waste to towns and countryside alike. In a major reassessment, Wilson argues that religion was not the catalyst, but one element in a lethal stew of political, social, and dynastic forces that fed the conflict--a conflict that ultimately transformed the map of the modern world
The Holy Roman Empire, 1495-1806
by
Peter H Wilson
( Book )
43 editions published between
1999
and 2012 in
English
and
Undetermined
and held by 841 WorldCat member libraries worldwide
Overview: Drawing on a wealth of specialist studies, Peter Wilson offers an alternative way of looking at the Empire, seeing it not as a failed monarchy or flawed forerunner of a later German nation-state, but on its own terms as a multi-layered structure, combining monarchical, hierarchical and federal elements. Key stages in the Empire's development are explained within the context of wider European history while a final section provides a comprehensive guide to its main institutions and developments across the last four centuries of its existence
Heart of Europe : a history of the Holy Roman Empire
by
Peter H Wilson
( Book )
11 editions published in
2016
in
English
and held by 636 WorldCat member libraries worldwide
"The Holy Roman Empire lasted a thousand years, far longer than ancient Rome. Yet this formidable dominion never inspired the awe of its predecessor. Voltaire distilled the disdain of generations when he quipped it was neither holy, Roman, nor an empire. Yet as Peter Wilson shows, the Holy Roman Empire tells a millennial story of Europe better than the histories of individual nation-states. And its legacy can be seen today in debates over the nature of the European Union. Heart of Europe traces the Empire from its origins within Charlemagne's kingdom in 800 to its demise in 1806. By the mid-tenth century its core rested in the German kingdom, and ultimately its territory stretched from France and Denmark to Italy and Poland. Yet the Empire remained stubbornly abstract, with no fixed capital and no common language or culture. The source of its continuity and legitimacy was the ideal of a unified Christian civilization, but this did not prevent emperors from clashing with the pope over supremacy--the nadir being the sack of Rome in 1527 that killed 147 Vatican soldiers. Though the title of Holy Roman Emperor retained prestige, rising states such as Austria and Prussia wielded power in a way the Empire could not. While it gradually lost the flexibility to cope with political, economic, and social changes, the Empire was far from being in crisis until the onslaught of the French revolutionary wars, when a crushing defeat by Napoleon at Austerlitz compelled Francis II to dissolve his realm."--Provided by publisher
War, state, and society in Württemberg, 1677-1793
by
Peter H Wilson
( Book )
12 editions published between
1989
and 1995 in
English
and held by 372 WorldCat member libraries worldwide
The wider social and political impact of these policies is also investigated in a comparative framework, while traditional interpretations of the dramatic struggle between duke and estates are challenged in a reassessment of the role of early modern representative institutions in German state development. The relationship of these internal political struggles to the different elements of the Holy Roman Empire is revealed, opening up new perspectives on the role of the German states within the imperial structure and revealing the empire as a flawed but functioning political system
From Reich to revolution : German history, 1558-1806
by
Peter H Wilson
( Book )
11 editions published in
2004
in
English
and held by 368 WorldCat member libraries worldwide
"German history after the Reformation is often seen as a confusing period of political failures before the emergence of powerful states such as Prussia give some coherence to the national story. The inability of Emperor Charles V to solve Germany's political and religious problems by 1558 seems to condemn the country to the chaos of the Thirty Years War and the subsequent partition of the Reich, or Holy Roman Empire, into virtually independent states until its final collapse in 1806." -- from the cover
Absolutism in central Europe
by
Peter H Wilson
( Book )
18 editions published in
2000
in
English
and held by 324 WorldCat member libraries worldwide
Absolutism in Central Europe is about the form of European monarchy known as absolutism, how it was defined by contemporaries, how it emerged and developed, and how it has been interpreted by historians, political and social scientists. This book investigates how scholars from a variety of disciplines have defined and explained political development across what was formerly known as the 'age of absolutism'. It assesses whether the term still has utility as a tool of analysis and it explores the wider ramifications of the process of state-formation from the experience of central Europe from the early seventeenth century to the start of the nineteenth
Europe's tragedy : a history of the Thirty Years War
by
Peter H Wilson
( Book )
15 editions published between
2009
and 2010 in
English
and held by 318 WorldCat member libraries worldwide
The horrific series of conflicts known as the Thirty Years War (1618?48) tore the heart out of Europe, killing perhaps a quarter of all Germans and laying waste to whole areas of Central Europe to such a degree that many towns and regions never recovered. All the major European powers apart from England were heavily involved and, while each country started out with rational war aims, the fighting rapidly spiralled out of control, with great battles giving way to marauding bands of starving soldiers spreading plague, famine and murder. The war was both a religious and a political one and it was this tangle of motives that made it impossible to stop
A companion to eighteenth-century Europe
by
Peter H Wilson
( Book )
29 editions published between
2007
and 2016 in
English
and held by 307 WorldCat member libraries worldwide
"This Companion brings together 31 essays by leading international scholars to provide an overview of the key debates on eighteenth-century Europe. It considers not just major western European states, but also the often neglected countries of eastern and northern Europe." "Placing Europe within an international context, contributors investigate key areas of society, economics, culture, and political development. The book concludes with the French and other European revolutions that brought the century to a close, both chronologically and as regards the Ancien Regime."--Jacket
German armies : war and German politics, 1648-1806
by
Peter H Wilson
( Book )
19 editions published between
1997
and 1998 in
English
and held by 264 WorldCat member libraries worldwide
Bogen undersøger tyske væbnede styrker, krige og tysk politik i tiden 1648-1806 i en bredere social, kulturel og international sammenhæng....Se også NYT FRA KGB, nr.2/1999, bog nr.6
The Holy Roman Empire : a thousand years of Europe's history
by
Peter H Wilson
( Book )
12 editions published between
2016
and 2017 in
English
and held by 207 WorldCat member libraries worldwide
"In this strikingly ambitious book Peter H. Wilson explains how the Empire worked. It is not a chronological history, but an attempt to convey to readers the Empire's unique nature, why it was so important and how it changed over its existence. The result is a tour de force - a book that raises countless questions about the nature of political and militar power, about diplomacy and the nature of European civilization and about the legacy of the Empire, which has continued to haunt its offspring, from Imperial and Nazi Germany to the European Union."
more
fewer
Audience Level
0

1
Kids
General
Special
Audience level: 0.39 (from 0.05 for Absolutism ... to 0.95 for Violence a ...)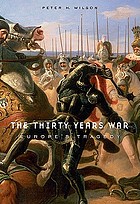 Alternative Names
Peter H. Wilson britischer Historiker

Peter H. Wilson British historian

Peter H. Wilson Brits historicus

Peter H. Wilson historien britannique

Wilson, Peter

Wilson, Peter 1963-

Wilson, Peter H.

Wilson, Peter Hamish.

Wilson, Peter Hamish 1963-

ウィルスン, ピーター・H

Languages
Covers