James, Eloisa
Most widely held works about Eloisa James
Most widely held works by Eloisa James
The ugly duchess
by
Eloisa James
( Book )
22 editions published between
2012
and 2015 in 3 languages and held by 1,560 WorldCat member libraries worldwide
When she discovers that her husband, James, married her only for her dowry, Theodora Saxby, known by the town as the Ugly Duchess, is devastated until James launches a campaign to prove that he really loves her
Duchess by night
by
Eloisa James
( Book )
36 editions published between
2008
and 2016 in 8 languages and held by 1,480 WorldCat member libraries worldwide
Looking for adventure in her life, Harriet, the Duchess of Berrow, dresses as a man and accompanies other nobles to the estate of Lord Justinian Strange, where he hosts a rollicking fete that would mean scandal to any proper lady. When the two finally meet, they fall in love, but can he see past all her disguises?
The duke is mine
by
Eloisa James
( Book )
28 editions published between
2011
and 2016 in 3 languages and held by 1,434 WorldCat member libraries worldwide
For Olivia Lytton, betrothal to the Duke of Canterwick-- hardly a Prince Charming-- feels more like a curse than a happily-ever-after. At least his noble status will help her sister, Georgiana, secure an engagement with the brooding, handsome Tarquin, Duke of Sconce, a perfect match for her in every way-- every way but one. Tarquin has fallen in love with Olivia. Quin never puts passion before reason. And reason says that Georgiana is his ideal bride. But the sensual, fiery, strong-willed Olivia ignites an unknown longing in him-- a desire they are both powerless to resist. When a scandalous affair begins, they risk losing everything-- Olivia's engagement, her sister's friendship, and their own fragile love. Only one thing can save them-- and it awaits in the bedroom, where a magnificent mattress holds life-changing answers to the greatest romantic riddle of all.--P. [4] of cover
When beauty tamed the beast
by
Eloisa James
( Book )
33 editions published between
2011
and 2016 in 8 languages and held by 1,396 WorldCat member libraries worldwide
"Miss Linnet Berry Thrynne is a beauty. Naturally, she's betrothed to a beast. ... Linnet has no idea of the danger posed to her heart by a man who may never love her in return. If she decides to be very wicked indeed, what price will she pay for taming his wild heart?"--Publisher's description
Desperate duchesses
by
Eloisa James
( Book )
41 editions published between
2007
and 2015 in 11 languages and held by 1,357 WorldCat member libraries worldwide
When Lady Roberta St. Giles, a marquess's sheltered only daughter, gambles on love with notorious scoundrel Damon Reeve, the Earl of Gryffyn, she plays a high-stakes game of seduction and passion where the winner takes all
Once upon a tower
by
Eloisa James
( Book )
20 editions published between
2012
and 2016 in 6 languages and held by 1,306 WorldCat member libraries worldwide
"As an extremely wealthy laird, Gowan Stoughton, Duke of Kinross, can have any of the maidens at the ball he attends. The only problem is they are all English and Gowan is not so certain they are suitable. He is accustomed to the hard-working lasses from his Highlands, not these dainty noblewomen who spend their days drinking tea or some other such nonsense. But then he makes the acquaintance of Lady Edith Gilchrist. Utterly bewitched by the emerald-eyed beauty with lush golden locks, he knows he must have her. He must free her from her tower. 'Edie' had the misfortune of being dreadfully ill at her debut ball and barely remembers what Gowan looks like. Even worse, she accepted his proposal the following day. Edie's only true passion is playing music--until Gowan writes a scandalous letter and stirs the most irresistible desire. Yet when they marry, Edie realizes her husband needs a lesson and locks herself in a tower. Somehow Gowan must find a way to enter the tower and convince his new bride that she belongs in his arms."--Page 4 of cover
My American duchess
by
Eloisa James
( Book )
18 editions published between
2015
and 2017 in
English
and
Japanese
and held by 1,300 WorldCat member libraries worldwide
1803. The arrogant Duke of Trent intends to marry a well-bred Englishwoman. The last woman he would ever consider marrying is the adventuresome Merry Pelford -- an American heiress who has infamously jilted two fiancés. But after one provocative encounter with the captivating Merry, Trent desires her more than any woman he has ever met. He is determined to have her as his wife, no matter what it takes. And Trent is a man who always gets what he wants. The problem is, Merry is already betrothed, and the former runaway bride has vowed to make it all the way to the altar. As honor clashes with irresistible passion, Trent realizes the stakes are higher than anyone could have imagined. In his battle to save Merry and win her heart, one thing becomes clear: All is fair in love and war
A kiss at midnight
by
Eloisa James
( Book )
37 editions published between
2010
and 2015 in 7 languages and held by 1,298 WorldCat member libraries worldwide
Miss Kate Daltry doesn't believe in fairy tales ... or happily ever after. Forced by her stepmother to attend a ball, Kate meets a prince and decides he's anything but charming. A clash of wits and wills ensues, but they both know their irresistible attraction will lead nowhere. For Gabriel is promised to another woman--a princess whose hand in marriage will fulfill his ruthless ambitions. Gabriel likes his fiancée, which is a welcome turn of events, but he doesn't love her. Obviously, he should be wooing his bride-to-be, not the witty, impoverished beauty who refuses to fawn over him. Godmothers and glass slippers notwithstanding, this is one fairy tale in which destiny conspires to destroy any chance that Kate and Gabriel might have a happily ever after --unless a prince throws away everything that makes him noble --unless a dowry of an unruly heart trumps a fortune --unless one kiss at the stroke of midnight changes everything
When the duke returns
by
Eloisa James
( Book )
22 editions published between
2007
and 2014 in
English
and held by 1,244 WorldCat member libraries worldwide
The Duchess of Cosway yearns for a man she has never met ... her husband. Married by proxy as a child, Lady Isidore has spent years fending off lecherous men in every European court while waiting to meet her husband. She's determined to accept him, no matter how unattractive the duke turns out to be. When she finally lures Simeon Jermyn back to London, his dark handsomeness puts Isidore's worst fears to rest?until disaster strikes. The duke demands an annulment. Forsaking his adventuresome past, Simeon has returned to London ready to embrace the life of a proper duke, only to find that his supposed wife is too ravishing, too headstrong, and too sensual to be the docile duchess he has in mind. But Isidore will not give up her claim to the title?or him?without a fight. She will do whatever it takes to capture Simeon's heart, even if it means sacrificing her virtue. After all, a consummated marriage cannot be annulled. Yet in forcing Simeon into a delicious surrender, will Isidore risk not only her dignity?but her heart?
An affair before Christmas
by
Eloisa James
( Book )
33 editions published between
2007
and 2016 in 10 languages and held by 1,194 WorldCat member libraries worldwide
Four years after their romantic wedding, the Duke of Fletcher, disturbed over the growing distance between him and his beautiful wife Perdita, sets out to win back her affections with an artful seduction
more
fewer
Audience Level
0

1
Kids
General
Special
Audience level: 0.23 (from 0.17 for Once upon ... to 0.72 for "A young m ...)
Related Identities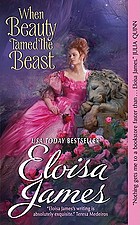 Alternative Names
Bly, Mary, 1962-
Bly Mary

Bly, Mary, 1962-

Eloisa James Amerikaans romanschrijfster

James, Eloisa pseud

Mary Bly

Джеймс, Элоиза

Елоиза Джеймс

エロイザ・ジェームズ

ジェームズ, エロイザ

Languages
Covers