Rudof, Joanne Weiner
Most widely held works about Joanne Weiner Rudof
Most widely held works by Joanne Weiner Rudof
Witness : voices from the Holocaust
by
Joshua Greene
( Book )
7 editions published between
2000
and 2001 in
English
and held by 1,457 WorldCat member libraries worldwide
"Weaves a single and compelling narrative from the first-person accounts of twenty-seven witnesses, including Jews, Gentiles, Americans, a member of the Hitler youth, a Jesuit priest, resistance fighters, and child survivors."--Jacket
Remembering Czestochowa, Poland
( Visual )
1 edition published in
2004
in
English
and held by 2 WorldCat member libraries worldwide
"Seven survivors from Czestochowa, Poland describe their lives before the war, German invasion, ghettoization, mass killings, deportations, slave labor in German factories established in Czestochowa, liberation by Soviet troops, and their losses. This program was prepared for an exhibit in Czestochowa that was also shown in Krakow and Warsaw." -- http://www.library.yale.edu/testimonies/education/thematic.html
George K. Holocaust testimony (HVT-2855)
by George K.
( )
1 edition published in
1995
in
English
and held by 1 WorldCat member library worldwide
Videotape testimony of George K., who was born in Katowice, Poland in 1926. He recalls his childhood in an assimilated home in Radomsko; increased anti-Semitism after 1938; the outbreak of war; fleeing with his parents to Lublin; returning to Radomsko; ghettoization; helping Jews forced into the ghetto from surrounding villages; hiding with his parents during the first action; worsening conditions; his parents' arrest; desperate attempts to escape, including to Warsaw; acquiring false papers; and traveling to Munich as a non-Jewish slave laborer. Dr. K. describes posing as a Polish fighter; obtaining legitimate papers; working on a farm and later with a municipal official in Planegg; relationships with Jewish women and Polish workers; Allied bombings of Munich; liberation by United States troops; reunion with his brother from England; volunteering to serve in the Polish army in Paris; reunion with his other brother in Plymouth; emigration with his brothers to Johannesburg; marriage; and emigration to Montréal, then the United States. He discusses the psychological effects of his experiences; reluctance to share his experiences with his children; and his recent visits to Poland. Dr. K. shows many photographs
Hersh A. Holocaust testimony (HVT-4331)
by Hersh A.
( )
1 edition published in
2005
in
English
and held by 1 WorldCat member library worldwide
Videotape testimony of Hersh A., who was born in Cluj, Romania in 1924, the oldest of four children. He recalls his impoverished family, hunger, and hardships; Hungarian occupation; forced labor during the day; German occupation; ghettoization; escaping often; obtaining food from non-Jewish farmers; one family attesting he was their child when Germans came; soldiers prohibiting him from entering the ghetto when deportations were occurring; lifelong sadness that he never said goodbye to his family; transfer to Budapest; liberation; walking to Debrecen; assistance from Soviet soldiers; returning home; beginning to understand the scope of the murder of Jews, including his family; smuggling himself to Germany when no family returned; living in Landsberg displaced persons camp; learning one brother had survived; registering in Frankfurt to emigrate to the United States; emigration; and the births of two children. Mr. A. discusses one couple that survived in Cluj; his enduring belief in God out of respect for his father's orthodoxy; continuing health problems and his strong affinity for bread due to his experiences; never discussing his experiences with his children; and his daughter's death at age forty-six, the biggest tragedy of his life
Julien E. Holocaust testimony (HVT-2742)
by Julien E.
( )
1 edition published in
1995
in
English
and held by 1 WorldCat member library worldwide
Videotape testimony of Julien E., who was born in Antwerp, Belgium in 1933. He describes fleeing with his family via Brussels to Nice after German occupation; round-ups in 1942; their attempt to flee to Switzerland and arrest in Annecy; deportation to Rivesaltes; separation from his parents when he and his brother were taken to a Catholic facility near Toulouse in 1942; living with his mother's cousins in Italian-occupied Nice; the cousins' arrest after Italian capitulation in 1943; briefly hiding with neighbors; living in a children's home in Cannes from 1943 to 1946; and the loving atmosphere there created by Mr. and Mrs. Fort. Mr. E. relates gradually giving up hope that his parents survived; living in an OSE home in Paris; emigration by ship to the United States in 1946; Marc Chagall attending his bar mitzvah in route; difficulties adjusting; and learning in the 1950s that his parents perished in Auschwitz. He details visiting Yad Vashem in 1991 to see the tree honoring the Forts and learning he was one of over five hundred Jewish children hidden in France through an underground network organized by Moussa and Odette Abadi whom he subsequently met
Michael R. Holocaust testimony (HVT-1882)
by
Michael R.
( )
in
English
and held by 1 WorldCat member library worldwide
Videotape testimony of Michael R., who was born in Felsőcéce, Hungary in 1914 and grew up in Abaújszántó. He recalls a comfortable childhood within a large, extended family; moving to Miskolc in 1930; marriage in 1938; war mobilization; anti-Semitic regulations; his son's birth in 1940; compulsory service in a labor battalion in 1942 (two of his brothers perished); returning to Miskolc; German occupation in 1944; his parents' deportations; ghettoization; avoiding deportation by enlisting, with a brother, in a labor battalion; working under a protective commander in Jósvafó and on the Russian front; retreating through Košice and Aszaló to Balf; encountering another brother; a Hungarian woman who assisted them; the death march to Mauthausen, then Gunskirchen; and liberation by United States troops in May. Mr. R. remembers recuperating in Wels; returning to Budapest, then Miskolc; learning his wife and child had been killed; assisting in the re-establishment of the Jewish community; starting his business; remarriage; and emigration to the United States in 1949. He describes his reluctance to discuss his story with his children and moving his brother's grave to Israel upon learning the cemetery in Miskolc was to be destroyed
Leah S. Holocaust testimony (HVT-4399)
by Leah S.
( )
1 edition published in
2007
in
English
and held by 1 WorldCat member library worldwide
Videotape testimony of Leah S., who was born in Amsterdam, Netherlands in 1933, the first of two children. She recounts attending a Jewish school; her family's orthodoxy; cordial relations with non-Jews; her father traveling to Belgium for business; German invasion; her maternal grandparents moving in with them; learning her father had emigrated to the United States; her grandfather's death; Swiss relatives obtaining Paraguayan passports for them; her mother hiding Jews; denunciation; deportation to Westerbork with her mother, brother and grandmother from the Schauberg theater in spring 1943; transfer to Bergen-Belsen in the fall; her mother smuggling extra food for them from her job; endless appels; hunger and cold; learning they were on the list for transfer; her mother refusing to leave without her grandmother (the authorities acceded); receiving Red Cross food packages on the train to Lindele (Biberach); good treatment by the British prisoners who preceded them there; quickly recuperating; her Swiss relatives bringing them to Zurich when the war ended; and emigration to join her father in the United States a year later. Ms. S. discusses national prisoner groups in Bergen-Belsen; songs they sang; not discussing her experiences with her family or others for many years; nightmares resulting from her experiences; recently visiting Belsen with her grandson; and finding their names in camp records. She shows photographs and documents
Milton G. Holocaust testimony (HVT-4401)
by Milton G.
( )
1 edition published in
2008
in
English
and held by 1 WorldCat member library worldwide
Videotape testimony of Milton G., who was born in Hartford, Connecticut in 1918. He recalls military draft in 1943; training as a medic; landing in France in January 1945; serving in the 65th Division; moving through France and Germany; entering Mauthausen; transporting debilitated prisoners to a hospital in Linz; speaking Yiddish to some of the prisoners; leaving about thirty-six hours later; attending Rosh ha-Shanah and Yom Kippur services in Salzburg conducted by former Mauthausen prisoners when the war was over; and returning home in winter 1946. He discusses sharing his experiences with his daughter and recently visiting Mauthausen with his wife
Ella A. Holocaust testimony (HVT-4332)
by Ella A.
( )
1 edition published in
2005
in
English
and held by 1 WorldCat member library worldwide
Videotape testimony of Ella A., who was born in Mukacheve, Czechoslovakia (presently Ukraine) in 1925, one of six children. She recalls being poor, but happy; cordial relations with non-Jews; apprenticing as a seamstress; belonging to Mizrachi; Hungarian occupation; anti-Jewish restrictions, including confiscation of her father's business; one brother's draft into a Hungarian slave labor battalion; German occupation in spring 1944; round-up to the ghetto; deportation to Auschwitz; separation from her immediate family; staying with cousins; crying all the time; refusing to eat; a prisoner compelling her to eat; Gisella Perl delivering a baby in her barrack (it was killed by prisoners); transport in open freight cars to Ravensbrück, then three weeks later to Bendorf; slave labor in an underground munitions factory; train transfer in March; liberation from the train by a Count Bernadotte Red Cross group; transfer to Landskrona; quarantine for six weeks; living in Värnamo; learning her father and a brother had survived; emigration to join relatives in the United States; visiting her father and brother in Mukacheve in 1969; their emigration to Israel in 1972; and frequently visiting them. Ms. A. discusses not sharing her experiences for over twenty years; mental and physical illness resulting from the war years; psychological help after her daughter's death; and her sense that she can never be completely happy
Eva S. Holocaust testimony (HVT-4330)
by Eva S.
( )
1 edition published in
2005
in
English
and held by 1 WorldCat member library worldwide
Videotape testimony of Eva S., who was born in Czechoslovakia, one of seven children. She recounts her oldest sister's death prior to her birth; being raised by her grandmother when her mother was ill; her mother's death; cordial relations with non-Jews; Hungarian occupation; anti-Jewish restrictions; her eldest sister's emigration to the United States; her father's failed efforts to emigrate; harsh treatment from neighbors and former friends; her father's draft into forced labor; each child living with one of her mother's sisters; her father's return; reuniting of the family; German occupation in spring 1944; deportation to Irshava, the Munkács ghetto a week later, then Auschwitz/Birkenau after three weeks; separation from her sisters because she was carrying her baby cousin; a prisoner taking the baby from her, which saved her life; finding her sisters and cousin; vowing to remain together; transfer to Płaszów; having to remove the clothing of non-Jews who were killed in front of them; wanting to die herself; encouragement from her sisters; local prisoners sharing extra food; slave labor; praying with a woman who tracked the Jewish holidays; transfer to Auschwitz/Birkenau three months later; being tattooed; transfer to Neustadt; her sister Lilly saving other prisoners; a German civilian worker leaving her extra food; refusing his offer to hide her, wanting to stay with her sisters and cousin; a death march; surviving due to the German in charge; carrying one of their sisters when she gave up; arrival at Gross-Rosen, then train transfer to Bergen-Belsen; envying the dead; maintaining her belief in God; liberation by British troops; living in displaced persons camps in Bergen-Belsen and Celle; assistance from UNRRA; antisemitic harassment by Germans; and emigration to the United States in 1948. Ms. S. notes seldom discussing her experiences with non-survivors, including her oldest sister; some women singing and dancing in the camps; and pervasive painful memories. She shows photographs and documents
more
fewer
Audience Level
0

1
Kids
General
Special
Audience level: 0.20 (from 0.19 for Witness : ... to 0.85 for Ilse K. Ho ...)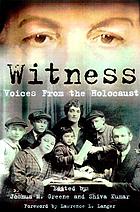 Languages
Covers