Owen, Roger 1935-
Most widely held works by Roger Owen
State, power, and politics in the making of the modern Middle East
by
Roger Owen
( Book )
89 editions published between
1991
and 2015 in 4 languages and held by 1,283 WorldCat member libraries worldwide
Roger Owen has fully revised and updated his authoritative text to take into account the very latest developments in the Middle East. This new edition continues to explore the emergence of individual Middle Eastern states since the fall of the Ottoman Empire at the end of the First World War and the key themes that have characterized the region since then. The book continues to serve as an excellent introduction for newcomers to the modern history and politics of this fascinating region. -- Back cover
The Middle East in the world economy, 1800-1914
by
Roger Owen
( Book )
45 editions published between
1981
and 2011 in
English
and
Undetermined
and held by 756 WorldCat member libraries worldwide
"Examines the growth and transformation of the Middle East economy during the 19th and early 20th centuries. The text looks at how the region's economic structures were fundamentally altered by the growing impact of European trade and finance, and by the internal reforms of the rulers of Egypt. It also examines in detail the impact of this process on the four central areas of the Middle East. The result, the author argues, was the creation of a fixed pattern of agricultural, industrial and financial activity. The states formed after the collapse of teh Ottoman Empire found that altering this pattern in their attempts to promote a less dependent form of development was frought with difficulty; and the problems they faced and their different approaches are still highly relevant to the Middle East's economic development today."
The rise and fall of Arab presidents for life
by
Roger Owen
( Book )
28 editions published between
2012
and 2014 in 3 languages and held by 648 WorldCat member libraries worldwide
The monarchical presidential regimes that prevailed in the Arab world for so long looked as though they would last indefinitely—until events in Tunisia and Egypt made clear their time was up. The Rise and Fall of Arab Presidents for Life exposes for the first time the origins and dynamics of a governmental system that largely defined the Arab Middle East in the twentieth century.Presidents who rule for life have been a feature of the Arab world since independence. In the 1980s their regimes increasingly resembled monarchies as presidents took up residence in palaces and made every effort to ensure their sons would succeed them. Roger Owen explores the main features of the prototypical Arab monarchical regime: its household; its inner circle of corrupt cronies; and its attempts to create a popular legitimacy based on economic success, a manipulated constitution, managed elections, and information suppression.Why has the Arab world suffered such a concentration of permanent presidential government? Though post-Soviet Central Asia has also known monarchical presidencies, Owen argues that a significant reason is the "Arab demonstration effect," whereby close ties across the Arab world have enabled ruling families to share management strategies and assistance. But this effect also explains why these presidencies all came under the same pressure to reform or go. Owen discusses the huge popular opposition the presidential systems engendered during the Arab Spring, and the political change that ensued, while also delineating the challenges the Arab revolutions face across the Middle East and North Africa
Suez 1956 : the crisis and its consequences
by
William Roger Louis
( Book )
24 editions published between
1989
and 2011 in
English
and held by 647 WorldCat member libraries worldwide
An analysis, based on newly available evidence, of the Suez crisis of 1956, its origins, and its consequences. The contributors, some of whom were active participants in the events, offer their personal assessments of the events and the personalities involved in the conflict
A history of Middle East economies in the twentieth century
by
Roger Owen
( Book )
29 editions published between
1998
and 2015 in
English
and
Turkish
and held by 629 WorldCat member libraries worldwide
This book on examines, for the first time, the separate national economies of the Arab states, including the Gulf, Israel, and Turkey, from 1918 to the present. It describes the main trends within each economy based on the best available statistical data, and answers larger questions concerning the long-term growth of the countries, first in the colonial period, then in the periods characterized by planning and development, followed by the first steps toward liberalization and structural adjustment. It evaluates government policy in promoting the protection of imports and in advancing market economies. Policies employed by the oil-producing states to build new institutional structures based on near unlimited supplies of capital and labor are also examined. The Middle East economies are placed in their proper international context, and questions of colonialism and labor migration are discussed
The Middle East
by
Talal Asad
( Book )
18 editions published in
1983
in
English
and held by 500 WorldCat member libraries worldwide
Asad has made important theoretical contributions to Post-Colonialism, Christianity, Islam, and Ritual studies and has recently called for, and initiated, an anthropology of Secularism. Using a genealogical method developed by Friedrich Nietzsche and made prominent by Michel Foucault, Asad "complicates terms of comparison that many anthropologists, theologians, philosophers, and political scientists receive as the unexamined background of thinking, judgment, and action as such. By doing so, he creates clearings, opening new possibilities for communication, connection, and creative invention where opposition or studied indifference prevailed."
Lord Cromer : Victorian imperialist, Edwardian proconsul
by
Roger Owen
( Book )
11 editions published between
2004
and 2005 in
English
and held by 406 WorldCat member libraries worldwide
In the heyday of the Empire just before the First World War, Lord Cromer was second only to Lord Curzon in fame and public esteem. In the days when Cairo and Calcutta represented the twin poles of British power in Asia and Africa, Cromer's commanding presence seemed to radiate the essential spirit of imperial rule. In this first modern biography, Roger Owen charts the life of the man revered by the British and hated by today's Egyptians, the real ruler of Egypt for nearly a quarter of a century. A member of the famous city banking family of Baring Brothers, Cromer in his youth seemed to be distinguished mainly by lack of academic ability and a taste for the fashionable pursuits of his day. His first military posting, to Corfu, was welcomed by him on account of the excellent shooting to be had in the region. Roger Owen shows how, almost imperceptibly, his commitment to public service grew, due in part at least to his relationship with Ethel Errington who, after long delay, became his first wife. From the island outposts of the old British Empire, to India, and finally to the new empire in Africa, Cromer represented the might of Britain's Empire. Few imperial administrators had either his range of experience or his long practice of ruling different non-European peoples, at a time when the whole notion of Empire itself entered more and more into the metropolitan political debate. Owen makes extensive use of Cromer's official correspondence, family papers, memoirs, and the personal letters of his friends and colleagues to explore all aspects of Cromer's life in imperial government. He examines his innovative role in international finance and his energetic re-engagement with Britain's troubled political life following his formal retirement in 1907. Finally, he assesses the sometimes bitter legacy of imperial rule left by Cromer.--Book jacket flap
more
fewer
Audience Level
0

1
Kids
General
Special
Audience level: 0.42 (from 0.09 for The Middle ... to 0.74 for Middle age ...)
Related Identities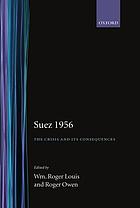 Alternative Names
E・ロジャー・オーウェン

Owen, E. R. J.

Owen, E. R. J. 1935-

Owen, E. R. J. (Edward Roger John)

Owen, E. R. J. (Edward Roger John), 1935-

Owen, E. Roger

Owen, E. Roger 1935-

Owen Edward Roger John

Owen, Edward Roger John 1935-

Owen Roger

Owen Roger 1935-....

Roger Owen

Roger Owen British historian

Roger Owen historiador británico

Roger Owen historien britannique

Uwīn, Rūjar

Uwīn, Rūjar 1935-

Uwin, Ruyar 1935-

Роджер Оуэн

اوين، روجر

روجر أوين، 1935-

روجر أوين مؤرخ بريطاني

오웬, 로저

オーウェン, ロジャー

ロジャー・オーウェン

Languages
Covers