Ramadan, Tariq
Most widely held works about Tariq Ramadan
more
fewer
Most widely held works by Tariq Ramadan
Western Muslims and the future of Islam
by
Tariq Ramadan
( Book )
13 editions published between
2003
and 2007 in 4 languages and held by 859 WorldCat member libraries worldwide
In a Western world suddenly acutely interested in Islam, one question has been repeatedly heard above the din: where are the Muslim reformers? With this book, Tariq Ramadan firmly establishes himself as one of Islam's most innovative and important voices. As the number of Muslims living in the West grows, the question of what it means to be a Western Muslim becomes increasingly important. While the media are focused on radical Islam, Ramadan claims, a silent revolution is sweeping Islamic communities in the West, as Muslims actively seek ways to live in harmony with their faith within a Western context. They are reshaping their religion into one that is faithful to the principles of Islam, dressed in European and American cultures, and definitively rooted in Western societies. This book rejects once and for all the idea that Islam must be defined in opposition to the West.--From publisher description
Islam and the Arab awakening
by
Tariq Ramadan
( Book )
19 editions published between
2011
and 2012 in 3 languages and held by 823 WorldCat member libraries worldwide
One of the most important developments in the modern history of the Middle East, the so-called Arab Spring began in Tunisia in December 2010, bringing down dictators, sparking a civil war in Libya, and igniting a bloody uprising in Syria. Its long-term repercussions in Egypt and elsewhere remain unclear. In this book, the author explores the uprisings, offering rare insight into their origin, significance, and possible futures. As early as 2003, there had been talk of democratization in the Middle East and North Africa. The U.S. government and private organizations set up networks and provided training for young leaders, especially in the use of the Internet and social media, and the West abandoned its unconditional support of authoritarian governments. But the West did not create the uprisings. Indeed, one lesson presented here is that these mass movements and their consequences cannot be totally controlled. Something irreversible has taken place: dictators have been overthrown without weapons. But, democratic processes are only beginning to emerge, and unanswered questions remain. What role will religion play? How should Islamic principles and goals be rethought? Can a sterile, polarizing debate between Islamism and secularism be avoided?
Seven wonders of the Muslim world
( Visual )
3 editions published between
2009
and 2011 in
English
and held by 676 WorldCat member libraries worldwide
Follow six young pilgrims as they make their way from their homes and families on a journey of a lifetime to Mecca, birthplace of the prophet Muhammad. Features the Grand Mosque in Mecca; the Al-Aqsa Mosque in Jerusalem; the Alhambra in Granada, Spain; the Blue Mosque in Istanbul, Turkey; the Great Mosque of Djenné, Mali; the Imam Mosque in Esfahan, Iran; and the Badshahi Mosque in Lahore, Pakistan
Radical reform : Islamic ethics and liberation
by
Tariq Ramadan
( Book )
27 editions published between
2008
and 2009 in
English
and
German
and held by 472 WorldCat member libraries worldwide
"Tariq Ramadan has emerged as one of the foremost voices of reformist Islam in the West, notable for urging his fellow Muslims to participate fully in the civil life of the Western societies in which they live. In this new book, Ramadan addresses Muslim societies and communities everywhere with a bold call for radical reform. He challenges those who argue defensively that reform is a dangerous and foreign deviation, and a betrayal of the faith. Authentic reform, he says, has always been grounded in Islam's textual sources, spiritual objectives, and intellectual traditions. But the reformist movements that are based on renewed reading of textual sources while using traditional methodologies and categories have achieved only adaptive responses to the crisis facing a globalizing world. Such readings, Ramadan argues, have reached the limits of their usefulness." "Ramadan calls for a radical reform that goes beyond adaptation to envision bold and creative solutions to transform the present and the future of our societies. This new approach interrogates the historically established sources, categories, higher objectives, tools, and methodologies of Islamic law and jurisprudence, and the authority this traditional geography of knowledge has granted to textual scholars. He proposes a new geography that redefines the sources and the spiritual and ethical objectives of the law, creating room for the authority of scholars of the social and hard sciences. This will equip this transformative reform with the spiritual, ethical, social, and scientific knowledge necessary to address contemporary challenges. Ramadan argues that radical reform demands not only the equal contributions of scholars of both the text and the context but also the critical engagement and creative imagination of the Muslim masses."--Jacket
Islam, the West and the challenges of modernity
by
Tariq Ramadan
( Book )
14 editions published between
2001
and 2009 in
English
and held by 198 WorldCat member libraries worldwide
Tackles the issue of how should Muslims respond to challenges of modernity without betraying their identity
To be a European Muslim : a study of Islamic sources in the European context
by
Tariq Ramadan
( Book )
26 editions published between
1999
and 2013 in 6 languages and held by 198 WorldCat member libraries worldwide
This book addresses some of the fundamental issues borne of the several million strong Muslim presence in Europe in our times. Based on a thorough study of Islamic sources, it seeks to answer basic questions about a European Muslim's social, political, cultural and legal life as a practising Muslim while living together in multi-faith, pluralistic European nation states
The quest for meaning : developing a philosophy of pluralism
by
Tariq Ramadan
( Book )
11 editions published between
2010
and 2012 in
English
and held by 194 WorldCat member libraries worldwide
In "The Quest for Meaning", Tariq Ramadan, philosopher and Islamic scholar, invites the reader to join him on a journey to the deep ocean of religious, secular, and indigenous spiritual traditions to explore the most pressing contemporary issues. Along the way, Ramadan interrogates the concepts that frame current debates including: faith and reason, emotions and spirituality, tradition and modernity, freedom, equality, universality, and civilization. He acknowledges the greatest flashpoints and attempts to bridge divergent paths to a common ground between these religious and intellectual traditions. He calls urgently for a deep and meaningful dialogue that leads us to go beyond tolerant co-existence to mutual respect and enrichment. Written in a both direct and meditative style this is an important, timely and intelligent book that aims to direct and shape debate around the most important questions of our time
The Arab awakening : Islam and the new Middle East
by
Tariq Ramadan
( Book )
7 editions published in
2012
in
English
and held by 135 WorldCat member libraries worldwide
Tariq Ramadan is one of the most acclaimed figures in the analysis of Islam and its political dimensions today. In "The Arab Awakening" he explores the opportunities and challenges across North Africa and the Middle East, as they look to create new, more open societies. He asks: Can Muslim countries bring together Islam, pluralism and democracy without betraying their identity? Will the Arab world be able to reclaim its memory to reinvent education, women's rights, social justice, economic growth and the fight against corruption? Can this emancipation be envisioned with Islam, experienced not as a straitjacket, but as an ethical and cultural wealth? Arguing that the debate cannot be reduced to a confrontation between two approaches - the modern and secular versus the traditional and Islamic - Ramadan demonstrates that not only are both of these routes in crisis, but that the Arab world has an historic opportunity: to stop blaming the West, to jettison its victim status and to create a truly new dynamic. Tariq Ramadan offers up a challenge to the Middle East: What enduring legacy will you produce, from the historic moment of the Arab Spring?
more
fewer
Audience Level
0

1
Kids
General
Special
Audience level: 0.39 (from 0.11 for In the foo ... to 1.00 for Tariq Rama ...)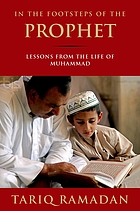 Alternative Names
Ramadan, T.

Ramadan, Tarek

Ramadan Tarek 1962-....

Ramadan, Tarik.

Ramadan, Tarik 1962-

Ramaḍān, Ṭāriq 1962-

Ramaḍān, Ṭāriq Saʿīd 1962-

Tarik Ramadan

Tariq Ramadan

Ṭāriq Ramaḍān accademico, scrittore e giornalista svizzero

Tariq Ramadan Schweizer Islamwissenschaftler und Publizist

Tariq Ramadan schweizisk författare

Tariq Ramadan schweizisk skribent

Tariq Ramadan sveitsisk skribent

Tariq Ramadan Swiss muslim scholar

Tariq Ramadan Zwitsers schrijver

Рамадан, Тарик

Тарик Рамадан

Тариқ Рамадан

טארק רמדאן

تارىيق رامادان

رمضان, طارق سعيد 1962-

طارق رمضان

طارق رمضان، 1962-

طارق رمضان نویسنده سوئیسی

তারিক রমাদান

താരിഖ് റമദാൻ

ტარიქ რამადანი

塔里克·拉马丹

Languages
Covers