Steinberg, Paul S.
Most widely held works by Paul S Steinberg
Reauthorizing No Child Left Behind : facts and recommendations
by
Brian M Stecher
( )
8 editions published in
2010
in
English
and held by 2,230 WorldCat member libraries worldwide
This report synthesizes findings and draws lessons about the implementation and results of the No Child Left Behind Act of 2001 (NCLB) as reflected primarily in two longitudinal studies funded by the U.S. Department of Education. Progress to date suggests that NCLB's ambitious goal of having 100 percent of U.S. students proficient in reading and mathematics by 2014 will not be met. In addition, the flexibility provided to states by the law has resulted in the establishment of a different accountability system in every state, each with different academic standards, levels of student proficiency, and teacher requirements. Parents have not responded in great numbers either to school choice or to receiving supplemental educational services options. Should Congress reauthorize NCLB, the authors recommend that it consider making the following changes to the law: promote more-uniform academic standards and teacher qualification requirements across states, set more-appropriate improvement targets, broaden the measures of student learning beyond multiple-choice tests in reading and mathematics to include more subjects and tests of higher-thinking and problem-solving skills, focus improvement efforts on all schools while continuing to offer parental choice, and provide incentives for highly qualified teachers to teach in low-performing schools
How effective is correctional education, and where do we go from here? : the results of a comprehensive evaluation
by
Lois M Davis
( )
6 editions published in
2014
in
English
and held by 1,388 WorldCat member libraries worldwide
More than 2 million adults are incarcerated in U.S. prisons, and each year more than 700,000 leave federal and state prisons and return to communities. Unfortunately, within three years, 40 percent will be reincarcerated. One reason for this is that ex-offenders lack the knowledge, training, and skills to support a successful return to communities. Trying to reduce such high recidivism rates is partly why states devote resources to educating and training individuals in prison. This raises the question of how effective -- and cost-effective -- correctional education is: an even more salient question given the funding environment states face from the 2008 recession and its continuing aftermath. With funding from the Second Chance Act of 2007, the Bureau of Justice Assistance, U.S. Department of Justice, asked RAND to help answer this question as part of a comprehensive examination of the current state of correctional education for incarcerated adults and juveniles. The RAND team conducted a systematic review of correctional education programs for incarcerated adults and juveniles. This included a meta-analysis on correctional education's effects on recidivism and postrelease employment outcomes for incarcerated adults, as well as a synthesis of evidence on programs for juveniles. The study also included a nationwide survey of state correctional education directors to understand how correctional education is provided today and the recession's impact. The authors also compared the direct costs of correctional education with those of reincarceration to put the recidivism findings into a broader context
Choosing a new organization for management and disposition of commercial and defense high-level radioactive materials
by
Lynn E Davis
( )
2 editions published in
2012
in
English
and held by 961 WorldCat member libraries worldwide
Finding ways to safely store and ultimately dispose of nuclear waste remains a matter of considerable debate. This volume describes the steps needed to design a new, single-purpose organization to manage and dispose of commercial and defense high-level radioactive materials and examines three models for such an organization--federal government corporation, federally chartered private corporation, and independent government agency
Limiting regret : building the Army we will need
by
Tim Bonds
( Book )
1 edition published in
2015
in
English
and held by 47 WorldCat member libraries worldwide
This report makes three essential points: The world has changed following the foundational defense planning in the 2014 Quadrennial Defense Review; emerging and growing threats increase the likelihood that U.S. commitments in key regions will be challenged; and planned cuts to the U.S. Army will result in too few ground forces to satisfy declared commitments. In light of these concerns, this report addresses the U.S. Army capacity needed - as part of a joint, interagency, intergovernmental, and multinational force - to help the nation achieve its highest-level national security interests and mitigate the most important risks. The authors consider the terror threat in North Africa, the Middle East, and Afghanistan; potential Russian aggression against NATO Baltic states; and the threats posed by North Korea, including "loose nukes." In these three contexts, the authors assess the capability of the nation to satisfy existing commitments, given planned force reductions to the U.S. Army. The authors outline shortcomings and propose actions necessary to maintain an Army of sufficient force to satisfy U.S. commitments, meet threats with force, and avoid strategic failure and regret
What factors cause youth to reject violent extremism? : results of an exploratory analysis in the West Bank
by
Kim Cragin
( Book )
1 edition published in
2015
in
English
and held by 39 WorldCat member libraries worldwide
"Continued terrorist attacks and the involvement of foreign fighters in Syria and Iraq have prompted a surge of interest among policymakers, law enforcement, journalists, and academics on both sides of the Atlantic on the topic of terrorist radicalization. Many of the factors that push or pull individuals toward radicalization are in dispute within the expert community. Instead of examining the factors that lead to radicalization and the commission of terrorist acts, this report takes a new approach. What Factors Cause Youth to Reject Violent Extremism? Results of an Exploratory Analysis in the West Bank empirically addresses the topic of why youth reject violent extremism. To do this, the authors focus on the Palestinian West Bank. The report begins with a theoretical model and then tests this model with data gathered through structured interviews and a survey. For this study, ten semistructured interviews were conducted with politicians from Hamas and Fatah in 2012. Along with these interviews, the authors conducted a survey among 600 youth (ages 18-30) who lived in Hebron, Jenin, and Ramallah. The overarching findings from this effort demonstrate that (1) rejecting violent extremism, for residents of the West Bank, is a process with multiple stages and choices within each stage; (2) family plays a greater role than friends in shaping attitudes toward nonviolence; (3) demographics do not have a significant impact on attitudes toward nonviolence; and (4) opposing violence in theory is distinct from choosing not to engage in violence"-- Provided on publisher's website
Improving oversight and coordination of Department of Defense Programs that address problematic behaviors among military personnel : final report
by
Jefferson P Marquis
( Book )
2 editions published in
2017
in
English
and held by 21 WorldCat member libraries worldwide
"Pressures inside and outside the U.S. Department of Defense (DoD) to reduce the incidence of problematic behaviors within the military are inducing the Office of the Secretary of Defense to rethink how it is organized to oversee and coordinate DoD's varied behavior-mitigation efforts. This report provides the results of a RAND study that examined the integration of programs for addressing a specified set of problematic behaviors: sexual harassment, sexual assault, unlawful discrimination, substance abuse, suicide, and hazing. The report combines the results of the two major lines of research: the first related to the development of a typology of common problematic behavior risk and protective factors and prevention methods based on a review of the behavioral science literature, and the second related to the organization, coordination, oversight, and managerial practices of programs to address problematic behavior based on document analysis and policy discussions with DoD and service headquarters officials. Following a discussion of findings from the two lines of research, the report lays out a series of recommendations for the Office of the Secretary of Defense to improve its understanding of the interrelationships among problematic behaviors and its oversight and coordination of programs to address those behaviors"--Publisher's description
Assessing the value of regionally aligned forces in Army security cooperation : an overview
by
Angela O'Mahony
( Book )
2 editions published in
2017
in
English
and held by 20 WorldCat member libraries worldwide
"The U.S. Army has been aligning specific units with geographical regions (regionally aligned forces, or RAF) to strengthen cultural awareness and language skills, facilitate force management, and improve security cooperation (SC) efforts around the world. Given the substantial role that the Army plays in U.S. SC, it is important to understand the value of RAF in making SC more effective. To develop this understanding, the Army asked the RAND Arroyo Center to assess the initial use of an Army unit as RAF in Africa, focusing on SC. The study results are intended to assist the Army, geographic combatant commands, and the U.S. Department of Defense in better aligning SC missions with national interests and security goals. The report provides some recommendations and analytic tools for the Army's leadership and regionally aligned force planners to improve regionally aligned force implementation."--Publisher's description
What factors cause individuals to reject violent extremism in Yemen?
by
Eric Robinson
( Book )
1 edition published in
2017
in
English
and held by 10 WorldCat member libraries worldwide
"Why do some individuals engage in political violence in Yemen, while others do not? In this report, the third in a series on this topic, the authors examine the role that social, political, and economic factors play on individual behavior toward violence in the midst of Yemen's bloody and multiyear civil war. This report uses a unique national survey conducted in Yemen in 2016, amidst active fighting, to better understand why Yemenis may reject political violence despite persistent conflict and civil unrest across the country. The report addresses how the U.S. government and its partners can strengthen efforts to undermine violent extremism in Yemen, with implications for future countering violent extremism programs worldwide."--Publisher's description
America's strategy-resource mismatch : addressing the gaps between U.S. national strategy and military capacity
by
Tim Bonds
( Book )
2 editions published in
2019
in
English
and held by 9 WorldCat member libraries worldwide
Significant gaps exist in the ability of the United States and its allies to deter or defeat aggression that could threaten national interests. For example, NATO members Estonia, Latvia, and Lithuania remain vulnerable to Russian invasion. South Korea is vulnerable to North Korea's artillery. China's neighbors — especially Taiwan — are vulnerable to coercion and aggression. Violent extremists continue to pose a threat in the Middle East. Solutions to these problems will take both money and time. In this report, RAND researchers analyze the specific technological, doctrinal, and budgetary gaps between the stated strategic and defense policies of the United States and the resources and capabilities that would be required to implement those policies successfully. Absent a change in administration policy or a new political consensus in favor of a defense buildup, there will not be enough resources to close the gap between stated U.S. aims and the military capabilities needed to achieve them. This leaves the Trump administration and this Congress with some difficult choices. The United States could decide to focus primarily on its own security, devoting to allies and partners only those forces and capabilities that could be easily spared. At the other end of the spectrum, the Trump administration could take the central role in defending U.S. allies against aggression by Russia, China, and other potential adversaries. The hard-to-find middle ground would be to provide the military with sufficient capabilities to ensure that aggression that imperils U.S. interests in critical regions would fail while helping allies build the capacity to do more for their own and the collective defense
more
fewer
Audience Level
0

1
Kids
General
Special
Audience level: 0.13 (from 0.04 for Reauthoriz ... to 0.98 for Microworld ...)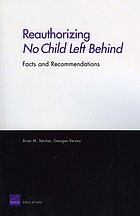 Covers
Alternative Names
Languages