Martens, Kerstin
Most widely held works by Kerstin Martens
Education in political science : discovering a neglected field
by
Anja P Jakobi
( )
19 editions published between
2009
and 2013 in
English
and held by 671 WorldCat member libraries worldwide
This pioneering volume is devoted to the analysis of education from the perspective of political science, applying the full range of its analytical perspectives and methodological tools
International Organizations in Global Social Governance
by
Kerstin Martens
( )
9 editions published in
2021
in
English
and
Undetermined
and held by 410 WorldCat member libraries worldwide
1. Introduction: Examining Populations and Discourses of International Organizations in Social Policies, Dennis Niemann, Kerstin Martens & Alexandra Kaasch -- Part 1. Labour & Migration 2. International Organizations' Involvement in Youth (Un)Employment as a Global Policy Field, Ross Fergusson -- 3. Worlds apart? - The Meaning of Global Labour Standards Friederike Römer, Jakob Henninger and Le Thuy Dung -- 4. IOs, Care and Migration: The Case of Migrant Health Care Workers Nicola Yeates -- 5. The Global Social Governance of Pensions Martin Heneghan -- Part 2. Family & Education -- 6. Children's Rights as Social Policy Anna Holzscheiter -- 7. Global Discourses, Regional Framings and Individual Showcasing: Analysing the World of Education IOs Dennis Niemann and Kerstin Martens -- 8. Family Policy as Object of Global Social Governance Rianne Mahon -- 9. Disabilities as a "New" Global Social Theme Nina Kolleck and Johannes Schuster -- Part 3. Health & Environment -- 9. Global Social Health Governance Alexandra Kaasch -- 10. Climate Change as a Global Social Challenge, Ian Gough and Alexandra Kaasch -- 11. State, Rule, and System: International Organizations and Global Water Politics Jeremy Schmidt -- International Organisations and the Governance of Food Policies Stephen Devereux -- Conclusion: The Architecture of Arguments in Global Social Governance Alexandra Kaasch, Kerstin Martens & Dennis Niemann
Mechanisms of OECD governance : international incentives for national policy-making?
( Book )
18 editions published between
2010
and 2014 in
English
and held by 371 WorldCat member libraries worldwide
This volume is devoted to the analysis of the Organisation for Economic Co-operation and Development (OECD) and its role in international and national policy making. On its 50th anniversary, the OECD enjoys widely acknowledged international standing. Despite this, it has so far remained a rarely researched and analyzed organization. This book is thus a pioneering work: it fills a long-overdue gap in presenting a theoretically guided and empirically rich analysis of the OECD as a political actor. It explores its role in political processes through various case studies in a variety of policy fields. By conceptualizing the contributions to this volume around the concept of mechanisms of governance, it explores how and to what extent the OECD provides international incentives for national policy making. The volume collects a set of ten contributions on the OECD and its activities in core fields of its commitment as an 'economic organization', such as economic and labor market policy, tax issues, finance or financial crime, but also in complementary fields in which the organization is active today despite its original economic focus, such as education, biotechnology, health, family issues, and migration. The case studies presented in this volume are an interdisciplinary collection from different academic perspectives, including political science, international relations, law, and organization studies. The book provides a current and wide-ranging analysis of this organization including its constraints and opportunities in policy making.--
Global pathways to education : cultural spheres, networks, and international organizations
by
Kerstin Martens
( )
9 editions published between
2021
and 2022 in
English
and
Undetermined
and held by 358 WorldCat member libraries worldwide
In this open access volume, the editors identify the trajectories and patterns displayed by education systems and investigate the causes of change from a global and historical perspective. The contributors argue that the emergence and development of education systems can be traced back to inherent national factors, as well as to the international diffusion of ideas. The research presented in this volume is a wide-ranging analysis and explanation of the dynamics of emergence, diffusion, and change in relation to state education systems. The chapters offer an empirical investigation into whether the global diffusion of Western-rational educational content and organizational forms occurs as expected by neoinstitutionalist theory, or whether culturally specific developmental paths dominate in different parts of the world. The book will be of interest to students and researchers in various social science disciplines, including social policy, education, sociology, political science, international relations, organizational theory, and economics. Kerstin Martens is Professor of International Relations at the University of Bremen, Germany. Michael Windzio is Professor of Sociology at the University of Bremen, Germany
NGOs and the United Nations : institutionalization, professionalization and adaptation
by
Kerstin Martens
( Book )
18 editions published between
2005
and 2014 in
English
and held by 330 WorldCat member libraries worldwide
"Non-governmental organizations (NGOs) have become an integral part of the United Nations. As a result of their growing recognition as influential actors in global affairs, the UN sought to strengthen its relationship with NGOs and created diverse ways of bringing them into its system. This book explores how NGOs responded to this increase in opportunities for participation with the UN. The case studies include some of the most renowned players on the international scene, such as Amnesty International, Human Rights Watch, the International League for Human Rights, CARE International, the International Save the Children Alliance and Oxfam International."--Jacket
Actors and agency in global social governance
by
Alexandra Kaasch
( )
11 editions published in
2015
in
English
and held by 230 WorldCat member libraries worldwide
Actors and Agency in Global Social Governance seeks to advance our understanding of the global dimension of social policy by applying the notion of global social governance on actors, their relations to each other, and their pathways as well as their footprints of influence in the specific policy fields of social concern in which they are active. Focusing on a broad array of individual and corporate global social policy actors, ranging from internationally operating intergovernmental organizations to state formations and NGOs, the contributions to this volume draw a fuller picture of agency in global social policy than what current accounts provide. It considers the multiple facets of individual scope and legitimacy for a particular actor in conjunction with the configuration of global social governance as characterised by multi-centred and multi-scaled obstacles as well as diverse forms of collaboration. The volume studies the contextualised actor's range and power in designing, shaping, and facilitating various global social policies. Thus, the contributions discuss the role of particular (corporate) actors within global social policy structures and assess the impact of a number of key organizations, states, groups, and individuals in the governance of global social policy. At the same time, a variety of social policy fields in which these actors are involved are addressed, including labour market issues, family policy, health policy, education policy, migration issues, and global (re)distribution via various forms of development aid or remittances.--
Transformation of education policy
( Book )
10 editions published in
2010
in
English
and held by 227 WorldCat member libraries worldwide
This book deals with the political consequences of the PISA Study forsecondary education and the Bologna Process for tertiary education. Both are prominent political issues with substantial impact on thepolitical debate all over Europe and beyond. However, scholars of political science and political sociology have been reluctant to give them sufficient attention
Nichtregierungsorganisationen (NGOs)
by
Christiane Frantz
( )
9 editions published in
2006
in
German
and held by 220 WorldCat member libraries worldwide
"Das Lehrbuch bietet jede Menge interessanter Infokästen, die entweder die umfangreichen Informationen übersichtlich zusammenfassen oder aber Beispiele präsentieren. Den beiden Autorinnen ist es in hervorragender Weise gelungen, eine knappe und gut lesbare Übersicht über die neuen Akteure der nationalen und internationalen Politik zu repräsentieren."
Internationalization of education policy : a new constellation of statehood in education?
by
Kerstin Martens
( )
10 editions published in
2014
in
English
and held by 163 WorldCat member libraries worldwide
"Education systems in Europe have been undergoing profound changes within the last few years. New actors, procedures, and arenas of policymaking have emerged which strongly affect today's education systems. Although traditionally assumed to be a genuinely 'national' policy field, international initiatives and programmes - among the most prominent ones being the PISA study for secondary education and the Bologna Process for higher education - have triggered fundamental reforms in many countries. This book focuses on educational outcomes and actors' reactions on internationalization. Including quantitative evaluation of a large set of OECD countries as well as seven qualitative case studies (Germany, France, England, Spain, Switzerland, USA, and China), Internationalization of Education Policy provides timely insights into a dynamic and highly contested policy field"--
more
fewer
Audience Level
0

1
General
Special
Audience level: 0.00 (from 0.00 for Education ... to 0.00 for Education ...)
Related Identities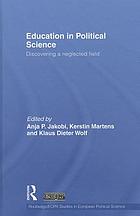 Covers
Alternative Names
Kerstin Martens deutsche Politikwissenschaftlerin

Kerstin Martens Duits hoogleraar

Kerstin Martens Duits hooglerares

Kerstin Martens German university teacher

Kerstin Martens Germany karimma ŋun nyɛ paɣa

Kerstin Martens profesora universitaria alemana

Kerstin Martens profesore universitare gjermane

Kerstin Martens professeure d'université allemande

Kerstin Martens professora d'universitat alemanya

Kerstin Martens professora universitária alemã

Kerstin Martens professoressa universitaria tedesca

Kerstin Martens tysk professor

Languages