Lightfoot, Freda 1942-
Most widely held works by Freda Lightfoot
The Duchess of Drury Lane
by
Freda Lightfoot
( Book )
6 editions published between
2012
and 2013 in
English
and held by 485 WorldCat member libraries worldwide
"Growing up in a poverty-stricken, fatherless household, Dorothy Jordan overcame her humble beginnings to become the most famous comic actress of her day. It was while performing on Drury Lane that Dorothy caught the eye of the Duke of Clarence, later to become King William IV. Her twenty-year relationship with the Duke was one of great happiness and domesticity, producing ten children. But ultimately, Dorothy's generous nature was her undoing and she was to be cruelly betrayed by the man she loved"--Provided by publisher
Reluctant queen
by
Freda Lightfoot
( Book )
8 editions published between
2010
and 2013 in
English
and
Undetermined
and held by 443 WorldCat member libraries worldwide
The story of Gabrielle d'Estrees is one of love, betrayal, intrigue and tragedy. All she wanted was to marry for love, and enjoy the respectability of a happy marriage. But in the court of sixteenth century France this was almost impossible to achieve. She was sold by her own mother to three different lovers before catching the eye of a king. Is the love of a king enough to secure Gabrielle the happiness and respectability she craves, and a crown for her son as the next dauphin of France?
The queen and the courtesan
by
Freda Lightfoot
( Book )
6 editions published between
2011
and 2013 in
English
and held by 435 WorldCat member libraries worldwide
Henriette d'Entragues isn't satisfied with simply being the mistress of Henry IV of France; she wants a crown too. Despite his promises to marry her, the King is obliged by political necessity to ally himself with a rich Italian princess. But Henriette isn't one for giving up easily. All she has to do to achieve her ambition is to give Henry a son, and then do whatever it takes to set him on the throne
Lady of passion : the story of Mary Robinson
by
Freda Lightfoot
( Book )
9 editions published between
2013
and 2015 in
English
and held by 430 WorldCat member libraries worldwide
Beautiful and talented actress, poet and fashion icon, Mary Robinson was one of the most famous women of her time - yet she died virtually penniless, her reputation in ruins. Mary was destined always to be betrayed by the men she loved - her father, her husband and, most seriously, by the Prince of Wales, later George IV, for whom Mary gave up her career, her husband and her independence, only to be cruelly abandoned. This is her enthralling story: a tale of ambition, passion, scandal and heartbreak
Hostage queen
by
Freda Lightfoot
( Book )
6 editions published between
2010
and 2012 in
English
and
Undetermined
and held by 424 WorldCat member libraries worldwide
Marguerite de Valois, the most beautiful woman in the French Court, is the subject of great intrigue. She loves Henri of Guise, but is married off to Henry of Navarre, which (her mother hopes) will bring peace to the realm. But within days, the streets of Paris are awash with blood, and Marguerite and her new husband are held hostage by her own family. Can they ever hope to escape alive in a court rife with murder, jealousy and hunger for power, it will not be an easy task
My lady deceiver
by
Freda Lightfoot
( Book )
11 editions published between
2012
and 2013 in
English
and held by 399 WorldCat member libraries worldwide
1905. Rosie Belsfield feels as if her life has ended when she is rejected from Ellis Island and put on the next boat back to England, leaving her family behind. But fate gives her a second chance when she befriends Lady Rosalind, a pregnant widow on her way to the home of her late husband's father, the wealthy Sir Ralph Tregowan. Having boarded the ship with one identity, fate decrees that Rosie leave it with another. As Rosie arrives in Cornwall as 'Rosalind', she must fend for herself amongst a new and bitterly resentful family. Rosie becomes increasingly trapped by her deception and the cruelty of those around her - the only light at the end of the tunnel seems to be the enigmatic Bryce Tregowan. With him the promise of a new life beckons, one of riches and even a title in beautiful Cornwall, but it is also one fraught with danger should her deceit be discovered. As she falls deeper into love and lies, can Rosie keep up the act, or will her secrets reveal themselves? And to what consequences?
Who's sorry now?
by
Freda Lightfoot
( Book )
14 editions published between
2008
and 2012 in
English
and
Undetermined
and held by 380 WorldCat member libraries worldwide
Things aren't quite that simple in the noisy, warm-hearted Bertalone family. Carmina is the glamorous one, the sexy extrovert who has the boys flocking like bees round the honeypot - all except Luc Fabriani, who for some unaccountable reason seems to prefer her sister Gina. Gina is quiet and shy, the apple of her over-protective parents' eye, and much too young to have a boyfriend. Innocent and naive, Gina believes her sister when she spreads malicious lies about Luc: what has Carmina got to gain by breaking her sister's heart? But lies have a habit of being found out and trapping the liar in a web of deceit, as Carmina is about to discover
The promise
by
Freda Lightfoot
( Book )
9 editions published between
2011
and 2014 in
English
and held by 372 WorldCat member libraries worldwide
San Francisco, 1904. Georgia Briscoe has fallen in love with a British sailor, but her family much prefers the charming businessman, Drew Kemp. However, it isn't long before Drew is exposed as a greedy gambler with a penchant for other women. Georgia decides to escape but disaster thwarts her plans. 1948. Chrissie Kemp travels to the Lake District to try to reconcile the feud between her mother Vanessa and her grandmother Georgia. But Chrissie ends up discovering more about her family's history than she bargained for
House of angels
by
Freda Lightfoot
( Book )
7 editions published between
2009
and 2010 in
English
and held by 368 WorldCat member libraries worldwide
"It's the Lake District, 1908. To all appearances, Livia, Ella and Maggie Angel lead a privileged life in a large country estate, with seemingly little to disturb their happiness, but since the death of their mother, their family home has been a far from a quiet haven for them. Their bully of a father, Josiah Angel, who runs a high-class department store and has aspirations of becoming the town mayor, sees his daughters as mere bargaining tools in his property empire. . . When the sisters discover their father had an affair many years ago, which resulted in the birth of a baby girl, they determine to find their half-sister, and their search begins in the local workhouse. Mercy, however, is not so sure she wants to be found - throughout the hardships of life in the Angel family, the four sisters must learn to pull together to survive, and to choose their own destiny."--Publisher description
Candy kisses
by
Freda Lightfoot
( Book )
9 editions published between
2007
and 2012 in
English
and
Undetermined
and held by 337 WorldCat member libraries worldwide
Everyone on Champion Street loves Aunty Dot's homemade sweets and chocolates. And everyone loves Aunty Dot: the plump, smiling woman has provided a loving home for many a troubled child like Lizzie Pringle. Lizzie would do anything for her foster mother -- even taking on local sweet manufacturer and bully, Cedric Finch. That is, until she falls for his son, Charlie ... Meanwhile, Dena can't believe that Barry Holmes would hurt her beloved daughter: he's been like a favourite uncle to the little girl. But there's no smoke without fire ... And the residents of Champion Street are about to find that chocolate can be bitter, as well as sweet
more
fewer
Audience Level
0

1
Kids
General
Special
Audience level: 0.67 (from 0.48 for The Duches ... to 0.77 for Polly's wa ...)
Associated Subjects
Abused wives
Abusive men
Actresses
Bereavement
California--San Francisco
Catherine de Médicis,--Queen, consort of Henry II, King of France,
Courts and courtiers
England
England--Cornwall (County)
England--Lake District
England--Manchester
Entragues, Catherine Henriette de Balzac d',--marquise de Verneuil,
Estrées, Gabrielle d',
Families
Family-owned business enterprises
Fathers
Fathers--Death
Florists
Foster mothers
France
Great Britain
Henry--IV,--King of France,
Hostages
Jordan, Dorothy,
Kings and rulers
Kings and rulers--Paramours
Manners and customs
Man-woman relationships
Marguerite,--Queen, consort of Henry IV, King of France,
Marie de Médicis,--Queen, consort of Henry IV, King of France,
Markets
Married people
Massacre of Saint Bartholomew's Day (France : 1572)
Mistresses
Mothers and sons
Parent and child
Poets, English
Relations with women
Robinson, Mary,
Sagas
Sisters
Social conditions
Teenage girls
Traveling theater
War brides
Wars of the Huguenots (France : 1562-1598)
William--IV,--King of Great Britain,
Women poets, English
World War (1939-1945)
Young women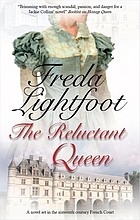 Alternative Names
Carr, Marion, 1942-
Peters, Jill, 1942-
Lightfoot, Freda

Lightfoot, Freda M.

Languages
Covers